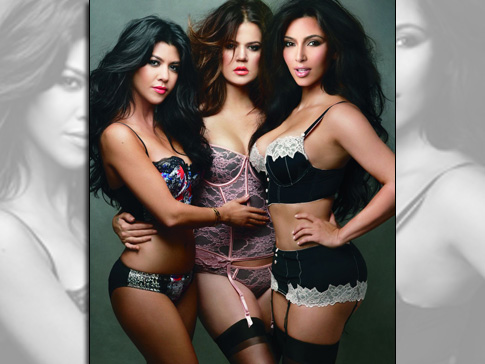 I'm really getting burnt out on the Kardashians. It's like a constant barrage of inane news about these twits, all converging to push their latest crappy products in our weary faces. So I'm torn on whether to even report on them today, but part of me still yearns to mock them. Kaiser calls them "gossip junk food," and that really captures the sick-to-my-stomach feeling I get when I read too much about them, but here goes.
First we have a photo shoot they did with Annie Leibovitz to promote their new clothing line with Sears. The resulting lingerie promo photo, above, looks pieced together and Photoshopped to hell. They look like plastic dolls, basically. It also looks like someone did something to Kim's face to highlight it so she stands out from her sisters. There's a video of the moments they captured the raw footage for some of this mess. (Also above.) My favorite part is when Khloe looks sexy-scared. Here's a screenshot of that moment.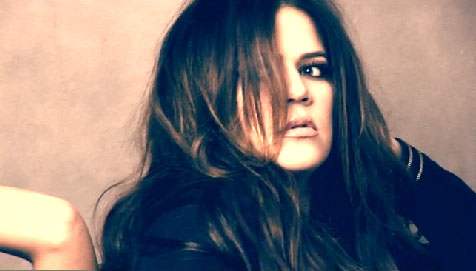 Also, in the video Khloe looks like a total giant compared to her sisters. She towers over them and is about a head taller than Kim. Here's a screenshot of that: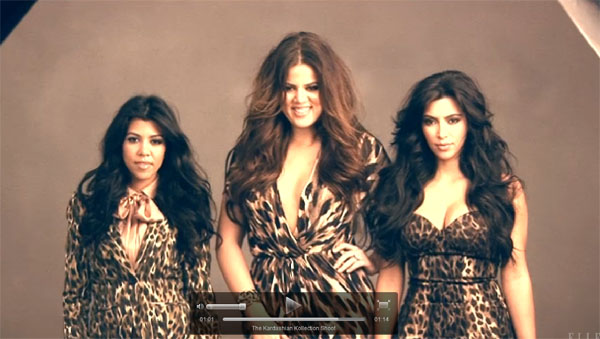 The ad photo shows Khloe as only a smidgen taller than Kim though. Ridiculous.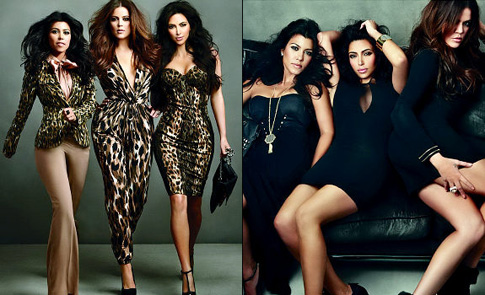 This is just what they do every day. They show up for stuff, try to act like they know fashion and styling, and put on their best sexy faces to sell stuff. Then some kid works some heavy-handed, very obvious Photoshop magic to try and make them look like "models." It would be funny if it wasn't so predictable.
In news about the Kardashians that's easier to cover, Kim's new husband-of-the-moment, Kris Humphries, had an awkward run-in with her sex tape partner, Ray J, in the first class cabin of a recent flight. Kris tried to act like he didn't know who Ray J. was, but Ray J. called him out on it.
Also, yesterday I mentioned Kim's really obnoxious cliche honeymoon photos in US Weekly. It gets better. There's video, in which Kris plays grab-ass. The comparisons to her sex tape just write themselves.
Here's Kim out yesterday in a hideous belted shirtdress in a jarring pattern that I wouldn't even display as a hand towel. Kourtney looks slightly better in that full cobalt skirt and lace shirt, but check out her makeup!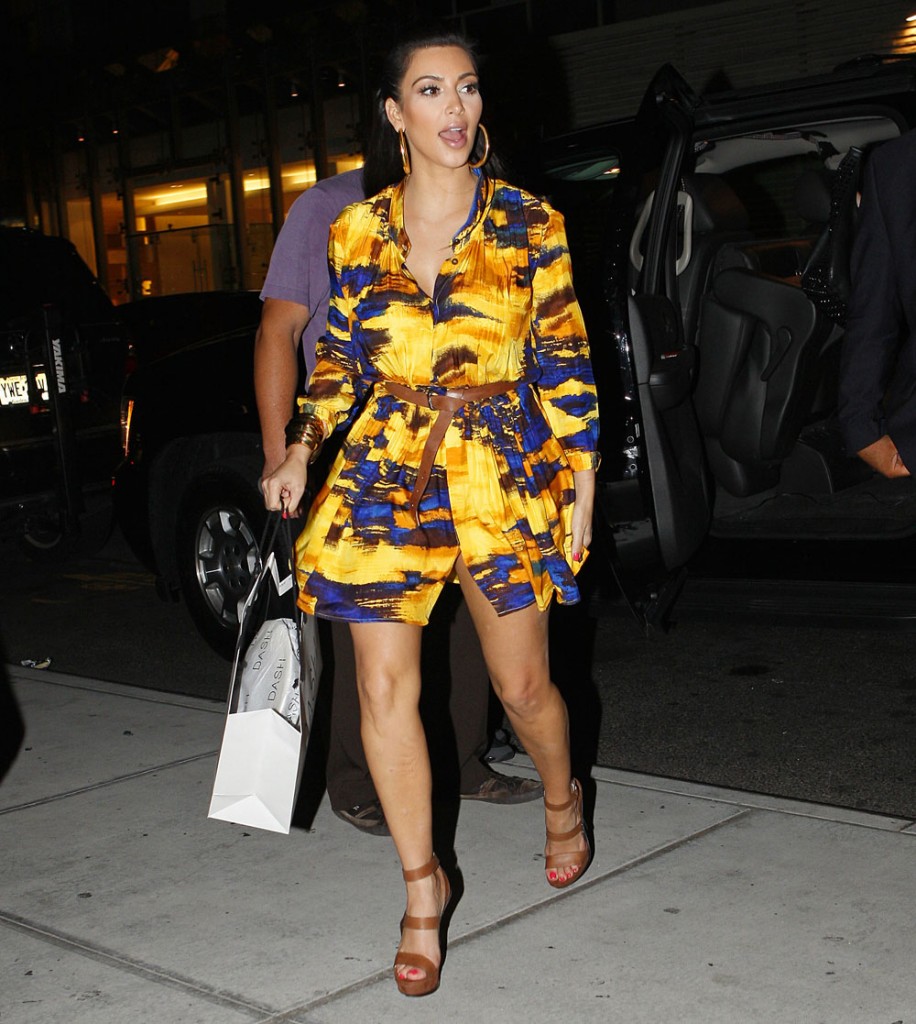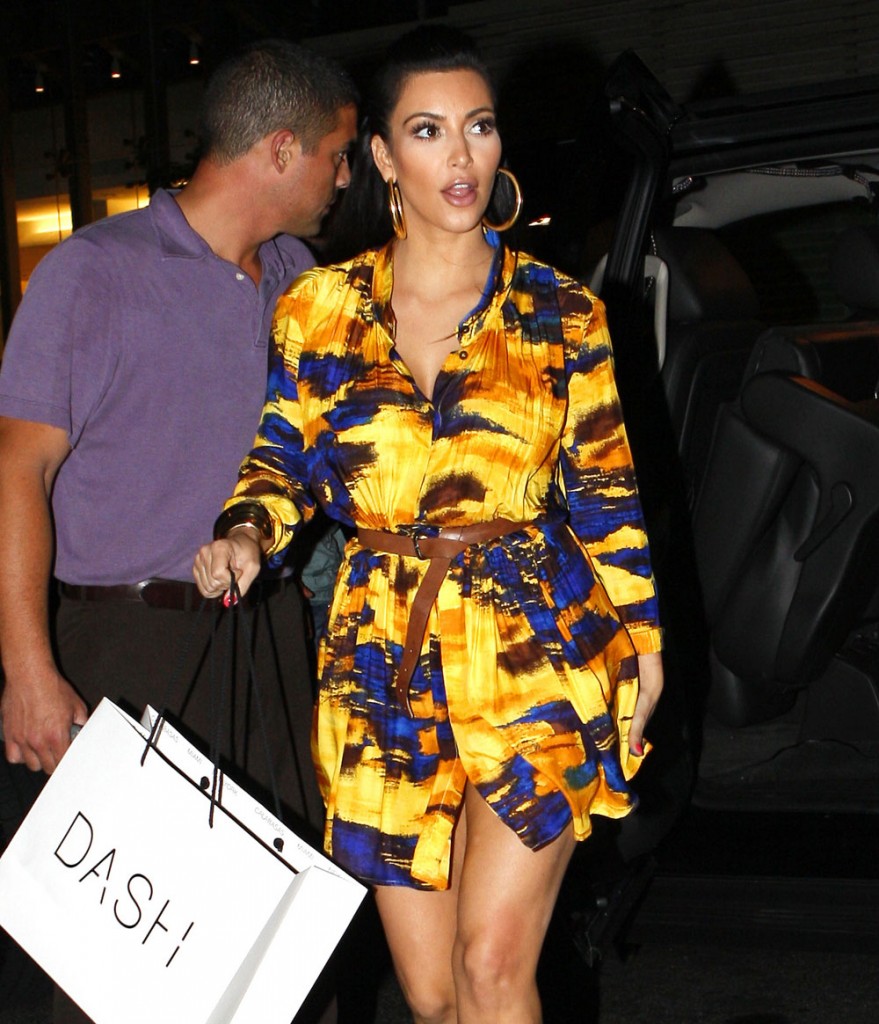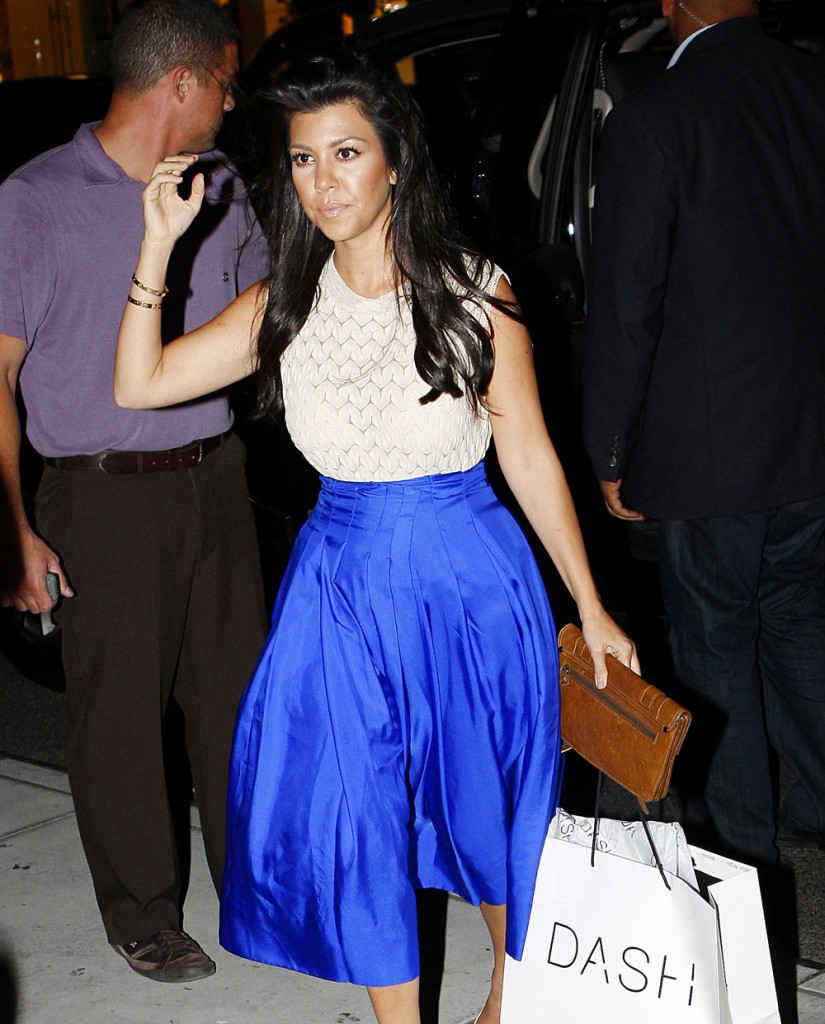 Photo credit: Fame