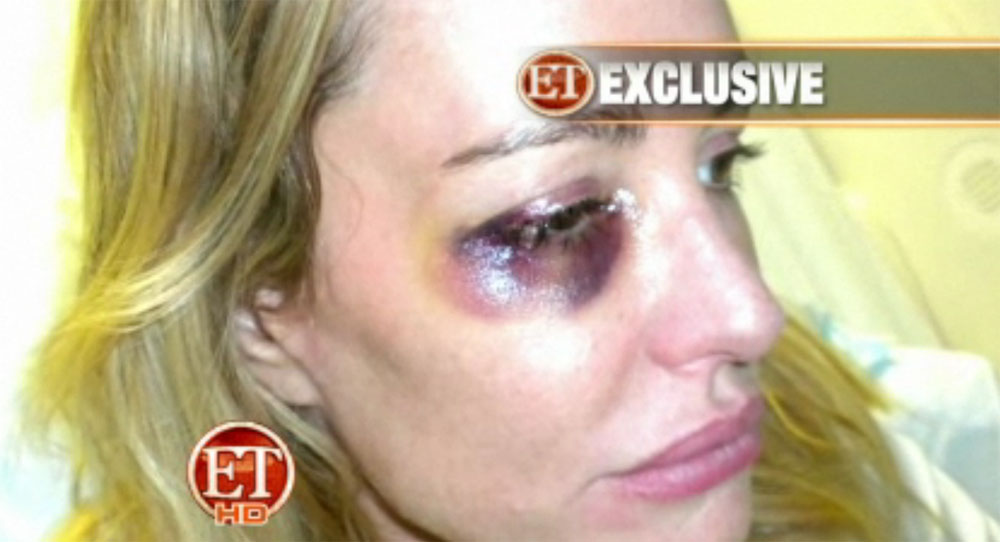 Real Housewives of Beverly Hills' Taylor Armstrong has released (sold) photos of the abuse she suffered, allegedly at the hands of her late husband, Russell Armstrong. Entertainment Tonight aired about three photos of her bruised and battered face while she was being treated in the hospital. Taylor had to get plastic surgery to repair her eye. An "expert" gave the opinion that Taylor was either punched out to cause that black eye or pushed into something. It does look like typical abuse, and it bolsters the stories that Russell was abusive to Taylor, which are supported by similar stories and restraining orders taken out on him by two of his exes.
I don't get why Taylor is releasing these now, when her abuser and the father of her child is dead. It's not about smearing his memory to me or anything, like I understand why she would want to get her side of the story out there, but why now? It just seems like a bid for publicity, public sympathy and cash, which is frankly what we've seen from Taylor prior to her husband's death. Maybe she wants to set the record straight that it wasn't Russell who was the victim here, as his family has been portraying him as.
I'm going to be honest, I didn't tape Real Housewives of Beverly Hills this week. I saw enough last week to never want to watch that show again.
It's worth noting that the latest news on Real Housewife Adrienne Maloof and her husband, plastic surgeon Paul Nassif, is that they're cutting back because they're having financial trouble. Adrienne's family owns the Palms Casino. On last week's show, Adrienne and Paul served their guests the most expensive champagne in the world, Angel, at over $2,200 a bottle. That show is so over for me. I'm sorry for Taylor, but that doesn't mean I have to like her or any of the other Housewives at all.