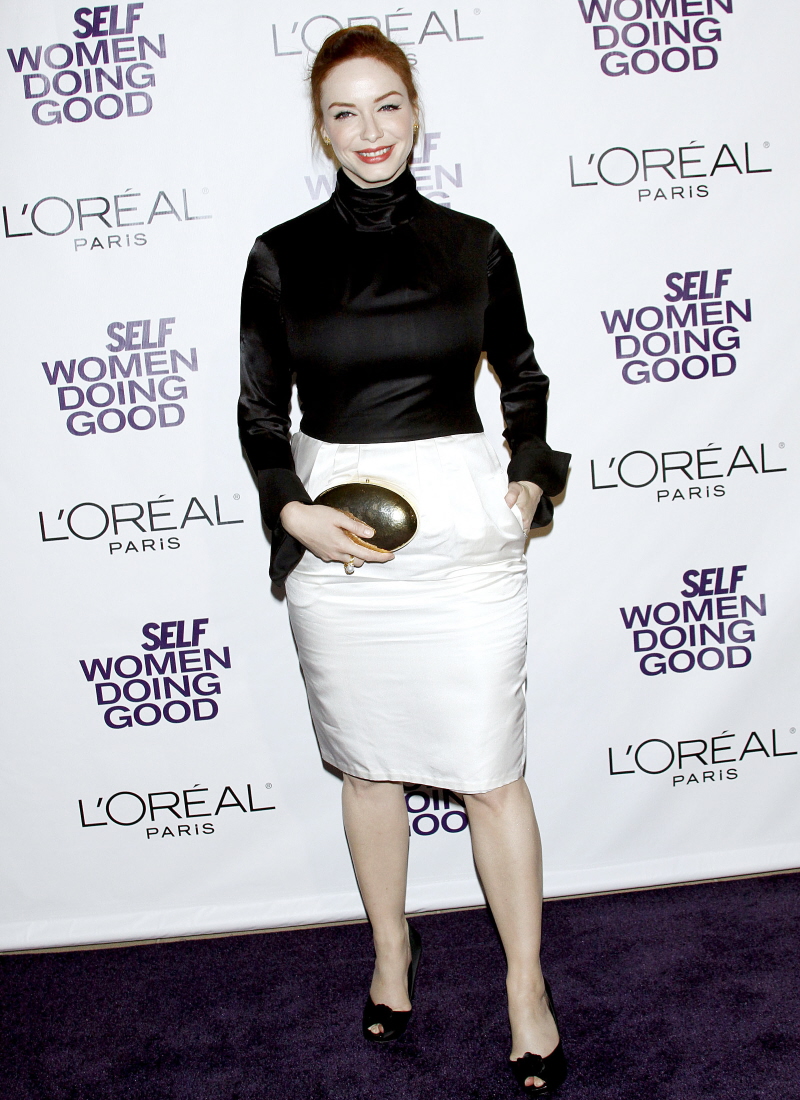 I hate the way Christina Hendricks looks in these photos. I hate it so much that at the end of the post, I'm going to include some of the days-old tit-buffet photos of Christina in the rose Vivienne Westwood, just because that's the way I like my boob-tastic gingers: with their racks out and heaved to high heaven. These photos – of Christina in black and white – are from Tuesday, a celebration for Self Magazine. Hendricks was one of several women honored by the magazine for their work with non-profits and charities. Christina's work is with the Make A Wish Foundation, which she supports through her work with Latisse Wishes Challenge. At the event, Christina told reporters:
"I'm taking a Make A Wish Foundation child to the Emmys on Sunday. That's his wish. So I'm excited to grant that. He's 19, he's from Texas. He's gonna have a good date. I get to meet him Saturday, we're gonna go half lunch with his family and meet him, and brooks brothers is going to give him a tuxedo and we're going to get him really set up, its gonna be fun."
Um… he's 19 and his "wish" is to go to the Emmys with Christina? One of two things: he's a sick-but-horny 19-year-old who loves boobs and just wants to spend an evening looking at the best pair in America; OR, he's a sick-but-fabulous young man and he wants to give Christina some one-on-one criticism of her style. That conversation begins, in my mind, with, "BITCH, I told you to wear a jewel tone. I don't even want to be seen with your ass now." But seriously, how cute is it that she's bringing a Make A Wish kid to the Emmys? That's really nice.
Christina also gave some longer interviews to various oulets, including New York Magazine (you can read the full NY Mag piece here), and here are some highlights:
On her supporting part in Drive: "To be honest, the real reason I did Drive was because of Nicolas Winding Refn, the director. I had seen Bronson and I was floored by it, and I said, "I want to work with this guy. I don't care what it is." And this is a smaller role, but I just wanted to be part of what he was doing, and it's an instrumental role, and I think it's really different than anything else I've ever done, and an opportunity to work with Ryan [Gosling] … there were so many reasons to do it. And I love that I actually have these coming out on the same night, on the opposite end of the spectrum of movies, both enjoyable in completely different ways."

On Nicolas Refn wanting her for Wonder Woman: "Sure! I grew up on the TV show, and I had Wonder Woman Underoos, and my brother had a Wonder Woman doll — sorry, Aaron, you're exposed. [Giggles.] And Nicolas said, when we were on set, "I want you to be Wonder Woman." And I think he is such an extraordinary and exceptional director, that if he asked me to do it, I would do it in a heartbeat."

Joss Whedon wants her for Wonder Woman too: "I'd like to think that Joss would have cast me! I also loved working with Joss [on Firefly]. I'm excited to see what he does with The Avengers. Hopefully the stars would align [for Wonder Woman]. It would be really fun. It would be cool, wouldn't it? I'd get to kick ass.

Christina on her Emmy chances: "I'm not preparing a speech. There are some pretty extraordinary actresses in that category. I hate to say it, but I think it might be a long shot. But I'm super excited — especially since the show is nominated, too."

On her husband: "My husband does so much to help me, and I do as much to help him as possible. If one day he's off from work, he'll help me to do something – and vice versa. We've been doing a lot of traveling and different jobs and going back and forth. I don't freak myself out if something doesn't happen."

She's not ready to have a baby: "At least not any time soon. I feel busy enough right now."

More on her husband: Geoffrey Arend, 33, is "an amazing cook," Hendricks said, so she's trying to stop feeling guilty when he takes care of the groceries. "You don't have to feel guilty about it. And sometimes, [he] really enjoys it! I think he's surpassed me now in his culinary talents."
[From People and New York Magazine]
I'm not sure if I want to see Christina do Wonder Woman. I've gone back and forth on it, considering people have been talking about it for a while. At first I thought it was a great idea, but…? I'd kind of like to see a brunette do Wonder Woman. Oh, and there are even more quotes from even more interviews:
By the way, don't you love how it seems like Geoffrey Arend is the Nerd King of All because he landed Christina? He's doing everything to make her happy – cooking, running errands, rearranging schedules. He adores her. Just as it should be.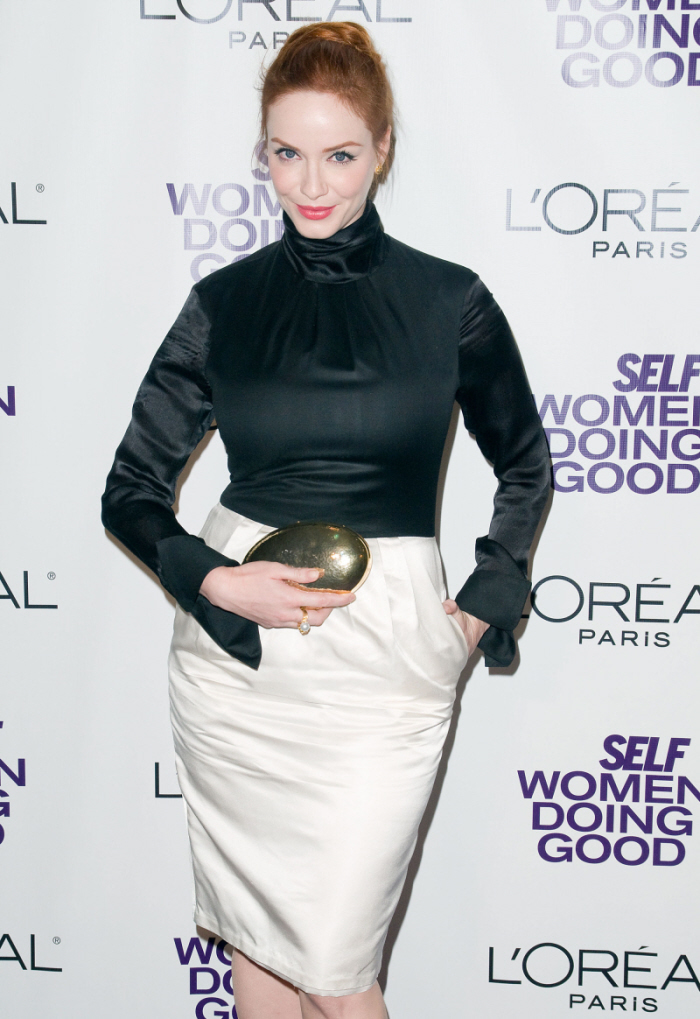 Oh, and I still f–ing love Christina in this dress: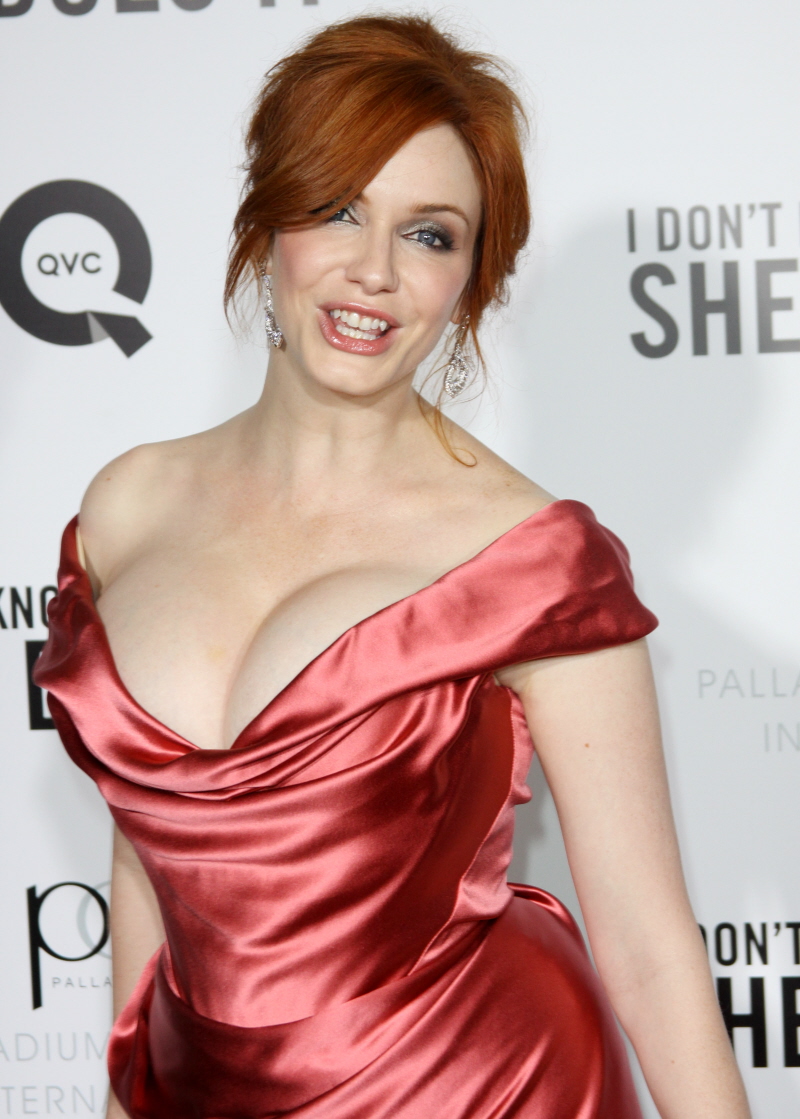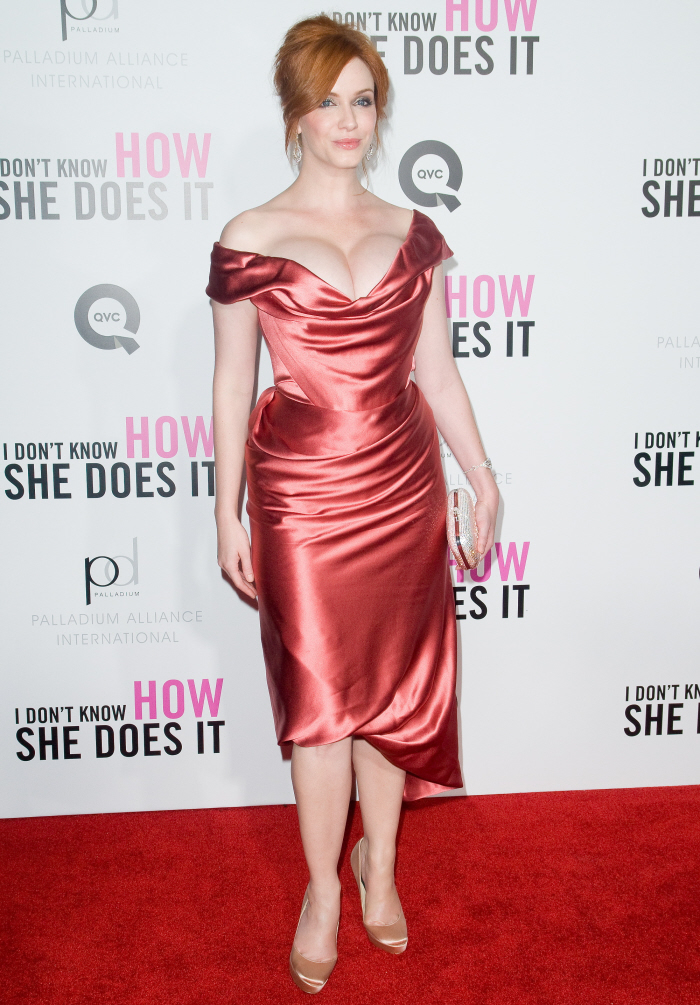 Photos courtesy of WENN & Fame.