Bike messengers are an interesting breed of bravado and insanity all wrapped up in one wiry package. Of course, I'll date myself by admitting that I first became aware of their existence while watching the adventures of Puck Rainey on the third season of MTV's "The Real World." Still, it's a real profession that serves a real function in large cities where hiring a messenger is faster than battling traffic on one's own to get a package delivered in a timely fashion. Now, we can watch Joseph Gordon-Levitt's portrayal of Riley, the messenger on a dangerous mission in Premium Rush, where he must deliver an envelope while attempting to evade reliably dastardly Michael Shannon, who plays a crooked cop that'll do anything to stop the message from arriving on time. Talk about a double shot of understated sexiness.
Here are a few photos from the set of Premium Rush. I know that Joe is something of an acquired taste, but he's just so appealing. Of course, I can't even fully describe what makes him attractive except to say that he's got the ideal combination of boyish charm and manly voice going on.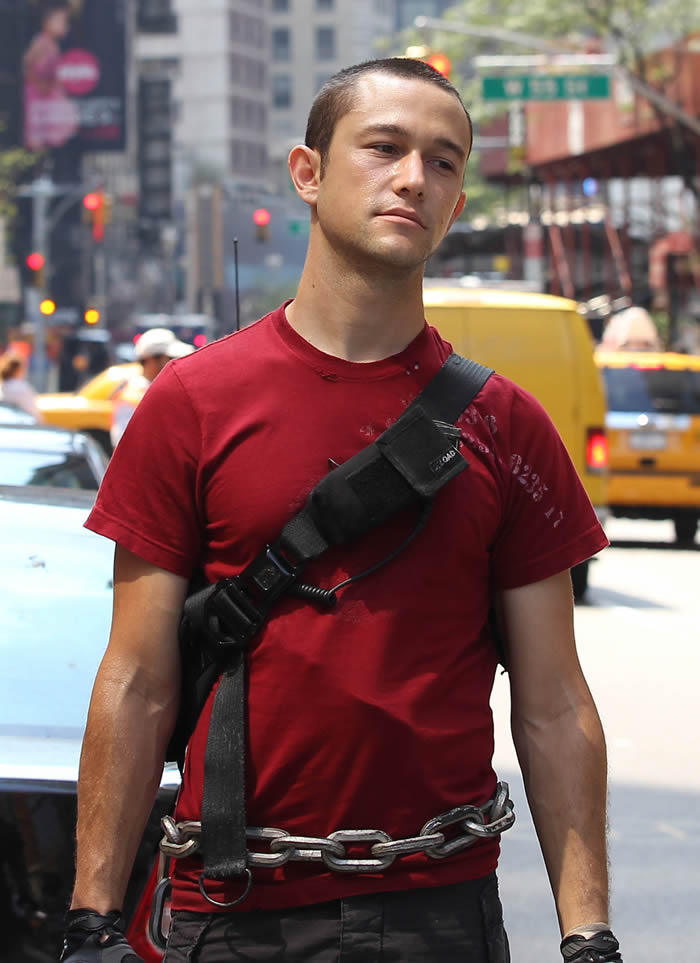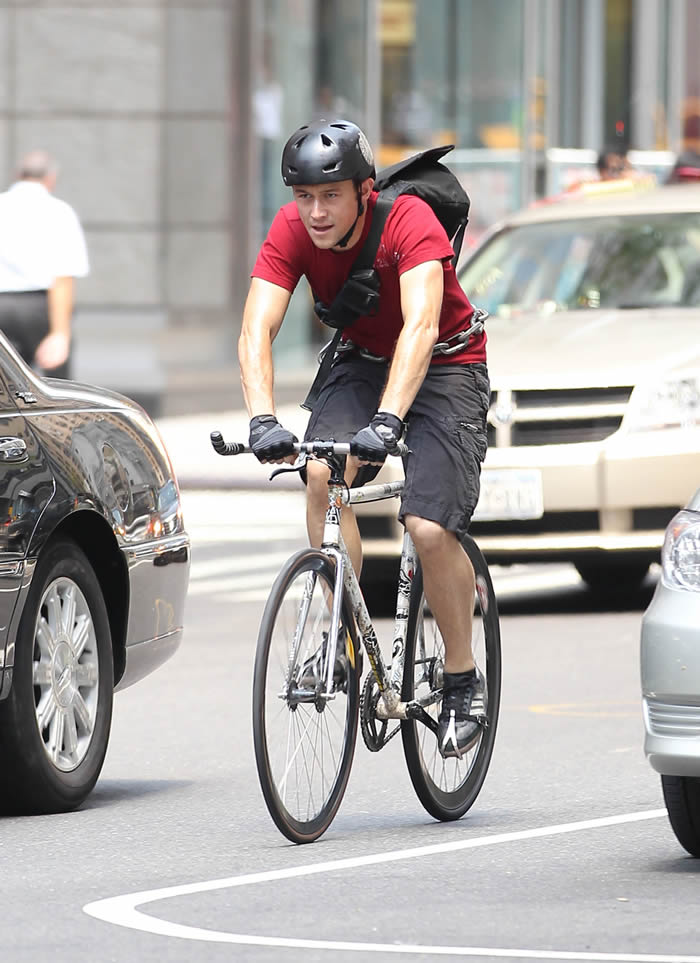 Gordon-Levitt also appears in the October issue of Elle to promote the upcoming 50/50, in which he plays a cancer patient alongside Seth Rogen, Anna Kendrick, and Bryce Dallas Howard. Here are a few excerpts from the interview: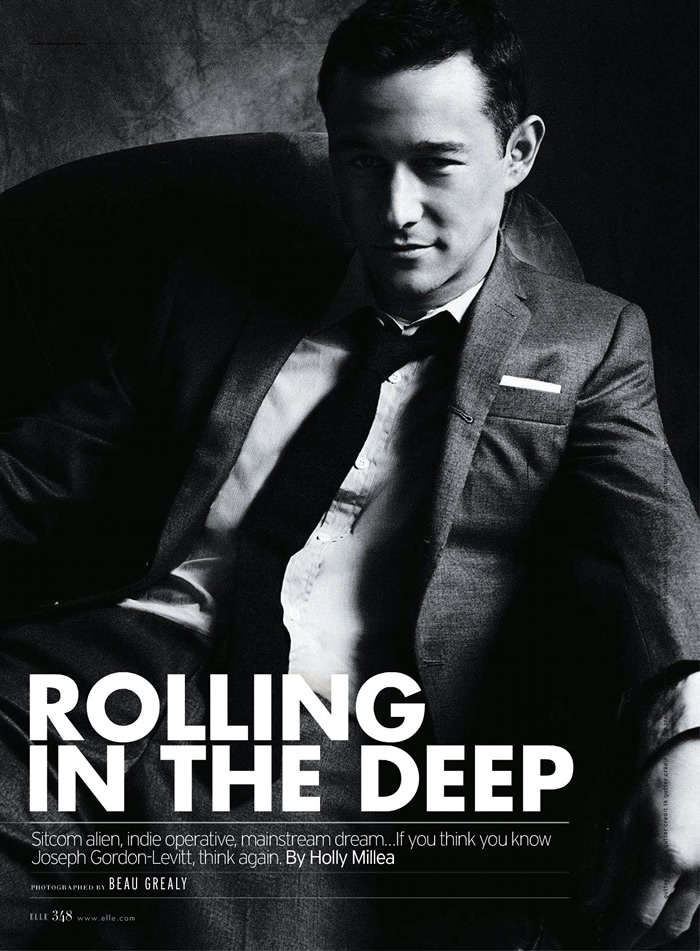 On The Press: Interviews in general — I'm looking forward to a different experience with you — in general the truth is they're all really pretty much fiction. I don't mind. It's sort of the thing; it's what it is. And occasionally there are exceptions. I think it's good for readers of magazines to know that. I think actors especially … a lot of liberties are taken with artists, because it's a little less consequential than, like, politicians. Although I imagine if you ask government officials they'd say the same thing. Press is basically a created story. It's all just stories."

On Playing A Cancer Patient: I spent a lot of my time — most of my days — thinking about what it would be like to be facing death while I was shooting. But, to be honest, I think about it all the time anyway.

On Why He Created hitRECord.org During College: "Nobody wanted to hire me — I can see where they wouldn't want the kid from 3rd Rock From the Sun. I came to the conclusion, I'm not going to wait for somebody to tell me that I'm allowed to be creative. The metaphor of pushing that red button sort of became my symbol for that kind of self-started creativity."

On His Snail-Shell Necklace: "They aren't just shells. There are different hames for it: the Fibonacci spiral, the golden ratio … The spiral in a snail's shell is the same mathematically as the spiral in the Milky Way galaxy, and it's also the same mathematically as the spiral in our DNA. It's the same ratio that you'll find in very basic music that transcends cultures all over the world. You know that Leonardo da Vinci drawing of the human body, Universal Man? That ratio is all over there. There are certain patterns and repetitions and connections in my world, and througout all of creation, that lead me to believe that there is a connection and there's a unity and we all — everything are all one thing all at once."
That's some pretty deep thinking from a Hollywood actor, right? Joe's last statement there almost makes me feel bad for ogling him in a sexual way. Almost.
Meanwhile, JGL's Premium Rush co-star, Michael Shannon is the subject of some booty shots from the set of Zack Snyder's Man of Steel reboot. While Shannon previously likened his casting to being on acid, it seems that the costuming process has brought him down to Earth. Apparently, Zack promised Michael that he wouldn't have to wear a silly motion-capture suit because Michael insisted, "It's going to be really hard for me to be intimidating if I have to wear one of those silly suits." Then, Michael showed up on set and learned that he does have to wear a grey motion-capture suit (pictured here) during much of the filming for Man of Steel. I can see why he'd be discouraged by having to wear that thing because getting into a real costume certainly helps one get into the state of mind of playing an otherworldly supervillian. Also, CGI costumes are really getting a deservedly bad rap after the Green Lantern fiasco earlier this summer. Luckily, Michael does get to wear an actual Zod costume during part of the filming. Check out the Zod booty!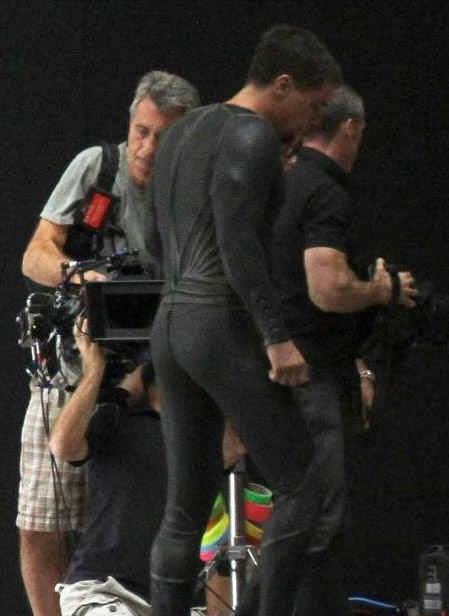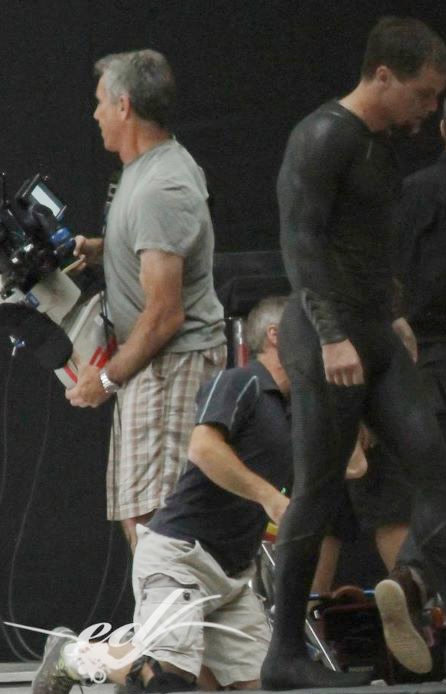 Photos courtesy of Fame and Elle. Zod photos courtesy of Facebook.