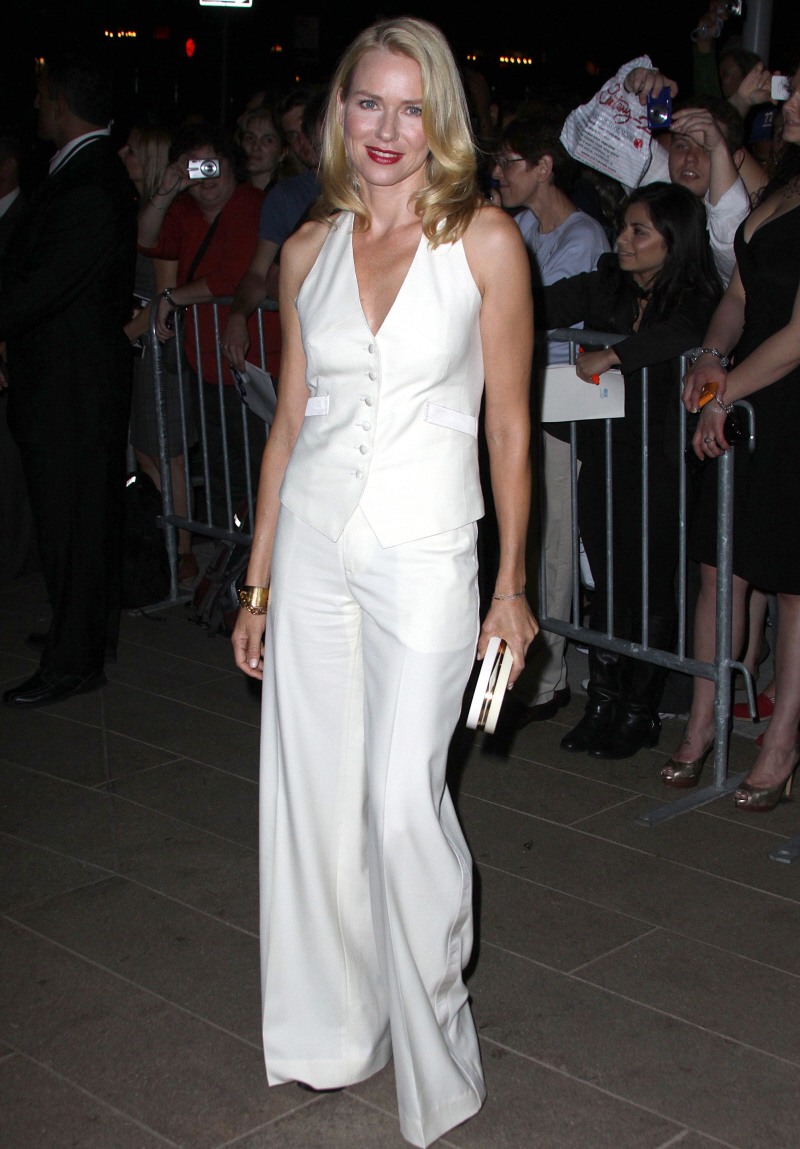 These are some new photos of Naomi Watts last night at the opening of that new ballet – the one Paul McCartney wrote the music for. I really, really love Naomi's "suit". All too often, when women do the white-suit thing, I think they look a bit Tom Wolfe-ish. But this is just the right balance – great white pants, and this awesome little vest. It's sexy, it's sophisticated, it's smart, it's appropriate. Lovely. The only thing I dislike is how buddy-buddy she seems with Jessica Seinfeld. WTF?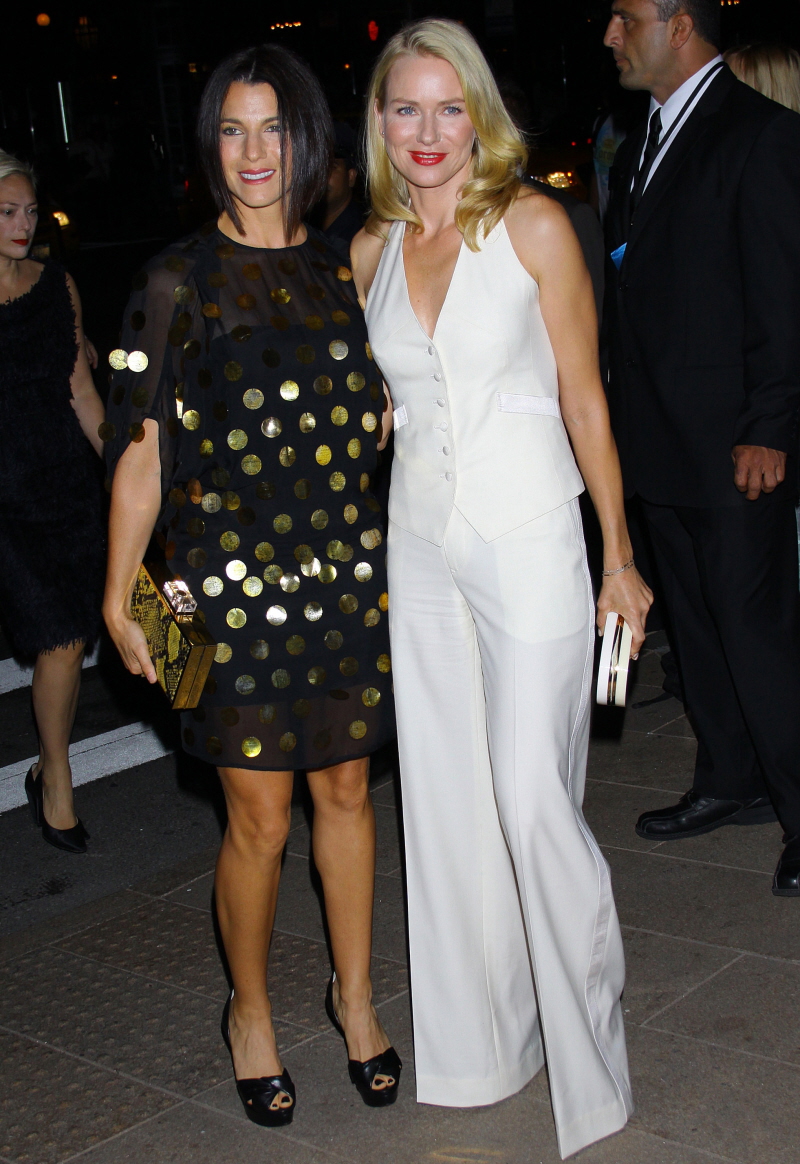 In other Naomi news, she covers the new issue of More Magazine, and in the interview, she discusses her relationship with Heath Ledger. They dated for several years, circa 2002-2004. Then he got with Michelle Williams right after Naomi. Naomi has discussed Heath before – notably, in a Parade interview in 2009 – but she's not trotting out his corpse for every interview, which I appreciate.
Naomi Watts has opened up about her ex Heath Ledger saying the late actor was a 'very special soul' who 'made a great impact on my life.' The 43-year-old actress – who is currently promoting her movies Dream House and J Edgar – dated the Australian star for nearly two years. Their relationship ended in 2004 and he died four years later at the age of 28. Although they were dating different people at the time of his death Watts has fond memories of the Brokeback Mountain star.

'Good times,' Watts tells America's More magazine when asked about Ledger. 'We had a beautiful relationship, only a couple of years, but he was a man who was completely full of joy, and there was a lot of laughing and affection. He was really a very special soul and made a great impact on my life. And a great actor, but I know there was so much more to come. And it's such a tragedy for his little daughter.'

Ledger went on to date actress Michelle Williams, with whom he had a child, Matilda who turns six in October. Ironically, Watts – who has two sons with her boyfriend Liev Schreiber – lost her father when she was just seven.

Peter Watts was a sound engineer and road manager for rock group Pink Floyd. He died when she was a little girl and seven years later the actress moved from the UK where she was born to live in Australia with her mum, stepfather and brother.

Asked how the death of her father impacted her life, Watts is at first cagey, saying: 'I don't talk about him.'

According to the reporter she later says in an e-mail: 'It's too personal. Forgive me…'

But Watts eventually comments in another e-mail sent two weeks after the original interview.

She wrote: 'Not knowing my father always made me feel like a piece of myself was missing or unknown. Not reachable. And growing up, there was this wondering what he would think of me or what I would think of him.'

Now the mother of two sons – Alexander, four, and Samuel, two – Watts is very clear about the legacy she wants to leave her children.

'I want them to feel connected to me and me to them,' she says. 'Always. I want them, above all, to feel sure of who they are. That they are safe in the world and confident and happy people. And of course, connected – to their parents, their friends, their family, the world and themselves. This is the most important goal/dream in my life. Everything else is gravy.'

Aside from talking about her personal life, Watts also reveals that she has a 'bawdy' sense of humour.

'Bawdy' is apparently the word that actress Nicole Kidman used to describe her friend's sense of fun.

Watts agrees, saying: 'I do, I do. And it's definitely heightened when I'm in the company of Australian women and a drink.'
[From The Mail]
I think Naomi was as classy as she could be. It would have been too hyper-dramatic for her to act all, "OH, I cannot discuss my great love Heath Ledger." At the time of his death, they had both moved on and started families with other people, but for a time there, they were a surprisingly strong couple. I think she discussed Heath with a lot of maturity, and… I have to just say it and just get yelled at… I think Michelle Williams should take note of the way Naomi handled it. I get tired of how Michelle has actively allowed Heath's death to define her. She (STILL) acts like they were still together when he died, and like she's The Widow Ledger. Maybe that just bugs me, and I'm a raging bitch. But at the time of Heath's death, he was spending his nights with Lohans and Olsens, and Michelle was rumored to have other lovers too.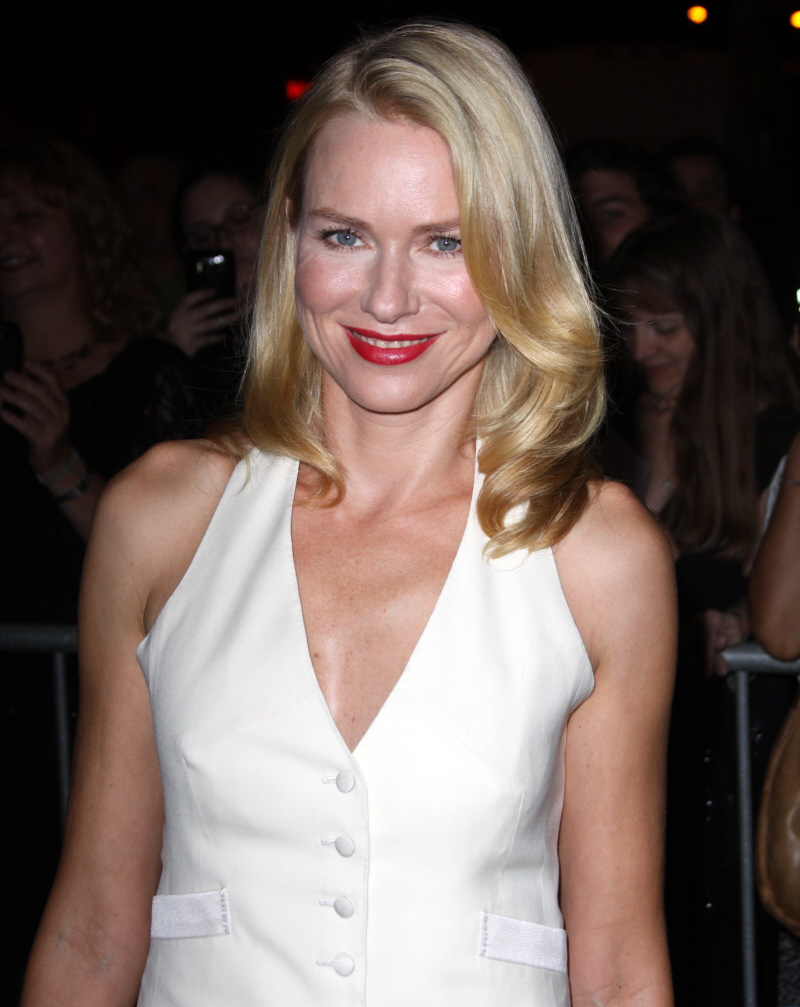 Photos courtesy of Fame.