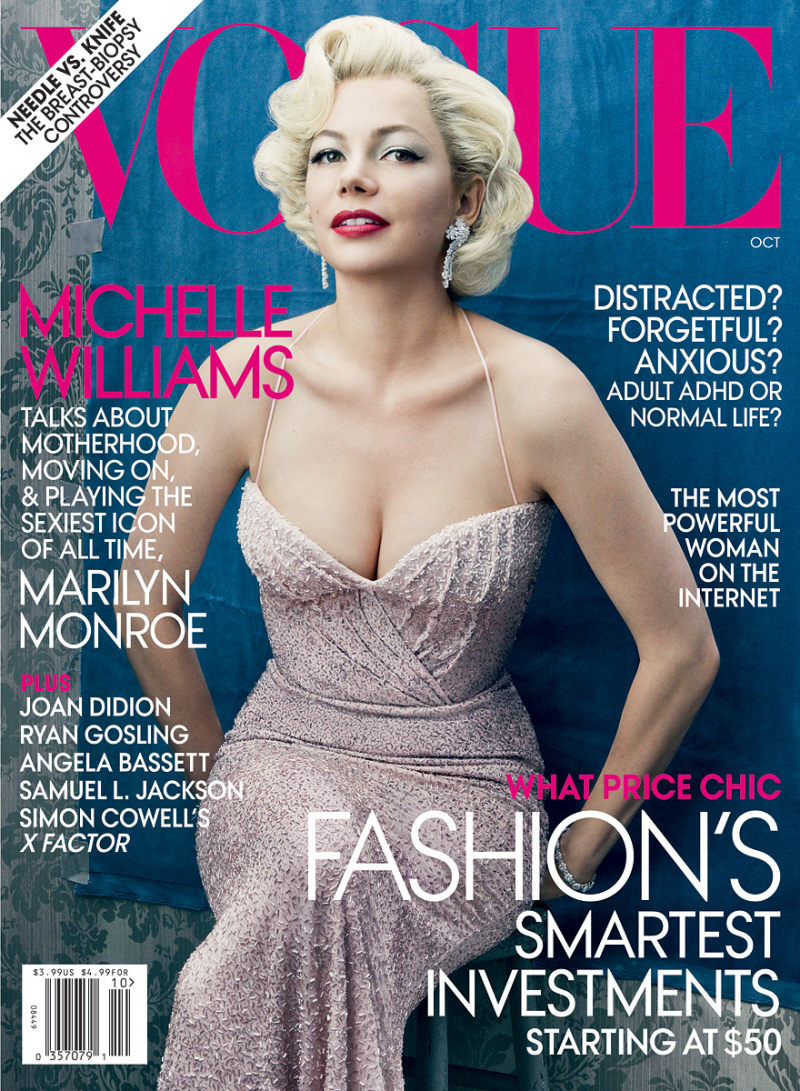 Here's the thing: I like Michelle Williams (not love, but like) but casting her as Marilyn Monroe is just… awful. Michelle was cast as Marilyn in My Week With Marilyn, a film based on a book from a production assistant who worked with Monroe in England, while Monroe filmed The Prince and the Showgirl with Lawrence Olivier. Monroe had just married Arthur Miller, and he traveled to England with her, and Monroe and Olivier famously hated each other. I get that the "behind the scenes" story is interesting, and I'm not generally opposed to the film being made, but would it have killed them to get someone more vivacious and sexy to play Marilyn? Instead, we have Michelle Williams, who… let's just say it, is a girlish, affected hipster with no sex appeal.
These photos tend to prove that in spades – Michelle, still in character as Marilyn, covers the new issue of Vogue. The cover is especially terrible, and the rest of the photos – well, Michelle just looks like a cheap Monroe impersonator. I've seen drag queens do a better, more realistic Marilyn. This seems like the kind of stunt Linnocent would pull. Anyway, the full slideshow is here, and the full article is here. Here are some highlights:
MW's hipster cred: She gestures with small, slim, expressive hands as the conversation ranges from her affinity for dresses from the 1930s and long-discontinued Eberhard Faber Blackwing 602 pencils ("I love things that are old and beautiful and tell a story, even if it's a sad one") to the novels of Vladimir Nabokov, whose notoriously complex Ada is a favorite. "I think Nabokov once said that genius is finding the invisible link between things," she tells me. "And that's how I choose to see life. Everything's connected, and everything has meaning if you look for it."

Turning 30: "I feel like something has changed for me, but it's a new change, so it's going to be hard for me to describe," she says. "Maybe it has something to do with turning 30. I don't feel as shy or nervous or self-conscious. I have more confidence that I can handle what life brings me. I don't feel scared to have an idea and express it." She adds, "I feel giddy about it because it's a complete transformation. It's like I've found my voice."

Playing Marilyn: "As soon as I finished the script, I knew that I wanted to do it, and then I spent six months trying to talk myself out of it," she says. "But I always knew that I never really had a choice." And, she adds, "I've started to believe that you get the piece of material that you were ready for."

On Marilyn: "Everybody has their own idea of who Marilyn was and what she means to them," Williams says. "But I think that if you go a little bit deeper, you're going to be surprised by what you find there."

Becoming Marilyn: Williams spent six months immersing herself in all things Monroe. She read biographies, diaries, letters, poems, and notes, pored over photographs, listened to recordings, watched movies, and tracked down obscure clips on YouTube. "I'd go to bed every night with a stack of books next to me," she recalls. "And I'd fall asleep to movies of her. It was like when you were a kid and you'd put a book under your pillow hoping you'd get it by osmosis." Her turn from indie waif to Hollywood sex goddess involved working with a choreographer to perfect Monroe's walk and gaining weight to approximate her curves. "Unfortunately, it went right to my face," she says, puffing up her cheeks to illustrate. "So at some point it became a question of, Do I want my face to look like Marilyn Monroe's or my hips?" (She opted for the former and filled out the latter with foam padding.) In the end, she says, "it felt like being reborn. It felt like breaking my body and remaking it in her image, learning how she walked and talked and held her head. None of that existed in my physical memory, and I knew I needed as much time as possible to make it part of me."

Sex appeal: "Any messages that I got as a child about what it is to have a woman's body or to be sexual were all negative—that people wouldn't take you seriously or that they would take advantage of you… The expectation to be beautiful always makes me feel ugly because I feel like I can't live up to it," she says. "But I do remember one moment of being all suited up as Marilyn and walking from my dressing room onto the soundstage practicing my wiggle. There were three or four men gathered around a truck, and I remember seeing that they were watching me come and feeling that they were watching me go—and for the very first time I glimpsed some idea of the pleasure I could take in that kind of attention; not their pleasure but my pleasure. And I thought, Oh, maybe Marilyn felt that when she walked down the beach."

On the paparazzi, and her daughter: "That's what seems the most rotten thing about it to me," she says. "And I'm going to do everything in my power to make her feel safe and protected, and to extend her childhood for as long as possible."

On Heath's death: "Three years ago, it felt like we didn't have anything, and now my life—our life—has kind of repaired itself… Look, it's not a perfectly operating system—there are holes and dips and electrical storms—but the basics are intact." Still, she says, in a fundamental way nothing will ever be the same: "It's changed how I see the world and how I interact on a daily basis. It's changed the parent I am. It's changed the friend I am. It's changed the kind of work that I really want to do. It's become the lens through which I see life—that it's all impermanent." Williams shuts her eyes, then opens them again and says, "For a really long time, I couldn't stop touching people's faces. I was like, 'Look at you! You move! You're here!' It all just seemed so fleeting, and I wanted to hold on to it."

Her love life: Williams speculates that she may be drawn to stories about the vicissitudes of romantic love because "relationships have always seemed very mysterious, and therefore worth exploring. I'm single, so it's still kind of a mystery—a worthwhile mystery, one that I want to be on the scent of." She confesses that she misses having a guy around when it's time to haul wood at her house upstate. But, unlike Monroe, she doesn't define herself through the men in her life: "I'm not lonely, and I think that has a lot to do with what's on my bedside table rather than what's in my bed."
[From Vogue]
Yeah, I don't even believe she's single. I think she's dating Cary Fukunaga, the director of the latest version of Jane Eyre. I just think she doesn't want to talk about who she's dating, which… I kind of wish she would just say, "I don't want to talk about it" rather than lying. We're not going to hold it against her if she's dating, for the love of God.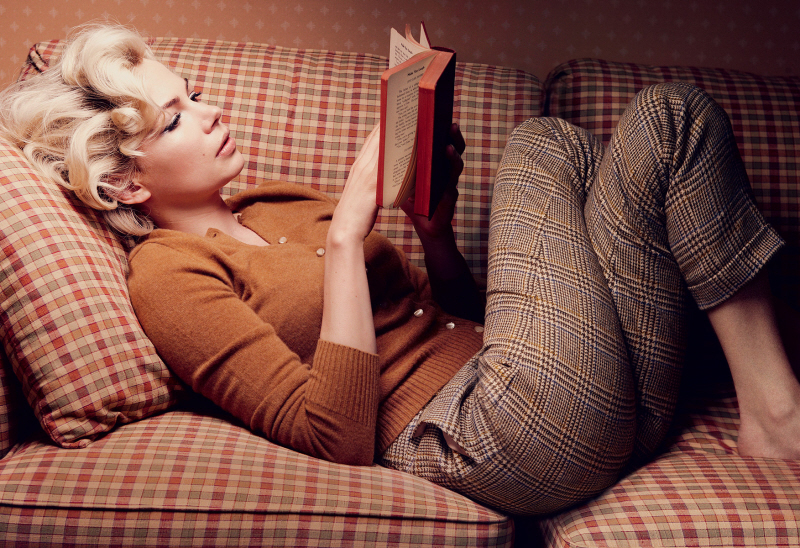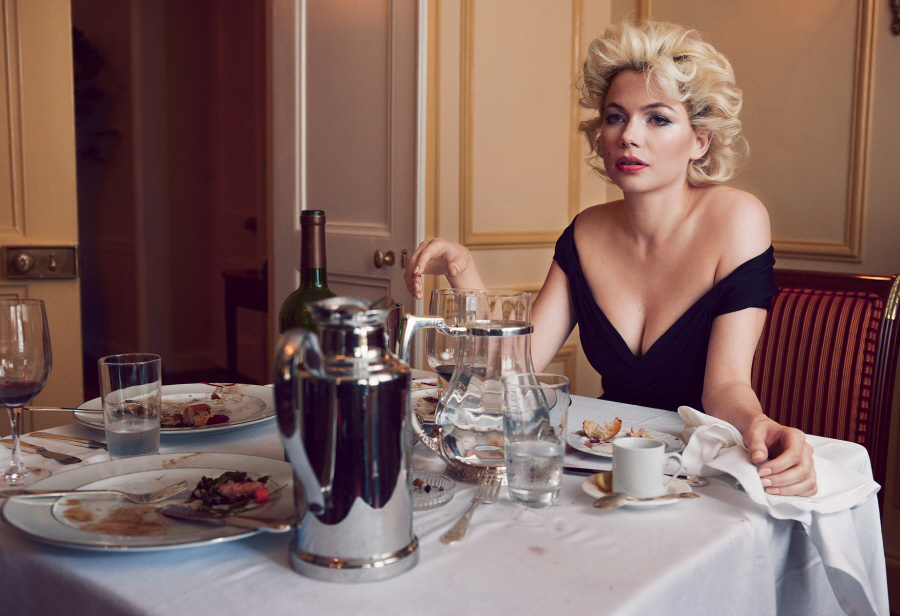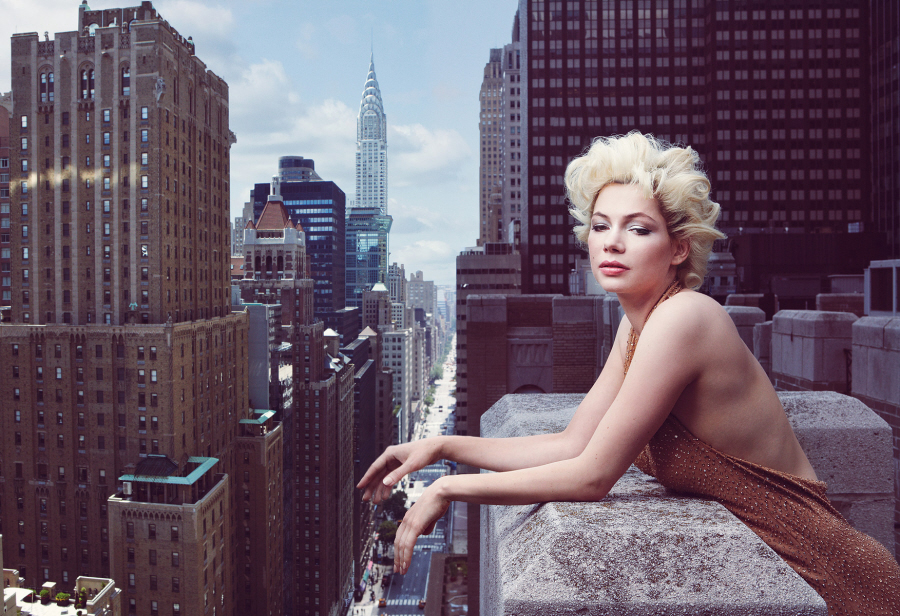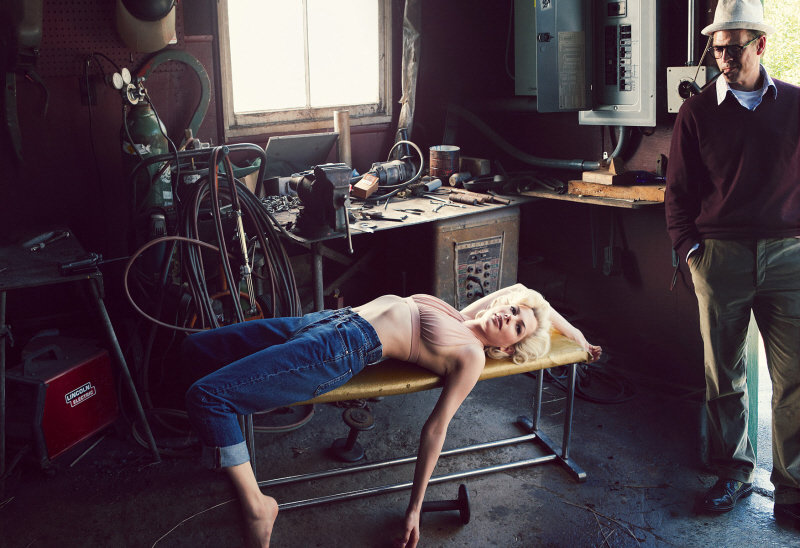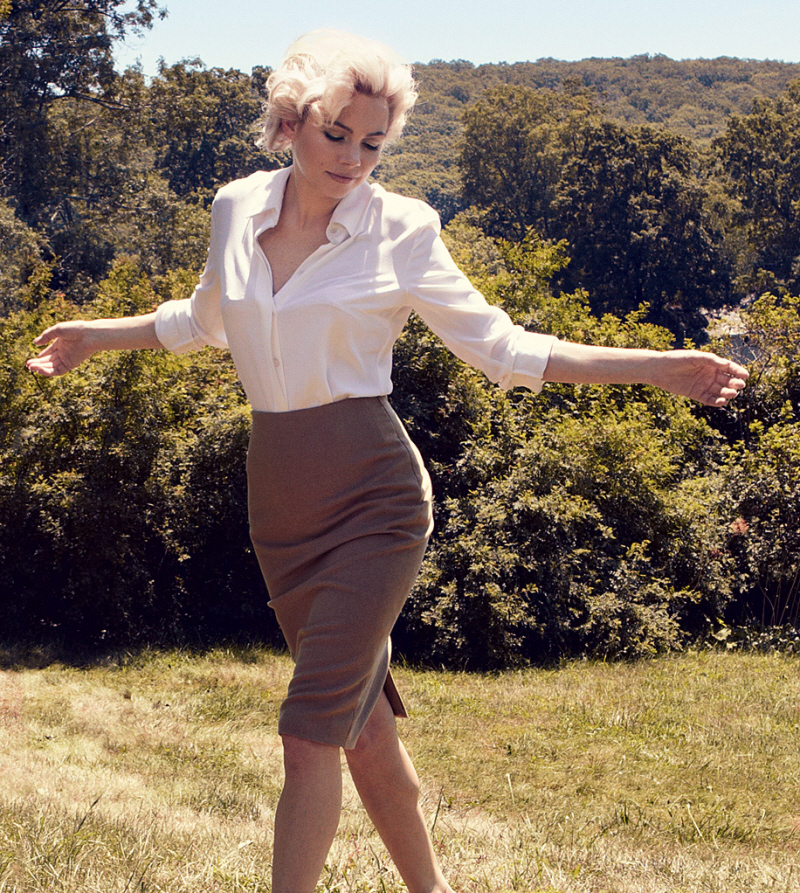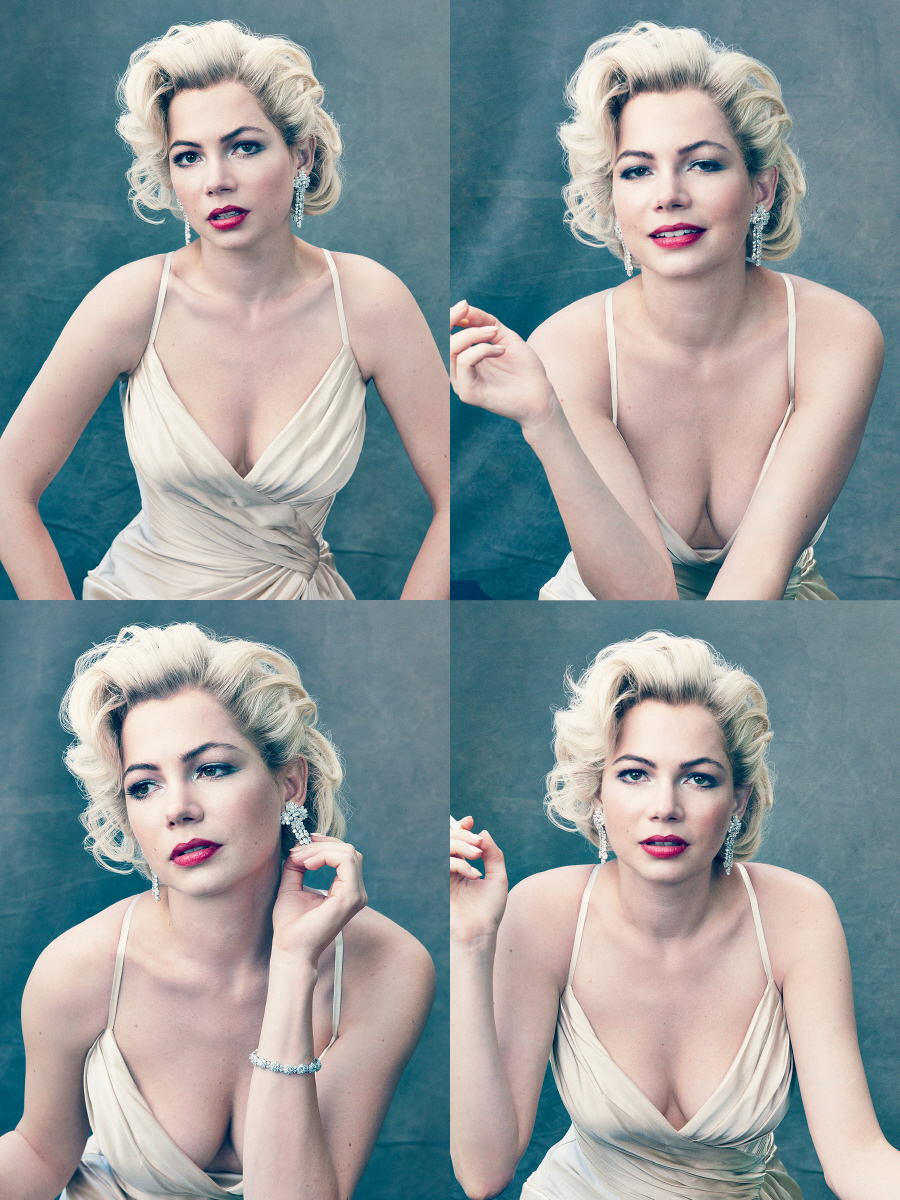 Photos courtesy of Vogue.