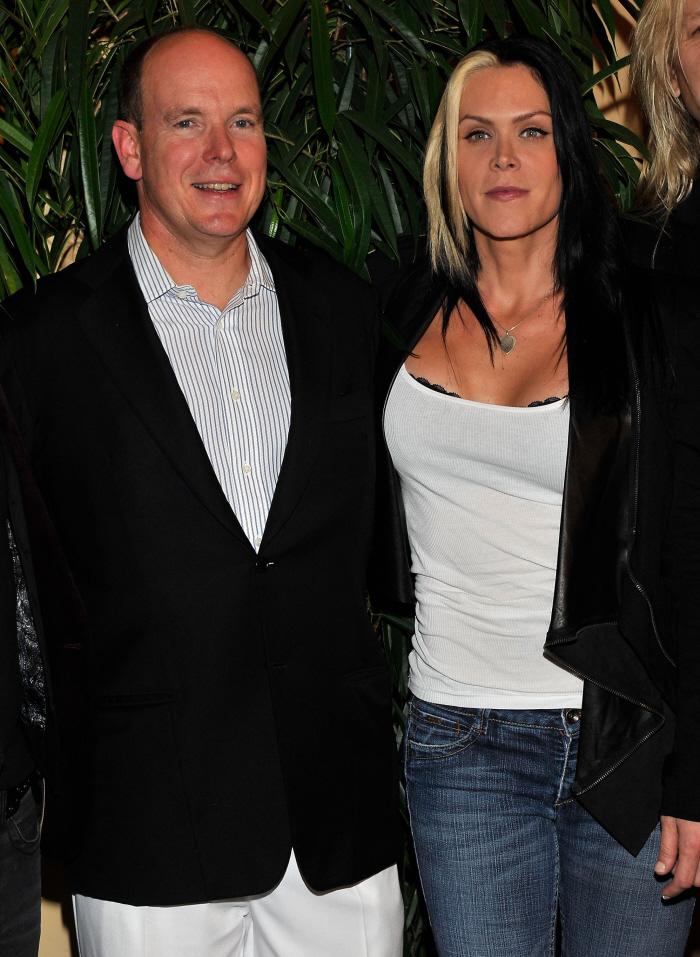 Just yesterday, I was sitting here at my desk wondering why I hadn't seen poor Princess Charlene in a while. Well, as it turns out, she was at a red carpet event two weeks ago, on September 8th, but I missed those photos (I've included them at the end of the post). But since then, Charlene has not made any public appearances. Granted, this seems to be The Year of Newly Royal Women Eschewing Royal Duties (see also: Duchess Kate), but Charlene is in the unique position of marrying the head of state. She is the de facto First Lady of Monaco, and it's kind of weird that there hasn't been a glance of her in two weeks. Especially weird considering that Prince Albert has been doing appearances without her. Albert did an event with his sister acting as "first lady" and then Saturday night, Albert did an event with a "date" – Beth Hart, an American singer (the chick in the header photo). WTF?
Prince Albert of Monaco attended a glittering charity event with a glamorous singer – promoting speculation that his marriage to Princess Charlene is once again on the rocks. The 53-year-old royal astonished onlookers at an auction organised by a disabled charity by turning up without his 33-year-old wife. Instead he was accompanied by Beth Hart, a 39-year-old American whose 'LA Song (Out of this Town) featured in the final season of Beverly Hills, 90210.

'They looked very comfortable and relaxed together,' said a source who attended the event at the Opera Garnier in the Mediterranean principality on Saturday. 'Albert clearly needed a female partner, but everybody was asking where Charlene was. Surely it's the job of a Princess to accompany her Prince to events like this?'

It was the second time in a row that Charlene stayed away from a public event attended by Albert. Last week his sister, Princess Charlene, was on his arm when he launched a classic sailing boat race in Monaco.

Albert and Charlene's summer marriage was plunged into crisis when the former Olympic swimmer tried to flee home from South Africa following reports that he had yet another love child. He currently has two known ones – six-year-old son Alexandre through a former Togolese air hostess, Nicole Coste, and a 19-year-old daughter, Jazmin, with Tamara Rotola, an American estate agent. Palace officials in Monte Carlo confirmed that DNA tests were imminent, and that Albert would face up to his responsibilities as a parent.

Speculation about the frail state of the marriage deepened when the Prince admitted to spending part of their South African honeymoon sleeping alone in a different hotel to Charlene. Albert's aides said it was to 'avoid the traffic' when he attended an Olympic committee meeting in Durban.

The couple's latest unusual behaviour comes as the Monaco tourist office launches a 'World Capital of Romance' initiative. The highly publicised royal wedding attracted some 100,000 visitors, and the Principality is hoping that many more will arrive to visit the place where Albert and Charlene wed.
[From The Mail]
I know I should be concerned, and I should take the point of view of "Poor Charlene is going through another brainwashing session to ensure that she doesn't look so flat-out pissed at her husband all of the time, meanwhile her husband is boning random American D-list singers." Seriously, look at the last photos of them together (below) – I might not BE married, but I know the look that Charlene is giving Albert. That's the "Jesus Christ, I married an a–hole" look. Anyway, I'm not raising any alerts because I spy something else in the last photos of Charlene – some weight in her mid-section. Pregnant much? Could it be that Charlene is laying low because she did her "royal duty" and got knocked up? Poor Charlene.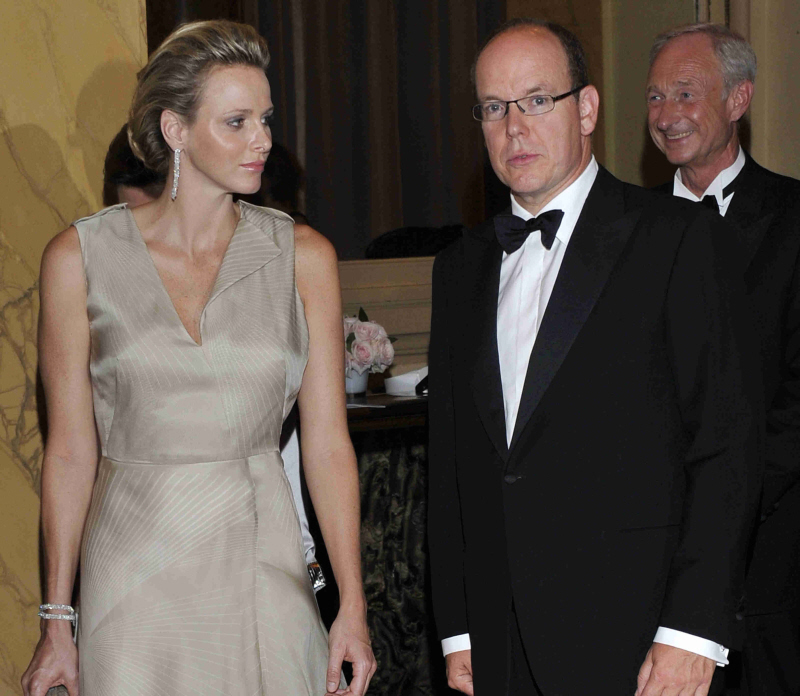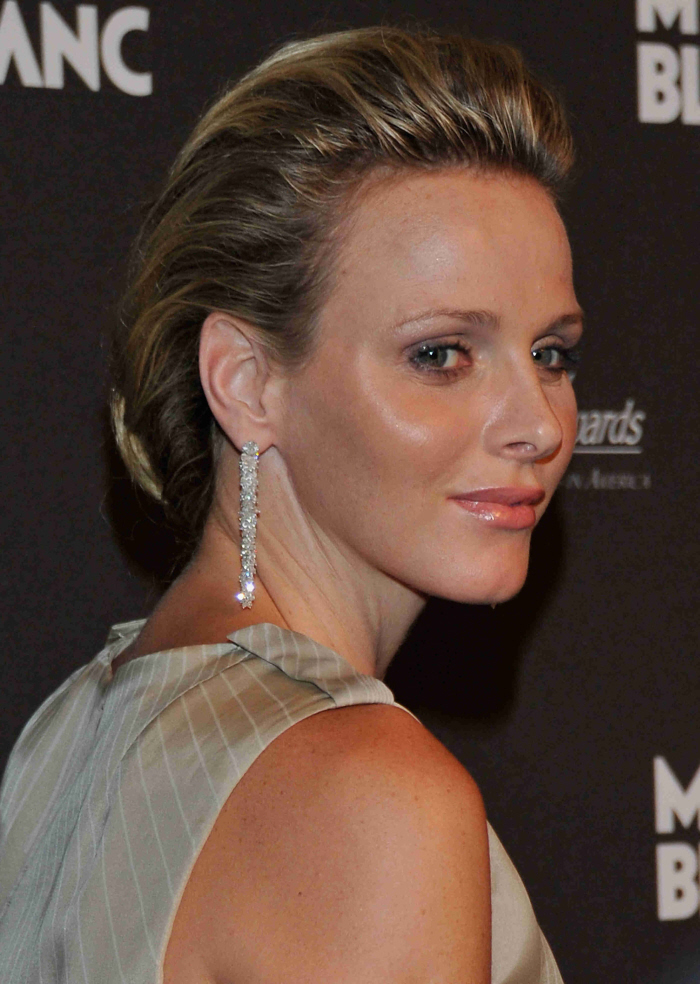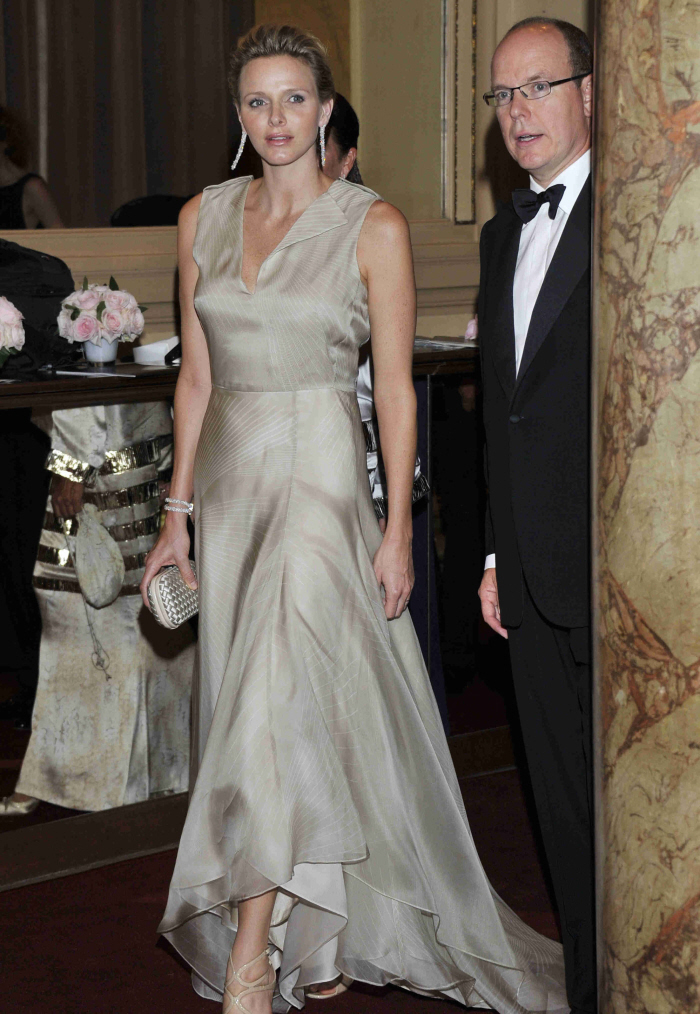 Photos courtesy of WENN.