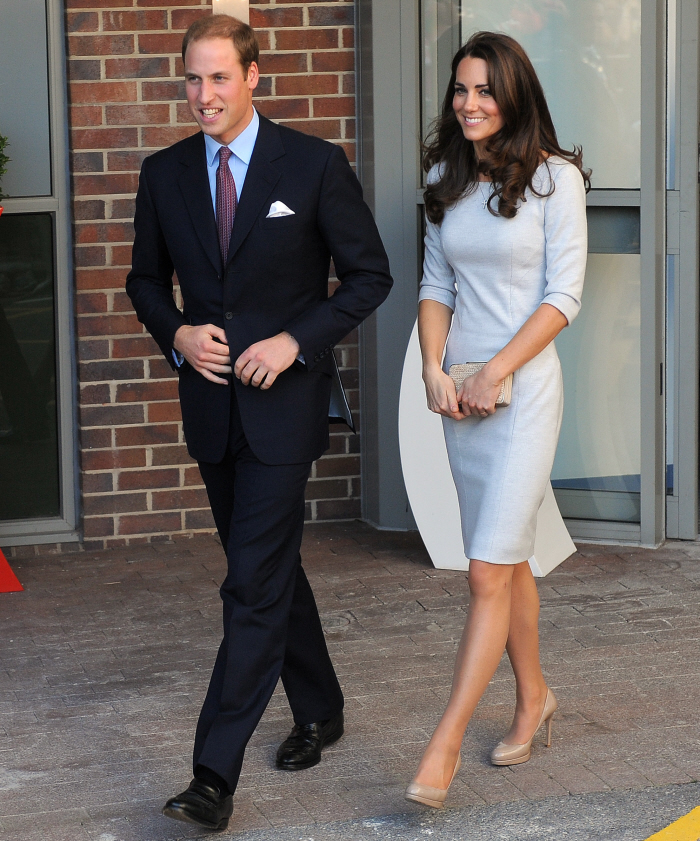 Here are even more photos from Prince William and Duchess Kate's royal hospital visit yesterday. I know many of you thought this dress was boring, but the more I see it, the more I like it. I sometimes hate Kate's style – I dislike when she wears old-lady lace, enormous buttons and Peter Pan collars, but I love the understated simplicity of this dress. Anyway, remember how I was once again calling Kate "hilariously lazy" just a few days ago? Some of you yelled at me and some of you agreed with me, all of which is fine, but I might have to eat s–t on this one. Just a little bit. Apparently, while Kate and Will were doing the rounds at the hospital, Kate was asked if she would make the Royal Marsden one of her charities. Which… is funny, because at this point, everybody is like, "Damn, can this chick do anything but shop and play with her hair? Shouldn't a nearly-30-year-old woman have more going on?" But Kate's response to the question was very, very interesting:
Yesterday the Duchess of Cambridge admitted that Prince William calls the shots in their marriage.

The Royal couple were opening the £18million Oak Centre for Children at London's Royal Marsden Hospital when Kate was asked if she was planning to make the famous cancer hospital one of her charities.

Kate replied: "We'll have to see – William's in charge."

During their visit, William and Kate spoke to several patients in the Teenage and Young Adult Chemotherapy Suite, and Kate promised to post a comment on the blog of nine-year-old Fabian Bate who is being treated for acute lymphoblastic leukaemia.

They are carrying on the work done by William's mother, Princess Diana, who made her first solo visit to the hospital since 1982.

William has been President of the Royal Marsden since 2007 and he made it to the opening despite having just completed a 24-hour shift as a Search and Rescue pilot.

He admitted, "It was a bit of an early morning."
[From AOL UK]
Hmm… so William's "in charge". In charge of everything? In charge of which charities she signs on to? In charge of her princess training? In charge of their image? I don't know. But, looking at the whole "When is Kate ever going to become a working royal?" issue through the "Will is in charge" thing is interesting.
My take before was that Kate was out of her depth, and she was simply not used to working or having people expect things from her, and the palace was eager for Kate to begin her royal duties – perhaps even get her associated as a sponsor or patroness of a dozen charities before the year was out. And that's starting small, believe me – truly working royals are often patrons of HUNDREDS of charities and organizations. Now I'm kind of wondering if William isn't holding his wife back. Maybe he wants her to be a layabout, he wants her to (still) be at his beck and call, and he wants to "protect" her from royal duties. The problem I still have is that Kate is nearly 30 years old, and she's basically a geisha, and she's been a geisha most of her adult life. But that's what Will wants, I guess.
Here's some video of yesterday's visit. I think Kate's dress is prettier in motion (the cut is great), but in motion, Kate also looks even thinner. Like, when you see her size compared to the kids with cancer, it's like, "Which one is supposed to be sick?"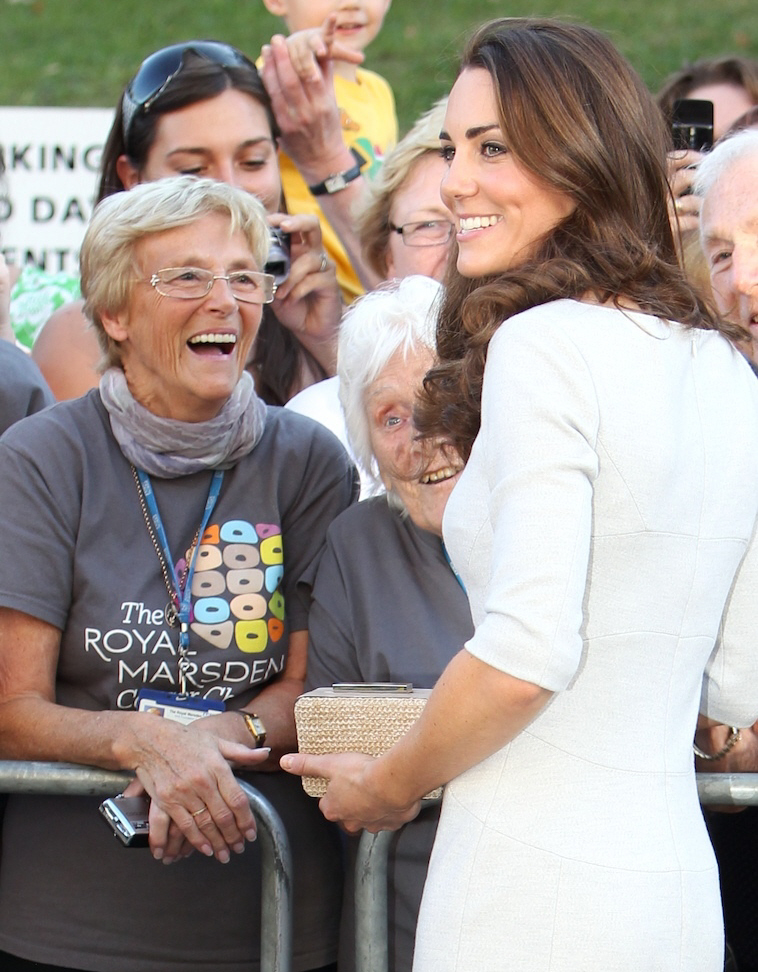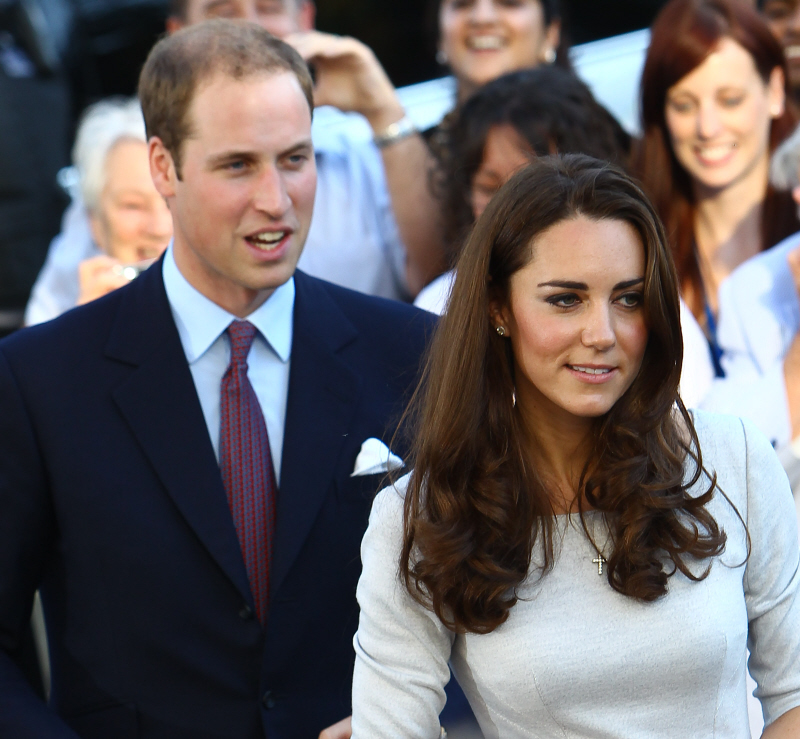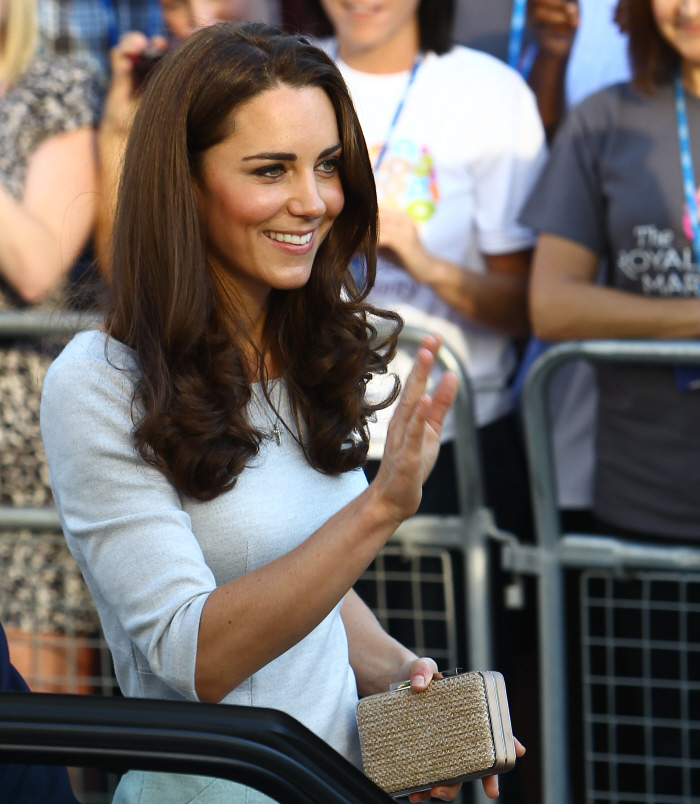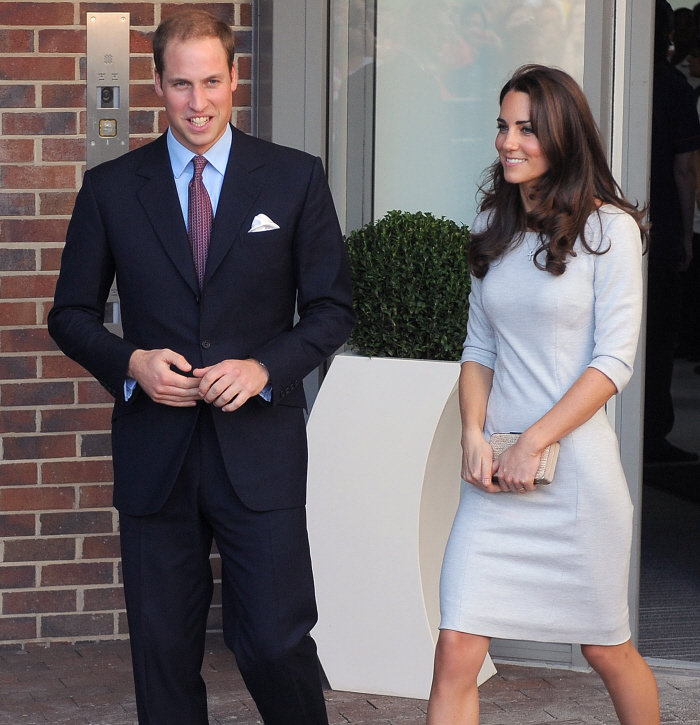 Photos courtesy of WENN.