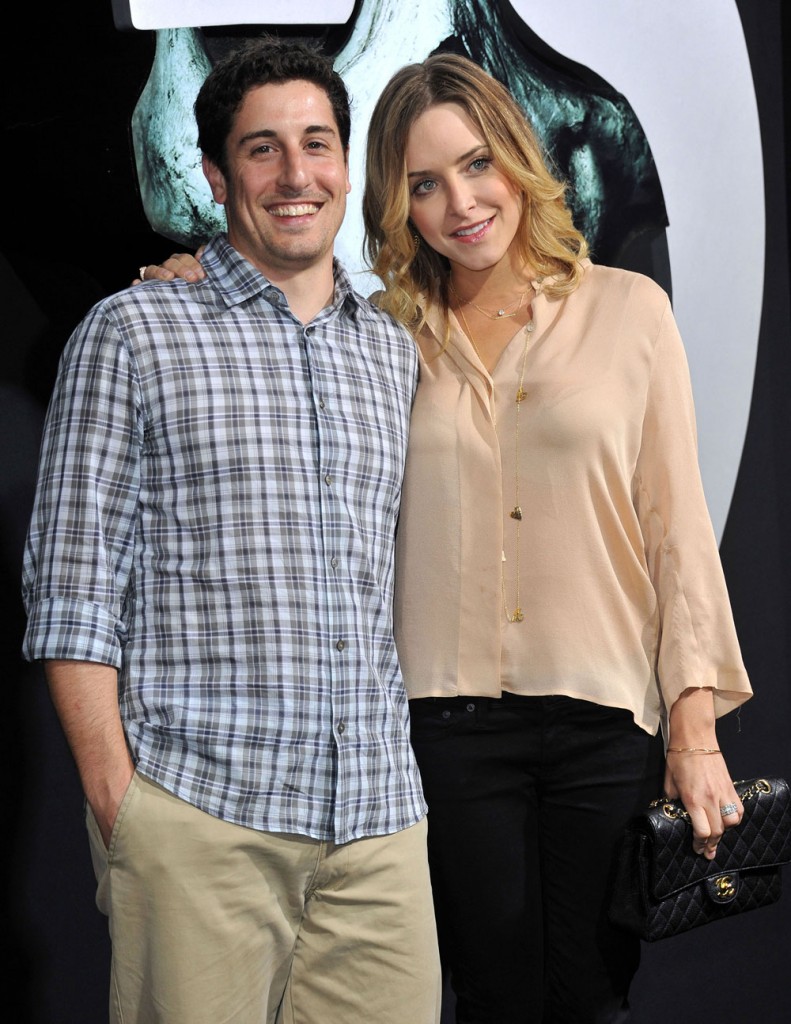 American Pie star Jason Biggs' wife of three and a half years, actress Jenny Mollen, 32, has written a long essay for Playboy site The Smoking Jacket detailing her quest to hire a hooker for her and her husband. Spoiler alert, it ended with an unsatisfying beej from the third person they tried and ended up costing over a thousand bucks in total. Supposedly it rekindled their sex life though. I'll excerpt a little below that won't make the ads disappear hopefully. You can read more, and more explicit details at The Smoking Jacket.
Note that this whole series of events happened two and a half years ago, since Jason and Jenny have been married since April, 2008 and Jenny writes that they had been married just over a year at the time. The fact that they're still together now is surprising to me, but to each their own.
"Do you want to go down on him a bit?" Keisha suggested. In my mind I was thinking, "No, dude, that's why I paid you the six hundred dollars, to do the work for me! I'm going to be over here eating chips." Of course, there was no way my husband was going to let me get away with that so I obliged.

The most exciting part of the day was Keisha complimenting me on my [beej] skills. I love approval of any kind. Sadly, however, I think it was pretty obvious that my husband and I were both bored. He quickly became flaccid and we were left with nothing to do but stare at each other.

"I kind of feel like you are a giant baby and we are putting a diaper on you," I blurted out.

"Umm, that's not what I wanted to hear, Jen." my husband laughed…

On the plane ride home I texted Keisha and thanked her for her work. What ever it was she had done, worked. I was instantly more aroused by my husband. He seemed so mysterious to me. Even though the actual act was relatively boring and a financial bust, the reliving of it grew hotter and hotter in my mind. "What a sweet whore," I said to my husband, staring down at the flickering lights of good ole Sin City. He laughed and grabbed my leg. Something was rekindled between us. Or perhaps something blossomed that was never there before. I don't know which it was, but I felt closer.
[From The Smoking Jacket via WeSmirch]
I learned everything I know about prostitution from watching Cathouse on HBO. It usually costs a thousand bucks for an hour of a working lady's time at that legal Nevada brothel. For that price you know what you're getting, it's safe and they get tested regularly. No judgment from me on anyone who wants to hire a sex worker, as long as both partners are ok with it and it's someone who is of age, willing, and is not a victim of trafficking. (How can people even tell, though?) Still, it takes some serious balls to write about it like this, even if the writing wasn't that interesting. This Jenny chick was really negative and mocking of the women she encountered, and I got the impression that's she was totally over her marriage and this was a last ditch effort to switch things up. I could have been or this could have worked for them given that they've been together over two years since this happened.
Also, the commenters on The Smoking Jacket are mentioning how many times she used the word "wh*re" and how dismissive she was of the women in that business. In my opinion she did it both in an attempt to be funny and because she was feeling insecure about the whole process.
I won't delve any further and will just end with my favorite comment. This kind of sums it all up for me:
It's kinda like I want to have some reaction to this story – but then I remember this is the guy that stuck his dick into an apple pie and that's why he's famous. And this is the girl that married the guy who stuck his dick into an apple pie and that's why she has some name recognition.
And when I think of it that way –
Where was Stiffler, Tara Reid, Eugene Leavy and that Coolidge Chick the whole time all this was going on ???
In the end it just all seems like another American Pie sequel.
Entertaining – but quickly forgettable.
As for what Jason thinks about this, he tweeted "My wife is in Playboy. Hot." Deep thoughts.