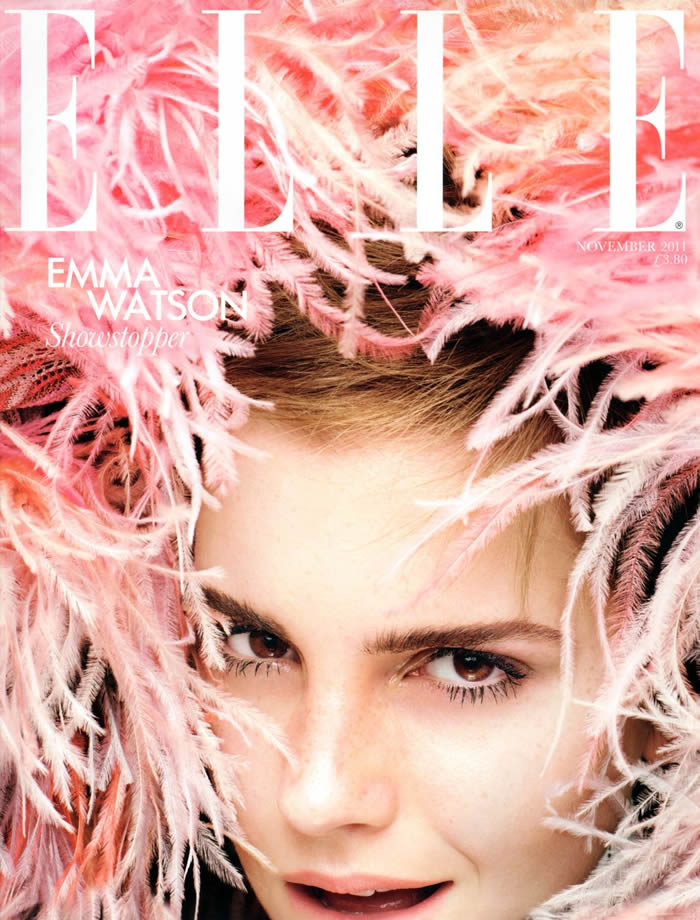 Honestly, I don't even know where to begin here. Emma Watson covers the November issue of Elle UK (to promote her role in My Week With Marilyn, I think), and if I were either Emma or her people, I'd be very displeased with the results of this photoshoot. Of course, Emma had to know what she was getting into when she donned these horrific costumes, right? These aren't mere outfits — they are indeed costumes. As shown above, the feathered monstrosity of the subscriber cover is, well, pretty inexplicable. Kaiser thinks, "She looks like Justin Bieber's mouth-breathing sister." And I'd like to add, "Who is also the most unlikely showgirl in all of Vegas." Sigh. Yes, Emma has gone Bieber-esque once again.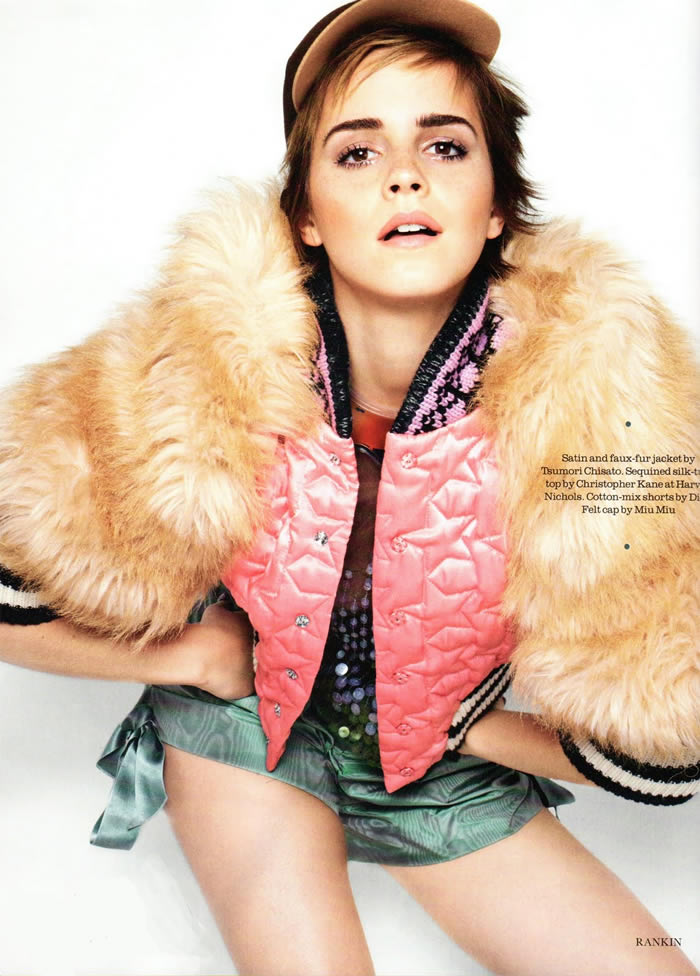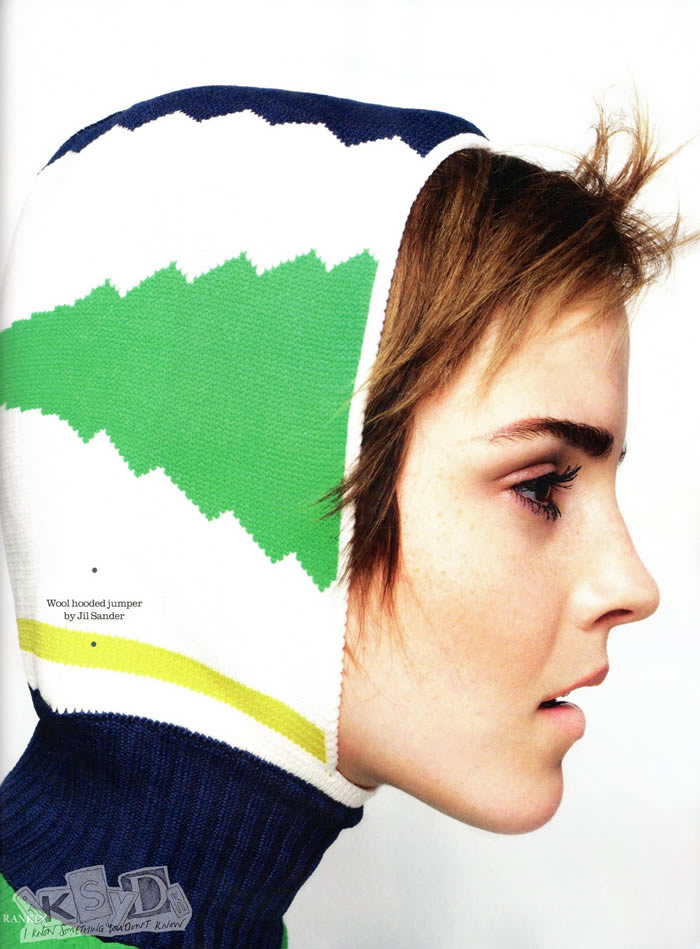 Also, someone probably initially thought they had a brilliant idea when imagining these leather bunny ears, but the effect is clearly lost within the whole of the shoot: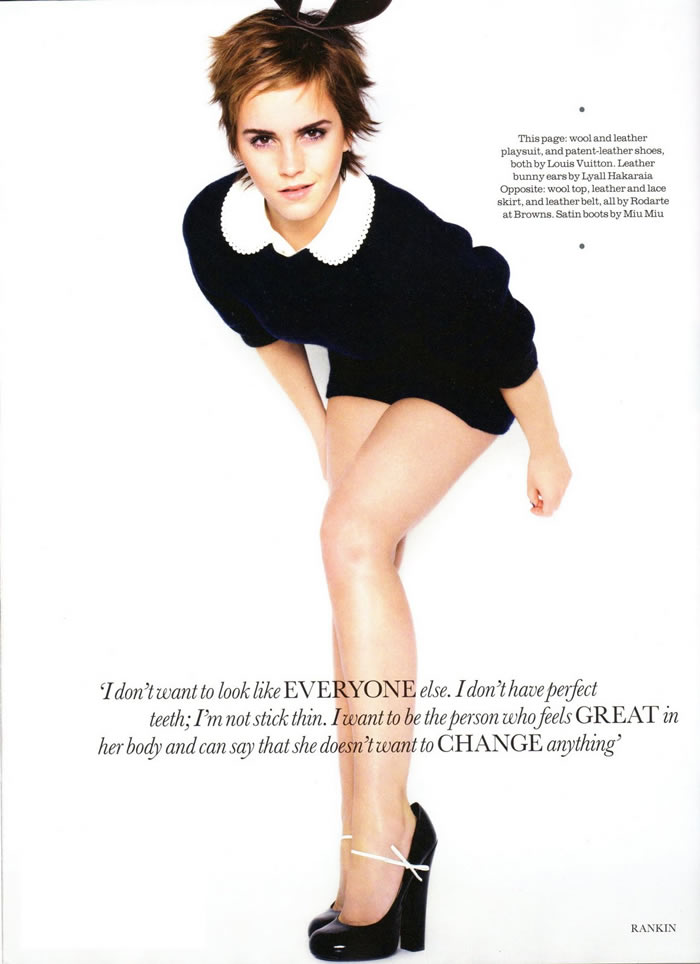 Surprisingly though, the interview turned out quite unlike the editorial shoot. Emma seems to have recently gained some perspective and is no longer complaining about her oppressive fame. In fact, she's realized that she doesn't have it so bad at all:
On Lowered Expectations For Child Stars: Sometimes I feel as though everyone's waiting with baited breath for the three of us from Harry Potter to do something that will perpetuate the child-star stereotype. I don't know if I'm the least likely person to go off the rails, but I don't see any need to. It's not on my agenda. There are too many other things I want to do.

On Robert Pattinson's Fame: I can't even imagine what that kind of fame must be like. So many people must wish they were in his position and think that he has the best life, but actually … there are prices you pay. Don't interpret that from my perspective; it's not so bad for me. I'm not in Rob's position, I dont have people screaming and crying and clawing at me. I'm so grateful for that.

On Alcohol: I'm not that much of a lightweight. My dad's great hobby is wine, so it's always been part of our family life. For someone so little, I don't get drunk very easily. It's quite a good talent. I'm not challenging anyone to a competition though!

On Her Lancome Gig: I think the thing that's really fun about make-up is how you can carry it around in a tiny bag and it can completely transform the way that you feel, and makes you feel like a different person or a different character. Anything that makes you feel beautiful or better about yourself is pretty amazing. I'm definitely really enjoying doing make-up. Those are really all of the reasons I wanted to work with Lancome is because they seemed really collaborative and I can get really, really involved. I would hate to have to promote something or have to talk about something if it wasn't something that I genuinely thought was great. So the perfume was my choice. I absolutely love it.

On Her Style: When I'm away from photo shoots, I tend to be very low key. I tend to wear either navy blue or gray or white. So wearing all this bright pink and fluorescent colors is fun. It's like dress up. I love the '50s. I love Marilyn Monroe with her big red lips and that incredible cat eye, it's amazing. The '60s … Edie Sedgwick, I love.
[From Elle UK]
Well, the fascination with Edie Sedgwick might explain the pixie cut that Emma eagerly took on after the filming portion of her Harry Potter contract was fulfilled. I can't tell though … is she growing the 'do out or just going for the shagged look at this point?
Also, I love how the Harry Potter kids are all speaking out (see Daniel Radcliffe's recent quotes) with much empathy in regards to Robert Pattinson, who appeared in a few of their movies and has since gone on to, uh, eclipse the Potter level of fame many times over. The worst is far from over for Sparkles too, for he's gonna have a rough couple of months while promoting Breaking Dawn, and everyone knows it.
Here's the rest of the horrible Elle UK spread. Poor Emma.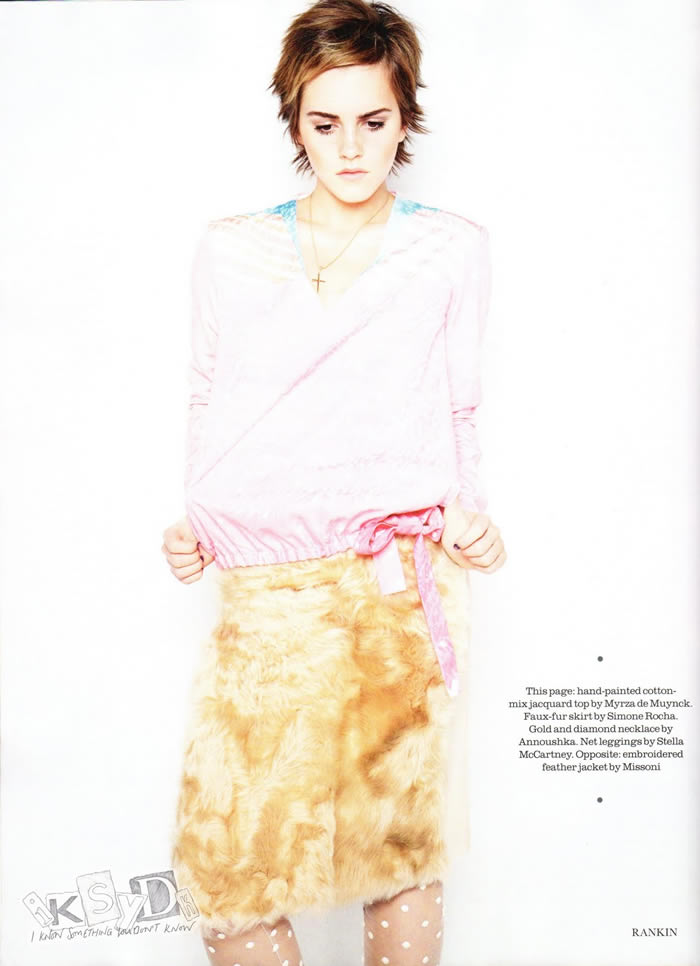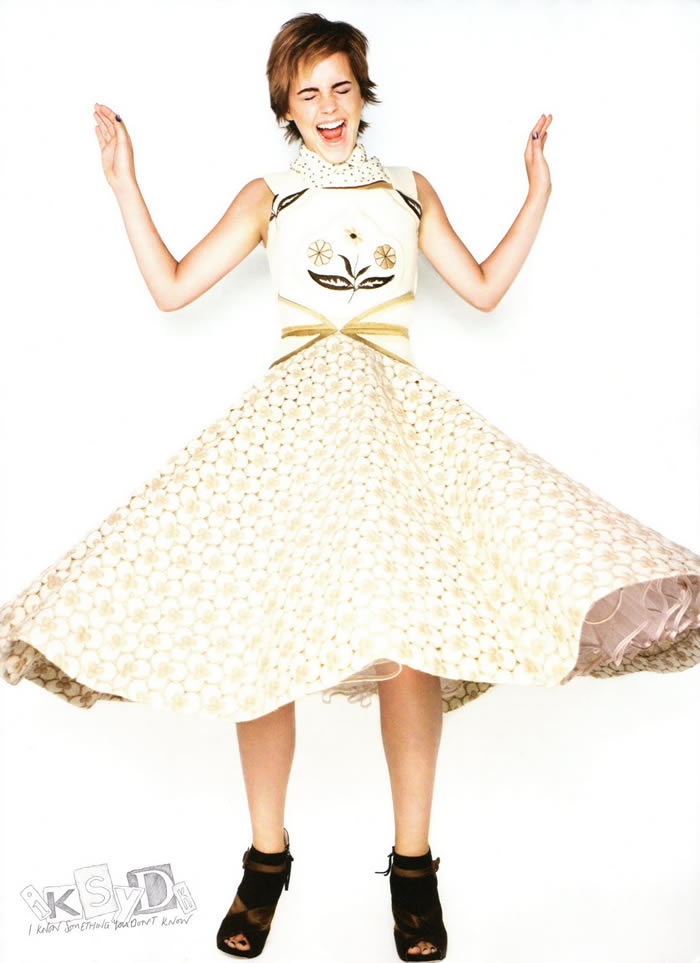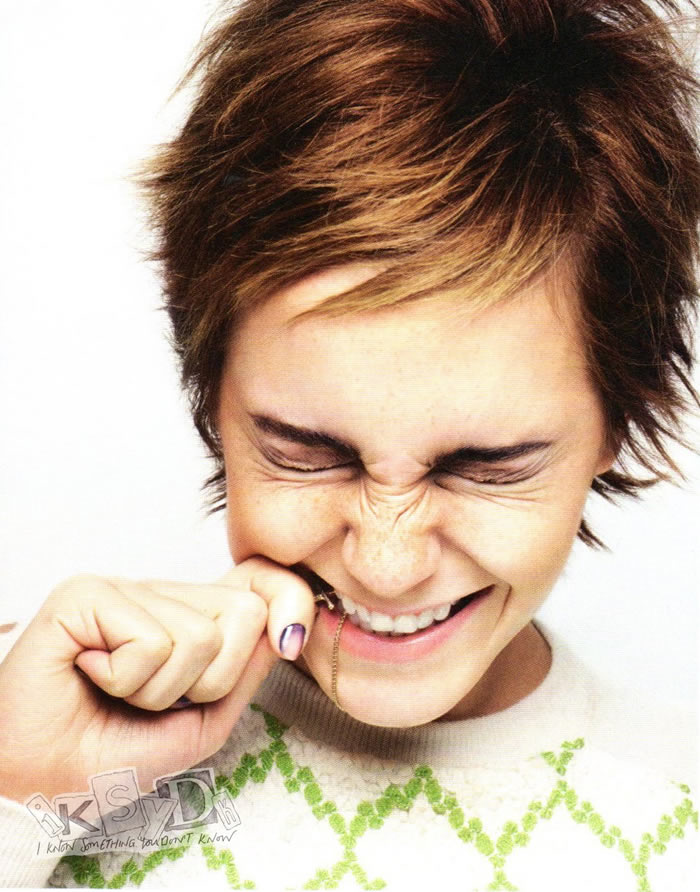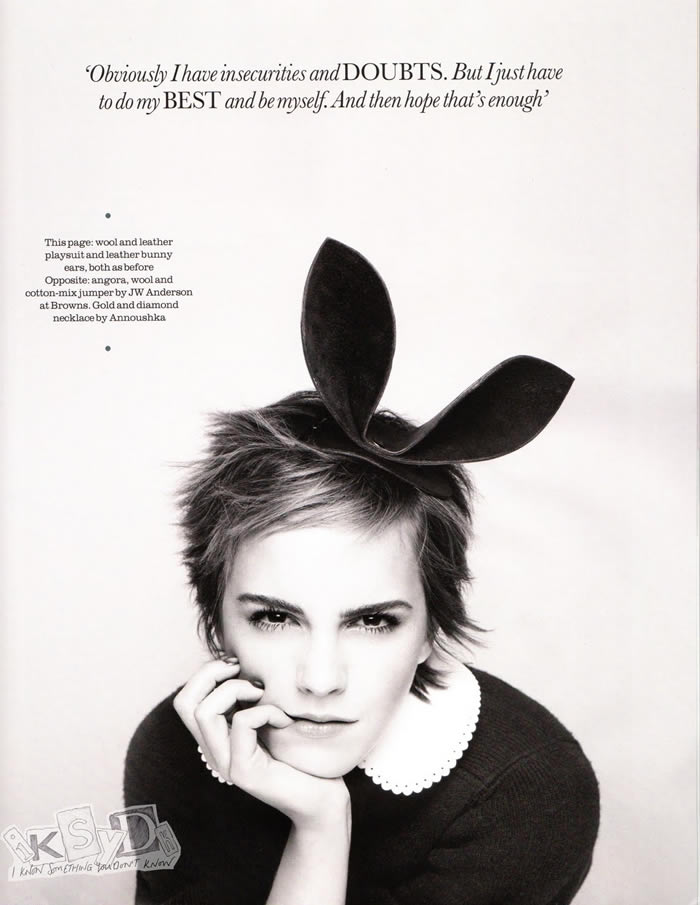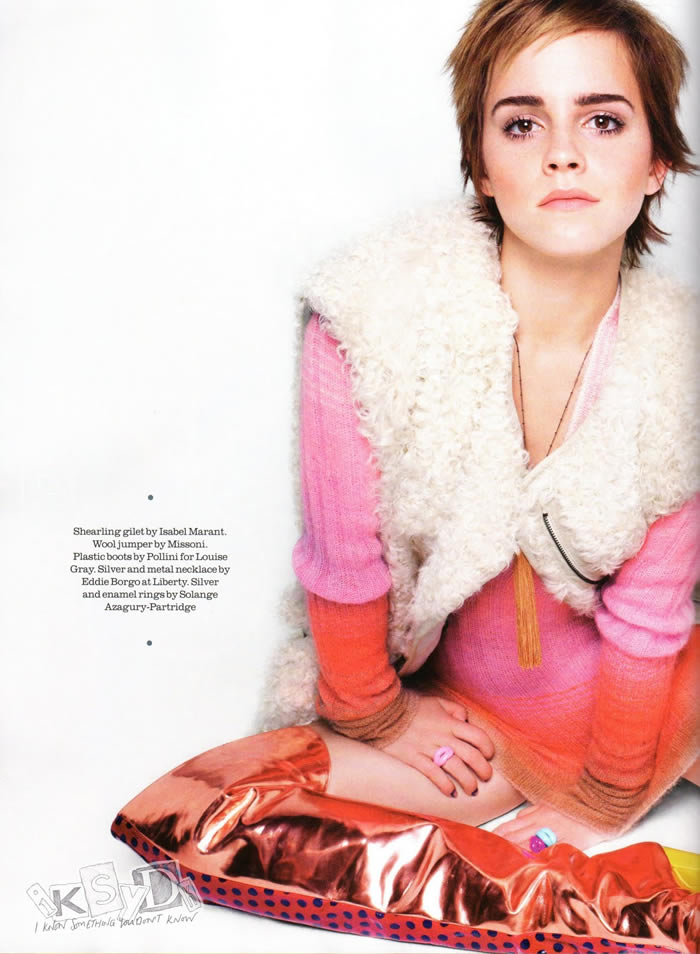 Photos courtesy of Elle UK and the Fashion Spot