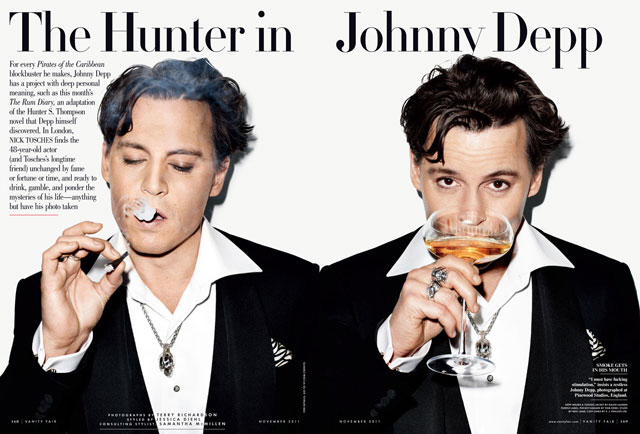 Look, I really like and enjoy Johnny Depp, but there is absolutely NO reason for him to be on the cover of Vanity Fair AGAIN. He was just on the January cover! Meaning VF made him cover boy twice in 11 months! WTF? Vanity Fair has just become the magazine that puts dead celebrities, dead politicians and Johnny Depp on their covers. That being said, the cover shot hasn't been released yet – we've only got the header image, which was shot by Terry Richardson, because that's how Depp rolls. Anyway, I suppose Depp is promoting The Rum Diary, that film that sees him doing his Hunter Thompson impression again (but it looks really awesome). Here are the VF highlights:
He's Hollywood's best-paid actor, but he doesn't have to like it: "Basically, if they're going to pay me the stupid money right now, I'm going to take it," he says in Vanity Fair's November issue. "I have to. I mean, it's not for me. Do you know what I mean? At this point, it's for my kids. It's ridiculous, yeah, yeah. But ultimately is it for me? No. No. It's for the kids."

He admits, with much difficulty, that there is also "a part of me that needs to have this kind of stimulation to the brain." (Depp is ever mum on the size of his Pirates ransom, but a report this summer cited his total take in the $300 million range, due to a gross-profit-sharing deal brokered with Disney. The four-film franchise has tallied $3.7 billion to date in worldwide receipts.)

But Nick Tosches, Depp friend of a decade and writer of this month's cover profile, says the Rum Diary actor is "the same old Johnny" who pumped gas to make ends meet and for a period attended Scientology study groups because they paid $3 per meeting.

"I went to a bunch, man. It was so great, it was so fantastic," Depp says.

Today, compliments from rock idols mean more to the actor than cash. During the interview, Tosches shared with Depp that their mutual buddy Keith Richards, the professed inspiration behind Captain Jack Sparrow, had "beautiful things to say" about Depp's singing in Sweeney Todd. "He never told me that," Depp says, touched. Take that one to the bank.
[From Vanity Fair]
Page Six had some highlights from Johnny's interview too – and it's like he's channeling Kristen Stewart, I swear to God. Remember the controversy last year when she compared having her photo taken by paparazzi to "being raped"? K-Stew later had to apologize and clarify. Well, Johnny takes it a step further than Kristen Stewart. Ridiculous.
Despite being one of the world's most handsome men, Johnny Depp hates photo shoots so much, he compares them to violent sexual assault. He tells Nick Tosches in Vanity Fair, "Well, you just feel like you're being raped somehow. Raped … It feels like a kind of weird — just weird, man." He'll pose with fans, "But whenever you have a photo shoot or something like that, it's like — you just feel dumb. It's just so stupid."

Depp says his next project, "The Rum Diary," came straight out of Hunter S. Thompson's basement. He was staying with the writer researching the 1998 movie "Fear and Loathing in Las Vegas" when they came upon Thompson's forgotten novel in boxes in his basement. "I pulled it out. I was like 'What is this?' Hunter was like, "Oh, [bleep], 'The Rum Diary' … Hunter didn't know it was there."

Depp prides himself on edgy projects. But he's finally settled his grudge against Harvey Weinstein for putting his 2004 "The Libertine'' in limited release: "He basically said he [bleep]ed it … He made a choice to kill it, Harvey killed a great film."
[From Page Six]
Okay, just shoot me because I think Kristen Stewart's old comments were more reasonable than Johnny's. Kristen was talking about the violation of privacy from the paparazzi, and she compared THAT to rape. Johnny is comparing photo shoots to rape – as in, being beautifully lit, wearing makeup and being told that you're pretty and you should turn to the light – that's like "you're being raped somehow"??? Ridiculous.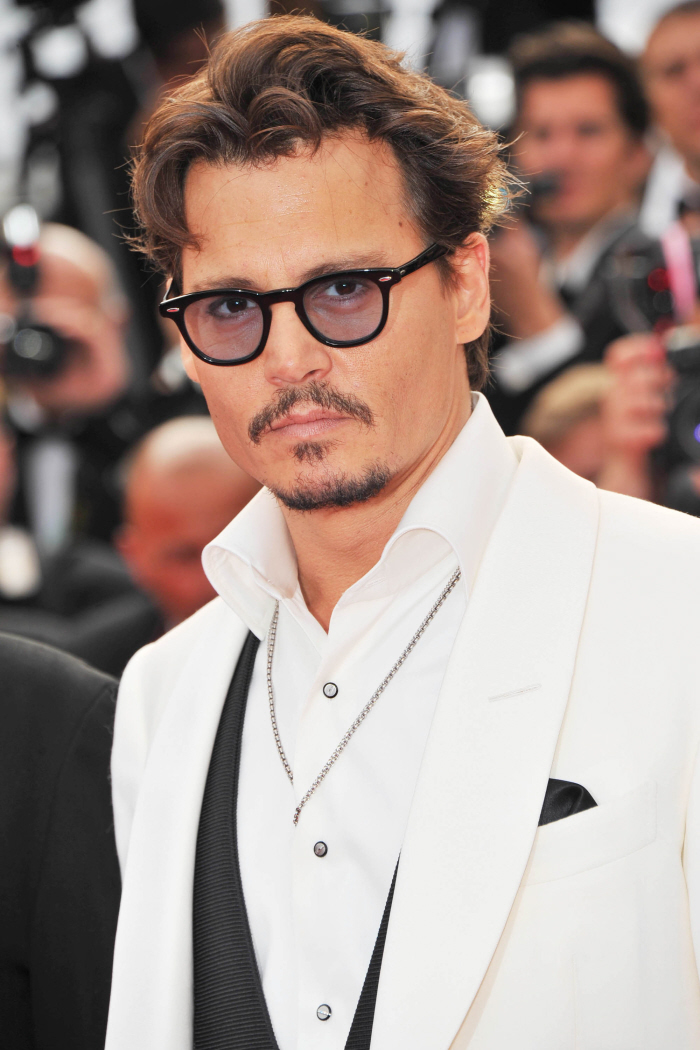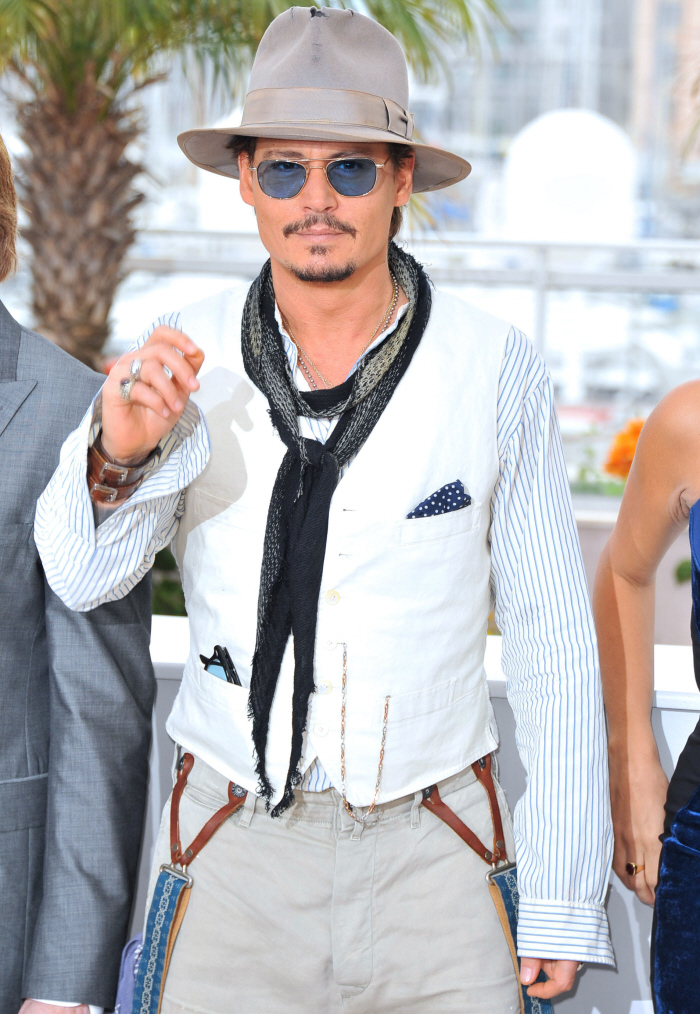 Photos courtesy of Vanity Fair and WENN.