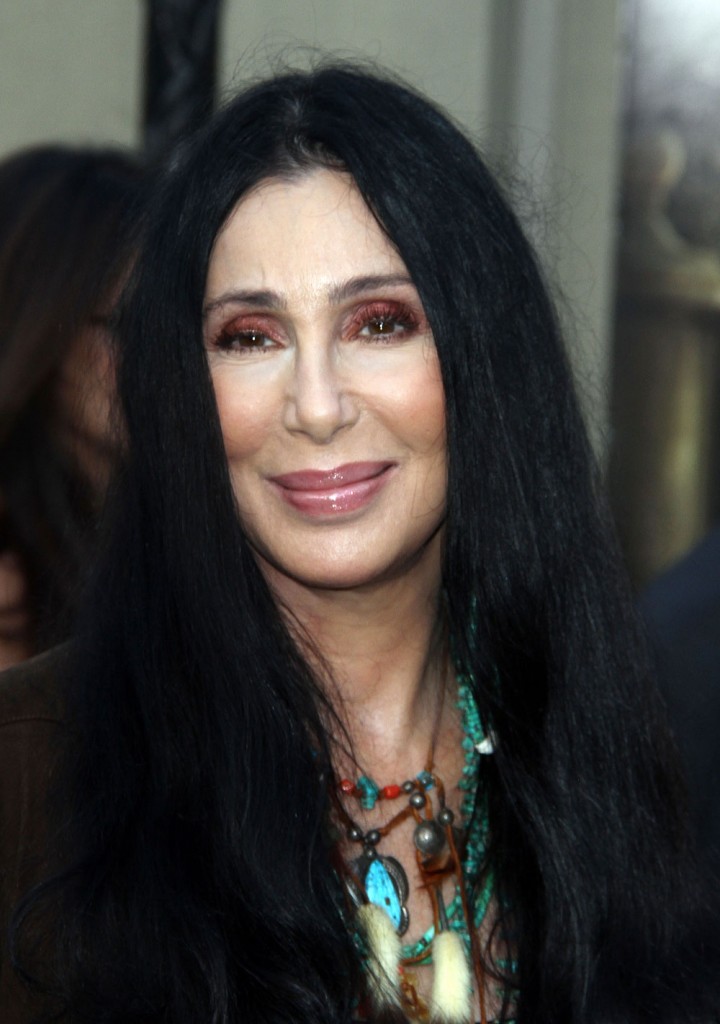 Mike Walker's column in this week's National Enquirer claimed that "Dancing With The Stars" execs have been pressuring Chaz Bono to get his famous alien-faced mom, Cher, to appear in the audience on the show pronto. I'm sure they're rethinking that ratings strategy after seeing Cher's latest tweets. Cher Tweeted some pretty negative comments about the Kardashians, later clarifying that it had nothing to do with the fact that their brother was competing against Chaz on DWTS. She wrote "I don't watch reality ! Never saw a Kardashian but these Bitches should b Drop kicked down a freeway !Not kidding! Nos I no r this Fkn nuts." I'm not sure exactly what she's responding to (or exactly what she's saying other than that the Kardashians suck), but it seems to be due to Kim's over-the-top wedding, and not Khloe Kardashian's recent remarks in which she called herself and her sisters "trannies." Later on Cher apologized and tweeted something about putting her foot in her mouth.
feel like I live in a cave !Once watched J&Kate they were sweet! This shit is HARD CORE! Is true Kardashian did Porno ! I'm so Fkn outa it !

Let me be clear ! Am not Hate'n Kardashian Fam.Don't know them! Bridezilla's crazy Bitches!Saw Brother onDWTS & my friend told me bout girls

[Rob] Seemed Adorable on Dwts! Am not rag's girls dont even know about em RT @pjdelcampo2attn:Rob K is a sweet doesn't deserve bad rap Nice guy.

By lovelies! Seems I put mySize8 1/2's in my mouth again! Isn't the 1st time Won't b the last !Sometimes I should run my words by my BRAIN 
[From Cher's Twitter]
Oh well, all the words and excuses she piles on top of that can never erase the image she put in my head of someone drop kicking the Kardashians one-by-one off an overpass. I've never even thought about that before, but now I remember that it was a minor plot point in that terrible, creepy Macaulay Culkin film from 1993, The Good Son. Remember that? I totally forgot that Elijah Wood was in it! There are people jumping off overpasses in plenty of other movies, particularly action films, but that's what came to mind. (Update: she was probably saying the Bridezilla's chicks should be drop kicked, as someone commented but they were super snotty about it so I deleted it. How can you tell really with the way she writes?)
Cher might be watching DWTS live and in person next week. She tweeted that she hopes Chaz hangs in there so she can come. It's hard to say whether Chaz will be on next week given his God-awful performance last night. He scored at the very bottom with this awful rumba, to his late dad Sonny Bono's "Laugh at Me." At the beginning he rips off a faux fur vest as some sort of 60s tribute and then awkwardly walks around partner Lacey Schwimmer. Lacey is dressed in a bejeweled outfit with a faux bikini lace overlay that only Cher could pull off. Chaz will be off this week or next. E! Online has a full recap of Monday's DWTS if you're interested.
Thanks to DListed for the heads up!
Cher is shown in July at the Zookeeper premiere and in December, 2010 at the Burlesque premiere in Berlin. Credit: Fame