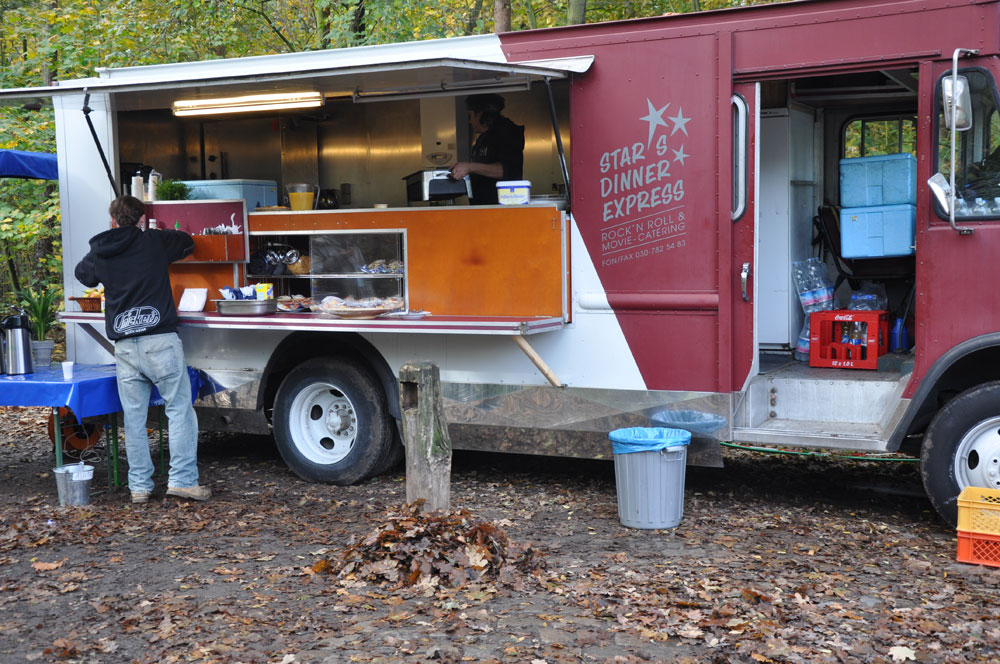 As you can tell from this photo, I did not get any fabulous photos of Brad Pitt
This morning my husband called me to let me know he spotted a small sign that said "Set" outside in our neighborhood in Berlin. He approached the guy standing nearby in an orange vest to ask which film was being shot and he showed him his security tag which read "Inglourious Basterds," (I can't confirm the spelling on that as I didn't ask, but other official documents have it spelled that way.)
Of course I went down to the set all excited with the fancy new camera my husband bought us for the Burn After Reading premiere. My son's babysitter is sick today so I brought him with me with some snacks and games. It's pretty cold today but he was bundled up. (He does have a hat and gloves, but he kept taking them off as you can see in the photos.)
There were white trucks around with signs in the front windows like "rigging" and "production." The catering truck was right near the front and was setting up, and security guys milled around. The entrance to the Grunewald, or the forest, was blocked off at the end of the street and we stood around there and waited. It's an area closed to cars with footpaths where people walk their dogs and run. There is a nice historic hunting lodge down that unpaved road on the Grunewaldsee lake. I thought they might be filming there.
I waited with my son, who ran around, played and was surprisingly patient. After about four hours, at 2pm our time (it's 6 hours later than EST here), the catering van started to pack up and we were told that all the crew was pretty disappointed as they wouldn't be filming there after all. A nice security guy who was talking to us said that they would be on the stage inside tomorrow and weren't sure where they would be after that or if they would return, as they usually just find out every day. At first I thought it was a put on and they were just trying to get rid of us, although I was the only sort-of paparazzo there and the location must have been a secret. The catering van really was putting things away though and they seemed earnest about the fact that they had to leave.
Since I spent four hours doing that this morning I may as well post these super exciting pictures of the catering van, the security guys' backs, and the guy who was talking to us and playing with my son. He said it would be fine if I put up his picture – thanks Ruben! I didn't get to see Brad Pitt, Til Schweiger or even Quentin Tarantino, but at least my neighborhood is thought to be cool enough for a Hollywood movie to film here – even if it didn't end up happening today. I'll keep an eye out and keep you posted.