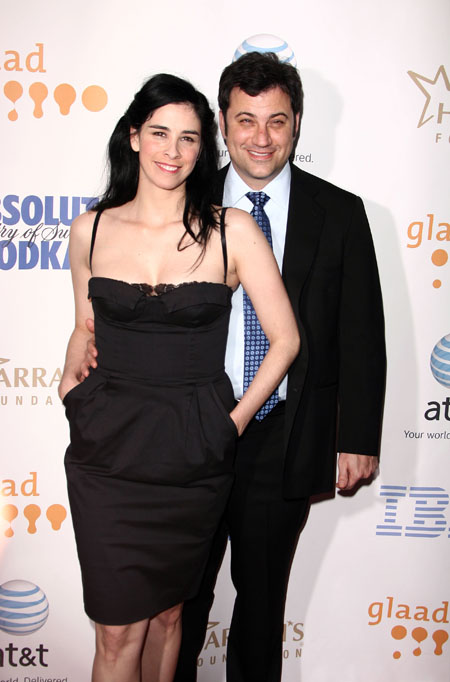 Ever since the broken up comedian couple were spotted looking very much back together at the wedding of Howard Stern earlier this month, it's been kind of an unkept secret that Jimmy Kimmel and Sarah Silverman are back together. Though neither of them have confirmed it, all signs are pointing to a reconciliation. The latest sign: Silverman is booked as a guest on Thursday night's taping of Jimmy Kimmel's late night show.
Sarah Silverman and Jimmy Kimmel are back together – on TV anyway.

Silverman will appear as a guest on Kimmel's late night show Thursday.

The couple split in July after five years of dating, but all signs have been pointing to a reunion.

Earlier this month, they attended the wedding of pals Howard Stern and Beth Ostrosky together. A few days later, Silverman said they were "talking about" reconciling on Stern's Sirius radio show.

In September, they were spotted holding hands at a Thai karaoke bar in Hollywood. A rep told Usmagazine.com then: "They remain close friends."

Silverman thanked Kimmel after winning an Emmy for satirical music video for "I'm F—ing Matt Damon."

"Thanks to the person for whom this whole video was made: Jimmy Kimmel, who broke my heart – ohh, who'll always have a place in my heart," Silverman said.
So – are they or aren't they? Maybe Sarah and Jimmy will give up some answers- but something tells me this pair enjoys messing with the media and will continue to keep their status a mystery. I hope it works out for them. Sources said that Sarah took the breakup pretty hard. And honestly, I can't see either of them with anyone else. They kind of belong together.
Sarah Silverman and Jimmy Kimmel are shown at the GLAAD awards on 4/26/08, credit: Fame Pictures