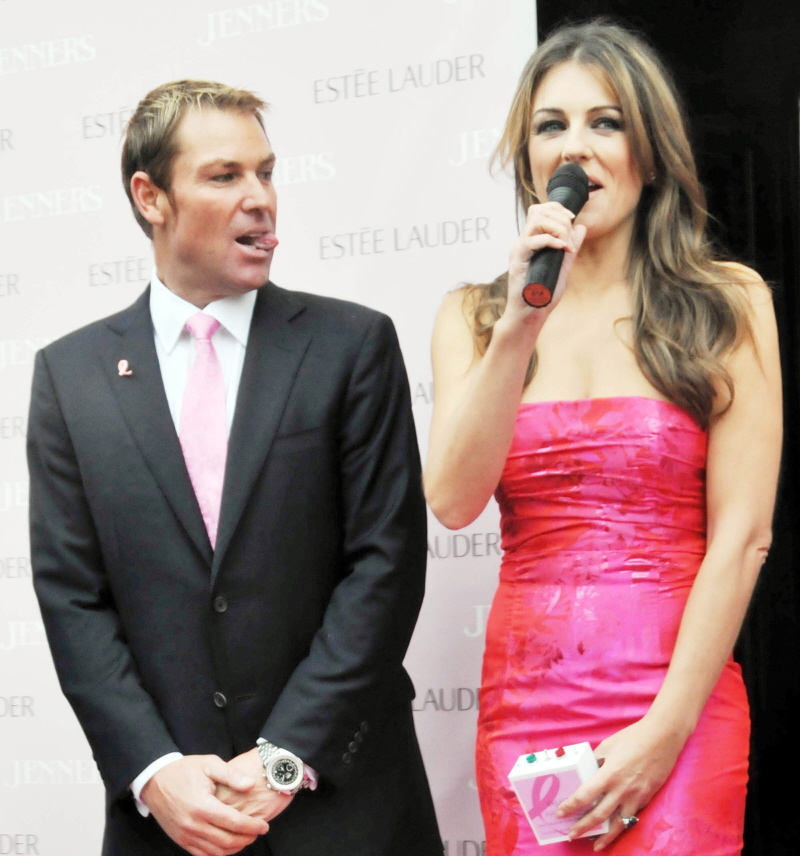 Liz Hurley has an absolutely massive interview in yesterday's Mail on Sunday. It's her first major interview since getting engaged to Shane Warne, so she spends most of the time justifying their relationship and making it sounds like… well, like I'm totally right about their Pygmalion-style relationship, with Liz in the Prof. Higgins role. To read the entire interview, go here. I'm just going to do some of the highlights:
On the engagement: "It's a very exciting time for me and Shane. We aren't making any immediate plans to get married – we're going to enjoy being engaged for a while. We both want to spend more time with each other's families, and Damian and I are looking forward to visiting Australia together in the near future."

On Shane's children: "It definitely helps that Shane has three children – and he's a very good dad. We both understand that if there's a child's football game one of us can't miss, then that's it, it's not up for negotiation, we go home and do it. I think it would be difficult for me to be with somebody who didn't have kids. We have to make a lot of diary entries: Damian's school dates, Shane's children's school dates, Shane's work dates, my work dates. It's a lot to synchronise. It is doable, but it would be easier if I was dating someone who lived round the corner. I haven't made it easy for myself on the logistical front! You couldn't live further apart than England and Australia, and when you're calling from New York to Melbourne, somebody is always getting up and somebody is always going to bed. But you get up a bit earlier, or you go to bed a bit later, and you can always talk."

She's happy now, with Shane: "Shane makes me happy. We have a lot of fun together, we laugh a lot and that's very important to me. I couldn't put up with 'serious' for too long. I don't care what anyone says about me smartening him up – we've both been around too long to care, and that stuff really isn't important. My family and my new family with Shane and his kids are what's important. His children are really beautiful, sweet and affectionate. They get on brilliantly with Damian, and as an only child, it's great for him to have them around when they come to stay. I love having a lot of people in the house – the more the merrier."

On Shane's new look: "I don't think Shane has bought any new clothes since I met him. He's been dressed by the same people for years. I think he looks best in sports gear, and in my opinion he looks exactly the same as he always has – he's just lost a hell of a lot of weight, about two stone. Shane is very disciplined, does a lot of exercise and watches what he eats. I really like cakes and sweets; Shane's vices are beer and peanuts – and there aren't many peanuts in my house…"

Her son Damien's crushes on girls while Liz works on Gossip Girl: "Damian is in love with both Blake and Leighton [Blake Lively plays Serena van der Woodsen, Leighton Meester plays Blair Waldorf]. Over the summer he was on the set the entire time – he never got bored once, and he got to say, 'Action!' a few times, too. He even made his own short film this summer, starring me, Hugh [Grant, her former partner and Damian's godfather], Shane and my niece and nephew. I was working late one night and Blake asked if she could take Damian out. So she took him on a little date, to an ice-cream parlour. That was his first date – Blake Lively! Damian would rather make a movie than kick a ball. He isn't the sportiest boy. But Shane did very kindly give him some bowling lessons in the summer. It was slightly wasted on Damian, who would prefer to eat ice cream with Blake Lively!"

On her divorce: "Arun and I are still best friends – I'm too lazy to fight – and Arun is essentially Damian's dad [his biological father is American millionaire Steve Bing, who tried to deny his paternity after claiming his relationship with Elizabeth was not 'exclusive']. They have holidays together and Arun visits him at school and watches him play football. Arun's just bought a flat and he asked me to go round and have a look at it before he put his offer in – we're still very close."

Shane's diet, exercise and beauty habits: "Shane did borrow my moisturizer, but now he has his own – I don't want him putting his great big fat fingers in mine. He has a really big right hand from chucking a cricket ball thousands of times. I've never met a man who didn't like face cream or who wasn't secretive about his diet. They are obsessed with their bodies. They spend hours in front of the mirror, pinching bits, going on mad runs, all of them."
[From The Mail]
She makes lots of references to Hugh Grant throughout the whole thing (at one point she refers to him as the "least domesticated" man she's ever dated), and you can tell that she and Hugh are still such a huge part of each other's lives. I also love the idea that Damien is a little player, more interested in girls than sports. Adorable.
By the way, we got a tip about an interview Shane's ex-wife did with an Australian tabloid, Woman's Day. Her name is Simone Callahan, and in the print interview, she talks about how she and Shane were still very much "together" when he and Liz started up, but that now she "wishes Shane nothing but luck" because she's found herself some young lover. You can read some online excerpts here.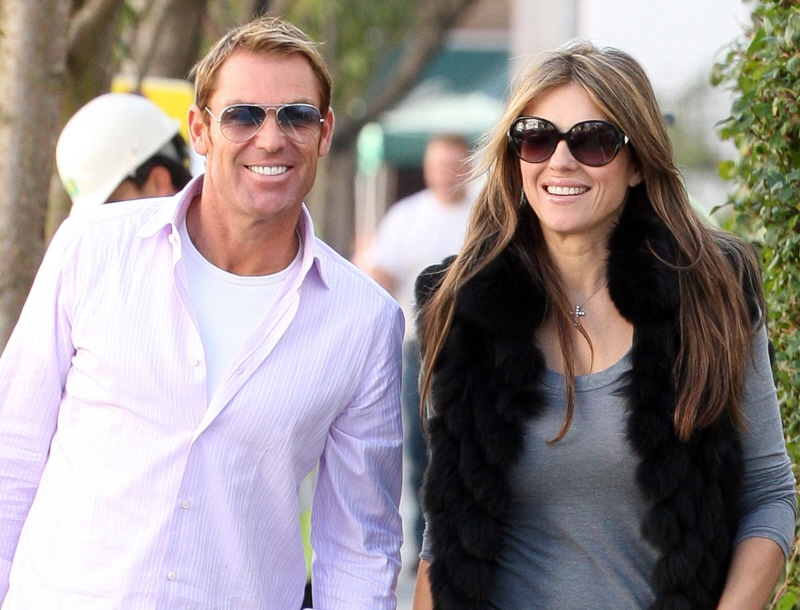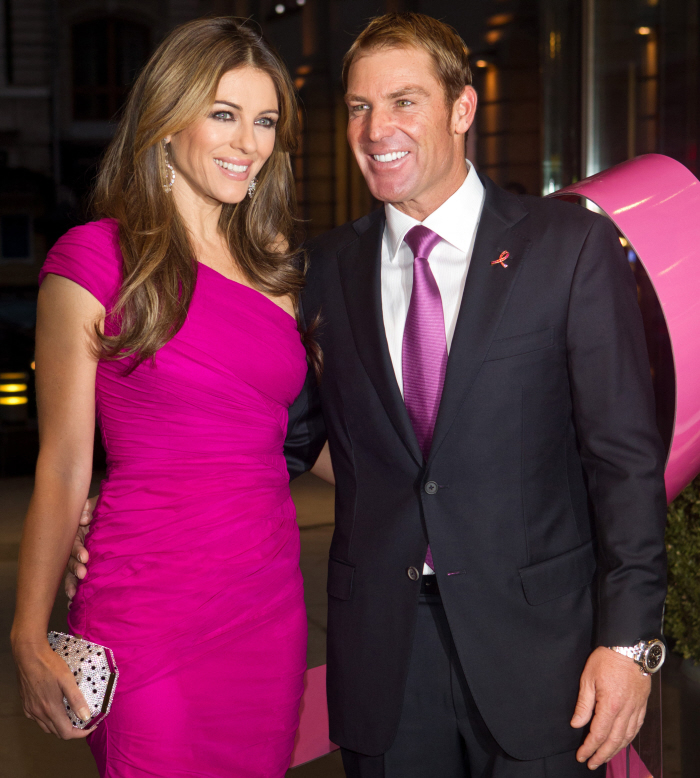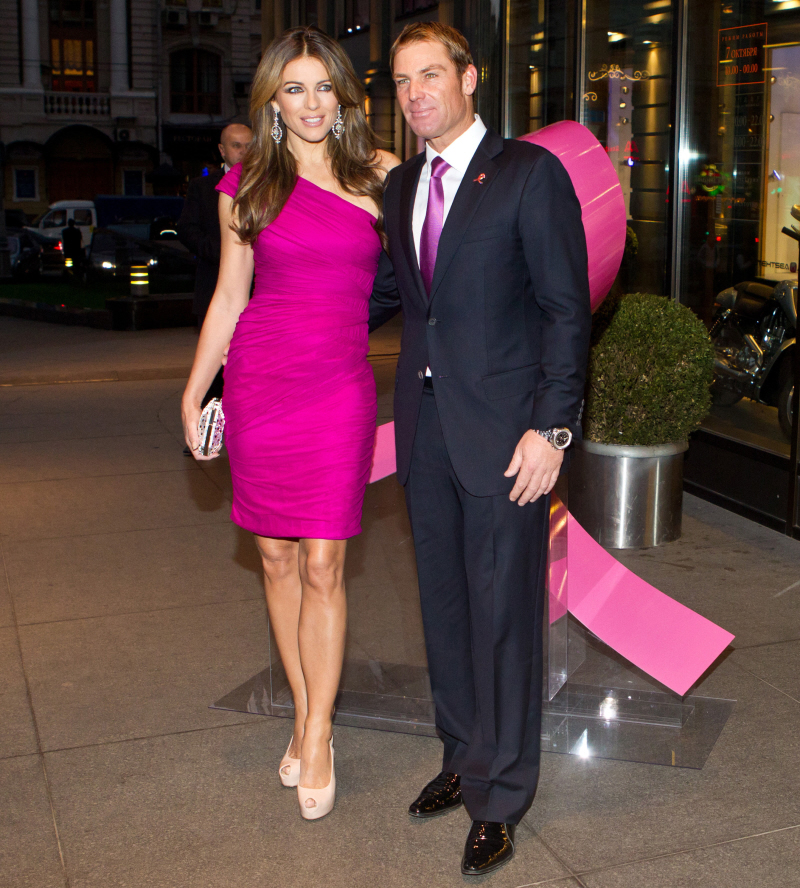 Photos courtesy of Fame & WENN.