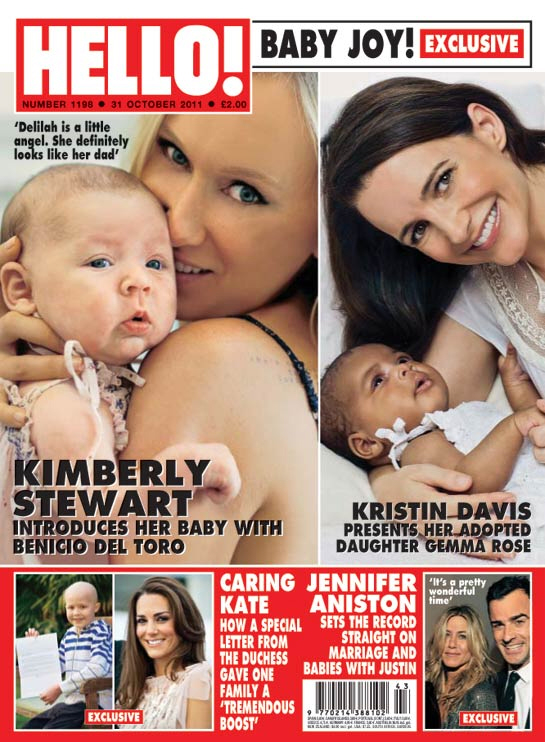 Kimberly Stewart gave birth to her Benicio del Toro-love child two months ago, and Kimbo has finally "revealed" the baby in a new photo shoot with Hello Magazine. I'm always surprised when American celebrities go with the Hello Mag debut – I guess Hello must be paying more than People Mag? Probably. I'm also surprised that Kimberly was "allowed" to debut baby Delilah in a magazine – she kept a surprisingly low profile during her pregnancy, and it seemed like she was making an effort NOT to famewhore. Still, it's always nice to see baby pics. Kimbo also gave an interview about how Benicio is involved with the baby:
Benicio Del Toro surprised Hollywood earlier this year when he announced he was the father of Kimberly Stewart's first child. And despite no longer being romantically involved with each other, the socialite insists the Oscar winner is very hands-on with their two-month-old daughter Delilah.

Showing off their child for the first time, the former model, 32, reveals Del Toro was in the delivery room when Delilah arrived on August 21. Del Toro and her mother Alana Stewart were by Kimberly's side when she gave birth to Delilah Genoveva Stewart Del Toro in Los Angeles. Also at the hospital were her father Rod, stepmother Penny Lancaster, and her many siblings.

And despite Del Toro and Stewart splitting soon after Delilah was conceived, the actor is determined to be a prominent part of the little girl's life.

Kimberly tells Hello! magazine: 'The whole family, including Benicio, was at the hospital and my mom and Benicio were in the delivery room with me. Benicio's very involved; he and Delilah have a very special bond.'

Kimberly admitted she had named her daughter after Tom Jones's 1968 song Delilah.

She enthused: 'I named her after the Tom Jones song, as I'd always loved that. She definitely looks like her dad, but she has my legs and eye colour.'

Delilah's birth meant Rod, 66, became a grandfather just six months after becoming an eighth-time father to son Aiden, with third wife Lancaster. Having lots of young siblings, Kimberly has plenty of people to ask for parenting advice.

She said: 'Dad handles children great – he's had a lot of experience.

'Since they (Delilah and Aiden) are only six months apart, I am counting on them being best friends.'

Kimberly and Del Toro were said to have had a brief romance last December after meeting at the Chateau Marmont in Hollywood.

However, when Del Toro announced her pregnancy in April, he made it clear they were no longer together. His statement read: 'Kimberly is pregnant. Benicio is the father and is very supportive. Although they are not a couple, they are looking forward to the arrival of the baby.'
[From The Mail]
There have been a handful of reports indicating that Kimberly still wants to be in a relationship with Benicio, and I suspect that she's being so nice and sort-of forcing this whole "Benicio is really involved with the baby" idea so that Benicio will see that there are no hard feelings, that she still cares for him, and that they could be all coupled up with the baby, and she could make it really easy for him. Oh, well. I'm glad she and the baby are happy and healthy, and it's good to see little Delilah.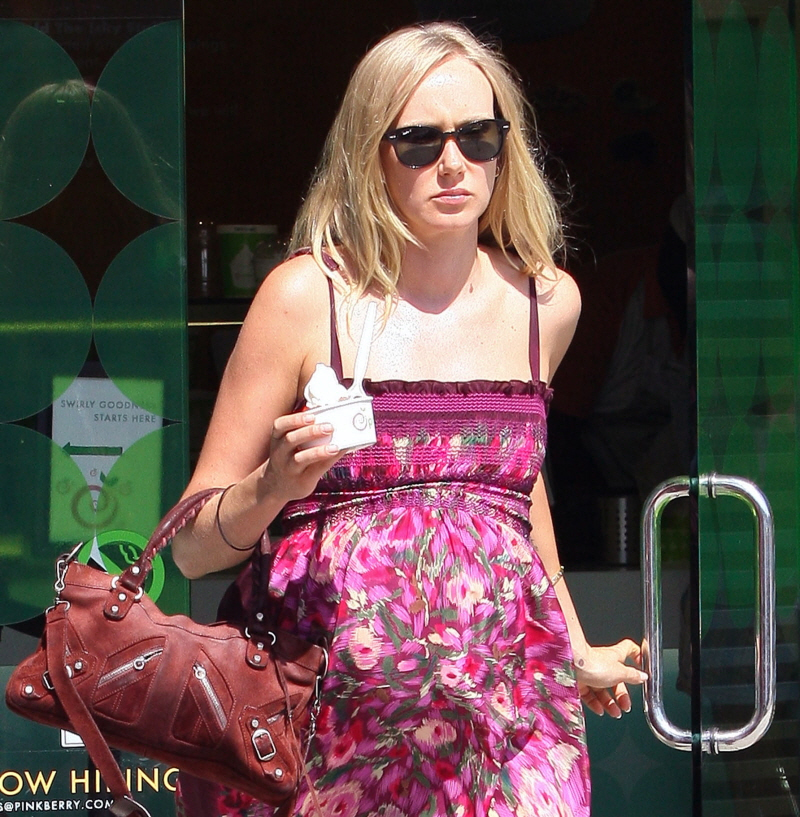 Photos courtesy of Hello Magazine and Fame.