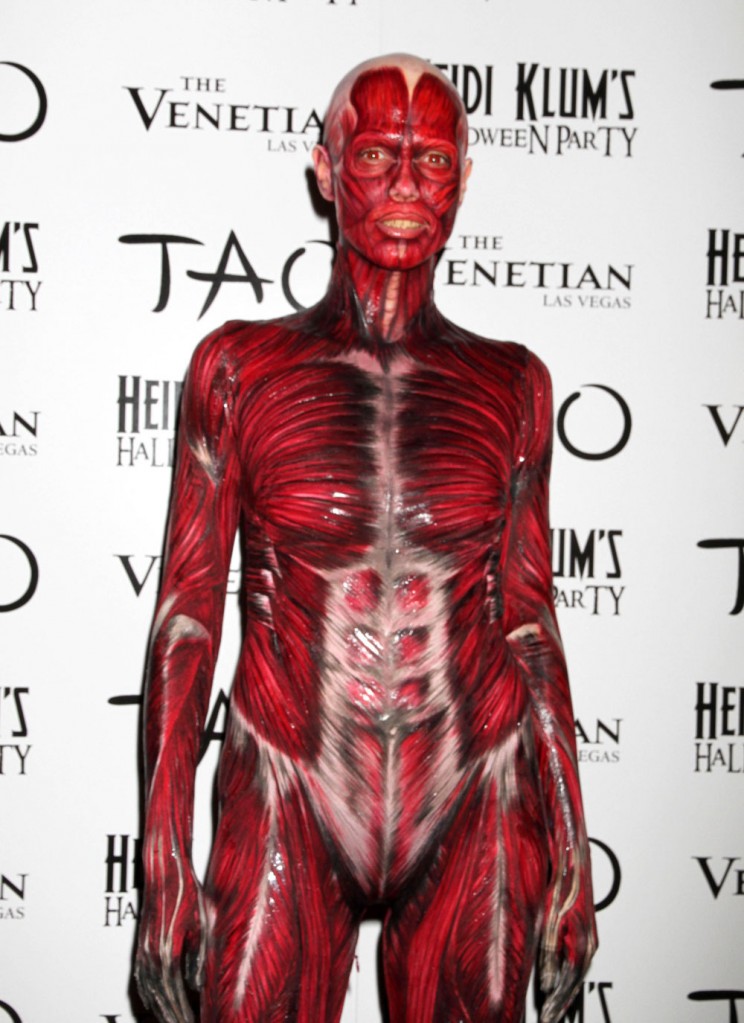 I'm so excited for Halloween this year, because it's the first year I'm back in America after six years away. They do Halloween in Germany, but it's a relatively new holiday for them, there's not much trick or treating and it doesn't feel the same at all. So it's surprising to me that Heidi Klum is such a Halloween aficionado since she's German. Heidi goes all out every year for her annual Halloween party. Last year she was a transformer alien creator, complete with huge lifts that made her tower over her husband Seal. The year before that she and Seal were matching crows with elaborately feathered outfits, and in 2008 she was a Hindu goddess. This year Heidi was one of those skin-removed bodies exhibits, and she was simultaneously sexy in her tight muscle-revealing suit and scary at the same time. Seal wasn't with her from what I can see in the photos at our agencies. He's currently on tour and was playing in Belgium that night. She's having another party on Monday in NY, and Seal might be there. I wonder how she'll dress up for that one.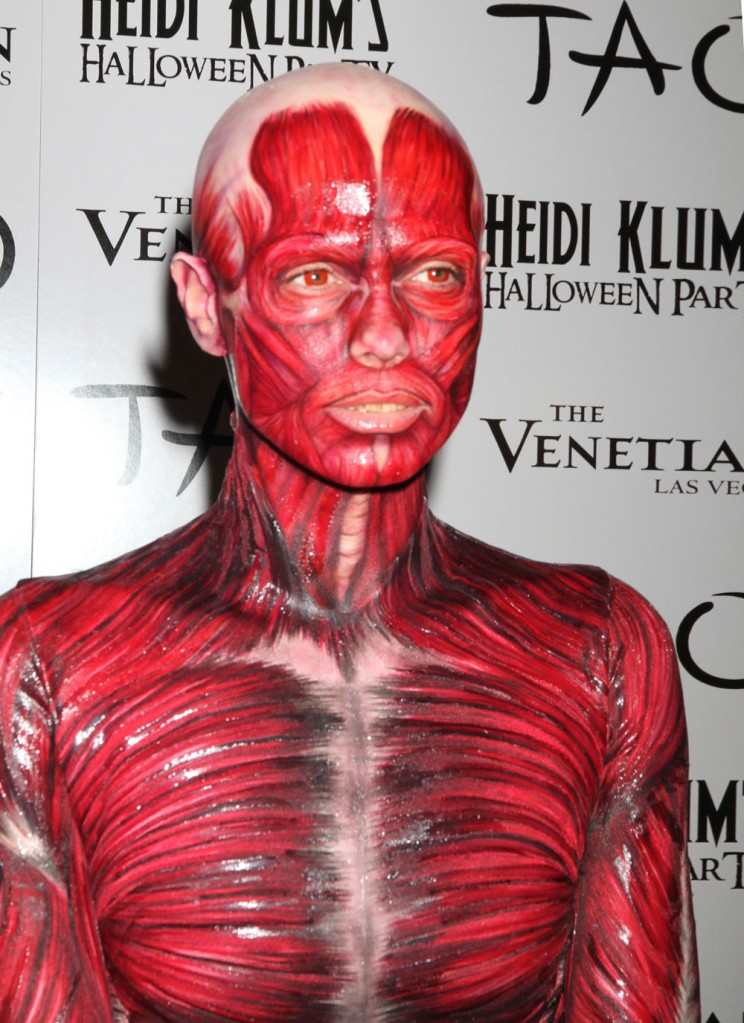 Heidi Klum, known for her elaborate Halloween costumes, got an early start on the holiday, arriving Saturday at Tao Las Vegas in dramatic fashion: on gurney covered with a white bed sheet.

As the sheet lifted, Klum's body appeared, showing off every muscle as if her skin was ripped off.

"This is my 13th Halloween party," she later said. "This year I wanted to be a dead person."

The Bodies: The Exhibition-style costume that rendered the supermodel unrecognizable was compromised of a painted body suit and the makeup on her face took three-and-a-half hours.

"In our house it's Halloween all year round," says Klum, who's married to singer Seal with four children. "It's not as scary but (my kids) love dressing up. Look at their mom. She's always dressing up. It runs in the family."

The party on Saturday was the first of two that Klum is hosting for Halloween. Her second party will be Monday at PHD inside The Dream in New York City.
[From People]
This was so impressive. There weren't a lot of other celebrities there. In the red carpet photos there's only a non-dressed up Gilles Marini, Bethenny Frankel as a harajuku/Hello Kitty girl, and DJ Questlove in some t-shirt excuse for a costume. Everyone was probably in LA this weekend instead of Vegas, where the party was held. Hopefully she'll get a better turnout for the NY party. It doesn't matter, though, when Heidi shows up for Halloween she steals the show.
Look at the makeup detail on her scalp. Someone even painted veins on there. I love how she paired stripper heels with that costume.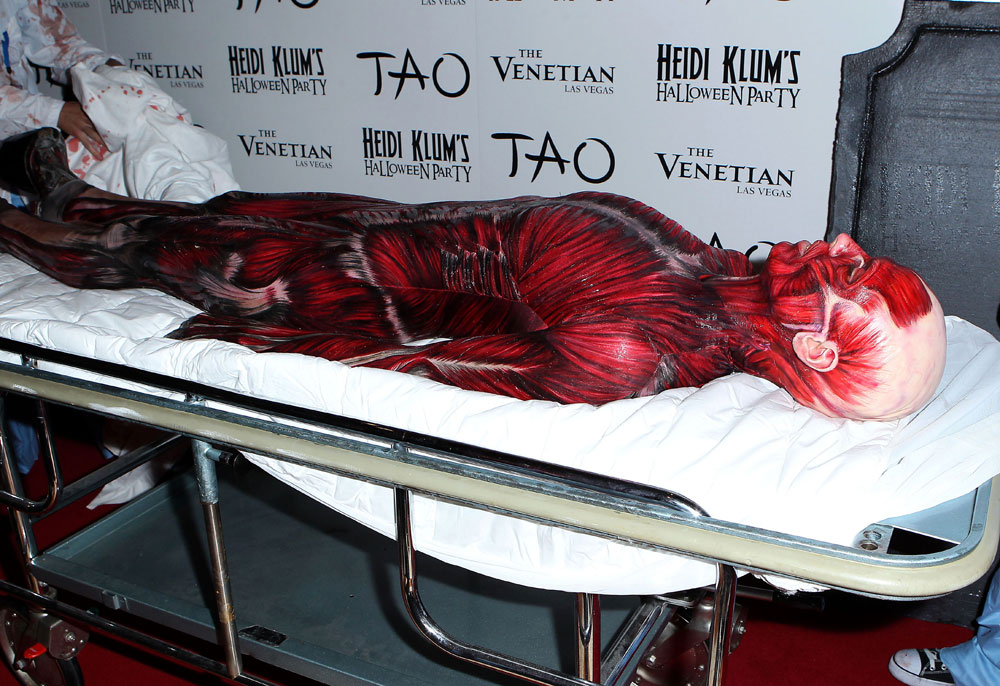 Update: Here are two more photos of Heidi, from her Twitter account. I missed the fact that she even had her teeth aged! Such attention to detail.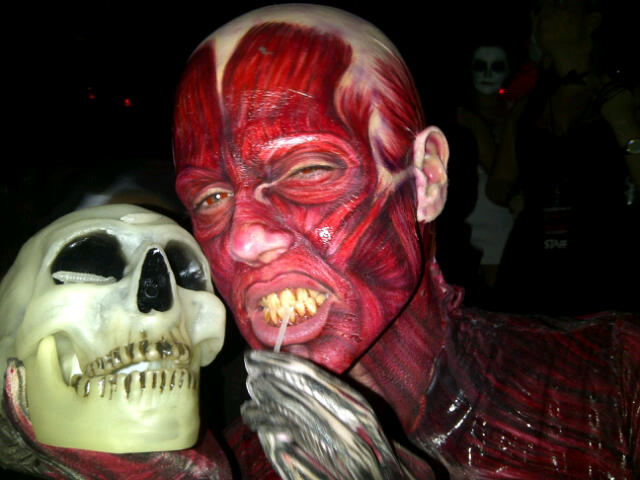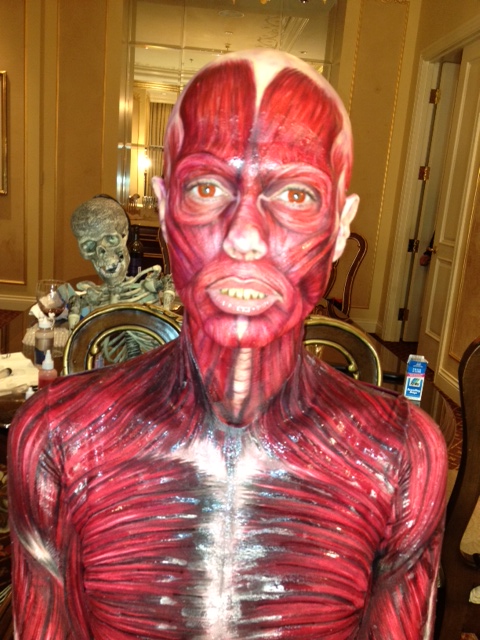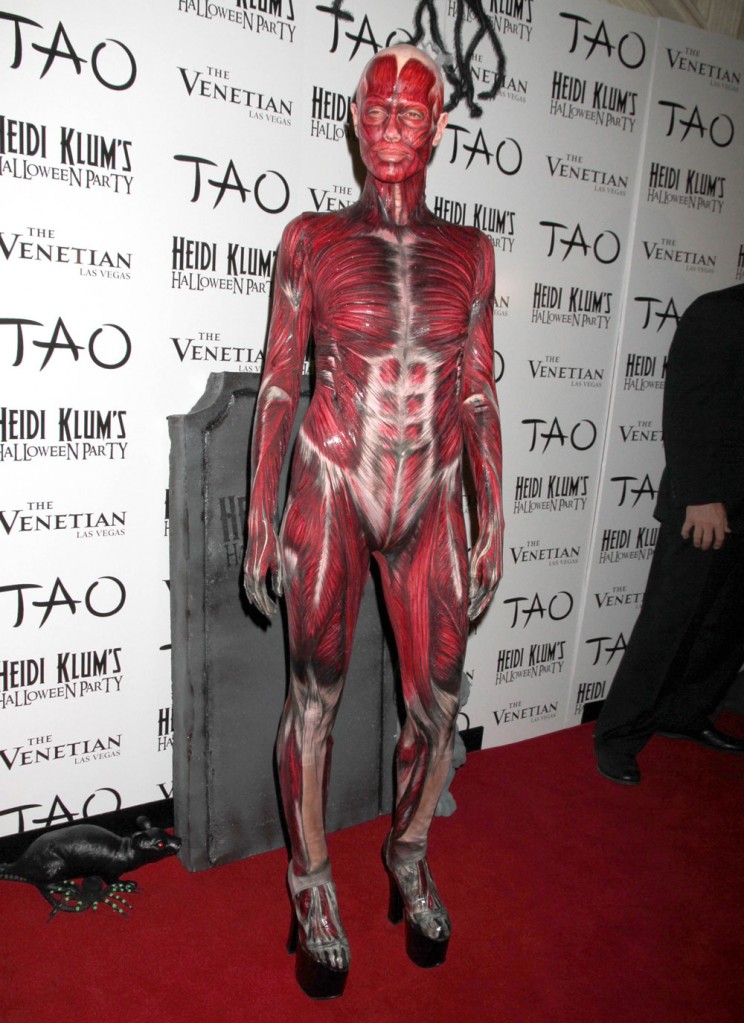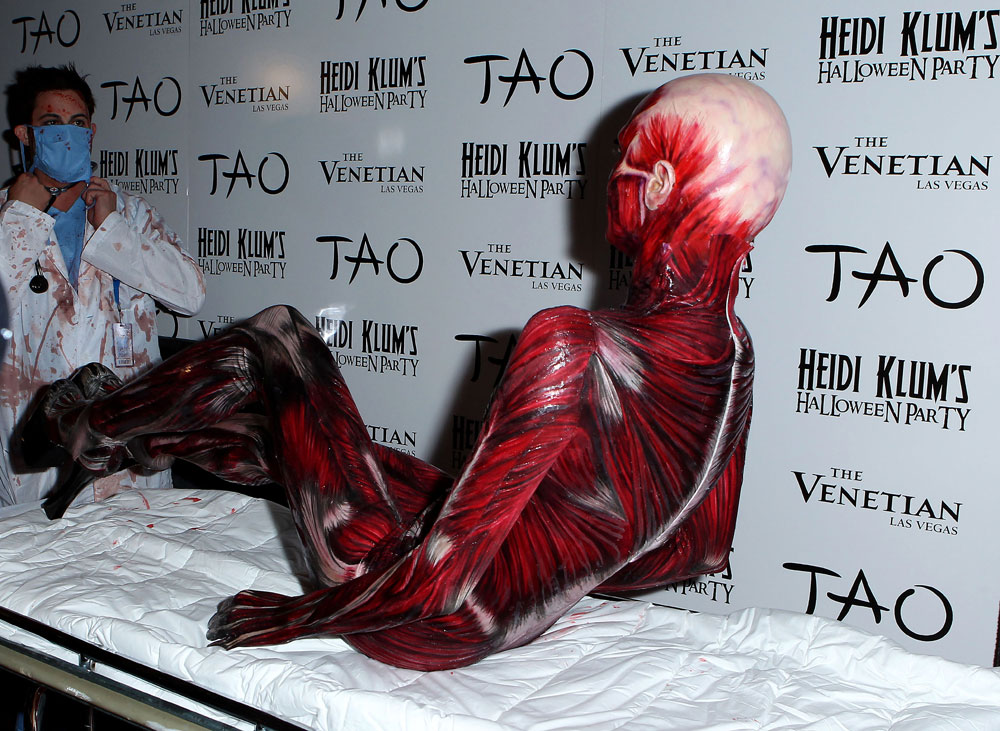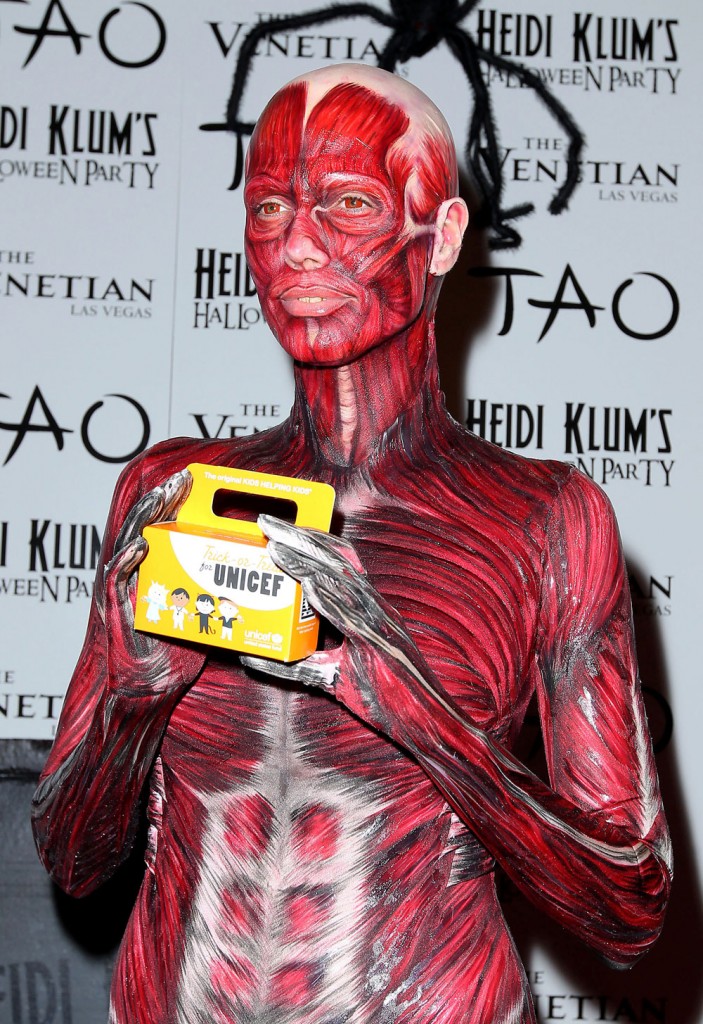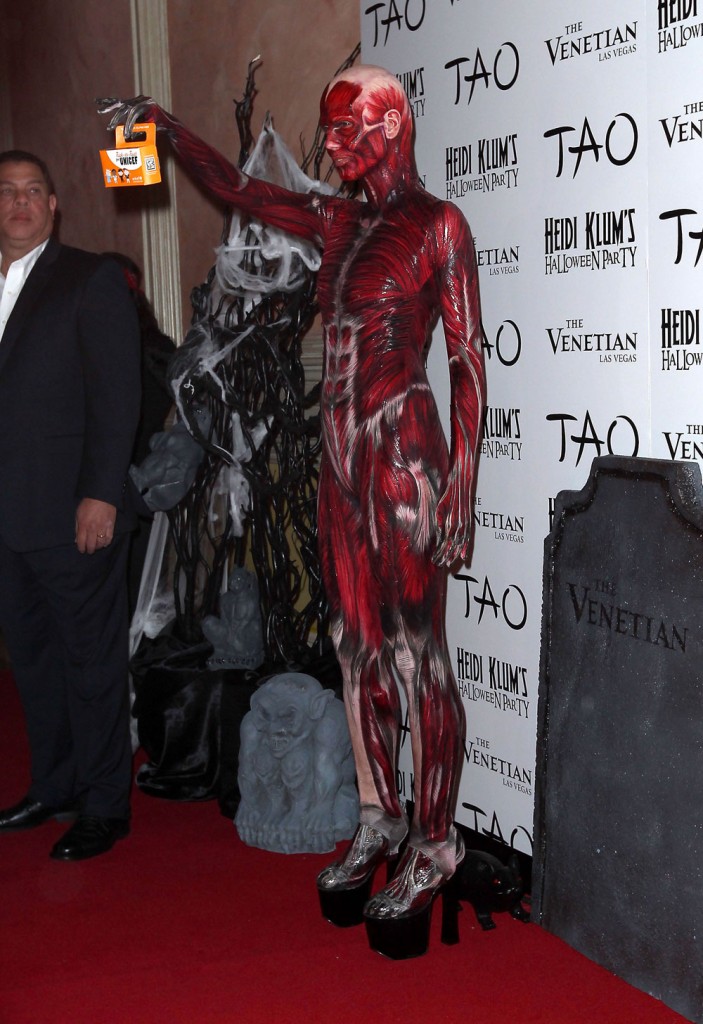 photo credit: WENN and Fame