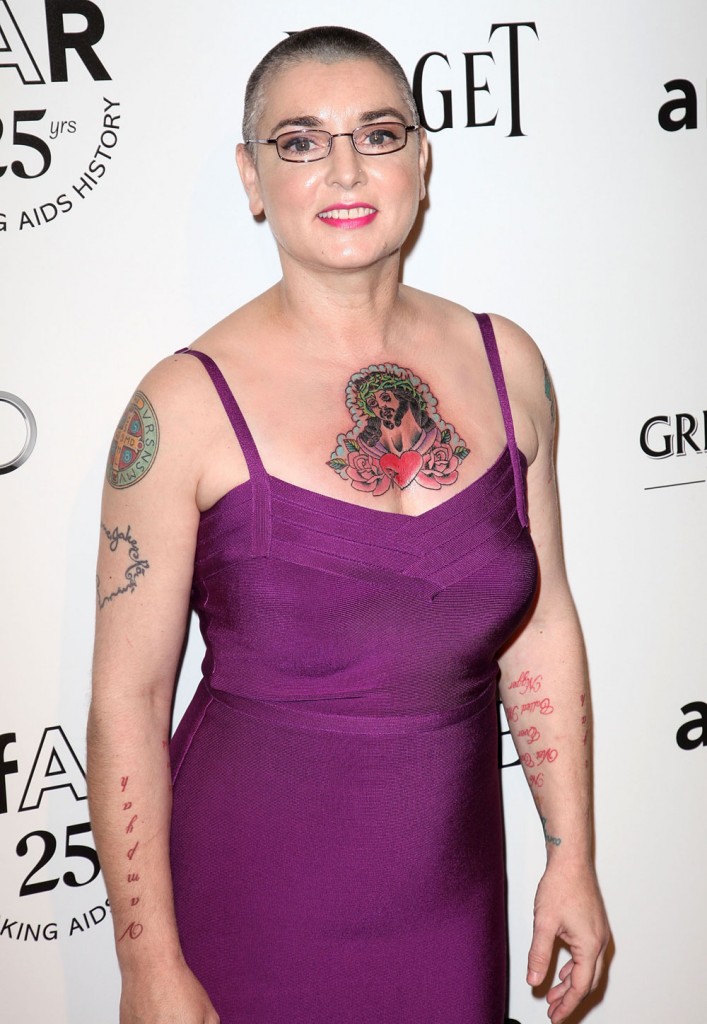 You know how the standard argument against tattoos is "you'll regret it when you're older?" Sinead O'Connor pretty much illustrates that point. The last we heard of the controversial 90s singer she was trolling for a good lay online. (really, she was.) She also looked much different than we're used to and was nearly unrecognizable with her hair in a black bob. Sinead blogged a couple of weeks ago that she'd found a boyfriend and was no longer taking applications. "successful applicant has been appointed. No more applications are required. I realise this will be a matter of enormous sorrow to 98% of the men of the world… But hey… Write a song about it… Silence will now ensue as there is much love-making to be done."
It looks like Sinead's most recent scruffy lover has done wonders for her. The 44 year-old mother of four showed off her tats and her freshly shorn head at an AmFar gala over the weekend, where she performed.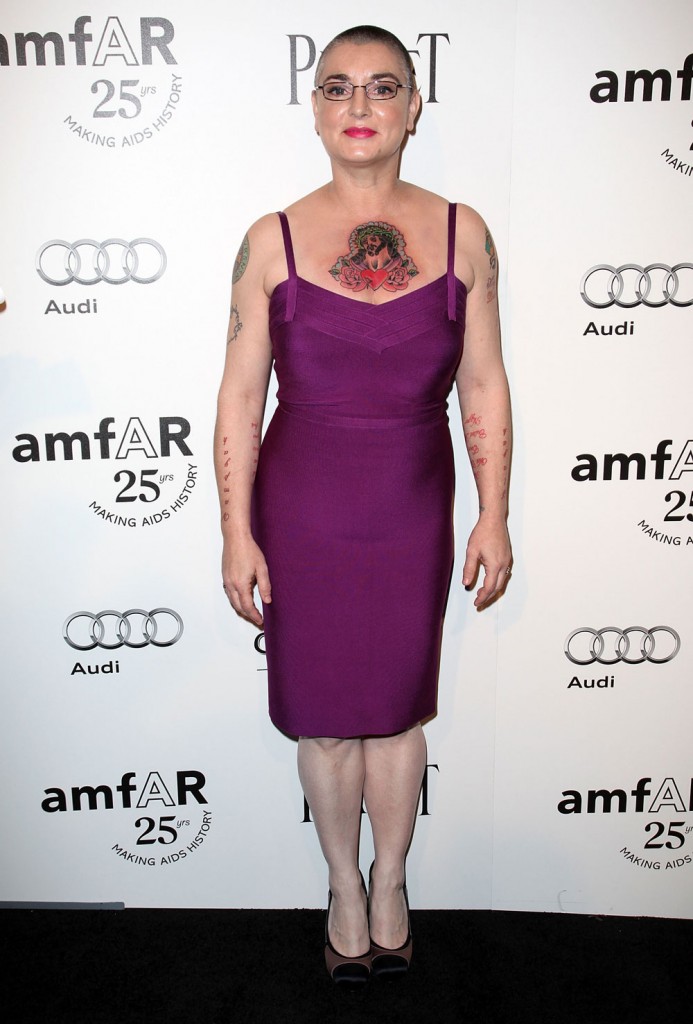 O'Connor, 44, sported a shaved head, glasses, pink lipstick and a purple dress that showed off her tattoos at the amfAR Inspiration Gala in Los Angeles Thursday night.

The Irish crooner planned to perform her hit song "Nothing Compares 2 U" and another tune, "The Last Day Of Our Acquaintance," at the event. And the shorn singer told PEOPLE she was most excited about the fact that she "got to dress up" for the gala.

Though her height of fame came in the '90s, O'Connor — a mother of four children ranging in age from 5 to 25 — said she's slowly going back to music full-time, touring mostly in Europe. And returning to her roots also means reflecting on her past.

"I regret that I had very low self-esteem," O'Connor confessed about her early career. "I would go back and I would say, 'Sinead, you rock!' I really would. I'd say, 'Don't beat the s— out of yourself, woman. You f—– rock!'"
[From People]
All of these Leger dresses need to die in a fire. They don't compliment even the skinniest bitches, and they're played out. They don't flatter women with curves either, they just emphasize them. Sinead looks good with her head shaved again though, and she's pretty here with makeup and those little glasses.
In 2007, Sinead said "I don't feel like me unless I have my hair shaved. So even when I'm an old lady, I'm going to have it." So which came first for Sinead, the shaved head or the new man?
Oh and here's Debbie Harry! I honestly didn't know that was her until I read the photo caption. Her hair is a bad wig and she's done something serious to her face. She looks really cute here with Sinead, like they're both super happy to see each other.