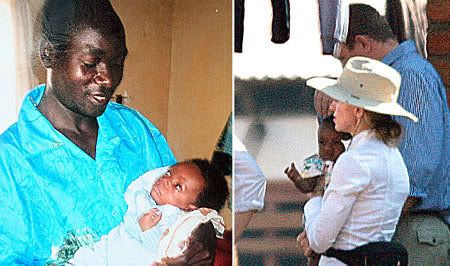 Madonna prompted outrage from local agencies by filing papers to adopt a one year-old Malawian infant whose mother died a week after childbirth. African adoption experts claim that squiring orphans off to America and Europe can be disconcerting for the children, and that they should be raised by local families in an environment that they're familiar with.
They argue that rather than whisking children off to a foreign land there should be more help directed towards helping extended families care for orphans.
Aids activists also claim that David, whose mother died shortly after giving birth, is bound to feel estranged and disorientated after moving from the poor village of Mchinji to America or Britain .
Bill Phillbrick of the Hope for African Children Iniative in Atlanta, America, told The Times: "International adoptions are not a solution. The answer is supporting the community."
Jackie Schoeman, executive director of Cotlands, a South African organisation that cares for children affected by HIV said: "For us, first prize is to place the kids locally or even regionally. If the only other option is for them to be in long-term institutional care, then we would consider international adoption."
The father of the infant, Yohane Banda, has given Madonna his blessing to adopt his one year-old son, David. Yohane is a potato and onion farmer and was forced to put the boy in an orphange when he could no longer care for him.
The story of little David is heartbreaking.
His mother, Marita, 28, died of fever in the days following David's birth and Yohane found it impossible to cope with a newborn baby on his own.
Yohane, a potato and onion farmer, said: 'I'm the father of David who has been adopted by Madonna.
'I'm very happy. As you can see there is poverty in this village. I know he will be very happy. We are told David will be coming back regularly to know his roots.
'Marita had miscarried twice before and the doctors told her she had to come into hospital for David. She died about a week after giving birth to him.'
A white Nissan jeep carrying a member of Madonna's security team arrived at David's orphanage to pick up him and his foster mother at 5pm on Monday and took them to the Kimbali Lodge, where Madonna has been staying.
'As of now, the baby is gone,' Thomson Chipeta said. He said a medical team had examined David a week before he was presented to Madonna…
Marita and Yohane grew up together and had been a couple for at least ten years.
Their first two pregnancies were stillborn and the couple had no other children.
There were complications during the pregnancy with baby David.
Marita was told she would need a Caesarian section and had to travel the 100km on a dirt road to the nearest hospital as soon as her labour started.
She made it just in time to give birth to David and died from complications a week later.
Villagers in Lipunga live a hand to mouth existence as farmers. There are about 30 tiny, one room huts with ten to 15 people living in each one.
All meals are cooked outside and villagers sleep on straw mats.
Since Madonna is donating a lot of money to the community and helping restructure the orphanage there, it seems like adopting a boy is a charitable act on her part, and one that will bring her and the child a lot of joy.
Update: I'm gradually changing my opinion about this. There's an article on Blogcritics.com which makes a lot of good points about the controversy and how difficult it will be for that little boy to come to terms with his background.