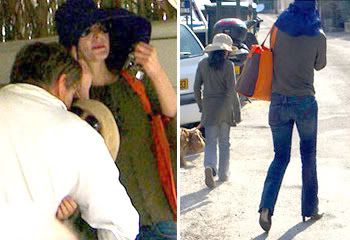 Photographs of what reporters claim was Michael Jackson wearing high heels, skinny jeans and a floppy woman's sun hat were published yesterday. He was out with his 8 year-old daughter, Paris, who was dressed almost identically.
While a huge floppy sunhat may have kept Micahel Jackson's face hidden, three inch pointed heels, skinny fit women's jeans and fluorescent orange handbag did little to aid his bid for anonymity.
The 48-year-old singer made a typically flamboyant appearance in St Tropez, during his latest trip abroad.
Jackson, who was acquitted on child molestation charges last year, is currently holidaying on the French Riviera, accompanied by his three young children.
The star is understood to be in the South of France as a guest of his friend and benefactor, Prince Alwaleed – a nephew of Saudi Arabia's King Fahd – on his private yacht, Kingdom 5KR.
After tottering through the backstreets of the exclusive coastal village, a weary-looking Jackson stopped off roadside for a little rest, and to shelter from the 28 degree heat.
Here, accompanied by the girl believed to be his 8-year-old daughter Paris, he petted an aide's dog and fiddled with his bright blue hat.
It is the first time that one of Jackson's children has been spotted out in public without a veil.
But in keeping with Jackson's love of the eccentric, Paris – full name Paris Michael Katherine Jackson – was dressed almost identically to her famous father…
Is Michael Jackson a closet transvestite that just couldn't help stepping out in woman's clothing?
According to Australia's Daily Telegraph, this wasn't the first time Jacko has been busted in women's clothing:
During a trip to Ireland earlier this year the singer, who has been staying with Bahrain's royal family since being acquitted, arrived at Cork airport under layers of effeminate scarves and drapes.
And in January he wore an abaya – traditional garb for Muslim women – in the Arab state of Bahrain where he has been based for the past 12 months.
But more embarrassingly, Jackson was reportedly found dressed as a woman, applying makeup in the ladies' toilet, during a recent shopping trip.
Speaking at the time, his spokesman claimed it was a simple mistake – Jackson was unable to read the Arabic sign saying 'Ladies'.
Now Jackson's PR person is denying that it was even him, saying that he wasn't in St. Tropez at the time.
Jackson's custody battle with his ex baby-maker, Debbie Rove, has ended in a large cash payout, prompting people to say she was in it for the money all along.