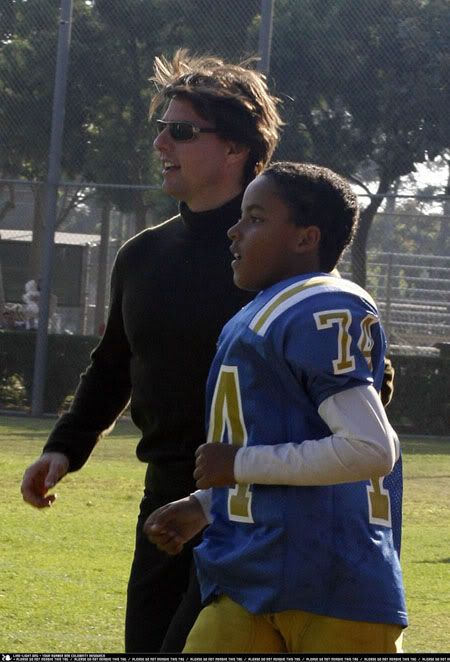 Tom Cruise got annoyed when he noticed that his son Connor's team wasn't doing that well during a recent football match. He marched up and gave them his own pep talk, no doubt thrilling 11 year-old Connor:
Tom Cruise was recently watching his son Connor play football at his school. Tom spent much of the first period of play engrossed in his Blackberry, but looked agitated when he realised Connor's team was losing. At the interval, Tom walked on to the pitch, brushed past the coach and gave the team talk himself.
[From the PopBitch e-mail newsletter]
With pictures like these of Tom running across the field with Connor, that's an easy story to believe. You can tell that Connor is not thrilled with the attention that's paid his manic father, but he looks like he's quietly putting up with it.
Katie Holmes has made it known that she's found her wedding dress. She won't tell the press which designer she's picked, but speculation is that it could be Chanel's Karl Lagerfeld, who she was pictured with at a recent party he threw in Paris.
Tom and Katie are expected to get married next month.
Pictures from lime-light.org.