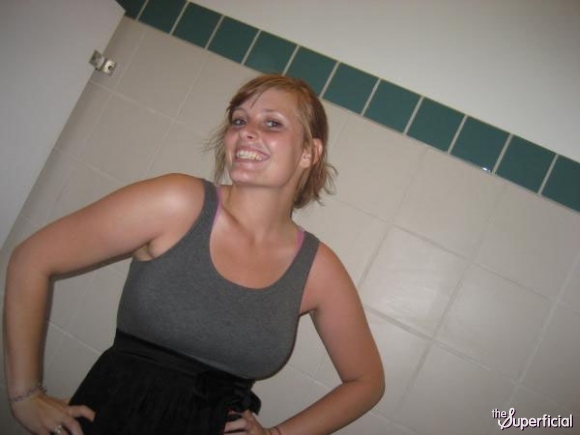 The Superficial has the MySpace photos of the woman who claims to have a three month-old baby fathered by Justin Bieber, 20 year-old Mariah Yeater. Yeater has since made her MySpace profile private. The photos are goofy and suggest to some that she could be out for fame with these accusations. So many teens have stupid photos online like Yeater's, particularly on MySpace, where they're likely to have been posted several years ago and forgotten. Remember the bikini modeling photos from the mother of Jude Law's illegitimate child? Just because someone wants to be famous doesn't mean they're not telling the truth about having a baby by a celebrity. Yeater has tattoos and piercings in the pictures, but it's possible she got them at 16 with a parent's permission and that these photos are old. No one really uses MySpace anymore. In terms of the way she looks, it bothers me that people are saying that she must be lying because she's not particularly cute or thin. That's ridiculous.
There's news that Yeater is on Twitter, where she's supposedly written things like "thanks for making me famous." There are so many Mariah Yeaters on Twitter, none of them are verified, and the one with the most followers is just the most obnoxious. I doubt it's her.
I finally had the chance to read the full Star story on Yeater's paternity lawsuit against Bieber. We've already heard most of the sordid details: Yeater claims she was picked out of the crowd near the front of a concert by Bieber's people, that she went backstage to meet him, and that they had sex in a bathroom during which Bieber lasted half a minute and didn't use a condom. There's more in the Star story, including the sad detail that Bieber didn't give Yeater his phone number afterwards and didn't even bother to write down her's. (We've already heard the other details in this story, but it's worthwhile to see them in context.)
"I was… near the front of the concert. Immediately following the concert, I was approached by a security guard who asked if I wanted to meet Justin Bieber backstage," Mariah wrote in a hand-signed affidavit on Oct. 30, sworn under the penalty of perjury. "I accepted the invitation and followed him backstage.

"After waiting for a short period of time with several other young women, Justin Bieber appeared and engaged me in conversation. Immediately it was obvious that we were mutually attracted to one another, and we began to kiss. Shortly thereafter, Justin Bieber suggested that I go with him to a private place where we could be alone.

"I agreed to go with him and on the walk to a private area in the Staples Center he told me he wanted to make love to me and this was going to be his first time. He also said he would give me his phone number after we had sex and told me he wanted me to be at his future concerts too and he would give me backstage passes."

"After walking away from the other people backstage, Justin found a place where we could be alone – a bathroom. We went inside and immediately his personality changed drastically. He began touching me and repeatedly said he wanted to f#@$ the sh*t out of me. At that time I asked him to put on a condom for protection, but he insisted that he did not want to. In his own words, he said that because it was his first time he wanted to feel everything."

Justin then "quickly took off my clothes," she said – and the pair had sex. "He was on top of me with my legs around him," Mariah wrote in the court declaration. "At the time I was on top of some type of shelf. The sexual intercourse itself was brief, lasting only approximately 30 seconds…

"He was clearly embarrassed about how the sex did not last very long. He immediately put on his clothes and blew me off when I asked about seeing him again. I asked him for his private phone number, but he insisted on taking my phone number. We had no paper or anything to write it down on, and Justin Bieber was clearly not interested in getting his cell phone or any paper. He said he would just remember the number, which I told him."

"When I later realized I was pregnant with Justin Bieber's baby, I tried to contact him through his representatives but no one ever called me back. On July 6, 2011, I gave birth to a baby boy. That was exactly 36 weeks and two days after the sexual encounter with Justin Bieber. Based on the timing as well as the fact there were no other possible men that I had sex with that could be the father of this baby, I believe that Justin Bieber is in fact the father of my baby."
[From Star Magazine, print edition, November 14, 2011]
If that's true it's so cold. The least he could have done would be to take down her phone number!
Yeater's lawyers are calling for a paternity test, and they're also calling out Bieber for not personally denying this very high profile story:
"She is not seeking exorbitant compensation," Rogers and Pare told Star exclusively. "She merely requests that Justin Bieber provide a DNA sample to verify that he is the father of Mariah Yeater's baby, and if so, to help provide child support as required by California law."

In the wake of Star's exclusive report detailing the paternity suit, Bieber's camp told ABC News, "It's sad that someone would fabricate, malicious, defamatory and demonstrably false claims" and that they would "vigorously pursue all available legal remedies to defend and protect Justin against these allegations."

While the Baby singer himself been out plenty since Star broke the exclusive news — appearing on Dancing with the Stars, On Air with Ryan Seacrest and tweeting he was going to "ignore the rumors" — he has not yet publicly delved into the details of the allegations, something Yeater's attorneys addressed in their exclusive statement to Star.

"It is noteworthy that Justin Bieber himself has not denied the fundamental fact that he had unprotected sex with Mariah Yeater following a concert in Los Angeles.

"If Justin Bieber is willing to voluntarily undergo a paternity test Ms. Yeater welcomes such cooperation and will be happy to resolve this issue in a less public manner. We call upon Justin Bieber and his attorneys to reach out to resolve this issue in a reasonable manner."
[From Radar Online]
Go ahead and yell at me and tell me he's just a kid. He is, and he's also a superstar and a multi-millionaire. This might all be fabricated by a woman out for publicity, but if so she's going to great lengths to make her case and it sounds like a solid one to me. Whether or not she's making this up, that could really be her being obnoxious on Twitter. I think we should reserve judgment until the paternity tests come out, whether after the December 15th hearing or sooner. This is really ringing true to me, and I wonder if Bieber's lawyers are going to try and block that DNA test.
Kaiser just told me that Bieber is going on the Today Show today to address this story. We'll cover that as soon as the video is out.
Update: Bieber was just on The Today Show, where he was interviewed outside by Ann, Al and Matt. He was outside with a bunch of screaming fans around a pen, basically. He said "I'd just like to say that none of those allegations are true. I know that I'm going to be a target, but I'm never going to be a victim. It's crazy, because every night after the show I'm gone right from the stage right to my car. It's crazy that people want to make up such false allegations, but to set the record straight none of it is true."
Matt then asked Justin if he knew the woman and he said "Never met the woman." He was pretty well spoken about it and he looked amused while he said it.
Other than that, they just talked about his Christmas album and the fact that he's donating the proceeds to charity.
Update 2: Yeater's lawyers did an interview on HLN's Dr. Drew show, thankfully not with Dr. Drew. They looked very young but made their point in a well spoken and convincing way. They said "we have every reason to believe in this story. We filed it in good faith, we stand by her." They also claimed to have additional "credible evidence" that has not been released by the media that "Justin Bieber is the father of this baby." I kind of hope she pulled a Monica and didn't do her laundry, you know?
Here's a photo of baby Justin Bieber vs. baby Trystan Yeater.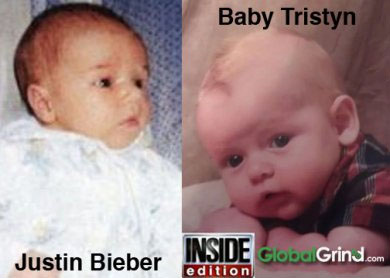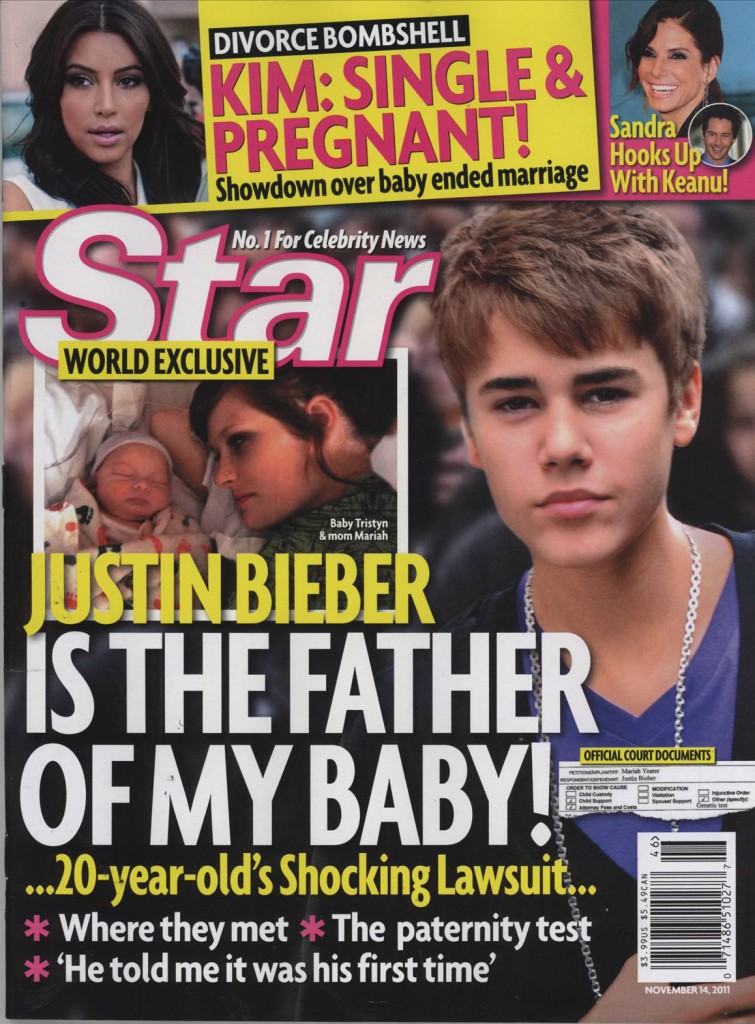 These photos are from Mariah Yeater's MySpace via The Superficial. Thanks to Stacie for the Star scan.