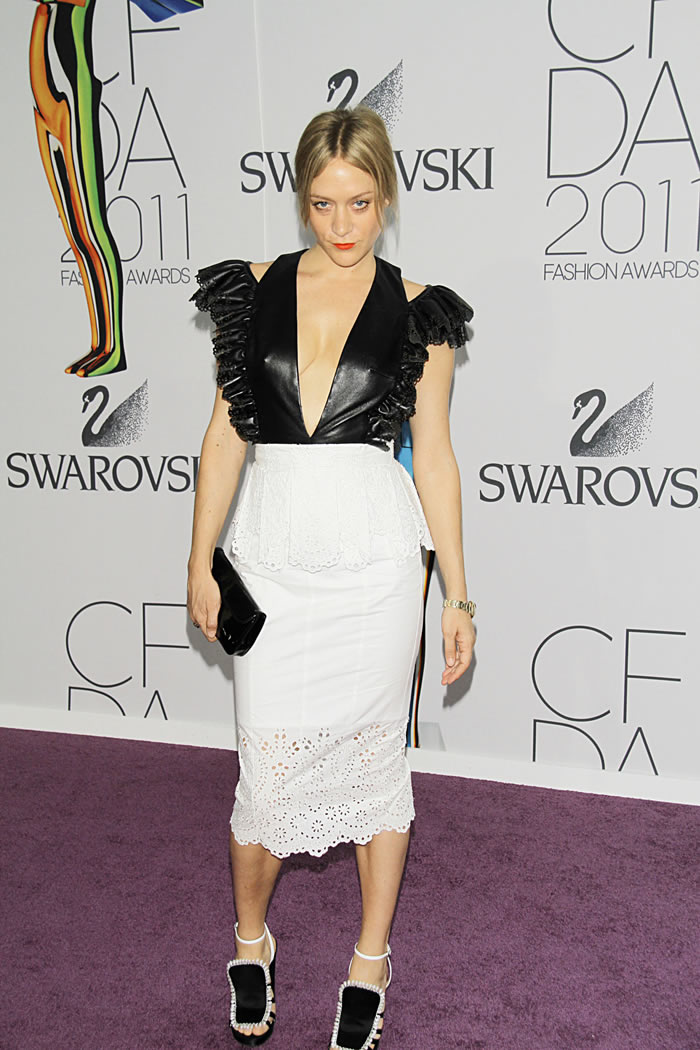 For whatever reason, Chloe Sevigny has always been considered to be some sort of "it girl" for weird, hipster alternative culture and fashion. I don't know why. Maybe it's because she's seemingly fearless while attending events like this year's CFDA fashion awards (as shown above) in really ugly dresses or indulging in belly-bearing Rodarte. Really though, when I think of Chloe these days, I am instantly reminded of Kaiser's words while covering last fall's MoCA event: "Chloe Sevigny was there. Of course. And she looked like a total a–hole. Jesus, Chloe." That sounds about right for most of Chloe's outfits.
Of course, someone in power has decided that Chloe was fit to design her own fashion line. In the spirit of promotion, Chloe sat down with Bullett Media to discuss her clothing passions and also gave them a sneak peek at her line. Here are a few glimpses — the line is obviously geared towards a younger crowd, and a few of the staged shots are, um, slightly disturbing with far too much of a "Lolita" vibe going on: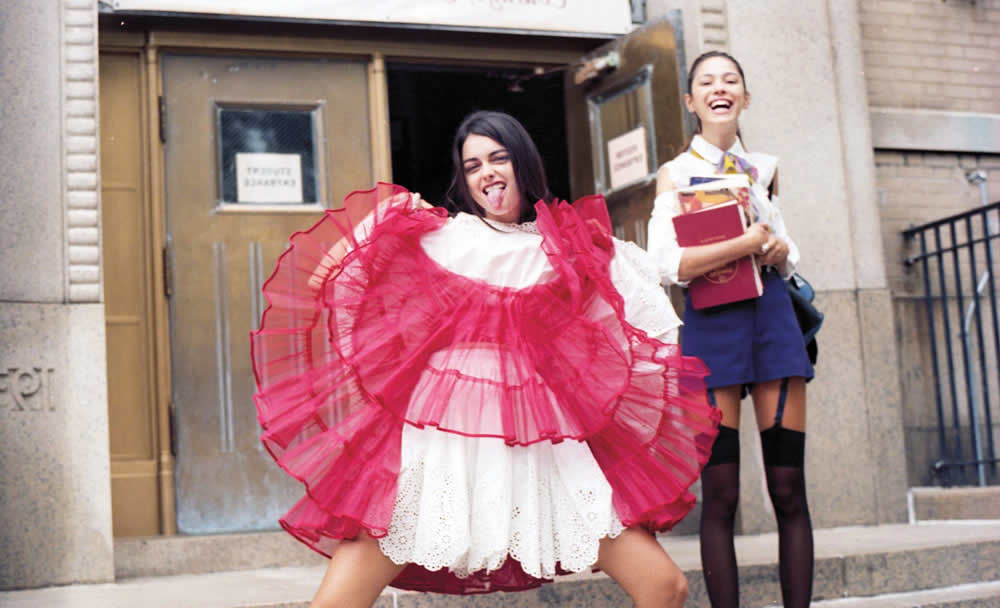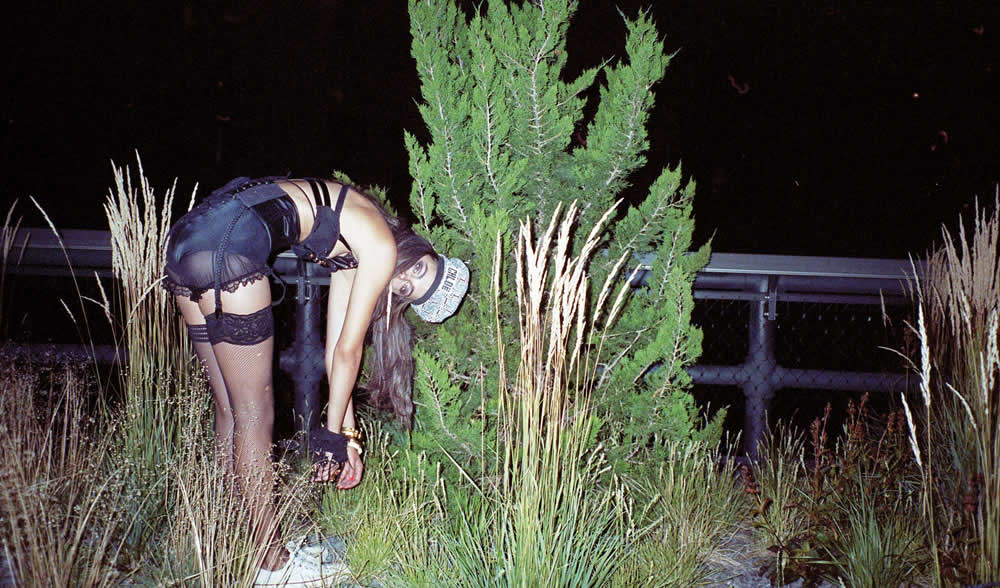 Here are a few excerpts from the accompanying interview, in which Chloe reveals that she'd rather have Nicole "Snooki" Polizzi wear her clothing than boring old Nicky Hilton. Chloe also pays lip service to The Situation being asked by Abercrombie & Fitch to not wear their clothing. Chloe also sort of disses the "Jersey Shore" guys, which doesn't make much sense because she was spotted earlier this year hanging with DJ Pauly D. Maybe there's some bad blood of the one-night-stand variety there? Who knows. Onto Chloe and her weird-ass fashion talk:
On Always Being An Outsider: I grew up in a really wealthy community and even the young girls would flaunt their wealth and ostracize girls who didn't come from money. There was this one girl in particular who was the queen bee at school, and she would have the other girls tie her shoes. Me and a few other girls would go up against her. My parents were a little bit like outsiders, so I became friends with outsiders too: the daughters or sons of alcoholics and kids from divorced families, which then bred rebellion. From a very young age, I knew that I wouldn't run with the preppy pack. I knew that there was something different in store for me.

On Her Ultimate Clothing Wish: I've always fantasized about finding a '70s Yves Saint Laurent jumpsuit or a big, comfy dress, and wearing it for the rest of my days.

On Her Guilty Pleasure: God, I don't really have one. I see all the movies, but I don't think that's really a guilty pleasure-that's just supporting my industry. I was a huge American Idol fanatic for a while when I had a TV. I love reality TV.

On Jersey Shore: I think it's really depressing that people are propping these people up as celebrities. The way they behave is embarrassing, and I think it's kind of diminishing our culture. Most reality TV people behave like pigs, and it's unfortunate that they get put on pedestals for doing so.

On How She Prefers Snooki Over Nicky Hilton: I read somewhere that Abercrombie & Fitch offered to pay The Situation not to wear their clothes-but who am I to say who should be wearing mine? I do remember someone saying that…what's Paris Hilton's sister called? Isn't it Nicky or something? Anyway, she apparently talked to someone about my first collection, and was like, 'I don't get it.' I was like, Good! I'm glad she doesn't get it. It's not for her. Besides, what's there to get with clothes? So if Snooki wants to wear my clothes, go for it. I think she'd look a lot better in them. She's probably just so used to certain things, you know. I have to admit, I do find that JWoWW sexy in a really weird way. It's like that sexy, dirty kind of girl—not dirty, but like a hot mess. We've all gotten too drunk and acted crazy at parties, but I don't maintain that and I'm kind of fascinated by those girls who do.

Why She Created A Fashion Line: I'm pretty sure everybody knows that I make it all just so I can wear it!

Who She'd Love To Dress: It would for sure be one of the Fanning girls. I don't think I'd faint, but I would get excited.
[From Bullett Media]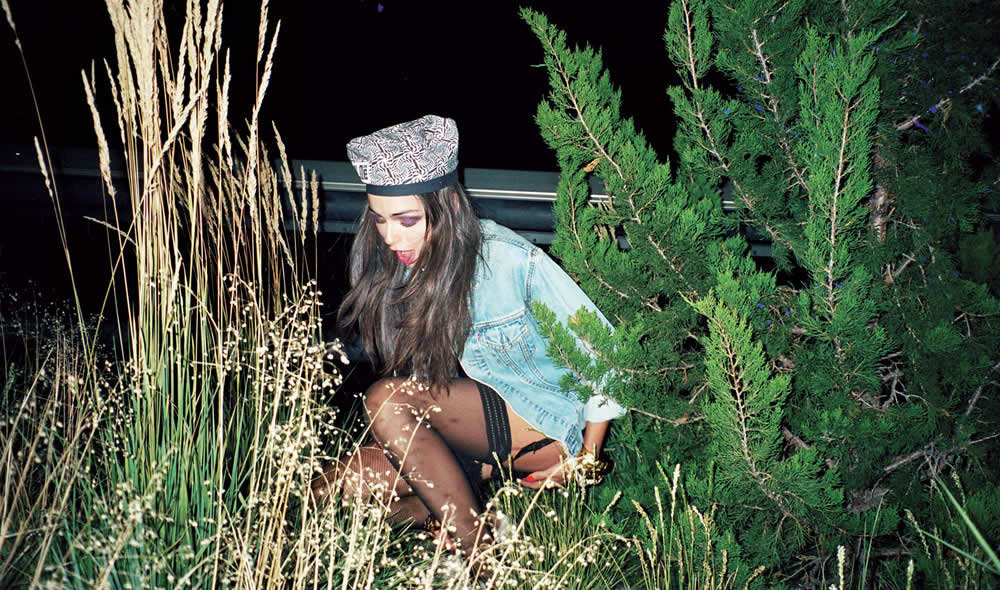 Oddly enough, Terry Richardson wasn't the photographer on the shoot (instead, it's James Orlando), which surprised me because Creepy Terry and Chloe are so tight. As to Chloe's dream of dressing Dakota Fanning, that doesn't surprise me either, for this shoot exudes an aura that is not unlike that of Dakota's recently banned suggestive Marc Jacobs ad. And both Fanning sisters just did a mutual shoot with Terry too. So basically, the perviness has come full circle here. Ugh.
Back to the point that (I think) Chloe was trying to make when favoring Snooki over Nicky. Part of this comparison stems from the fact that Nicky dissed Chloe's clothing line, which presumably sparked the interviewer's line of questioning. Still, it's unquestionable that Snooki wearing something would give a designer much more exposure at this point than boring old Nicky Hilton, who basically does nothing. Say what you want about the "Jersey Shore" kids — at least they did a little something to reach their level of trashy fame instead of merely being born into a rich, trashy family.
Here are more glimpses of Chloe's fashion line (and you can see the rest here). Well, it's certainly not dull stuff, which is about all I can say in favor of these clothes: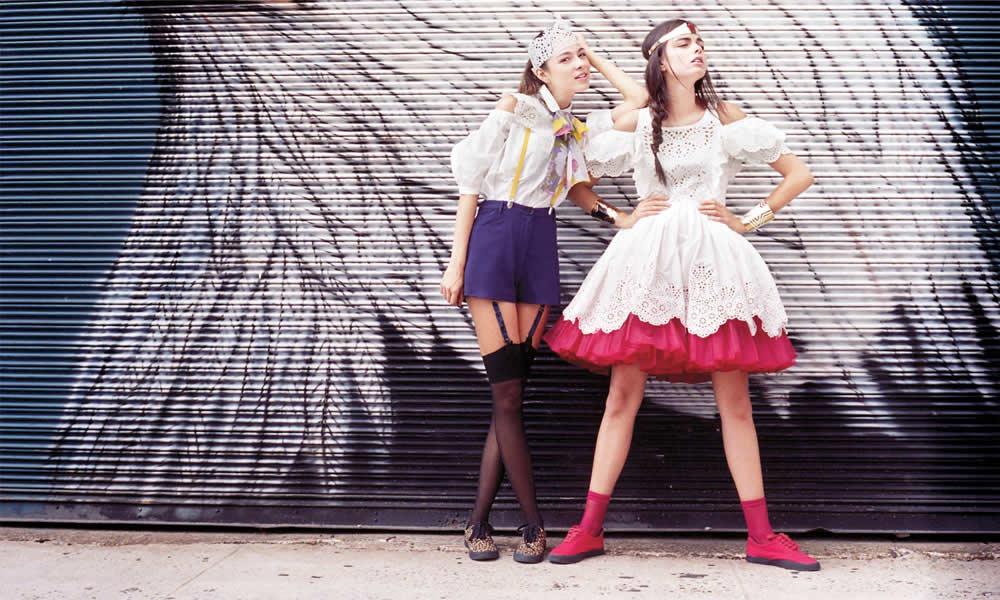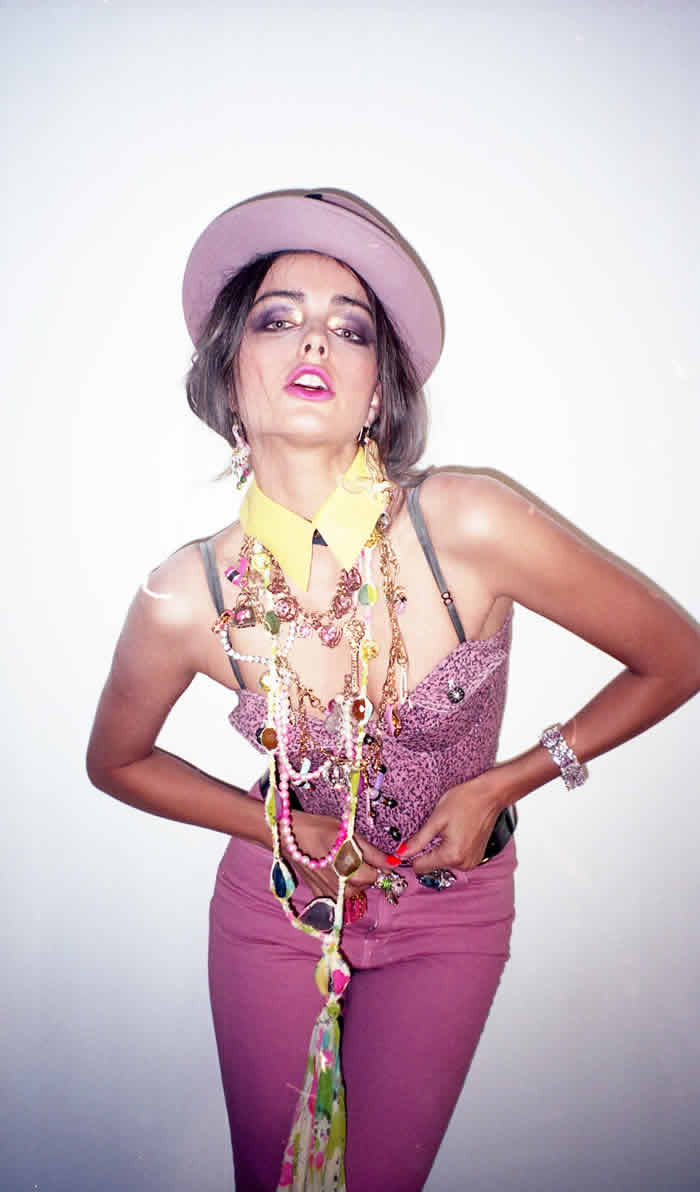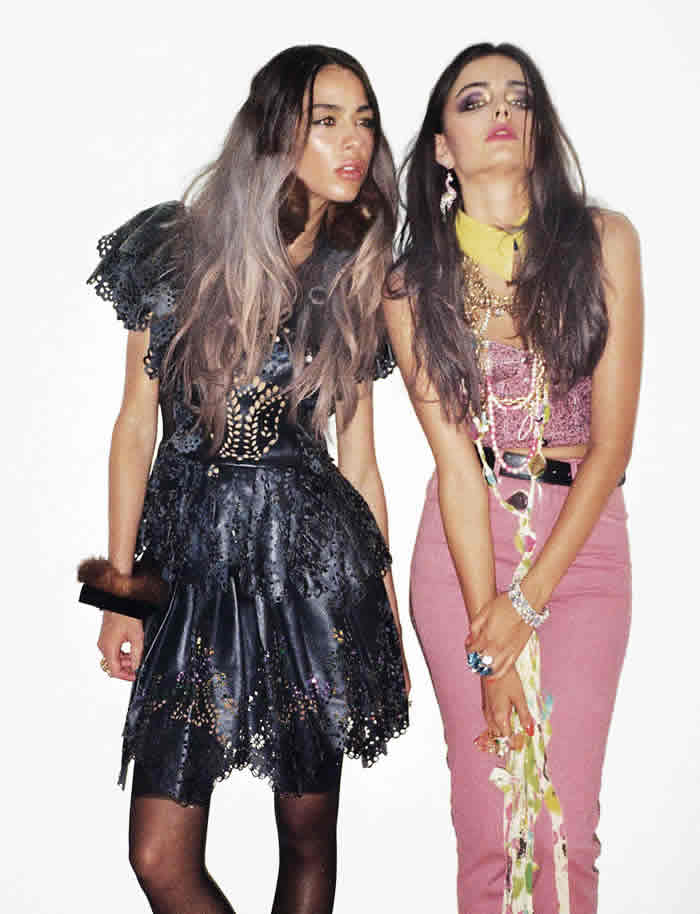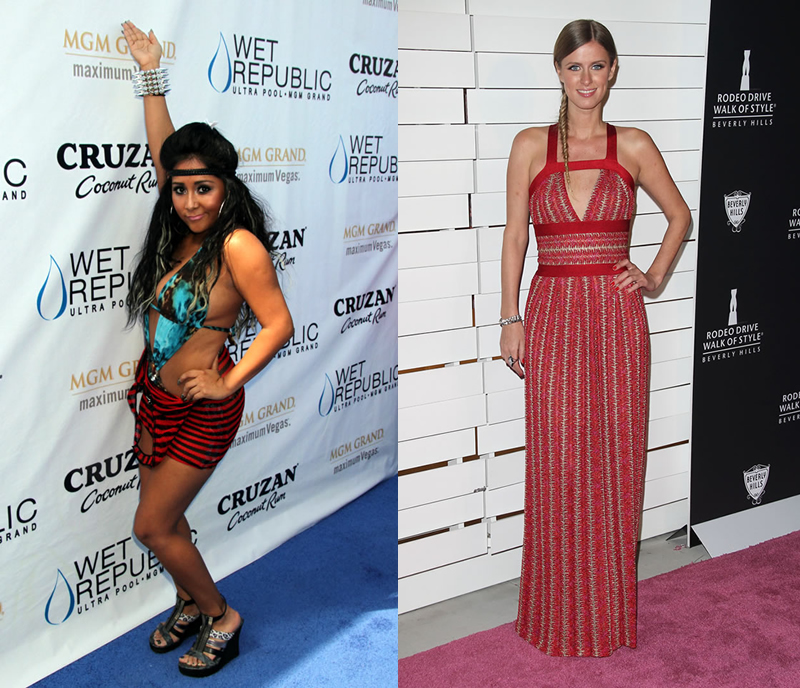 Photos courtesy of Fame and Bullet Media