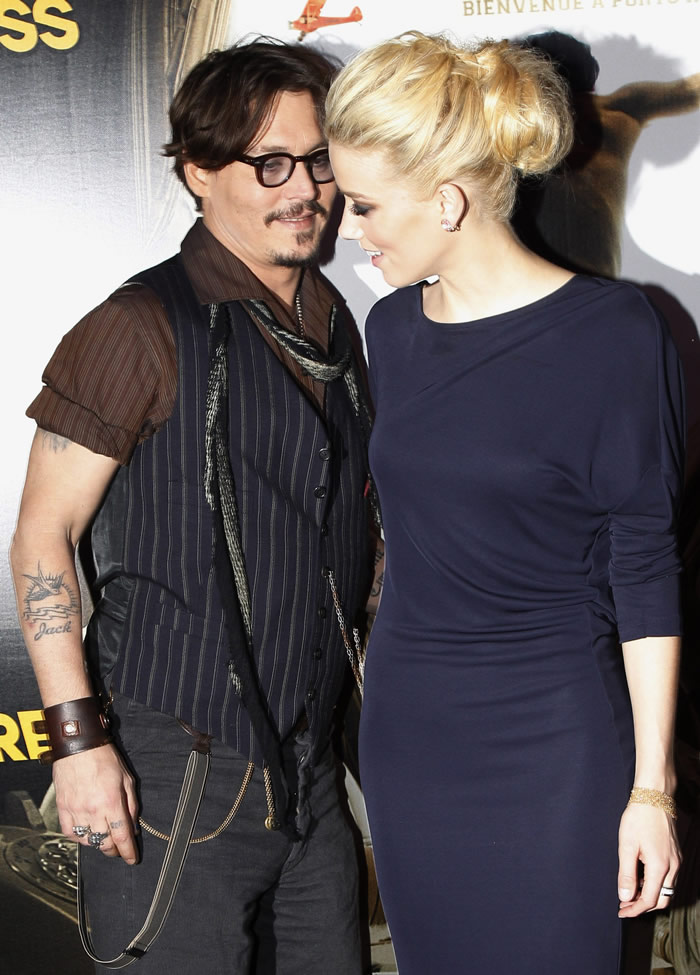 Johnny Depp's sort of been on our collective sh-t list around here lately due to the fact that he really doesn't seem to be behaving like his usual self in public. Things took a decided turn for the worst with this round of promotion for The Rum Diary. To recap, Johnny compared photoshoots to rape. He whined about the trappings of fame. In response to the poor box office showing for the movie thus far, he stated that middle America doesn't want intelligent films (and in doing so, he picked on my hometown). And in a particularly awkward moment, he fell over drunk on the street, which led CB to speculate whether he was having relationship problems with Vanessa Paradis.
Meanwhile, In Touch has added fuel to the fire with word from "an insider" that Johnny developed an intense, on-set flirtation with his co-star, Amber Heard, who is a publicly declared lesbian and just happens to have a very serious girlfriend of three years. The article tries to make the case that Amber is "not 100% lesbian." Really:
As Amber Heard strutted down the red carpet in a skintight gown at The Rum Diary premiere in London, all eyes were fixed on the sexy starlet — including those of her very taken co-star, Johnny Depp. "He immediately greeted her, leaning in to kiss her cheek and whisper in her ear," an onlooker at the soiree tells In Touch of the pair, who play lovers in the film. "She laughed and rubbed his back. They were definitely flirting!"

And according to an insider, the cozy act wasn't just for the cameras. Although their reps of course deny they did anything appropriate, "Amber has been saying that she and Johnn had really intense chemistry," the insider says. At the film's after-party at New York's Hiro Ballroom, Amber's friends were overheard teasing her about her flirtation with Johnny, with one even saying, "Why all know how close you two got on set!" Amber laughed and told them to be quiet, even though she thought it was funny.

One person that might not find this funny — his girlfriend of 13 years, Vanessa Paradis. For years, Johnny has presented himself as a satisfied family man, happy to retreat to his home in France with Vanessa and their kids. But at 48, it looks like the former bad boy is falling back into some dangerous old habits. He's not only been out late looking wasted at parties in L.A., but he also partied hard with co-star Amber, confides the insider.

In fact, the pair acted like teenagers while making the film. "The set was wild," the insider claims, adding that with his girlfriend and young children nowhere in sight, Johnny quickly took a liking to gorgeous Amber. "She is a very sexual person," the insider explains of the 25-year-old. "She is beautiful, and she knows it." At the many wild after-parties Johnny threw for the cast, Amber always stayed late, flirted shamelessly with him — and showed off her body. "One night, she was dancing very seductively."

And as the pair reconnect to promote the film on the red carpet at premieres, their partners seem completely unaware. Indeed, Johnny's still trying to juggle his rock-star side with his stable family-guy shtick with Vanessa — and Amber has no intentions of leaving her girlfriend, Tasya Van Re. "This is what happens on movie sets," says the insider. If that's the case, for his next film, Vanessa may want to consider moving into his trailer!
[From In Touch, print edition, November 21, 2011]
So is this report just a bunch of crap? Probably. I think there might be something to CB's suspicions that Johnny and Vanessa might be having problems because he has been behaving quite oddly lately, which is a good sign that his home life might be off kilter. However, I don't think there's much for Vanessa to worry about when it comes to Amber. She's into girls. Period.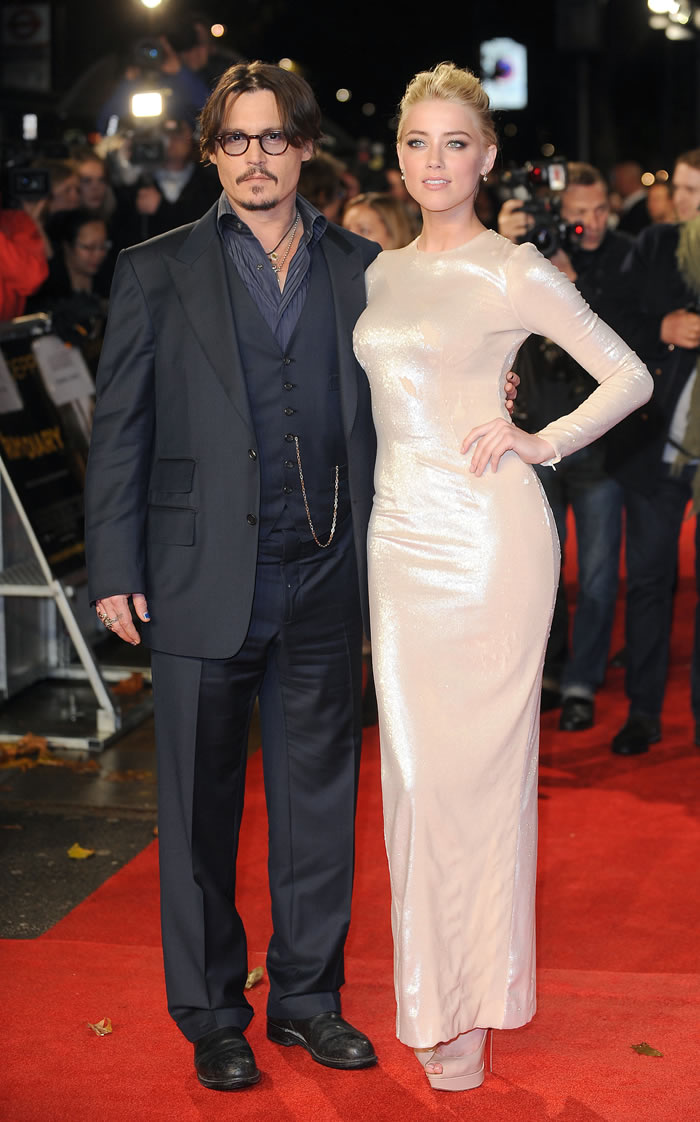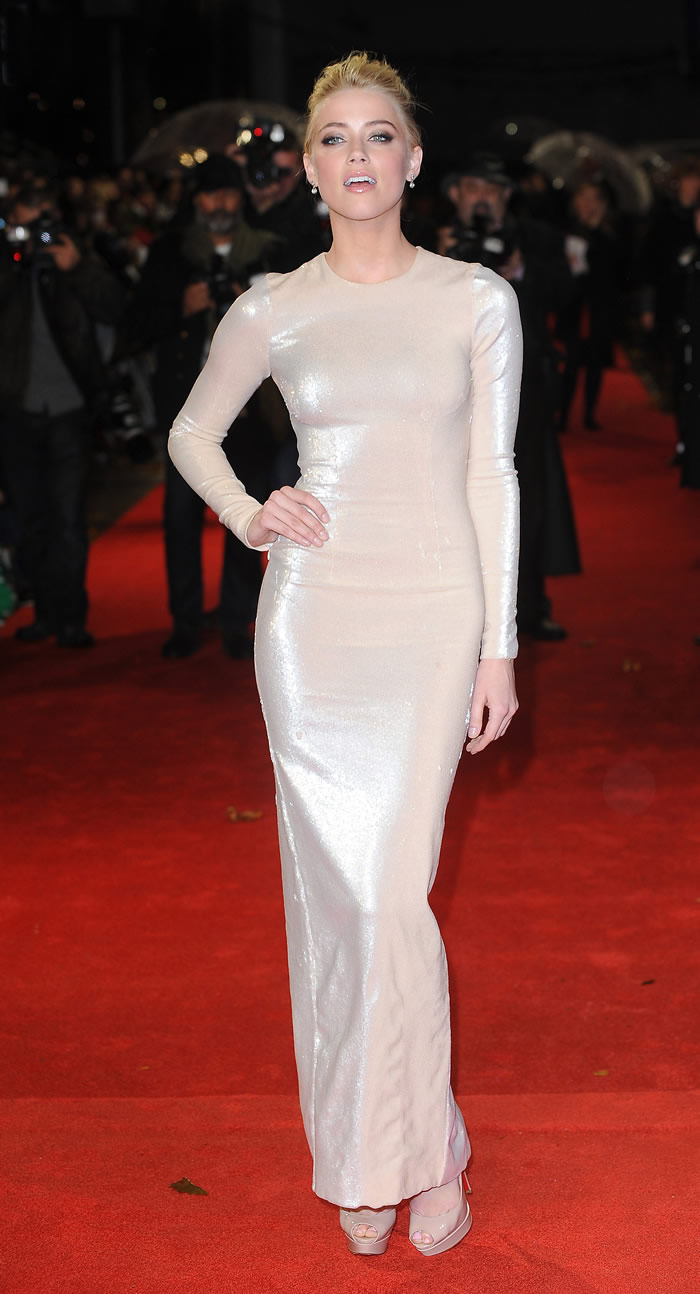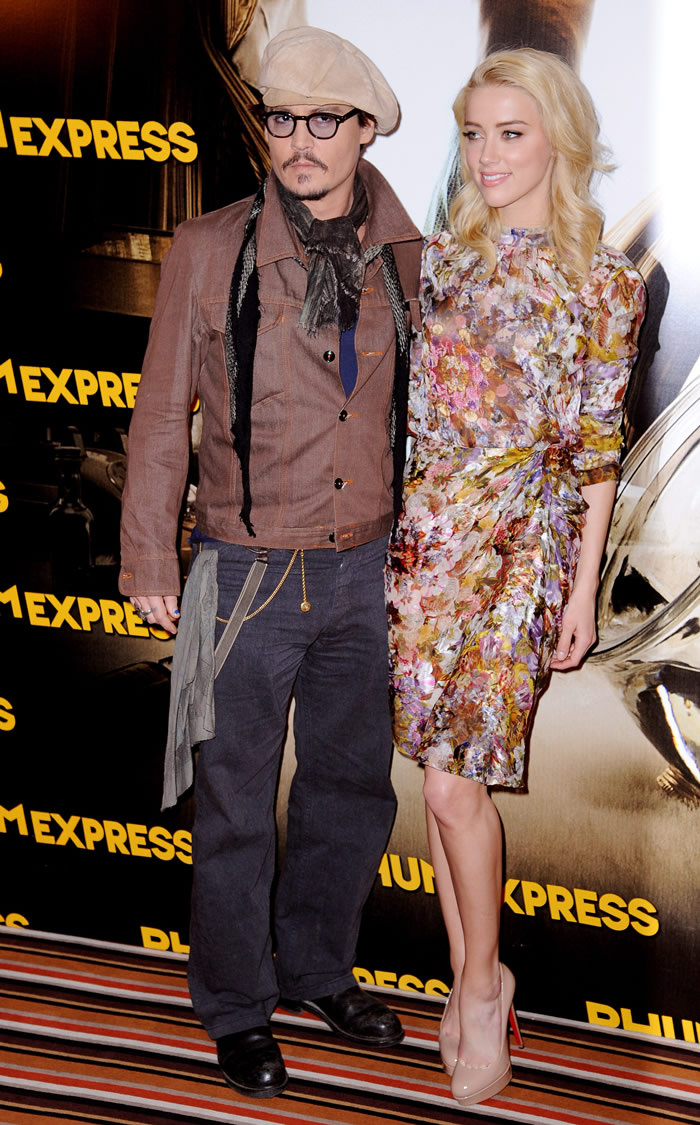 Photos courtesy of Fame