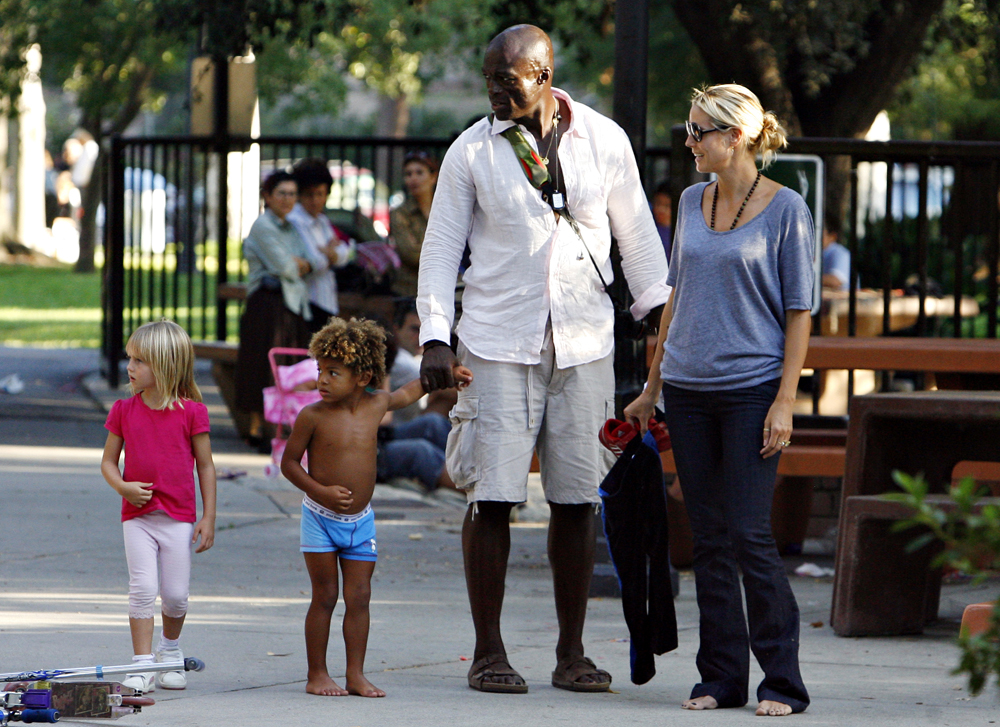 Heidi Klum and Seal seem to have one of those relationships that's so perfect you can't help but seethe with envy. And be really happy for them, of course. I mean the man had an igloo custom made and outfitted with a bed, rose petals, and candles to propose to Klum. That's pretty much the most insanely over-the-top yet still crazily romantic things I've ever heard of.
Seal's given a long interview to the Daily Mail in which he talks about meeting Klum for the first time, along with revealing how he reacted when she told him she was pregnant with another man's child.
On a more positive note, Seal also takes inspiration from his life in LA with Klum.

The couple have two young sons – Henry, three, and 23-month-old Johan – while Seal is stepfather to four-year-old Leni, Heidi's daughter by motor racing tycoon Flavio Briatore.

Seal and German-born Klum met five years ago at the GQ Awards in London, although their relationship didn't begin until a chance encounter in New York weeks later.

'I was taken aback when I met her,' says Seal. 'I thought she was one of the most beautiful women I'd seen. I thought: "Wow! Whoever goes out with that girl is one lucky guy!"

'A month into our relationship, she told me she was pregnant, but was no longer with the father. I told her it didn't change the way I felt about her.

'Apart from being my wife, she's also my best friend.'
[From the Daily Mail]
Seal has never ceased to impress me with how good he is to his wife. Of course the natural response is, "Well, duh, she's Heidi Klum, any man would be that good to her." But he seems to bring a certain creativity and love to their relationship that you don't often see. His response to hearing that Heidi was pregnant with daughter Leni was very sweet and beautiful. Spending the first year of your relationship with a woman who's pregnant with another man's child would be challenging for most guys, but I get the impression that for Seal it wasn't any big deal. I'm sure people tell him all the time that he's a lucky man to be married to Heidi Klum, but it seems like she's just as lucky to be married to Seal.
Here's Seal and Heidi at the park with their kids in Beverly Hills on September 7th. Images thanks to WENN and Fame.