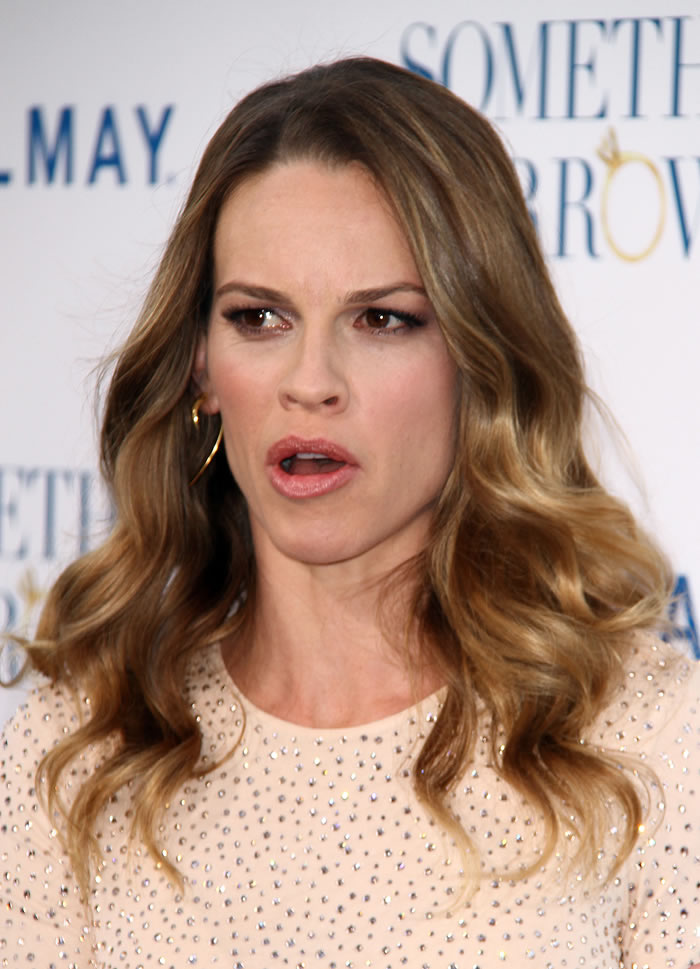 Hilary Swank is still floundering in the midst of the international scandal that resulted when, back in October, she received $1.5 million to attend the birthday party of Chechen dictator Ramzan Kadryov, which included her warm wishes towards "Mr. President" and for which she later expressed deep regrets. In the aftermath, Swank allegedly reacted by firing her manager and many of her agents, and then she was summarily dropped by her PR firm. Yes, Swank has expressed her regrets, but after such an incredible mess, sometimes the best thing for one to do is just drop the matter and hope that people eventually forget that it ever happened.
Part of me wonders why Swank just won't stop discussing this scandal, but she's now promoting New Year's Eve, which arrives in theaters on December 9 and I guess is as good a reason as any for her to continue discussing the faux pas heard around the world. I've come to this grand conclusion merely because Hilary apparently doesn't have much else to discuss during her late-night talk show interview with Jay Leno, as evidenced her great enthusiasm upon discussing her parrot and the eggs that she ordered through the mail. You see, one of these eggs hatched into a chick, which turned into a rooster. Such riveting material, right? After she discusses the Chechen debacle at length, Swank actually imitates the rooster learning to crow, but here's what she said about the relevant topic:
"I was invited by a Turkish real estate company to go and be a proponent of peace; help celebrate the rebuilding of a war-torn city. It was Grozny city, which is in Chechnya . . . I get offered appearances all the time . . . These people were trying to rebuild their lives too. Just seven years ago it was very war-torn and very dangerous. And I thought, 'Absolutely, yes. That's an incredible thing; I love to travel, I love to meet people. This is an exciting opportunity.'

"And then, once there, on the side of the stage, someone said, 'It's the president's birthday; can you wish him a happy birthday?' . . . I had never heard of him before. In fact, when they said his name, I couldn't even say it. So I said, 'I'll just say Mr. President,' is what I'm thinking in my head. So, I went out and said, 'Happy birthday, Mr. President,' after I said my whole speech about it's great to be a proponent of peace and you guys are doing incredible things rebuilding this city. And then when I got back, only then was I made aware of who he was . . . Kadryov. Now I can say his name because of I've done my research. He's a bad, bad guy . . . Human rights organizations had reached out to warn me before I went but I did not get those warnings, they weren't shared with me, and so that went out into the press too, and I had never known, and I thank the Human rights organizations for trying to reach out, and for reaching out, even though I didn't get it. And the silver lining is that I'm actually working with the Human Rights Watch now.

"[On a question about the backlash] It was all over the world, and shame on me. The bottom line is that I should know where I'm going and I should do better research, and I can definitely guarantee that I won't go anywhere ever again without doing full research. I donated all the money, and like I said, there's always a silver lining to things. I've learned a lot about the incredible things people are now doing . . . Again, I should know where I'm going . . . I actually didn't know Chechnya was separate from Russia. Now I know all of that, but I had no idea."
Oddly enough, Swank still appears to be slightly cloudy on the details, for Chechnya is its own republic even though it technically remains part of the Russian Federation. In addition, it's interesting that Swank frames her rationale for attending on loving to travel and meet people for a good cause instead of the cool $1.5 million, but at least Swank has now articulated that she's donated the money to a mysterious cause. Ideally, that cause would be the Human Rights Watch, but she probably would've mentioned it if that was the case. Swank still obviously places some blame upon her former manager, but she's also grovelled quite well by accepting that she should've done her research. Mostly, it sounds like she learned her lesson here, and hopefully, that'll be the end of the discussion. That is, until she decides to imitate a rooster again.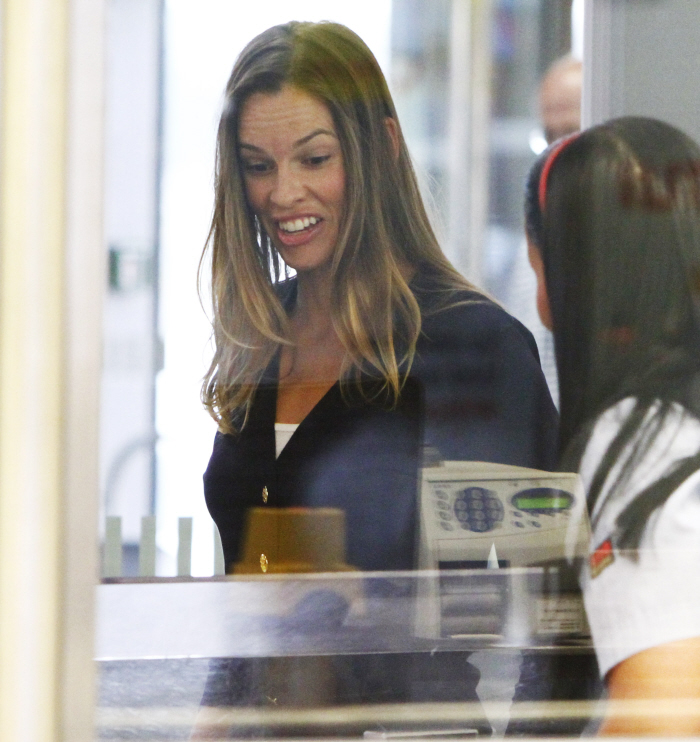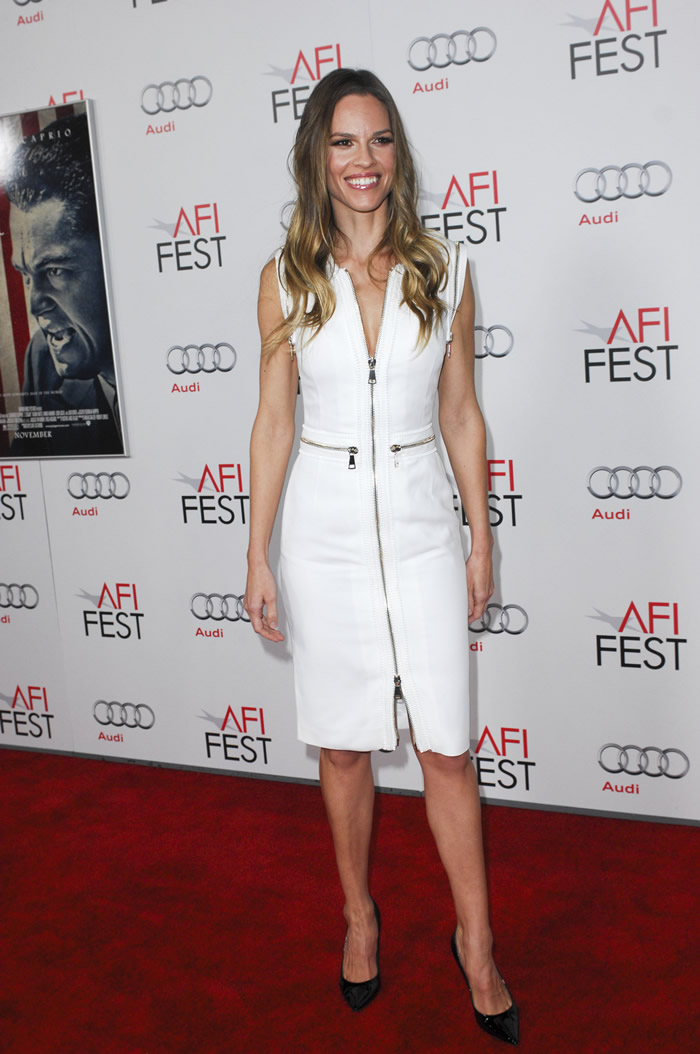 Photos courtesy of Fame and WENN