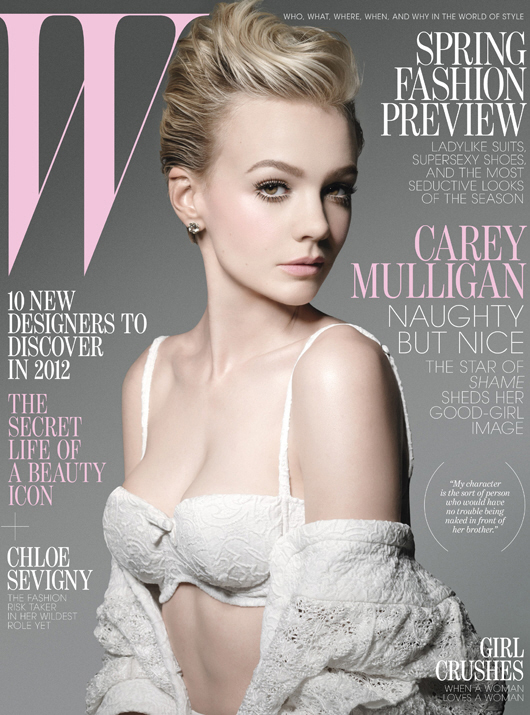 I know most of you don't really give a crap about Carey Mulligan, but I really like this girl. She's not a famewhore, she's very talented, she makes interesting career choices, and she's a decent interview. In Celebrity-ville, all of that goes a long way, especially when I'm sitting here, drowning in Kat-face Kardashians. Carey covers the new issue of W Magazine, mostly to promote her supporting role in Shame, where she plays the sister of Michael Fassbender's character. People have been talking nonstop about Fassbender's performance as the sex addict Brandon, but most critics have also noted that Carey turns in yet another wonderful, fearless performance too. You can read the full W Mag piece here, and here are some highlights:
Lynn Hirschberg: In Shame, which is out now, you play Sissy, a deeply troubled girl with an almost incestuous attachment to her brother (Michael Fassbender), a sex addict. Both characters are in search of something—anything—that will make them feel whole. Sissy, who works as a singer, is naked even when she's clothed. She reveals too much, sleeps with the wrong men, and when she turns up unexpectedly in her brother's spare, pristine New York City apartment, the effect is like a bomb going off: The siblings ignite each other's self-destructive ways. Shame is unsettling and haunting. Is that why you were attracted to the project?
Carey: When I read the script, I found it terrifying. My English agents sent it to me and said, "There's this amazing part." For me, as an actor, it was sort of scary. I'd seen Hunger [about Bobby Sands, the IRA leader who starved himself to death in prison to protest the conflict in Northern Ireland], which was done by Steve McQueen, the director of Shame, and I thought it was just incredible. And I'd always wanted to work with Michael Fassbender, who had been cast as the brother. So, I asked to have a meeting with Steve to pitch myself for the job.

What was the meeting like?
I just talked for an hour. Steve was trying to leave, but I kept on: "No, don't go—I don't have the job yet!" I thought if I could keep him sitting at the table, I could persuade him to let me have the role. He kept trying to pay the bill, and I said, "No, no, no. Sit down." He got in a cab, but I wouldn't leave him—I got in, too. Finally he said, "I'm going to my appointment now." And I said okay. That afternoon, I got a call saying I had the role.

You have an intense full-frontal nude scene in the film. Did you find that difficult to do?
I've never been comfortable with the idea of nudity. I've done only seminude, very innocent things in the past, and I've always been of the quite British mind-set that I won't do gratuitous nudity. When it came to this, it just seemed so obvious that she is the sort of person who would have no trouble being naked in front of any family member, especially not her brother. She's an extrovert and wants to be seen. More than anything, she wants someone to acknowledge and help her. I thought I had a week before the nude scene to go to the gym, but we shot it on my first day of filming.

Oh, my God.
Weirdly, it was fine. You take your clothes off, and you're like, "Ah—all of you are wearing clothes, and I'm naked, ha, ha, ha." It's kind of fun—not that I would continue to do it. The nudity helped me dive into who she was. Once she'd been naked in front of her brother, I could go from there.

You sing in Shame. That seems scarier to me than being naked.
I've never sung in a movie before. The point wasn't really that Sissy was a great singer—it was more that she attracted people. I sing "New York, New York" in the film, and Steve wanted it live. We did 15 takes—because every time I made a mistake or my voice fell out of tune or I lost my breath, we'd have to cut, and Steve wanted to do the whole thing in one go. At one point he wanted Sissy to sing something else and asked me to make up a song. He said, "You're an artist, aren't you? We can't afford the rights to a famous song, so make one up." I was walking around the room thinking, How do you write a song?! Eventually I made up this really bluesy song and sang two lines.

See, you're an artist!
A bulls–t artist [laughs].
[From W Magazine]
I think Carey must be very impressive in person, because it seems like she gets whatever part she really wants and auditions for. She impressed Baz Luhrmann when she met him for The Great Gatsby, and lots of girls read for the part of Daisy, including BLAKE LIVELY. And Carey prevailed. I think that speaks volumes. That, and she has Emma Thompson's stamp of approval.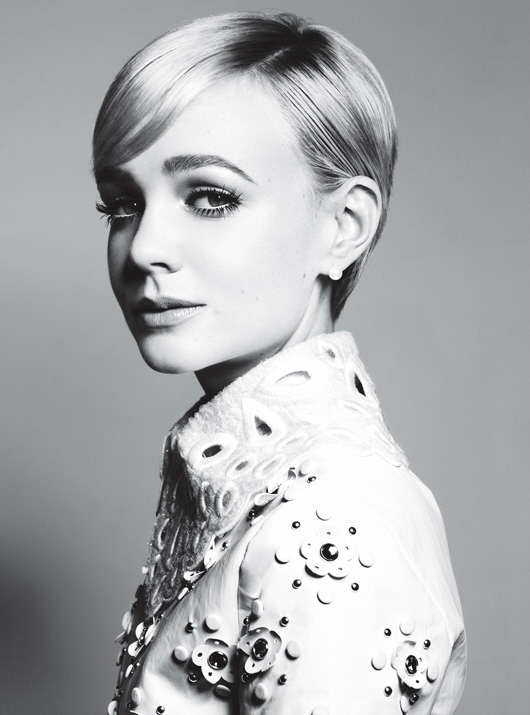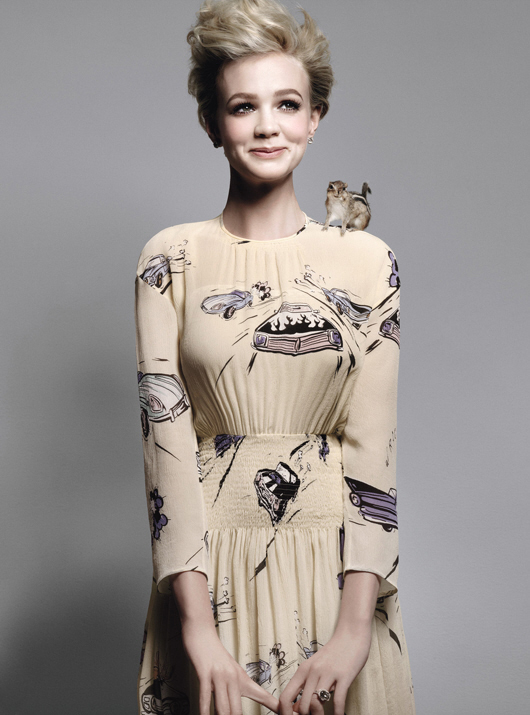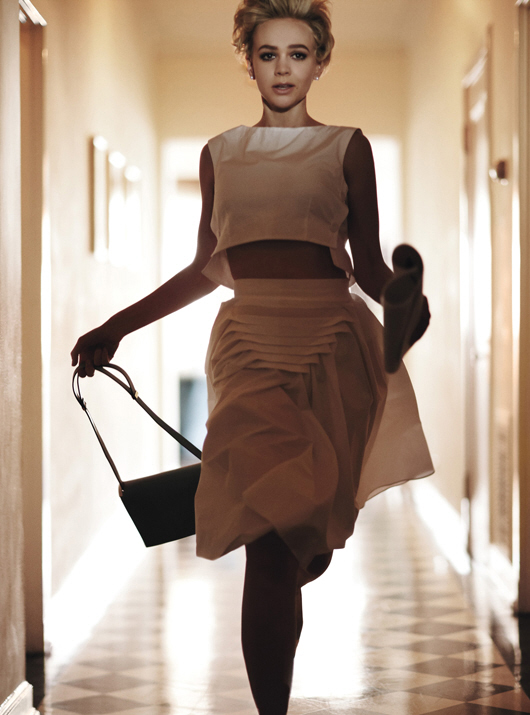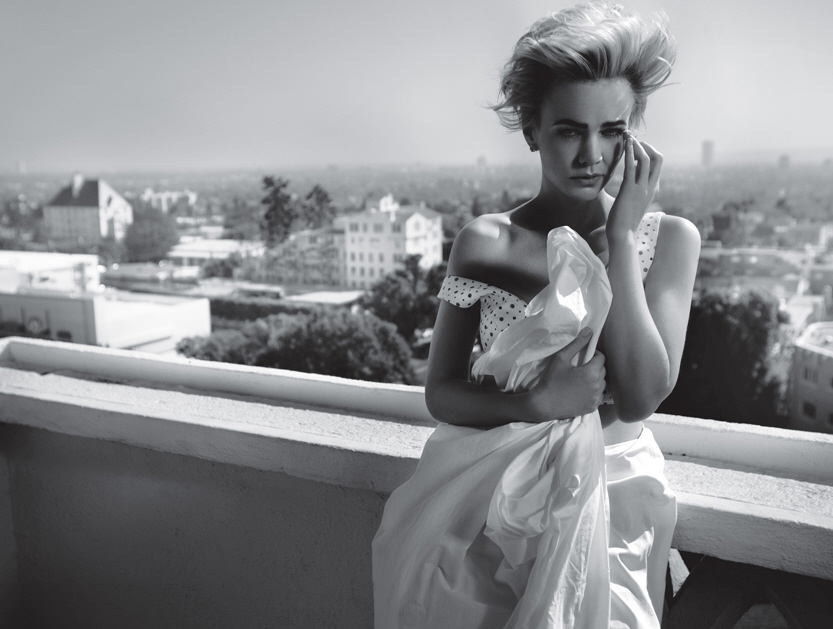 Photos courtesy of W Magazine.