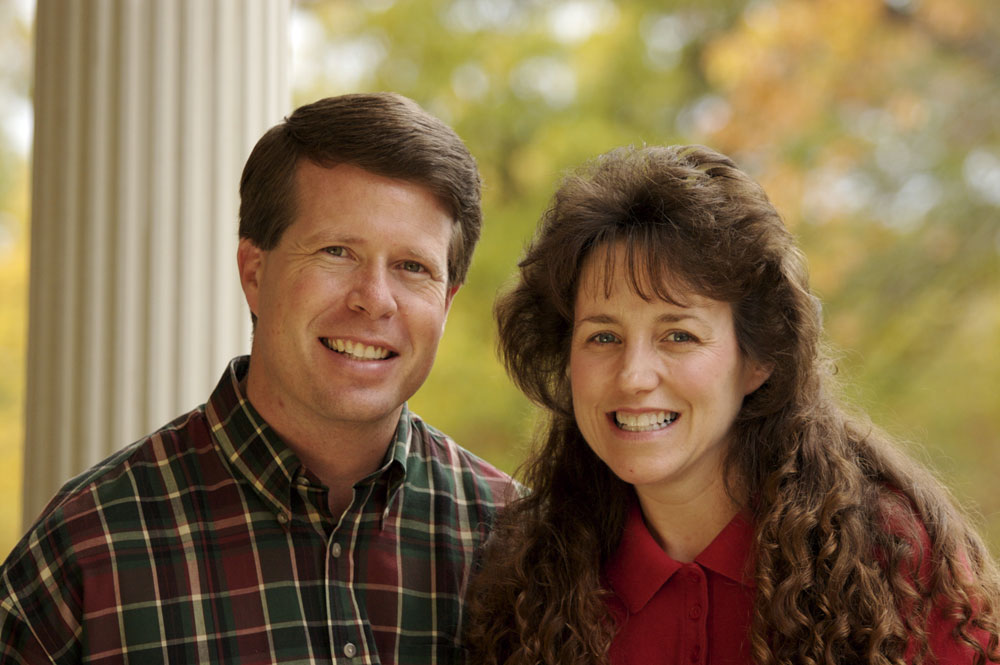 We heard the sad news last week that Michelle Duggar had lost what would have been her 20th baby while she was in her second trimester od pregnant. Mrs. Duggar was at the obstetrician to learn the sex of the baby when she was told that the baby's heartbeat couldn't be found. She was sent home to let the miscarriage happen "naturally." (Those of you who have gone through that harrowing experience wrote that there's nothing "natural" about it. My heart goes out to you.) Michelle went home to rest and started feeling lightheaded, so she returned to the hospital and was kept for observation. The Duggar family issued a heart wrenching statement about their loss. The baby was a little girl that they named "Jubilee Shalom" in keeping with the tradition of naming all their kids with letter "J" names. "Jubilee" has meaning in Christianity as a "special year of remission of sins and universal pardon." "Shalom" is a Hebrew word that means "peace" and "completeness" and can be used to say "hello" and "goodbye." The family held a service for Jubilee Sunday and will have a memorial for friends and family.
Following the miscarriage late Sunday night, Michelle began to feel lightheaded and as a precaution was taken to the hospital, where she was kept for observation, according to a family spokesperson. Michelle is recovering well and expected to return home later on Monday, the spokesperson adds.

"We have had many tears today," says Jim Bob Duggar, 46. "This is life, and I understand that we are going though something that many others have. You think about the what-ifs, but God gives us strength to go on. We won't be able to see this child's life and the phases that we've seen for our other children, but we know we will see this child in heaven one day. We are thankful for each child, and we are blessed to have the children we have here and the ones we will meet someday in heaven."

Jubilee Duggar's memorial service will be for friends and Duggar family members, who on late Sunday already held a private service in their home.

"We would like to thank everyone for their prayers, emails and outpouring of love," Jim Bob wrote in a letter he shared with PEOPLE. "As our whole family is grieving, we also know that God promises to work all things for good in our lives. Our prayer is that Jubilee's passing will help us all realize that this life is short, and our relationship with Jesus is the most important thing. He gives us a peace in our hearts as He guides us through whatever we might face."

Though the family is in mourning, Jim Bob says they are grateful for the health of youngest daughter, Josie, who turned 2 on Dec. 10. Josie survived against all odds after being born at just 25 weeks and 1 lb., 6 oz. and has developed normally with no lasting impairments.
[From People]
The family's statement got me choked up. I read an article on Fox 411 yesterday in which doctors were interviewed about Michelle's miscarriage. The Chief Medical Officer of BodyLogicMD, Jennifer Landa, pointed out that the miscarriage rate for women over 45 is about 50%. Michelle is 45. Landa said that she would advise Michelle against future pregnancies, and she didn't mince words about it. "I would advise her to consider stop having children. In my opinion, she has a duty to the children she already has not to incur unnecessary risk that may occur with trying to have another child. She needs to be there for the kids she already has. Additionally, her odds of having a baby with special needs are extraordinarily high and this may take away time and resources from the other children. I feel for her because miscarriages are never easy. There are lots of hopes and dreams that are born with each positive pregnancy test, but in my opinion, it is time for her to hang up the baby booties." Many people agree with Landa.