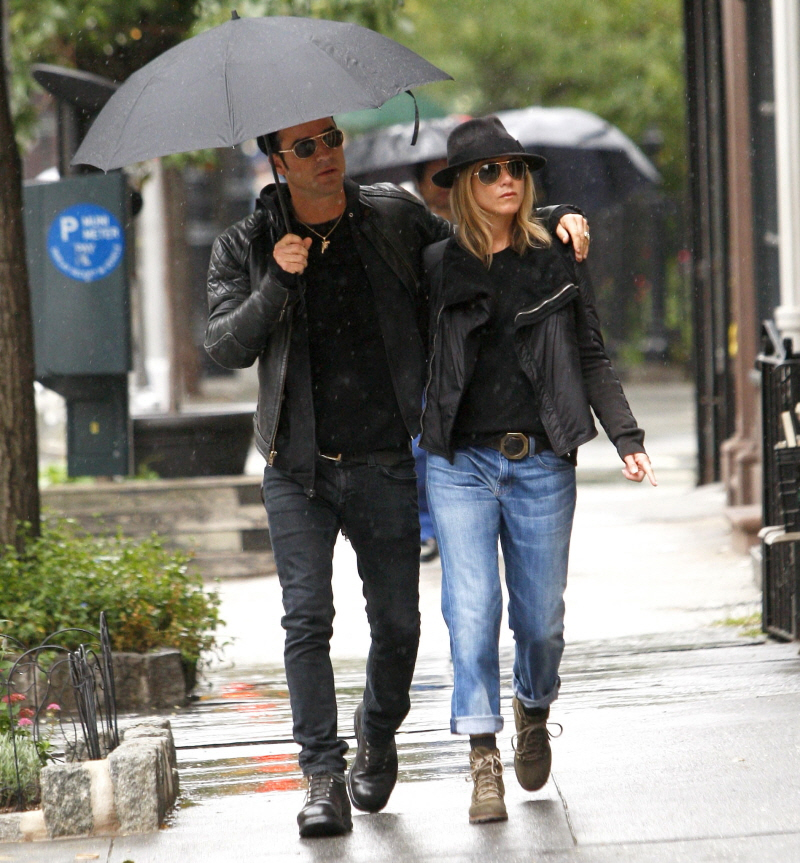 Last week, there was yet another sketchy story about Jennifer Aniston and her womb. It was from OK! Magazine, and it was full of quotes from a "neighbor" of Aniston's in NYC. Now, I didn't really think that one of Aniston's actual neighbors was talking about Aniston's fertility treatments and such – I thought it was just random tabloid BS, which Aniston's rep first denied and then "joked" about, thus adding fuel to the pregnancy fires. Anyway, I'm starting to wonder about the report and that sketchy, Peeping Tom neighbor. The Mail's Katie Nicholl claims that Aniston isn't happy with how much attention she and Justin Theroux draw when they're in NYC.
Jennifer Aniston shot to fame playing flatmate Rachel in the New York sitcom Friends. But now the 42-year-old is not finding Big Apple apartment life quite so funny – she is being hounded out of her Manhattan home by the fans.

Only last April the actress, left, splashed out £3.8 million on two luxury flats in New York's trendy West Village after deciding to quit Los Angeles.

She planned to knock the two together to create a dream home with her new actor boyfriend, Justin Theroux, 40, a cousin of British documentary maker Louis Theroux. But after months of being besieged by photographers, she now wants to relocate to a more private neighbourhood.

'Jennifer is not dealing well with having the photographers loiter outside her building,' says a spy. 'There are also always lots of fans and she feels vulnerable every time she steps out. She's finding she's just too famous to live where she wanted.'

Jennifer may now move to the city's Upper East or Upper West Side, where Ben Affleck and Madonna live.

'Jen wants a place with more anonymity, security and privacy,' adds the source. 'She and Justin will probably keep a small place in LA but the focus for them is living in New York.'
[From The Mail]
From what I've seen, looking through photos over the past few months, Justin and Jennifer have learned to avoid the paparazzi when they want. They travel back and forth from LA often enough, and it seems like they do have more privacy in LA, but they've figured out a system in NYC too – either that, or they just aren't leaving the apartment anymore.
Also – I do wonder about Heidi Bivens. Allegedly, she was (allegedly) really peeved that Aniston and Theroux were acting so loved up all around her (Heidi's) hometown, and it seemed like Justin and Jennifer were walking on eggshells trying to avoid pissing Heidi off to the point where Heidi would give some sordid tell-all interview. Of course, that was before Jennifer Aniston met Heidi face-to-face to tell Heidi that she (Jennifer) has had a really hard time with all of the homewrecking. Maybe Heidi is over it now? Or maybe Heidi got paid.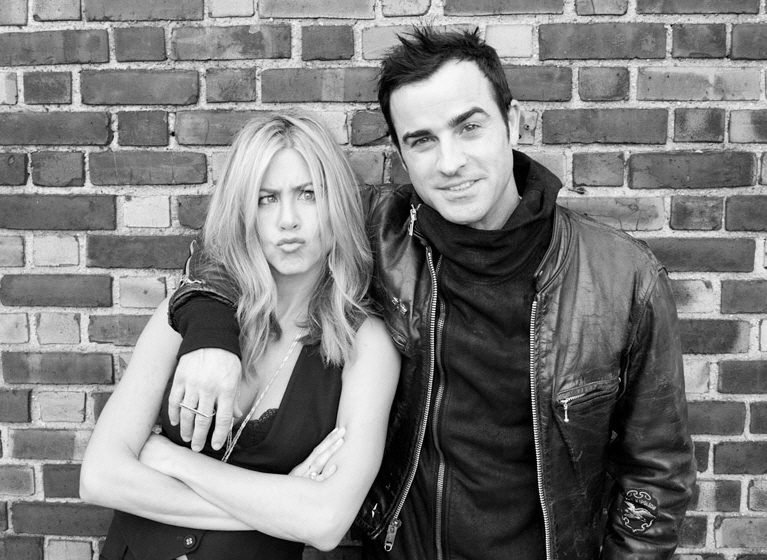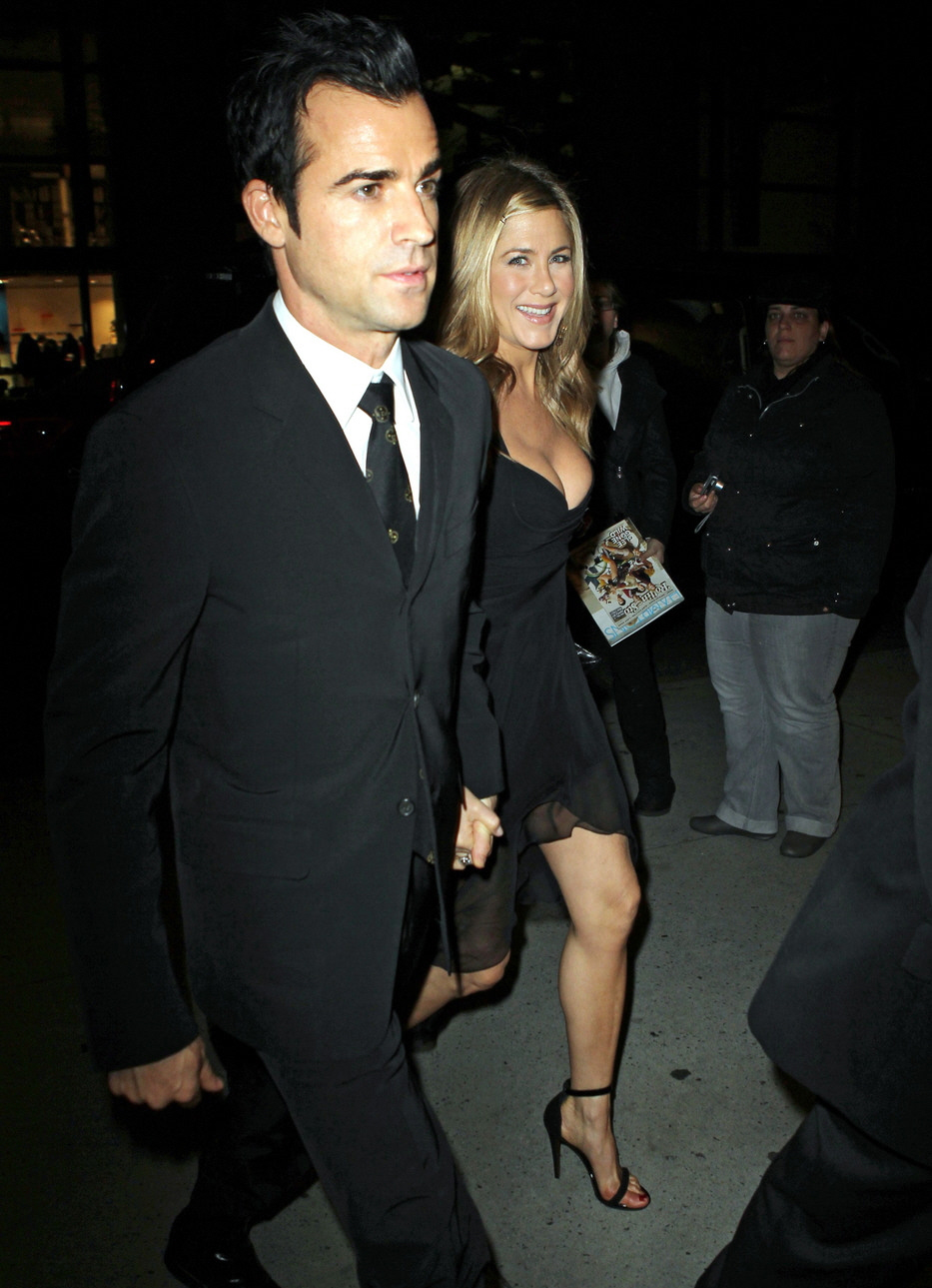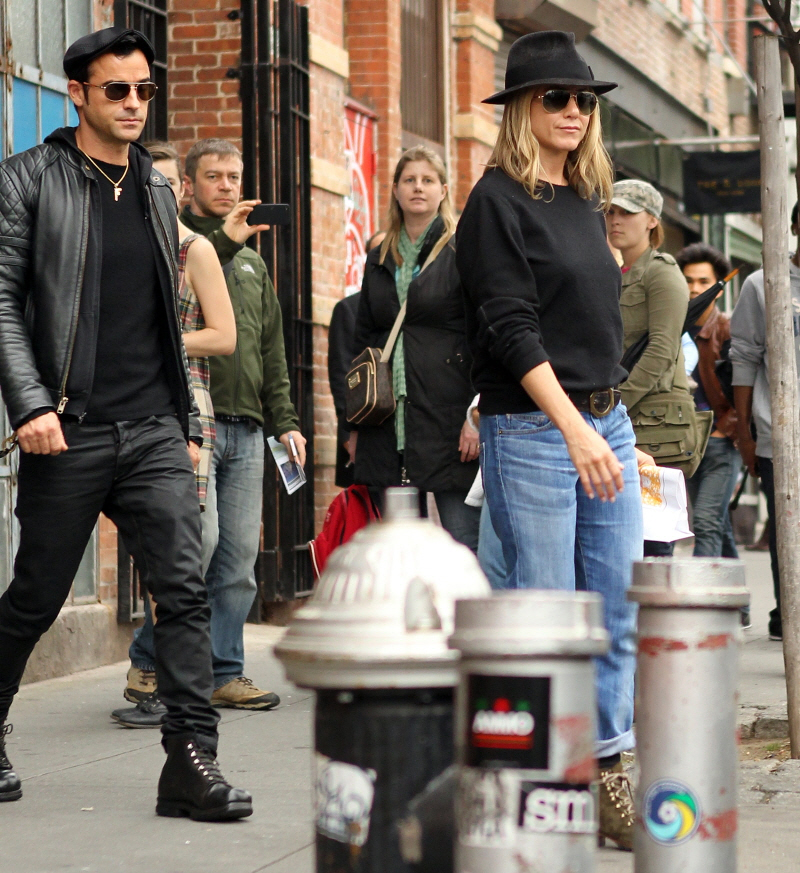 Photos courtesy of Fame, WENN & PCN.