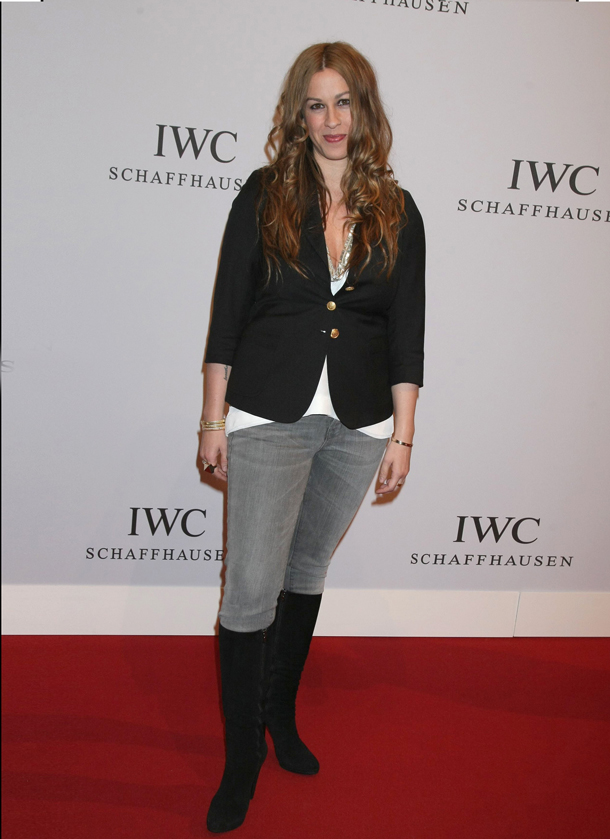 Alanis Morrissette has been writing a memoir in order to share some of the things she's gone through with the public – and also to heal from them. So far she's made some pretty interesting revelations that definitely make me feel inclined to buy the book. She told the Mirror she struggled with both anorexia and bulimia, and that she was the victim of staturoy rape when she was 14 – by a man who was 15 years her senior.
Alanis Morissette has admitted she was raped and abused as a teenager. The Canadian-born singer-songwriter and actress has written an autobiography in which she makes the revelations. She said: "I'm writing a book that will tell my life story. It details some of the things I have experienced and the abuse I've suffered. I was the victim of statutory rape and this book will help me get rid of the feelings of shame."

The abuse was also the reason for her angst-filled songs on international debut album, Jagged Little Pill. The record is the highest selling debut album worldwide in history. She has previously revealed she suffered from anorexia and bulimia after being told at the beginning of her career she wouldn't be successful if she was fat.

In an interview with the Daily Mirror, she once told how she'd had lesbian relationships after dating a 29-year-old man when she was just 14, and spoke of her experiences with drugs. "My addictions were work and food," she said. "I smoked pot once in a while, but I'm too much of a control freak to be a drug person."
[From Mirror.co.uk via Gossip Rocks]
It's a little hard not to speculate that some of those things involved Alanis' famed ex, Full House's Dave Coulier. He's 15 years her senior. However according to Wikipedia they dated in 1993, which would have made her about 19 at the time. Unless the pair somehow secretly dated for longer than reported, it seems unlikely that the statutory rape incident is Coulier.
However he could still be who she's referring to when she talks about an abusive relationship. I can't really tell if she's talking about one person or not. More than likely it's several negative experiences, though Coulier is generally considered to be the reason for most of the negative things Alanis sings about on Jagged Little Pill, which came out in 1995.
Alanis has had an interesting life, including becoming "an ordained minister with the Universal Life Church," according to Wikipedia. She has an open and insightful way of talking, and if the rest of her book is anything like what she told the Mirror, it'll be pretty revealing.
Here's Alanis at The Crossing Gala in Geneva, Switzerland on April 8th. Images thanks to Fame.