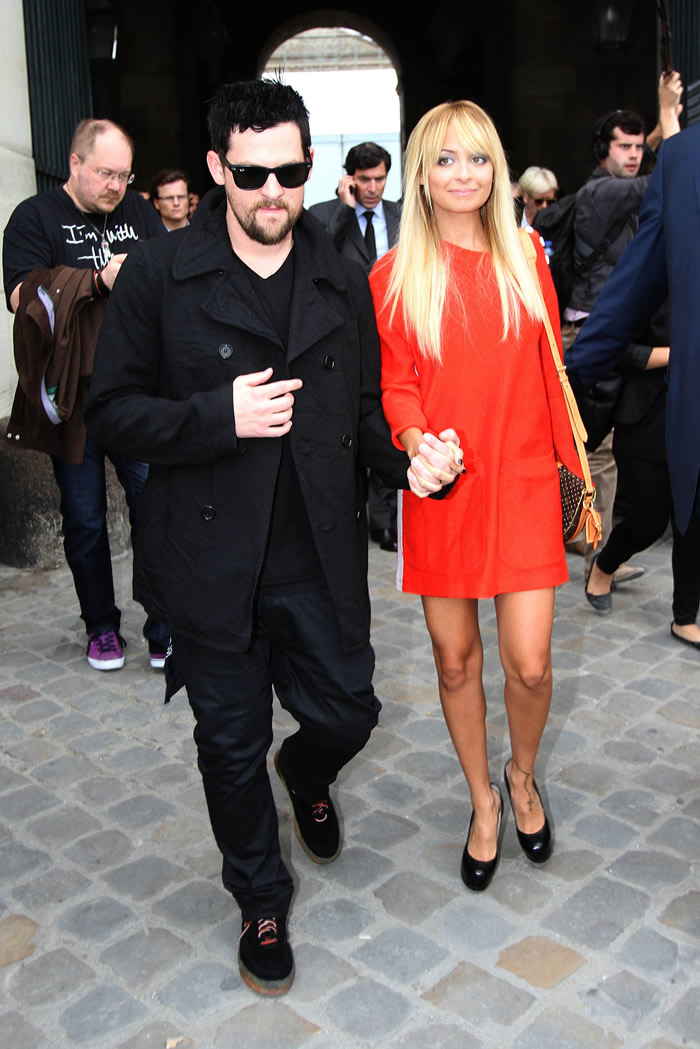 This week's issue of Star floats the theory that Nicole Richie and Joel Madden have hit a rough patch in their marriage even though they've only been married for about year. Of course, the couple dated for four years prior to marriage and are parents to two toddlers, Harlow and Sparrow. So to an outsider, these two eventually wed because they realized they were meant for each other, right? Well, anyone who's been married can tell you that the after-wedding reality can sometimes feel altogether different than one imagined.
While I would ordinarily dismiss this story as symptomatic of an adjustment period in Nicole and Joel's relationship, the photo evidence (or lack thereof) supports Star's story quite a bit. While the two of them used to regularly walk red carpets together, they haven't done so since Paris Fashion Week in May (above), and they haven't been papped in a casual setting since June (below) for a family lunch. Joel's never been the kind of guy to broadly smile for the paps (unlike, say, Matt Bellamy), so I'll take that into account here: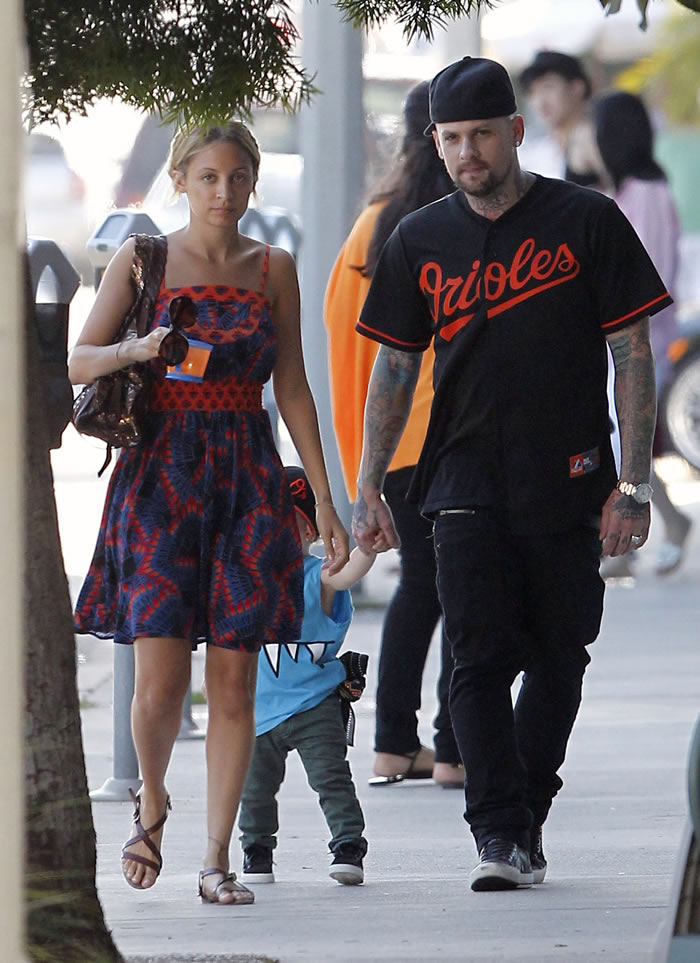 Here's where it gets sketchy though. Over the past several months, Nicole has attended tons of events solo. Of course, this could merely function as evidence that Joel is at home taking care of the kids, but Star has spoken to an insider who says that Joel is basically never at home. He's either jamming with the band or out on tour, and Nicole is doing all of the work with the kids. Now Joel's new television gig is set to pull him away from his family for several months, and it sounds a lot like trouble:
The honeymoon is definitely over for Nicole Richie and Joel Madden. Just one year after they tied the knot, the parents of two are gearing up for a long separation while the Good Charlotte rocker serves on the panel of the Australian version of "The Voice" — and he's leaving his L.A.-based wife behind fuming, an insider tells Star.

"Nicole was opposed to Joel's doing "The Voice" form the start, because she doesn't want to endure the months apart. But Joel isn't listening. He insists that he needs to do it for his career and signed on without her OK, which set off a pretty nasty round of fighting," says the insider, adding that the couple's first anniversary on Dec. 11, was anything but a happy occasion. "They spent most of the day bickering about the show."

A major reason Nicole, 30, is against Joel's move Down Under is that she's set to appear as a mentor on the NBC reality show "Fashion Star" beginning in early 2012. "She really can't go with him to Australia, but also she just doesn't want to," says the insider. "Nicole relies on her family and friends in L.A. to help out with the kids, especially since Joel often isn't around to pull his weight."

Indeed, the pair's relationship was already strained due to Joel's hectic schedule. "He's usually either huddled in the studio or on tour," the insider explains. So perhaps it's not surprising that Nicole partied like a single woman — sans Joel — at a VuQo Vodka event dejayed by her pal Samantha Ronson in L.A. on Dec. 13. Says the insider: "Nicole complains all the time that she feels like a single parent."

"Nicole accuses Joel of being married to his music and his career rather than her," says an insider.
[From Star, print edition, January 2, 2012]
Naturally, Nicole knew that she was marrying a rock star who would be away on tour for much of the time, but it still seems like she's getting a raw deal if this story is correct. I hope it's all just contrived nonsense on the part of Star (which might have merely taken Joel's new employment situation and fabricated the rest); but Joel's not exactly going out of his way to support his wife on the red carpet either, so there might be some truth to it all. Previously, Nicole has spoken of marriage in terms of her being able to get away with more, but does that also apply to Joel as well?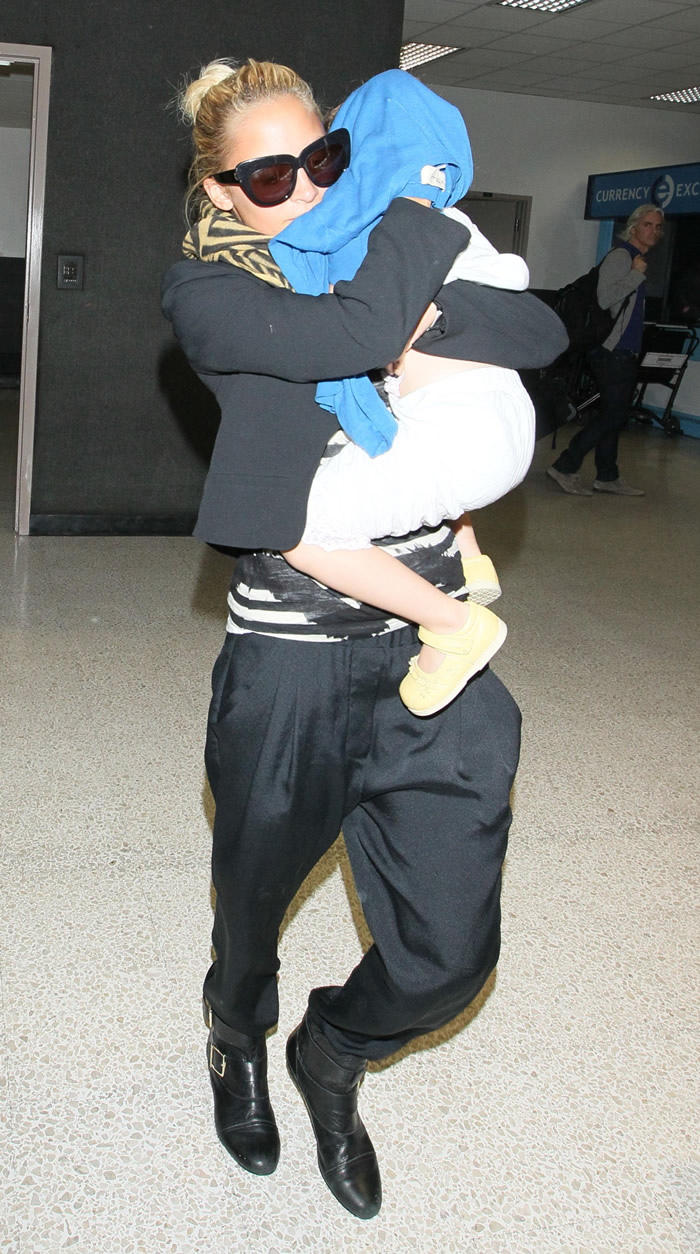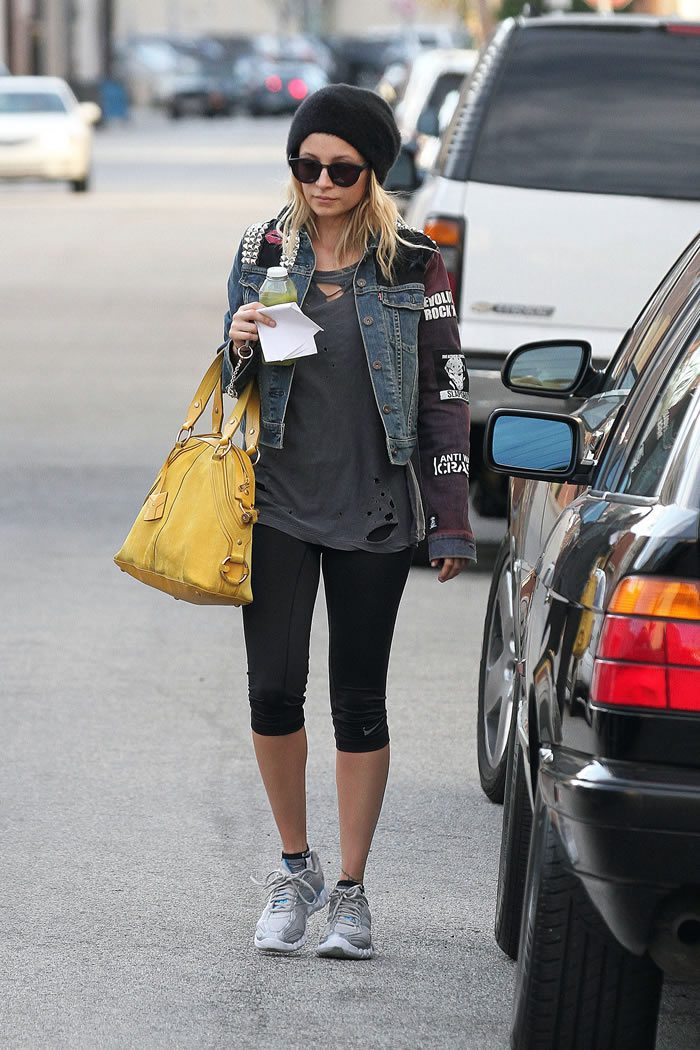 Photos courtesy of WENN and Fame