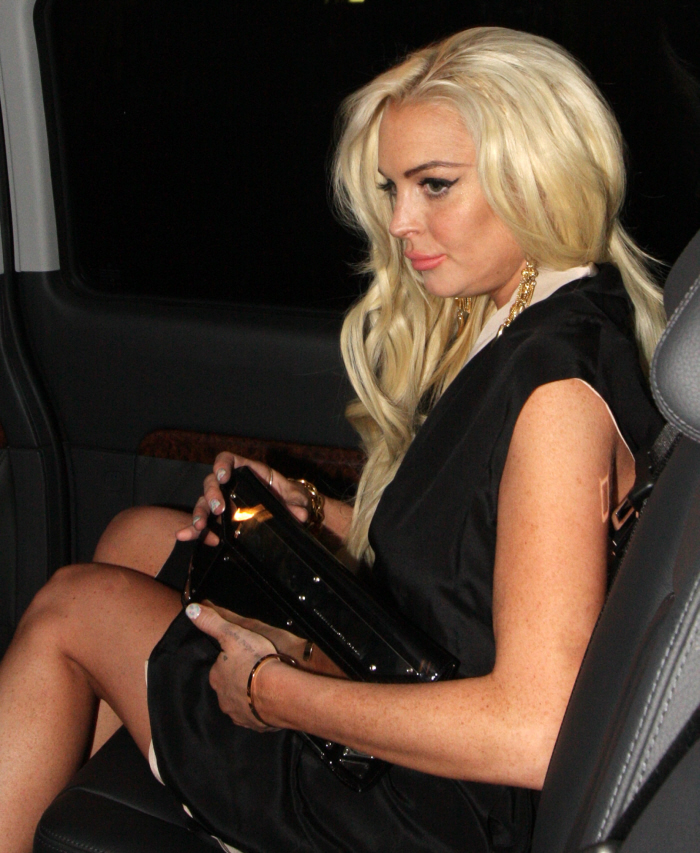 Several days ago, Dina Lohan called TMZ and muttered something about Lindsay Lohan "refusing" to take any of the paying gigs she was offered for New Year's Eve party celebrations. Nevermind that most hostessing gigs offered to Linnocent include a payment system of some crack and a bottle of vodka. LL's reasoning for turning down several offers? She's not a party girl anymore, and she thinks taking a paying gig will hurt her rep. My theory – at the time – was that LL had a lucrative offer for a "private party" in some rich john's pants come New Year's Eve. Anyway, some site is claiming that the Cracken will actually be on QEII, sailing around Dubai. Seriously?
It's going to be a celeb-packed New Year in Dubai on board the legendary QE2. Lindsay Lohan, Pamela Anderson and former England cricketer Allan Lamb are just some of the names confirmed to attend the celebrations on December 31 2011 on the vessel that is currently docked at the Port Rashid Cruise Terminal in the city.

It is the first time that the QE2 has been opened to the public for such a celebration.

Apart from LiLo and Pamela, Liam Cunningham, US sitcom and film star Lamman Rucker, English model, socialite and aristocrat Lady Victoria Hervey are the other celebs on the guest list. Rumour has it that Kate Moss might attend, as also Roger Federer, Novak Djokovic and Rafael Nadal (who're all in Abu Dhabi for the Mubadala World Championship from 29 to 31 December).

The vessel, Queen Elizabeth 2, often referred to simply as the QE2, is one of the most iconic ever built. Since her launch in 1969, several members of royal families, stars, musicians and celebrities from around the globe have featured on her passenger list.
[From Ahlan Live]
Yeah… I don't think so. I'm pretty sure LL is not allowed to leave the country. That being said, the California court system is so disorganized and idiotic, I bet no one thought to take her passport away, so it's conceivable that LL COULD leave the country. (Sidenote: they need to invent some kind of crack lojack for her.) That being said, I still think my scenario is more plausible. The Cracken will be in NYC, being paid to party at some private situation.
UPDATE: Crackie went to TMZ for the official crack denial:
Lindsay Lohan will ring in 2012 at a RAGING PARTY in Dubai — so says an overseas party planning company … but TMZ has learned Lohan claims it's totally full of crap and now she's threatening legal action.

Sources connected to Lohan tell us … the actress was PISSED when she learned her name is being used to promote a massive NYE bash on the Queen Elizabeth 2 cruise ship in Dubai … because it's simply not true.

We're told Lindsay's legal team is pounding out a cease and desist letter — claiming she's prepared to sue the pants off the party people if they continue to lie about Lohan's NYE plans.

Lohan's rep, Steve Honig, tells TMZ … "Lindsay is not going to Dubai, nor had she ever considered doing so. She will be spending New Year's Eve in Los Angeles with a few close friends and family."
[From TMZ]
So, yeah. I was right. She'll be entertaining a "private client" in NYC.
In other Cracken news, In Touch Weekly has a great article about "hotel employees telling all" about celebrity guests. The part about LL caught my eye:
Lindsay Lohan loves throwing parties at the Four Seasons Beverly Hills – literally.

"She used to toss glasses off her balcony," a hotel employee reveals of Lindsay, who was eventually sent packing. And when she got drunk at another favorite hangout, Chateau Marmont, she'd leave her car and hitch a ride back to the Four Seasons.

Too bad the Four Seasons' valets had to pay for her irresponsible behavior – she'd demand they go fetch her ride!
[From In Touch Weekly, print edition]
I know In Touch is usually wrong, but doesn't this sound exactly like Linnocent? Throwing glasses off the balcony, demanding people move orange cones and cars, in equal measure? Sounds about right.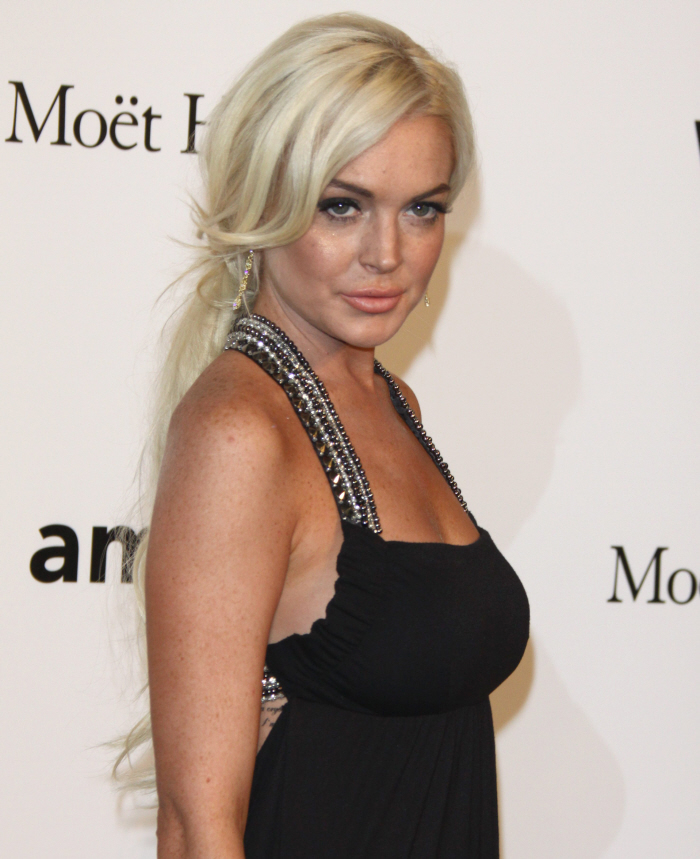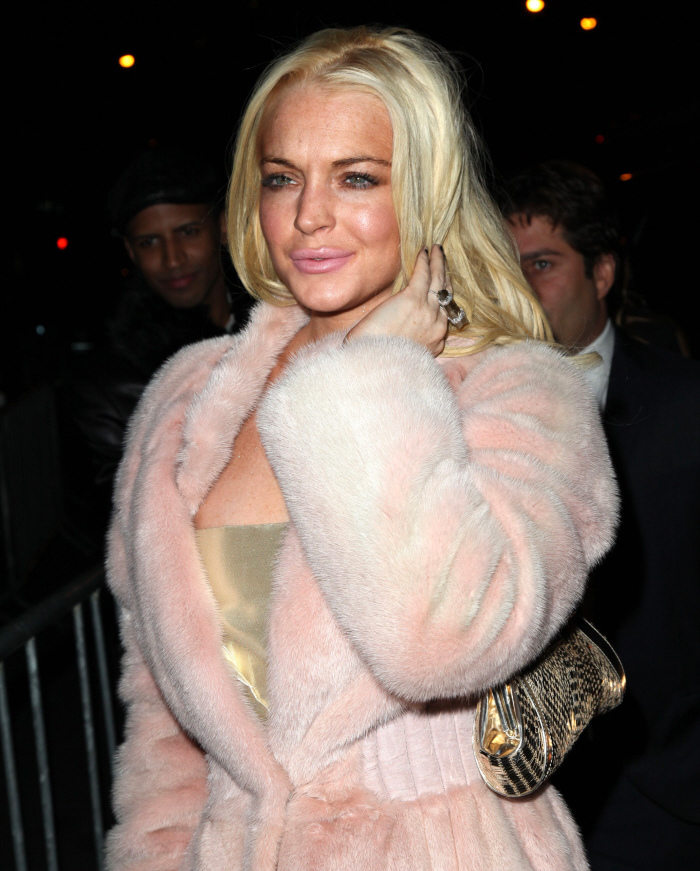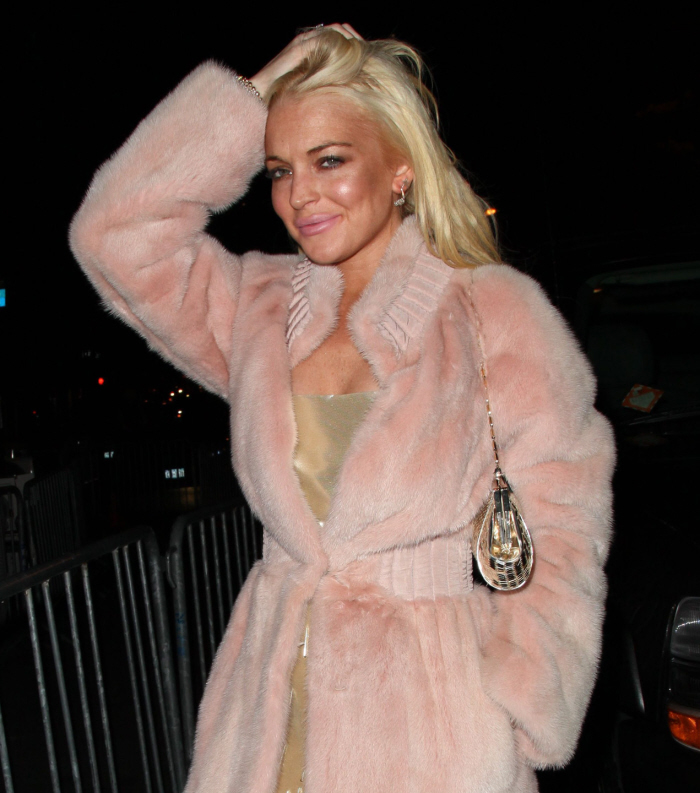 Photos courtesy of WENN.