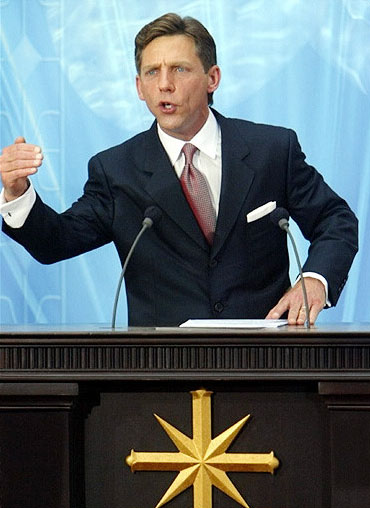 Tom Cruise's BFF, cult leader David Miscavige
This story is somewhat complicated for non-Scientology people to understand, but I'll try to explain it as I've come to understand it. A very high-up member of the Scientology cult, a woman whose photo and editorials were featured in their magazine every month for years, has written a mass e-mail questioning the "religion's" direction under leader David Miscavige. The thing that makes this letter different is that unlike other prominent Scientologists, like the Oscar winning director/writer Paul Haggis, the author isn't defecting from Scientology or urging other members to leave. Author Debbie Cook is using the basic tenets of their religion, as laid out by founder L. Hubbard, to emphasize that Miscavige is abusing his position and violating the church's teachings by squeezing money out of parishioners and hoarding it. Cook is appealing to true believers not to leave but to question their leadership. This signifies a potential civil war inside this very criminal cult, between the people who are devoted followers and the people who are abusing their power.
A woman named Debbie Cook dropped something of an atom bomb on the membership of the Church of Scientology last night, and as of this minute — about noon on New Year's Day — her Facebook page is still going a bit crazy as her fellow church members deal with the fallout.

Cook was once a very high ranking executive in Scientology's Sea Org. She led the Flag Service Organization in Clearwater, Florida, which made her one of the most important executives at the spiritual headquarters of the worldwide organization. Several years ago, she left that position and the Sea Org, but she is still a member of the church in good standing.

That will probably change after the e-mail she sent out, reportedly to 12,000 members of her religion, which condemns church leader David Miscavige for turning Scientology into little more than a money-hungry fundraising machine.

Some things to keep in mind as you read her message. (New to Scientology watching? Here's an introduction to the religion.)

– Debbie is aware that her fellow church members are not used to hearing criticism of church management, and would automatically suspect that such a message would be sent from someone outside the church, or from a disaffected member who had been declared a "suppressive person" (excommunicated). So she stresses repeatedly that she is still a member in good standing, is writing only for her fellow church members, and does not want her message to be seen outside the church (a very naive notion).

– She, like many other longtime church members who have been leaving Scientology, is fed up with the intense pressure under leader David Miscavige to raise money from people who are already giving every penny they can. As we saw in the recent blockbuster series in the St. Petersburg Times, "The Money Machine," even very loyal longtime members are simply becoming exhausted from constant pressure to donate large sums.

– What really makes this document unique is the way that Debbie appeals to her fellow church members by going to the "Source" — L. Ron Hubbard's own words — to show how "out-ethics" (outside of policy) Miscavige is with his emphasis on fundraising.

– We are left with a lot of questions after reading this clearly heartfelt appeal by a longtime Scientologist who is alarmed at what her church has turned into: what will become of Debbie Cook? Will she be declared a suppressive person for raising these questions, and will her many friends be told to disconnect from her? Will her e-mail generate an actual discussion among longtime church members about these problems and foster even more defections to Marty Rathbun's blog and the independence movement? Or, will Miscavige finally begin to see the light and start making critical changes to save Scientology from problems that seem to be splitting it apart?
[From The Village Voice]
In the past, we would be very concerned about Cook's well being at this point, considering all the ways that Scientologists have harassed, followed and intimidated defectors, often to the point of "suicide." The story has received a ton of international press, which protects Cook from immediate reprisal. High ranking former member Mark Rathbun writes that Cook is not in imminent danger and that we can expect to see Scientologists and Miscavige pitifully try and spin this. You can read her full letter on Rathbun's blog, and he has more information about how the cult is trying to discredit her.
Personally I would love to see Tom Cruise's little buddy Miscavige implode and/or step down. We've heard so many truly scary stories about what a abusive, mean, vindictive despot Miscavige can be. Cruise is probably still a member in good standing behind the scenes, but he's had to keep absolutely quiet about it following his nearly career-killing antics supporting the cult in 2005.
Thanks to a member of anonymous for the tip! These photos are of Cruise and Miscavige at a Sci event several years ago and at Cruise's wedding to Katie Holmes