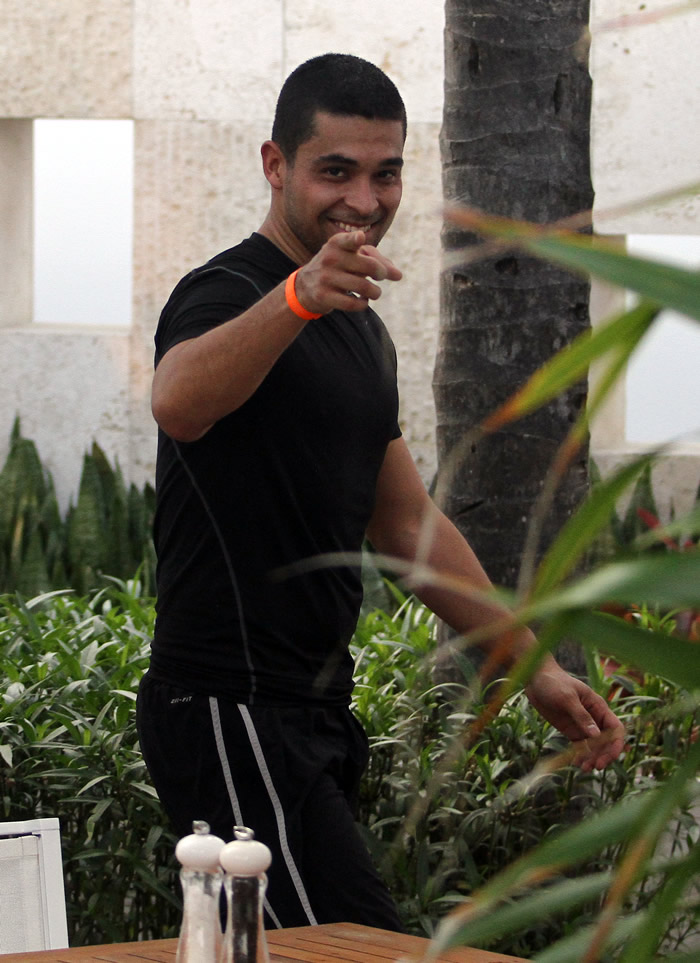 Have I ever mentioned before how predatory Wilmer Valderrama appears to the naked eye? I mean, he's so notorious that there should really be a show called, "To Catch A Wilmer." Yet the dude is so crafty and keen to not actually cross that line, so he goes for the barely-legal Disney types. And he might be pretty hard to physically catch given his tendency to be snapped by the paparazzi while out for a run as he was here in Miami in mid December.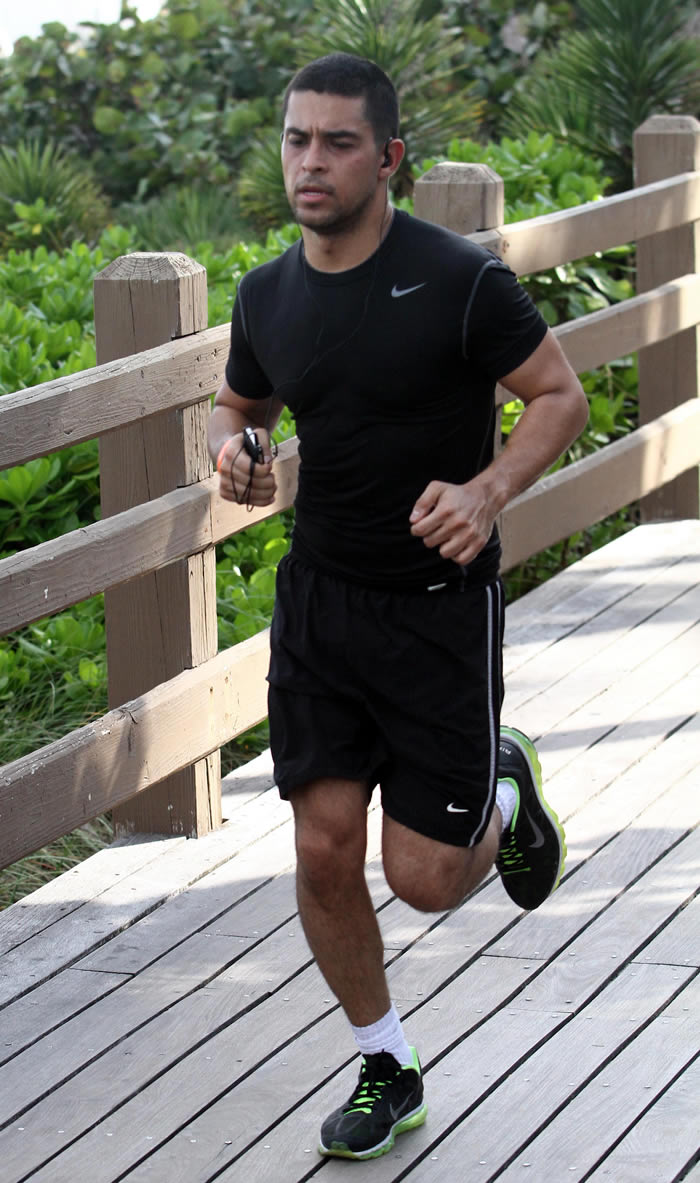 Anyway, Wilmer loves to snatch up vulnerable girls when they're riding high from their respective Disney affiliations but have yet to prove themselves in other career capacities. It's like a convenient downdraft before the perfect storm of Wilmer manipulation. He famously dated Lindsay Lohan in 2004 right when she started to get into big trouble and ended up randomly hospitalized for "exhaustion" and whatnot. Then he went inactive and undetected for awhile before setting his sights on Demi Lovato and proceeding to screw up her fragile mind. The two have gone a few rounds in the on-again, off- again, baby-come-back ring, and it's all been such a terrible idea considering Demi is in recovery for an eating disorder and other emotional issues.
Now it appears that Demi and Wilmer may have broken up yet again, if clues from her Twitter are to be believed: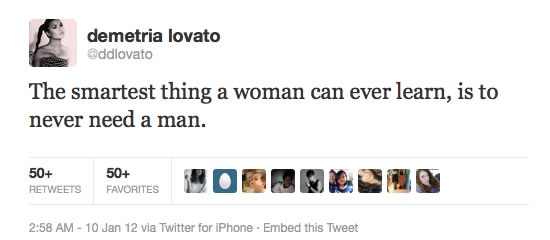 Well, it was weird while it lasted.

On-the-DL couple Demi Lovato and Wilmer Valderrama have parted ways, a source confirms to E! News.

Lovato's rep has always been—and continues to be—mum on the subject, but we're hearing that the age gap (she's 19, he's 31) just proved uncrossable for the duo.

Meanwhile, though she never officially admitted to dating her longtime friend, Lovato did post a couple of suspect tweets today…

First, she retweeted another girl's tweet, a Marilyn Monroe quotation reading, "A wise girl kisses but doesn't love, listens but doesn't believe, and leaves before she is left."

Then Lovato added herself, "The smartest thing a woman can ever learn, is to never need a man."

News of the split—not to mention the cryptic tweets—comes after Valderrama randomly added Lovato's ex, Joe Jonas, to his inner circle. The duo spent New Year's weekend in Vegas partying together, and then the following Saturday night they were both at Beacher's Madhouse revue in Hollywood, though Jonas made himself scarce once Lovato showed up at around 1:30 a.m.

Valderrama's shoulder was said to be the one she cried on in the wake of her split from Jonas back in 2010.
[From E! Online]
I hope they're done for good and that Demi doesn't want Wilmer back. Oddly enough, she has been flirting a bit via Twitter with Pete Wentz: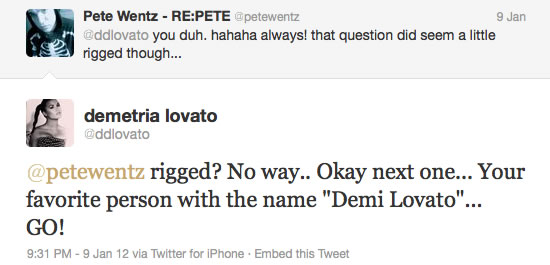 Pete isn't so bad, really. Even if he is a bit douchey, he's much more worthy of dating than Wilmer. Ugh, Wilmer is just so reprehensible, and now the dude's gotten his claws into Joe Jonas. The question remains though — will Joe be Wilmer's next victim?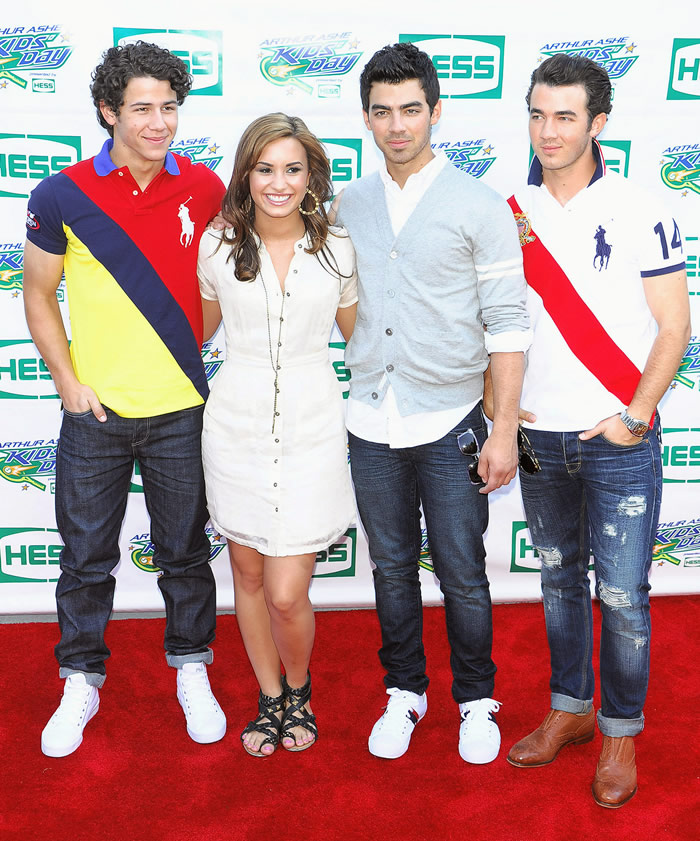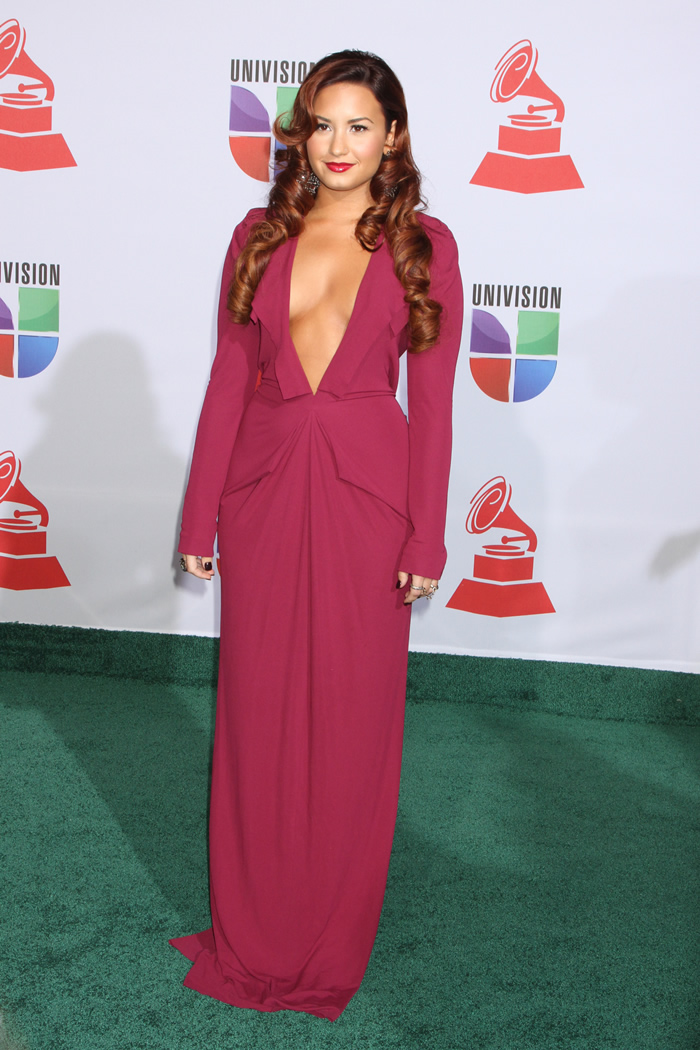 Photos courtesy of Fame/Flynet and WENN