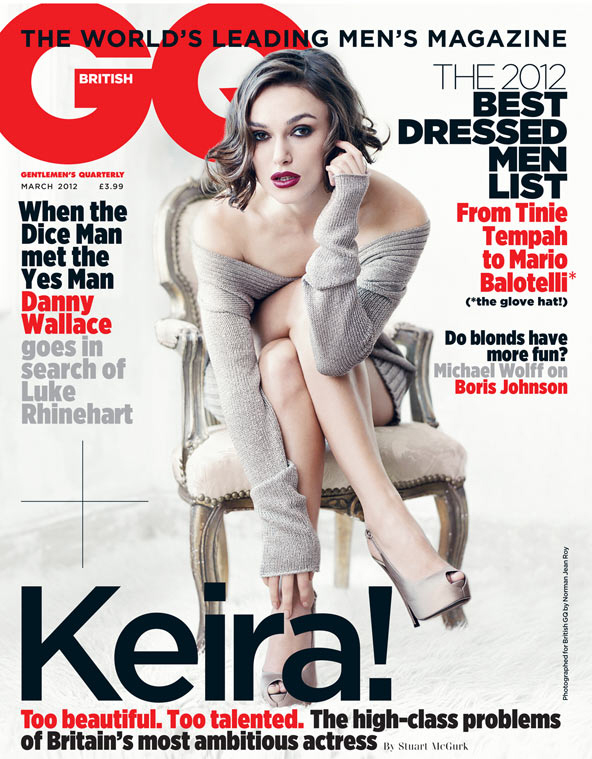 Keira Knightley kind of has the same problem as Michelle Williams – for the past few years, Keira has been selling a particular kind of image of herself (quiet, subdued, not sexy, not famewhore-y, "real actress") and it's startling to see her do a revealing photo shoot and interview. But unlike Michelle Williams, Keira has never tried to convince us that she's oh-so-fragile. Keira has always put herself out there as competent, assured, self-contained, and never helpless. Which makes this "sexy" GQ UK photo shoot for the March issue NOT cringe-inducing. I actually think Keira pulls it off – she looks sexy and even dare I say… healthy. Like she's back on solid food.
Keira is still promoting A Dangerous Method, which has just come out in the UK, I believe. In the interview, she talks about more about being spanked by Michael Fassbinder (this bitch!!!!) and about how American audiences are generally more supportive of her:

It is a dramatic departure from her usual image as the quintessential English rose.
Keira Knightley, more commonly seen in the bonnets and bustles of period dramas, poses provocatively in a series of outfits that leave little to the imagination.

The actress wears nothing more than a low-cut jumper, high heels and blood red lipstick in one shot, while in another, she shows off her long legs as she reclines on a chaise lounge in a 1950s-style swimming costume.

Another of the images, which will appear in the March issue of GQ magazine, shows the 26-year-old modelling a tasselled black jacket as she runs her fingers through her hair.
Perhaps Miss Knightley was getting into the spirit of her latest role in A Dangerous Method, which she almost turned down after telling director David Cronenberg that some scenes were too risque.

She told an interviewer: 'I said, I love you, I love the script. But I don't think it's something I can do, so I might have to turn it down. Once he said he didn't want it to be sexy or voyeuristic, and as soon as I got my head around the S&M mentality, I said, "Okay, let's do it".'

Miss Knightley also spoke about how different the perceptions are of her in both America and her home country.

She explained: 'The Americans are generally a lot more supportive. They generally like the work a lot more than they do here. It is what it is, I suppose. It could just be that I'm not to a lot of people's tastes. Which is fine. Well it's not, obviously. You want to be to everyone's taste… But, I think it's better to do your own thing rather than try to please everyone and just be this mushy thing in the middle.. Sometimes it's like water off a duck's back, and sometimes it really hurts… and then you go away and cry for an hour or so, and then pick yourself up again…'

'I've always tried to give everything 100 per cent…if you're not working what are you? You're lazy. You're doing nothing and what the **** is that?' she tells GQ.

The actress has been dating musician James Righton, 28, from the band Klaxons, for almost a year. Her last relationship with Pride & Prejudice co-star Rupert Friend ended in December 2010 after five years.

But she said she is happier than she has ever been with her life right now, adding: 'I'm actually loving this bit right now – doing the work I'm doing, having the life I can have around it. Right now, it's really good.'

Miss Knightley also revealed to GQ that she read the work of Jung and Sigmund Freud while researching her latest role.

She said: 'I vaguely knew it was about sex and blaming your parents. Apart from that I had no idea. So I had to do quite a lot of research to understand what they were talking about and understand where [Sabina] was coming from and the nature of the illness that she had.'

The film, which has its UK premiere tonight, tells the story of a love affair between Swiss psychiatrist Carl Jung and his beautiful patient Sabina Spielrein, played by Miss Knightley.
[From The Mail]
Keira also discusses her battle with dyslexia – you can read her comments here. I do think she sounds good – healthy, mentally, emotionally, and hopefully physically. I like that she spent a few years away, not doing many films and working on the stage. It was a smart career move. Too few actors actually go away and let people MISS them, you know? And Keira has been missed – as much as she's criticized, she is one of the more talented young actresses out there.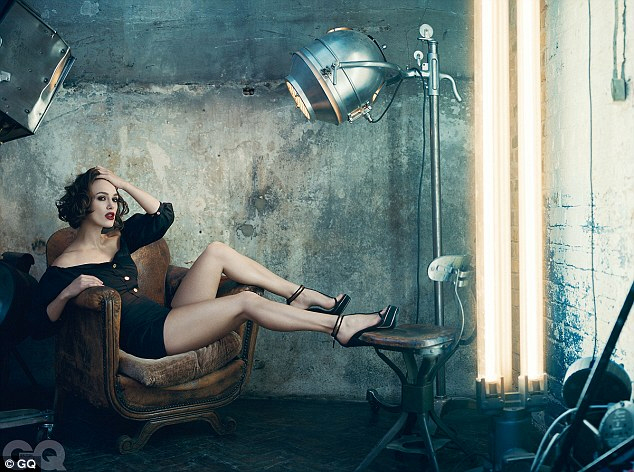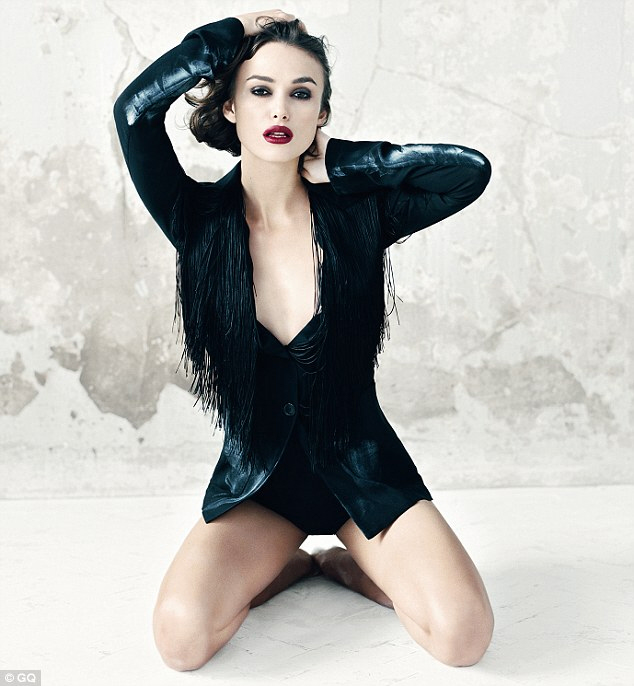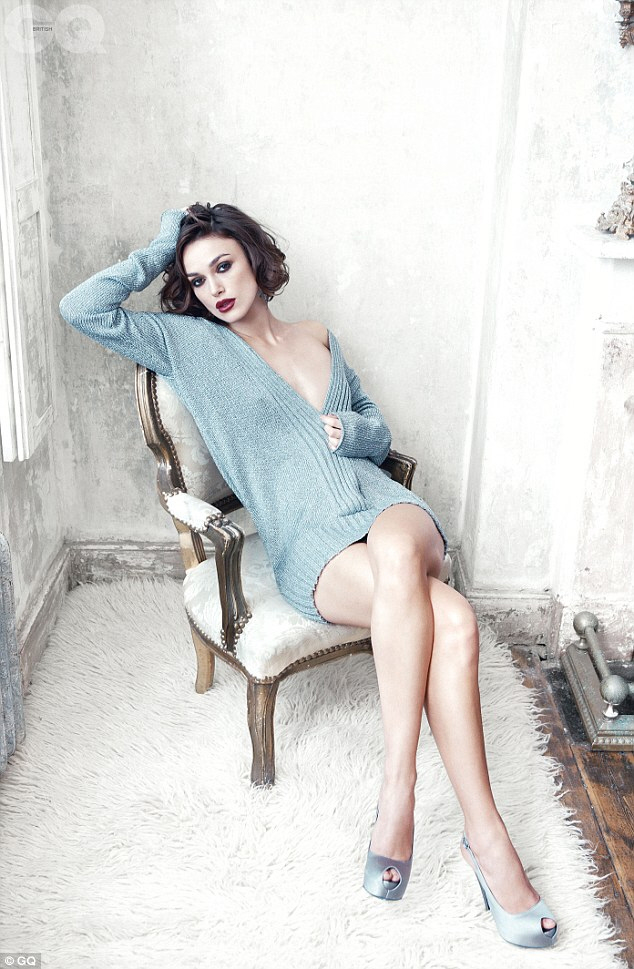 Photos courtesy of GQ UK via The Mail.