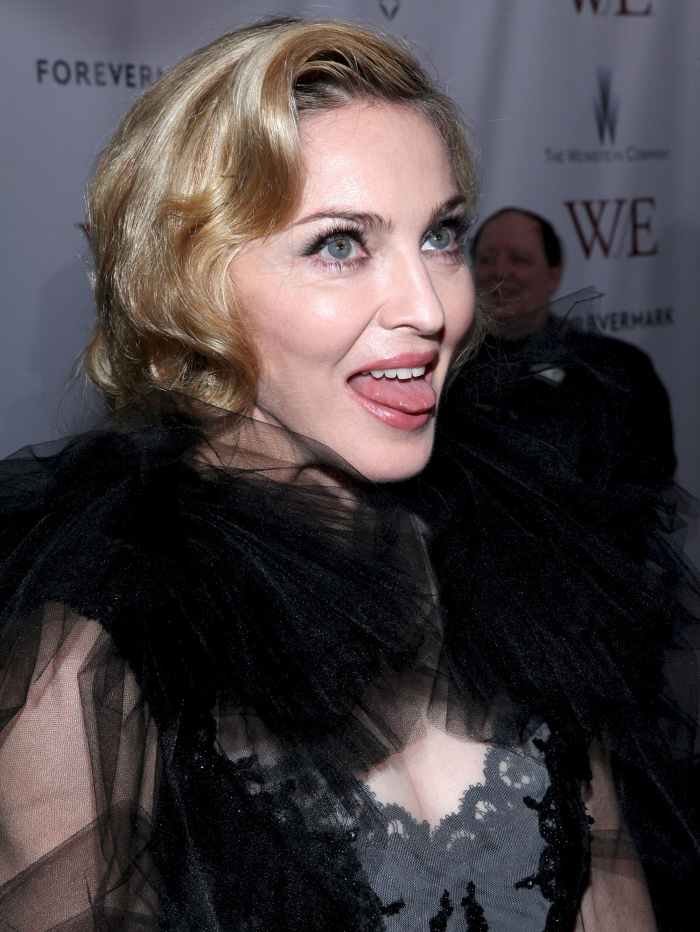 Madonna is loving life right now. She's got a new album coming out, she's performing at the Super Bowl, she just won a Golden Globe and she came out of the Elton John/David Furnish bitch-fest looking like the gracious, mature one. She's also got little Brahim as her boyfriend and four healthy and happy kids. So it makes sense that Madge is currently doing a victory lap in the press – she's got a new (ish) interview in Newsweek, and the same old self-centered Madge is on display. For all of her image changes, isn't it funny that at the heart of it all, Madonna is now and has always been a narcissistic monster? Anyway, you can read the full Newsweek piece here, and here are some highlights:
Thinking about her own marriage and divorce while writing W.E.: "I'd been married 10 years when I started writing it. And I was certainly asking a kind of existential question that I think people ask when they've been married that long: what is the perfect love? Because when you start off, everything's great and lovely, and the person you've married is flawless, and you're flawless. Then time goes by, and you share a life, you have children, and there are cracks in the veneer. It's not as romantic as it used to be. You think, 'This isn't what I thought it was going to be,' and 'How much am I willing to sacrifice?'" At the same time, she says, "when you get to the end of the movie, I think it's very clear they really loved each other, and that I am a romantic and that I do believe in true love."

On Wallis Simpson: Madonna makes it very clear that she relates to Simpson, a woman she believes was "misunderstood on a global scale."

Madonna on thinking about her kids: "When I was making my Sex book," she says, "I wasn't thinking about my kids or the reaction they would have. Now I have children, so I have to think about how things like that would impact them."

Lourdes is embarrassed: In December, while Madonna was getting ready for a screening of her movie, her 15-year-old daughter, Lourdes, walked into the room and vetoed her mom's proposed outfit: a corset with fishnets and no pants. Madonna has since said that her daughter was right, but adds that she isn't about to enter a nunnery at this late date either: "I'm not going to let [being a parent] completely censor me. I say to my kids all the time, I'm an artist, this is what I do, this is what I've always done. And they need to learn to separate it."

Let them eat cake: Touring has become the bulk of Madonna's business (the last tour grossed $408 million, the most ever for a solo artist) since the music industry went belly up and consumers stopped buying records. She's not ready to talk about specific plans for this go-round, but it's safe to assume that her ticket prices will continue to be astronomically expensive, Great Recession be damned. "So start saving your pennies now," she says, sounding annoyed that any-one would suggest these prices are prohibitive. "People spend $300 on crazy things all the time, things like handbags. So work all year, scrape the money together, and come to my show. I'm worth it."

Madonna understands poverty: A few years ago she got filleted for saying the Big Apple had been more fun back in the day, before it was all taken over by hedge-fund types. "It kinda was," she says, unapologetic as ever. Consequently, she was "excited" by the Occupy Wall Street movement, for a number of reasons, not the least of which was that Sean Lennon and Rufus Wainwright did a rendition of "Material Girl" at one of the early rallies. "I thought that was cool," she says, bringing the discussion back to her favorite subject: herself.

On Lady Gaga's "Born This Way": No wonder Madonna seems so un-ruffled when asked about Lady Gaga and "Born This Way," the No. 1 song that came out last year and that many critics thought resembled Madonna's 1989 smash "Express Yourself." "Of course I heard it," she says toward the end of our interview. "How could I not? I think it was on the radio a few times. I thought, 'This is a wonderful way to redo my song.' I recognized the chord changes, I thought it was … interesting." And at this, she gives a little smile.
[From Newsweek via The Daily Beast]
"So work all year, scrape the money together, and come to my show. I'm worth it." – The Gristle has spoken, peasants. Seriously, how are Madonna and Gwyneth Paltrow not speaking to each other anymore? THEY ARE THE SAME.
In addition to the Newsweek article, Madge also has a cover story with The Advocate. The piece is really, really long, and I can't even work up the energy to properly excerpt it. Some gems I found from skimming the article:
Madge on her gay fans: "I never left them. When you're single, you certainly have more time to socialize and hang out with your gay friends, but then you get married and you have a husband and you have children, and your husband wants you to spend time with him. I'm not married anymore, but I have four kids, and I don't have a lot of time for socializing." She's been back in New York for two years, after splitting with Ritchie. "I hope nobody's taking that personally. It certainly was not a conscious decision. As it stands, most of my friends in England are gay. But I'm back," she says, adding reassuringly, "Never fear."

On Lady Gaga's co-opt of Madonna's gay fanbase: "It seems genuine," she says, also seeming genuine. "It seems natural, and I can see why she has a young gay following. I can see that they connect to her kind of not fitting into the conventional norm. I mean, she's not Britney Spears. She's not built like a brick sh-thouse. She seems to have had a challenging upbringing, and so I can see where she would also have that kind of connection, a symbiotic relationship with gay men."

On criticism: "If you are threatened by me as a female or you think I'm doing too much or saying too much or being too much of a provocateur, then no matter how great of a song I write or how amazing of a film I make, you're not going to allow yourself to enjoy it, because you're going to be too entrenched in being angry with me or putting me in my place or punishing me."
[From The Advocate]
You can read the full Advocate piece here – I'd say it's worth a skim if you enjoy reading "Me me me I I I me Me, my, MEEEEE!" for several minutes.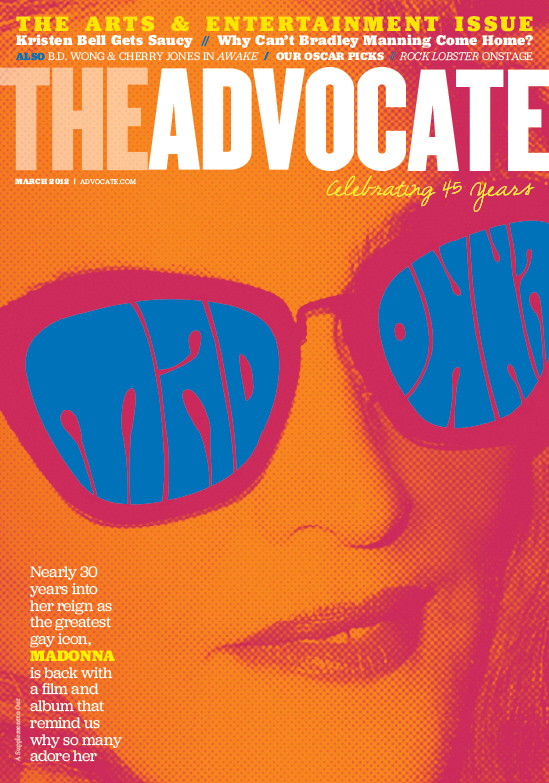 Oh, and here's Madge's MDNA album cover – I like it!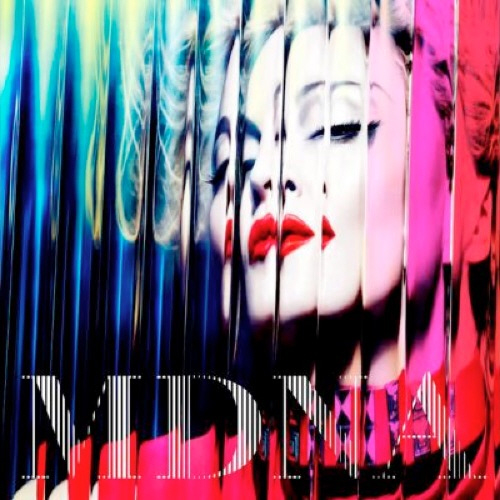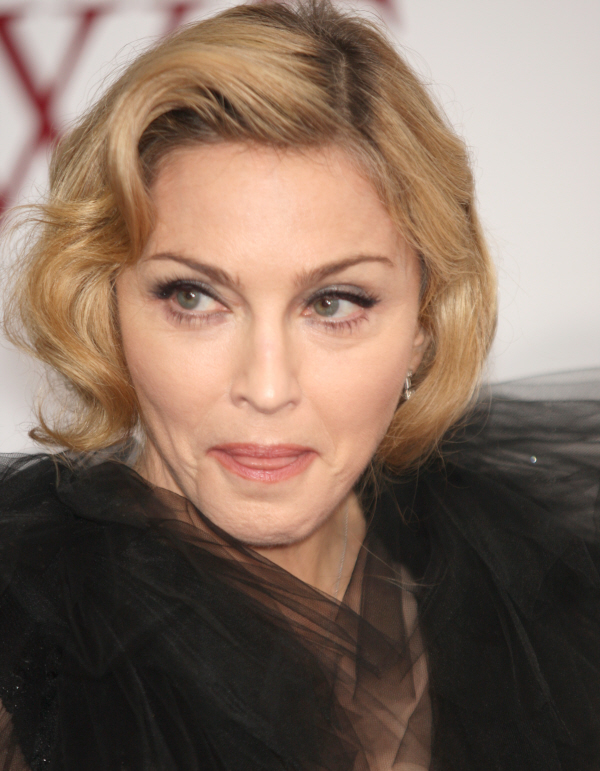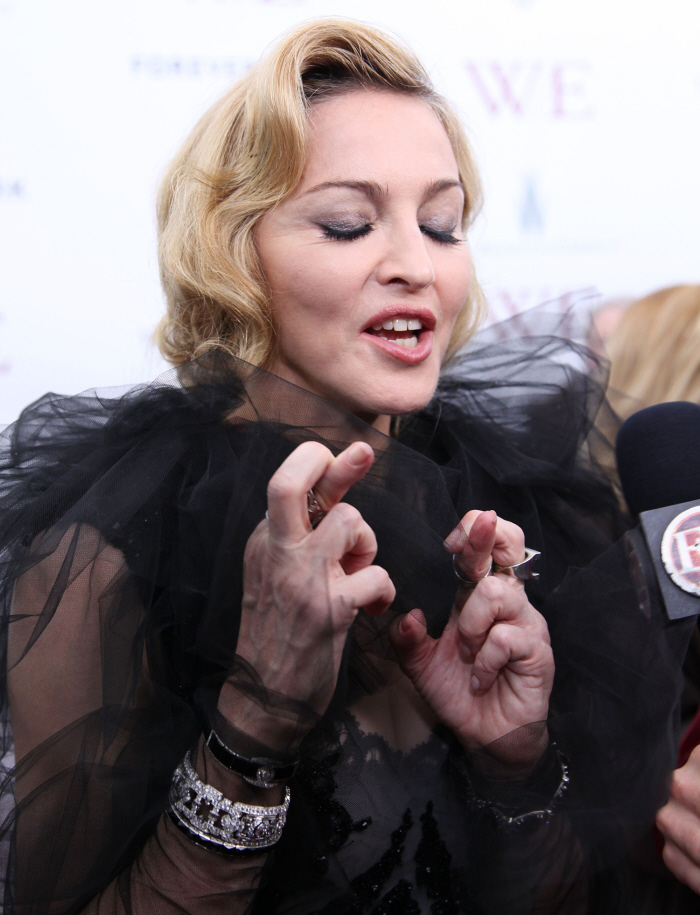 Photos courtesy of WENN.