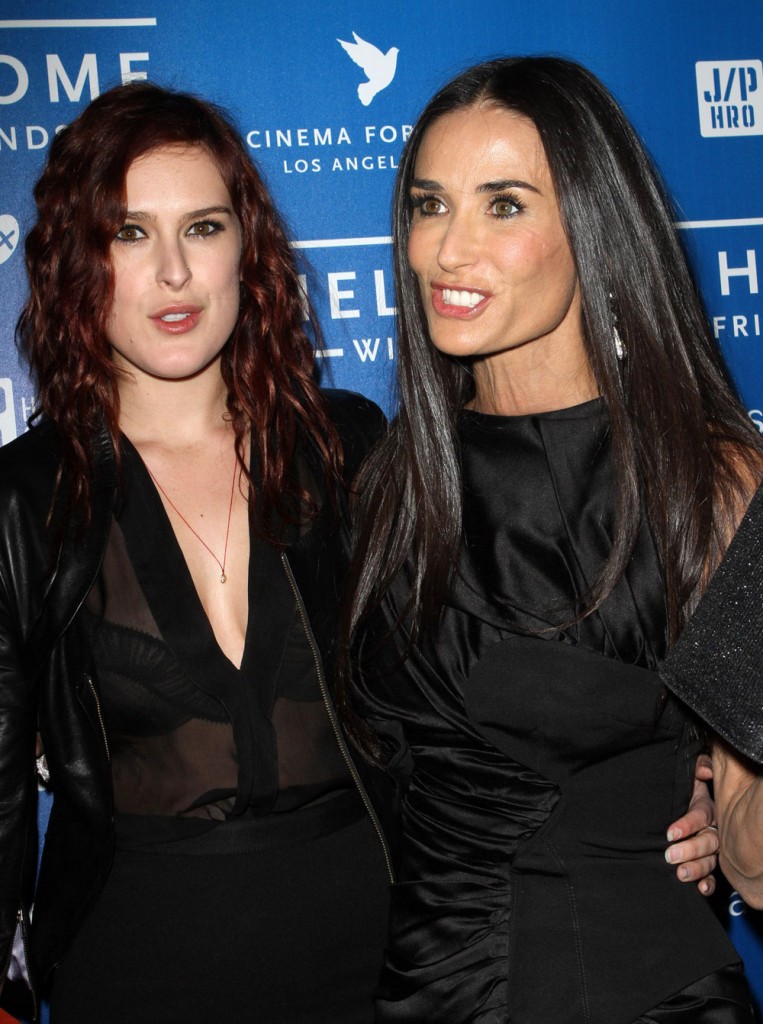 This week's In Touch cover story is all about Demi Moore's OD and downfall, with details we've heard before. They do add the claim that Demi has been doing cocaine, which I sort-of buy but I also think it's possible that she's only hyped up on "legal" drugs like Adderall, Red Bull, "K2 Spice," and whip-its. The thing that struck me about this story was the fact that they focus on Demi's relationship with her two younger daughters, Tallulah, 18, and Scout, 20. Demi seems to have a friendly relationship with her oldest daughter Rumer, 23, as she was partying with Rumer in the days leading up to her hospitalization. Tallulah has been living with her dad, Bruce Willis, for some time, and Scout is off at college. According to In Touch neither daughter has wanted anything to do with their super-embarrassing mom for some time prior to her breakdown. They're probably worried that she's going to hit on their male friends, and for good reason. Here's part of In Touch's report:
Rumer may be close to her mom, but Demi's two younger children want nothing to do with her. In fact, a friend says, youngest daughter Tallulah feels much closer to her dad, Bruce Willis – with whom she lives. "She has often requested that Demi not attend public functions with her because she's afraid of her getting drunk, desperate and flirty," the friend confides, adding that Tallulah, 18, has been "mortified" by Demi's wild partying in recent weeks. "She loves her mother, but she wants her to get help," says the friend, adding that Scout, 20, feels the same. "She's humiliated by the way Demi's been acting – and she's also furious at Rumer, who she feels has been enabling her." According to the friend, neither Scout nor Tallulah wants anything to do with Demi until she goes through rehab and gets the help she needs.
[From In Touch, print edition, February 13, 2012]
Fat chance that Demi goes to rehab. She's turning to Kabbalah as usual to help justify her behavior. I doubt it will help her but I hope I'm wrong.
Can you imagine if your mom was partying with your sister and grinding all over guys your age? You would totally try to avoid her. But if she went through a crisis like this, I like to think I'd be there for my mom and I hope that Scout and Tallulah have stepped up.
There are plenty of other recent stories about Demi. People is reporting that Demi's ex, Bruce Willis, wanted her to get help prior to her OD. They report that Bruce "was worried about her and wanted her to get better. Many of her friends did the same thing, but she just wouldn't listen." Paparazzi agency X17 reports that both Bruce and Demi's more recent ex, Ashton Kutcher, visited her separately on Wednesday. Radar has a story straight from Ashton's camp about how much he cares for Demi and how he's been praying for her. I know this is spin, but I want to believe this. Here's Radar's report:
Demi Moore's estranged husband Ashton Kutcher was photographed going to her Benedict Canyon estate on Wednesday, but that wasn't his first visit to her since her hospitalization, and RadarOnline.com has exclusively learned that the Two and a Half Men star has been praying with Demi, and offering support during this tumultuous time in her life.

As RadarOnline.com previously reported, the 49-year-old actress has been struggling with anorexia and had been taking the prescription drug Adderall leading up to her seizure on January 23.

Kutcher was in Brazil during Moore's meltdown, and was criticized for partying and being seen at a concert with another woman during Demi's time of need. However, as soon the Punk'd star returned to LA, he sought counsel and guidance from spiritual advisers at the Kabbalah Center in Beverly Hills on how he could best help Demi.

"This has been a very hard time for Ashton. He loves Demi very much, and he feels absolutely helpless right now," a source close to the situation tells RadarOnline.com. "Ashton and Demi have been praying together at her house, and he mainly just wants to provide comfort to her right now.

"This absolutely isn't a reconciliation, but there is still a lot of love there and he would never turn his back on her — it's just not who Ashton is."

And, while many people in Demi's inner circle are pushing her to go to rehab, Ashton isn't pressuring her at all to do anything she isn't ready for.

"Ashton has had loved ones in his life that have dealt with addiction issues, and he realizes that it's counter-productive for someone to be forced to go to rehab," the insider says. "Ashton knows the addict has to want to get help for themselves. There is a lot of noise around Demi right now, and Ashton wants her to know he is there for her and supports her no matter what.

"Ashton absolutely wants her to get help for what he thinks is the biggest threat to her health, anorexia, but Demi just isn't ready to take that next step yet."
[From Radar Online]
The article goes on to claim that Ashton has been "reclusive and very somber" on the set of "Two and a Half Men." Ashton has been partying his ass off in Brazil, he's not all down in the dumps over Demi. It took him a while to get back to the US after her health crisis too. I believe he cares about her and is trying to help, but this portrait of him as "reclusive" and "somber" doesn't ring true with the photos and tweets we've seen from him.
I hope that Demi gets sober and well, and that she's able to retain some sort of career or life's purpose. She's supposedly "despondent" that she's not getting movie roles anymore. Someone moved her cheese and she's been making herself sick looking for it in the same place over and over again.
Scout is the blonde in sunglasses. She's shown on 11-25-11 on a day out in Paris with her dad Bruce. Tallulah is shown with her dad and his wife Emma Heming on 2-22-10. She's shown with her mom on 3-24-08. Rumer and Demi are shown out on 1-14-12. Credit: WENN.com