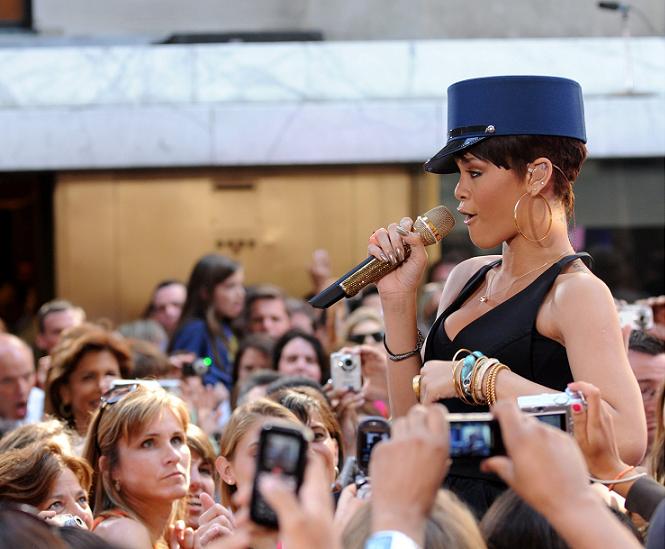 Rihanna nearly collapsed during the final song of her show today in Australia. The singer was performing "Umbrella" with Chris Brown when she appeared to hunch over, grabbing her stomach. She then rushed off stage, supposedly right after she finished her final line, though her backing vocals were still going. Chris Brown finished the song, but video of the event is all over YouTube and no legit explanation has been given.
Rihanna passed out on stage during her concert earlier today (November 7th) at the Acer Arena in Sydney, Australia.

Here's how it went down: The 20-year-old Bajan beauty was performing her smash hit "Umbrella", the last song of her concert. She had just come down from flying around on a harness. Beau Chris Brown joined her on stage for the final performance of the night. Rihanna was then seen hunching over and signaling that she wasn't feeling well. Rihanna then ran off stage, where paramedics rushed to her side. Chris continued to finish singing the song and then rushed backstage to Rihanna's side.

The concert ended without any mention of what exactly happened.
[From Just Jared]
Watching the video, you can't tell if she did or didn't pass out. Lots of websites are saying she fainted, but there's no way to know. She was clearly in some sort of pain or knew something bad was going to happen, but she did manage to make it off stage. Her reps have since given some very, very vague account of what happened.
Rihanna very nearly had an SOS of her own. While reports—and videos—have been circulating online appearing to show the 20-year-old singer on the verge of collapse at the end of a concert in Sydney earlier today, a rep for Rihanna is downplaying any serious medical issues.

"It was very hot at the venue, so after Rihanna's set was over, she went off stage to sit down, catch her breath and have some water," her rep tells E! News. "She is perfectly healthy and will be at her show tomorrow." The incident took place shortly after the chart topper finished her final performance of the night, "Umbrella," with beau Chris Brown. In video footage taken of the concert, Rihanna is seen slightly hunched over and leaving the stage after finishing her last verse—but before the end of the song.

The "Disturbia" songbird is set to play a second night in the Australian city tomorrow.
[From E! News]
I'm not sure why she'd be grasping her stomach like that from being too hot. Unless she was so dehydrated that she was going to throw up. TMZ pointed out that even though the venue may have been hot, Chris Brown was wearing a sweatshirt throughout the show. Of course Rihanna's leather corset probably complicated the matter. No matter what, she's quite the professional to keep on performing her entire concert – possibly down to her last lyric – even when she wasn't feeling well.
Header of Rihanna performing live on 'The Today Show Concert Series' in New York City on June 20th. Images thanks to WENN.