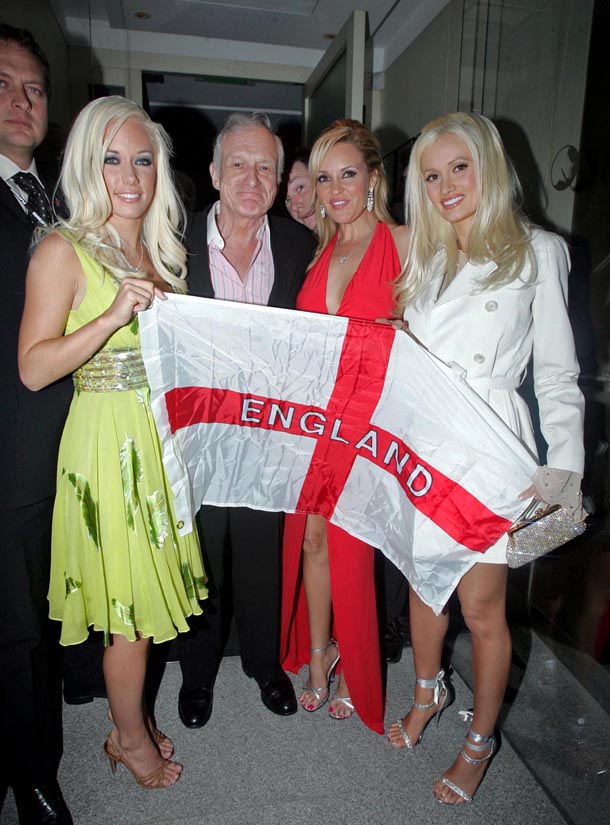 Who says chivalry is dead? Hugh Hefner is good to his ladies, even when they're his very recent exes. Hef had the honor of officially announcing ex-girlfriend Kendra Wilkinson's engagement to Hank Baskett on Thursday. Hef and Kendra must be on pretty great terms – not only did he make the official proclamation, but the ceremony is going to be held at the Playboy Mansion. And to top it all off, Hef is walking Kendra down the aisle!
Kendra Wilkinson of The Girls Next Door is engaged to football star Hank Baskett, according to her ex-boyfriend Hugh Hefner, who plans to give her away at a ceremony at the Playboy Mansion.

"[She] has met someone who she would like to spend the rest of her life with," Hefner said in a statement on Thursday.

The Playboy mogul says Baskett, a wide receiver for the Philadelphia Eagles, proposed to Wilkinson on Saturday.

"I have given her my blessing and will be giving her away at a very special wedding ceremony at the Playboy Mansion this coming June," the statement adds.
[From People]
Wow, doesn't this just reek of a made for T.V. wedding ceremony? All three of Hef's now ex-girlfriends are still contracted to the show this season, and a June wedding sounds like the perfect finale. E! reported that Baskett proposed to Kendra in front of both their families, which at the time (due to their phrasing) I assumed included her father. However it possibly didn't – according to Wikipedia, he left her family when she was four. Perhaps they're not close, and that's why Hef's giving her away. Or perhaps it would make for stunning ratings to have her grandfather-aged former boyfriend pass her off to another man.
Holly Madison also says she expects to be a bridesmaid. Somehow I don't think that's going to happen, ratings be damned.
Header of Kendra with Hugh Hefner, Holly Madison, and Bridget Marquardt celebrating Hef's 80th birthday in England on May 23, 2006. I seriously had to go back two and a half years to find one single picture of Kendra standing next to Hef – she always positions herself as far away from him as possible. Images thanks to Bauer-Griffin.