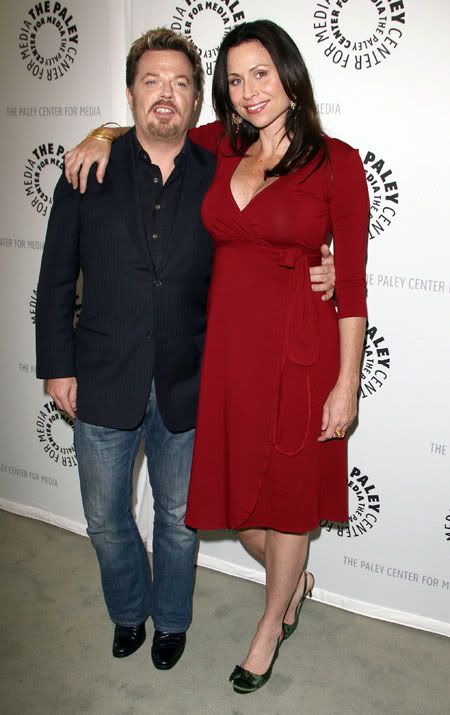 Sometimes a television show comes along that despite ultimately superior acting and writing, just doesn't find an audience big enough to keep it on the air. The Riches, on FX, was one of those shows. The Riches starred Eddie Izzard and recent new mother Minnie Driver as the parents of a family of grifters who con themselves into the life of a wealthy family in Louisiana. Although it was loved by the people who watched, there weren't quite enough of those people to keep the show on TV and it was unceremoniously cancelled in September after two seasons.
Now Izzard, who co-wrote the pilot of the show, wants to put The Riches in movie theatres. Eddie says that he has approached the powers that be at the network to ask if he can write a screenplay based on the unclosed ending of the show.
"I was an elevator in London at an awards ceremony and Samuel L. Jackson looks at me and says, 'So, what's happening to your kid,'" said Eddie, referring to his on-screen son Cael, who was last seen getting duped by another group of Travellers.

"I told Samuel, 'We don't know at the moment.' but I've posed to the heads of FX and TBS that we want to make a film. And they said, "Right, we'll support you."
[From OK! TV Fanatic]
While the network heads may have said they'd support him, they evidently didn't mean financially. Eddie is turning to the Internet to raise funds for the movie. I want this movie to happen, but I can't get my hopes up too high on a movie that is counting on Internet fundraising to come up with that kind of money. Barack Obama did it, though, so maybe, "Yes, Eddie Can!"
I couldn't help but think, when Samuel L. Jackson asked Izzard what was up with his son, he may not have actually been talking about his character's son. There's a widespread belief, or hope may be more likely, that Minnie Driver's new baby, Henry Story, is Eddie Izzard's child. Judging by Izzards comments, though, he doesn't care quite enough about the kid to be his father.
"I haven't met the baby, but I called her up and she said, 'He's looking at the phone.' The baby was looking at her and smiling like he knew something. He must have known I was going to call her up and say, 'We're going to do a movie of The Riches.'"
[From Ok! TV Fanatic]
Maybe Henry knows where Izzard can come up with the money to finance the movie, too. Minnie could have sold first baby pictures to chip in, but she decided to release a photo on her myspace instead.
According to the NY Post, the mystery father of Minnie Driver's baby is "a TV writer" who broke up with her when he found out she was pregnant.
Eddie Izzard and Minnie Driver are shown promoting The Riches on 4/28/08. Credit: Juan Rico/Fame Pictures