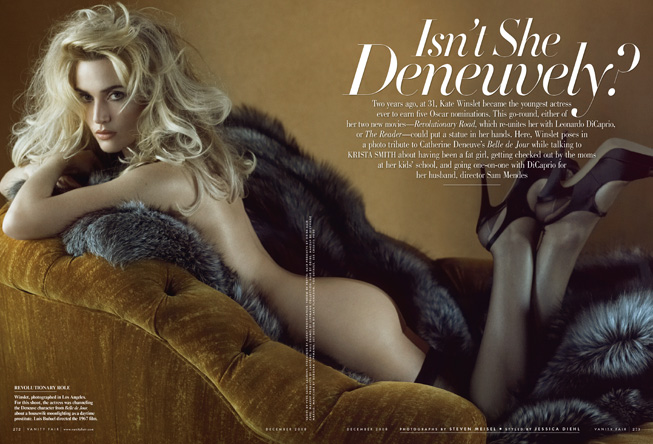 Kate Winslet is one of the many movie stars who have made a very public and definite stand against fur. Winslet firmly refuses to wear fur and has now said she refused to use fur in a photo shoot but was misled into posing on a silver fox fur throw. In her recent Vanity Fair photo spread, the controversy started with Photoshopping rumors and has grown into a fur fight.
As a staunch anti-fur advocate, Kate Winslet has always been meticulously careful about what she wears – and what she poses with.

So when the Titanic star was asked to drape herself over a luxuriant fur rug for a provocative glossy magazine photoshoot, she was quick to seek reassurances that it was made from artificial fibres.

But now the magazine, Vanity Fair, has been forced to apologise after admitting that the actress had been misled and that the throw was really genuine fox fur.

While they were setting up the photoshoot in Los Angeles, Miss Winslet was told the fur was fake. But, in fact, she was posing on an £11,500 silver fox fur throw, flown 2,500 miles from the Boston store of Italian luxury bedlinen firm Frette.
[From Daily Mail]
In the particular shot, Kate was wearing nothing but thigh high stockings and stilettos and lying across the fur. She swears she wasn't Photoshopped, but she definitely thought other things in the photo werent real. Both Winslet's people and the Vanity Fair people have admitted there was a mix of real and faux fur on-set, but that's where the agreement ends. While Vanity Fair has apologized, they say they thought Winslet knew the particular fur chosen for the shot was real. Kate's people insist that she asked and was assured it was not.
Animal rights campaigners estimate that the throw used in the photoshoot required the pelts of at least six animals.

A spokesman for the People for the Ethical Treatment of Animals said: 'We were surprised to see Kate in Vanity Fair posing with what looked like a real fur throw.

'PETA has heard from countless celebrities that sneaky stylists at photoshoots can be rather coy when it comes to fur and whether it's real or not.

'So it seems Kate was duped – and with so many convincing fakes out there nowadays, it is easy to mistake real animal skins for the fakes. We're pleased to be able to count Kate among the many celebrities, such as Eva Mendes, Charlize Theron, Pink and Sadie Frost, who would never wear real fur.'
[From The Daily Mail]
How does one not know real fur when their completely bare body is lying across it? If you can't feel it with your hands, you could certainly feel it with the less weathered parts of the body. I'm willing to give Winslet the benefit of the doubt on the Photoshopping. She's looked amazing for a few years now, and there are ways to pose a body to accentuate the positive and all but eliminate the negative. I like Kate Winslet, but I wouldn't be appropriately cynical if I didn't notice that she has gotten a massive amount of publicity out of one magazine photoshoot. At times the Photoshop controversy, subsequent indignance, then the fur mix-up story and resulting outrage, feel a little orchestrated. And with a movie opening in January, all the press couldn't come at a better time.