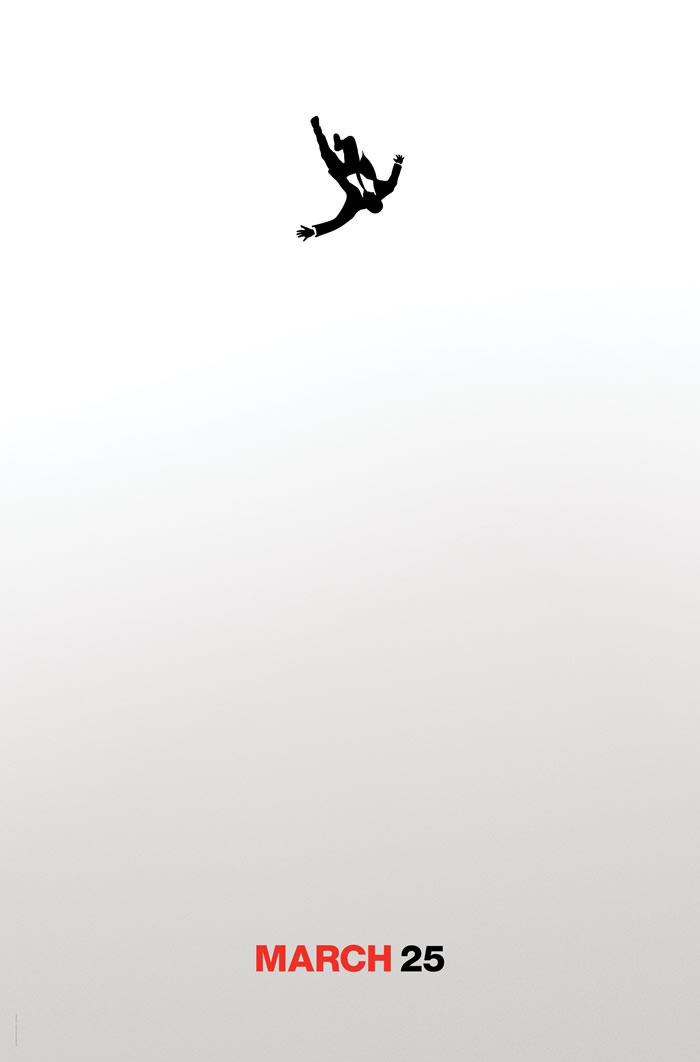 In a little over a month (on March 25 to be precise), Season 5 of "Mad Men" will return to the airwaves with a two-hour premiere on AMC. You've probably already seen this (incredibly minimalistic) promotional poster, and if you live in NYC, then perhaps you've even witnessed some of the inspired yet ultimately banal graffiti that the poster has invited by virtue of being a relatively blank slate. The poster is certainly an interesting tactic because it doesn't do much to attract new viewers to the series but, instead, relies upon the brand recognition skills of its previous viewers. And it's also gathered some controversy because of the inevitable comparisons to the famous "Falling Man" photograph taken on 9/11:
And now AMC stands weirdly accused of making reference to 9/11, in its promotional poster for Mad Men's fifth season, set to commence on Sunday, March 25. On the one hand, the poster is merely a continuation of the art that has accompanied the show since its inception — a bit of shorthand that refers as much to the viewing public's impatience to get Mad Men back after its extended hiatus as it does to the existential consequences of Dick Whitman impersonating a dead man named Don Draper. At the same time, the poster dispenses with the corporate context specific to Mad Men, indeed with context altogether, and, by concentrating on one falling man, seems out to remind viewers that the show is really about the Falling Man… that for all its American-Century trappings, it's set squarely in the age of American decline.
[From Esquire]
As someone who's familiar with watching the "Mad Men" theme throughout four seasons of the series, I honestly didn't even draw the comparison to the "Falling Man" photo until it was mentioned, and I like to think I'm just as sensitive as anyone else when it comes to the issues surrounding 9/11. At any rate, there's also a new teaser trailer that's been release to promote Season Five, and it is profoundly lacking in the "teasing" department:
This is basically just a bunch of scenes from previous seasons spliced together with some semi-inspiring music, right? After an eighteen month hiatus, you'd think that AMC would be trying a little harder to push the show's return, but I guess there's still time for that. At least Jon Hamm has been out doing press rounds, and he's now hinting that there may be a little something going on between his character and Joan Holloway (played by Christina Hendricks' famous rack):
Actor Jon Hamm has revealed that the relationship between Mad Men characters Don Draper and Joan Harris will be explored in greater detail as the series progresses.

The actor, who plays womanising ad executive Draper in the drama, made his comments at the Curzon Mayfair last night as part of a Bafta interview with Jo Whiley.

When asked why Draper has never made a pass at office vixen Joan, played by Christina Hendricks, Hamm responded: "Who says he hasn't?"

He continued: "The Don/Joan dynamic is something that we do explore, and don't take this the wrong way, but we do explore as the show goes on.

"They have worked together for a long time, they know one another very well and I'll leave it at that."

Hamm also hinted that there was hope for his character, despite the tumultuous last series of the show, in which he lost his friend Anna and shocked colleagues with a spontaneous proposal to new secretary Megan.

"[Anna's death] may have caused some tectonic shift in Don, maybe one of the reasons we saw the proposal. It's not a mistake that he gives Megan Anna's ring, he did not give that to Betty, but I think that there is hope," he said.

Additionally, Hamm revealed that there would be at least a further three series of Mad Men, and that the first episode of the upcoming fifth season will be two hours long.
[From Radio Times]
Can I just say right now that, unlike Don and Peggy, I would love to see a Draper and Holloway love scene? Her husband has always seemed like a real creep, and I can't believe that she married the guy after he raped her. Strange stuff. Anyway, I think that Season 5 will probably get off to a great start regardless of the (ironic) lameness of its advertising campaign. Thanks to the power of Netflix Instant Watch, a lot of people have taken the opportunity to catch all four seasons during the extra-long hiatus. So despite the official excuse of contract negotiations, maybe the extended break was a smart move?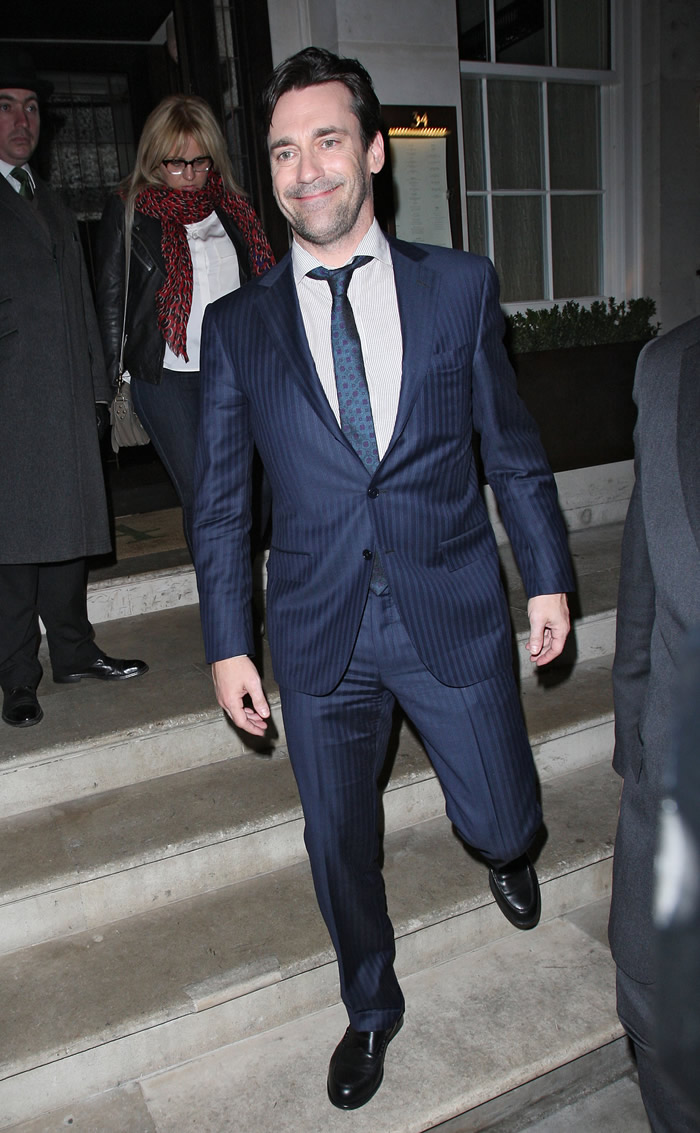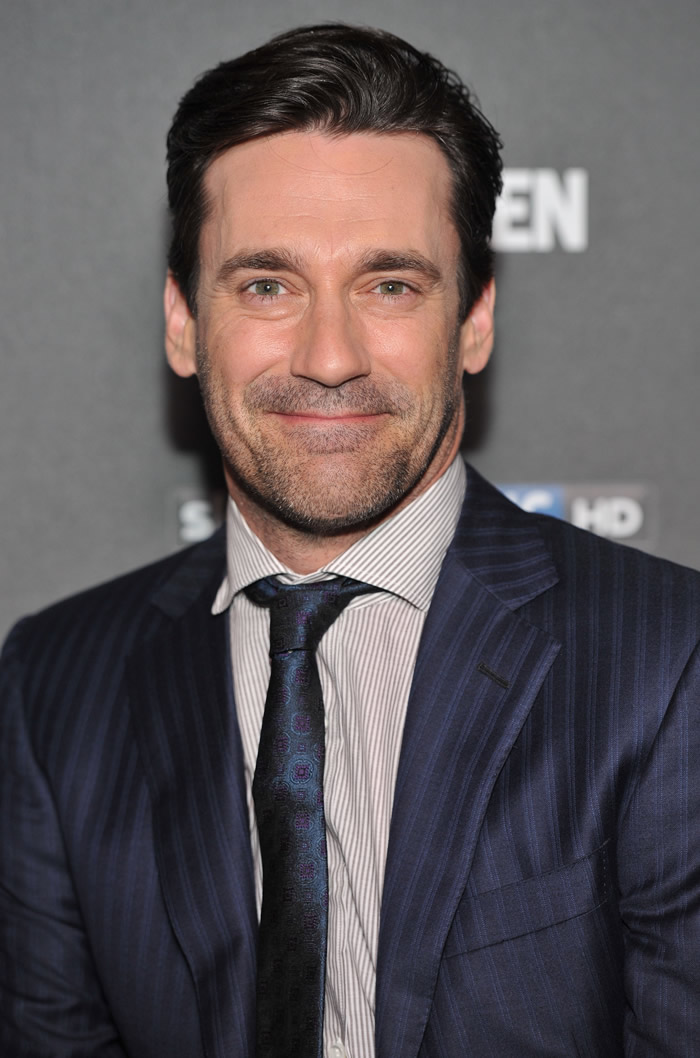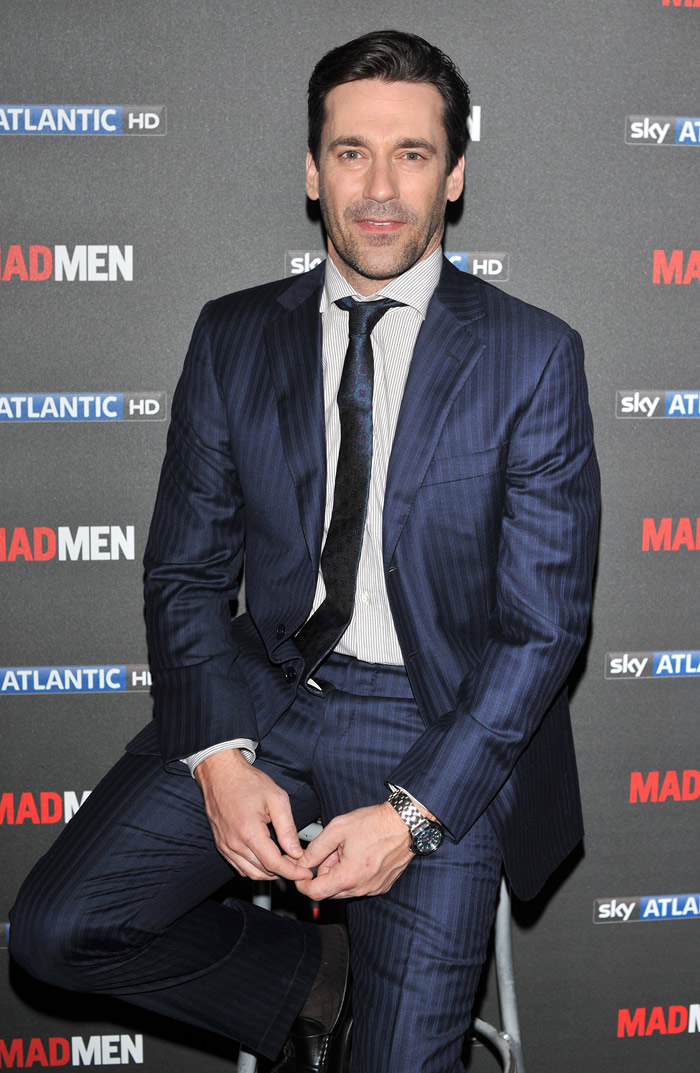 Photos courtesy of WENN, poster courtesy of AMC