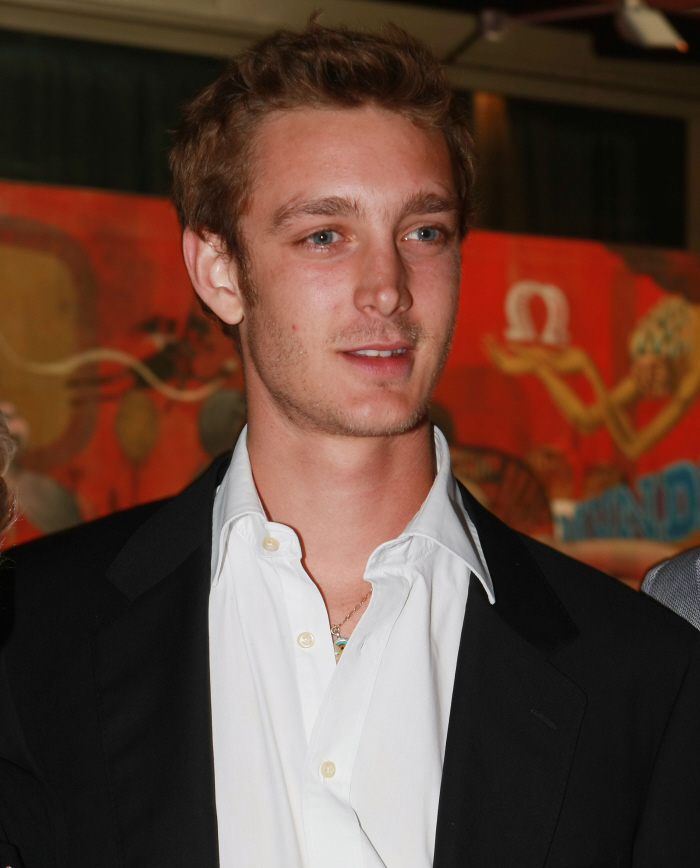 First, a little Monaco royal history: Princess Caroline is the oldest child of Grace Kelly (Her Serene Highness Princess Grace) and Prince Rainier. Caroline's younger brother, Albert, just married Charlene Wittstock, and Albert likely hopes to provide a male heir to inherit the throne of Monaco. If Albert does not provide an heir, the kingdom/principality will go to Caroline's oldest son, Andrea Casiraghi. Caroline's second marriage was to Stefano Casiraghi, and the union produced Andrea (the oldest), Charlotte (the middle) and Pierre, the youngest. Pierre is currently… third in the line to the throne, I guess. Because it has to be a male heir, not a female?
Anyway, Pierre has gotten the reputation as an international partier, and Saturday night he was hanging with some friends at Double Seven in Manhattan. According to the New York Post, Pierre and Stavros Niarchos went over to this dude – Adam Hock – who was sitting with some friends and some models. Pierre and Stavroas started acting like jerks, and Hock cold-cocked Pierre. Then everything got crazy:
A vicious fight involving vodka and supermodels at a Meatpacking District nightclub sparked a royal beatdown that landed Monaco's Prince Pierre Casiraghi in the hospital, The Post has learned.

The attack on the 24-year-old son of Princess Caroline and grandson of Grace Kelly came during a late-night confrontation between the prince and his playboy pals and former Manhattan club owner Adam Hock at trendy Double Seven on Saturday, witnesses and law-enforcement sources said.

After the fight, "Pierre's face looked broken, with deep cuts and blood everywhere," said one stunned witness. "He looked like he needed plastic surgery."

Hock, 47, had been partying with friends — including Double Seven owner Jeffrey Jah, hairdresser-to-the-stars Joel Warren and catwalk stunners Natasha Poly, Valentina Zalyaeva and Anja Rubik — when Casiraghi strolled over to their table with shipping-scion pal and Paris Hilton ex Stavros Niarchos III and two other men at around 2:30 a.m., witnesses said. Members of Hock's group said the prince and his entourage "were being completely obnoxious,'' insulting the models and swigging from a $500 bottle of vodka on Hock's table.

"The next thing I saw, all hell broke loose,'' one witness said.

Hock allegedly cold-cocked Casiraghi, sending him sprawling. Casiraghi "fell very badly. He . . . flew across the room and landed on a table on the other side," the onlooker said.

Hock then allegedly punched out Niarchos, 26, and quickly landed blows on downtown hipsters Vladimir Restoin Roitfeld, 27, and Diego Marroquin, 33 — as the flustered models frantically tried to break it up.

Casiraghi was taken to New York Presbyterian/Weill Cornell Medical Center and released later Saturday, sources said.

Hock — the former owner of the Hawaiian Tropic Zone in Times Square — was charged with four counts of third-degree assault for the alleged attacks on Casiraghi, Restoin Roitfeld, Marroquin and Niarchos, whose supermodel girlfriend, Jessica Hart, was with him.

At his arraignment in Manhattan Criminal Court yesterday, Hock said he was the victim.

"I was defending myself and others," he said. "Why aren't [Casiraghi and his pals] handcuffed?"

He was released on his own recognizance and is due back in court next month. Friends of Casiraghi claimed Hock was the instigator.

"The prince walked up to the table, and Adam just slammed him for no reason,'' one witness said. "Stavros jumped in to help Pierre, and then he got slammed in the face."

At one point, witnesses on both sides agree, a friend of Casiraghi grabbed a bottle of Grey Goose vodka from a nearby table and tried to crack it over Hock's head.

Hock's power lawyer, Salvatore Strazzullo, said, "My client was having a nice time with a married couple and a lady friend and a group of very beautiful women, and these individuals were jealous, and they resorted to elementary-school tactics. My client is not Bruce Lee . . . These four guys are trust-fund babies who think the world is owed to them. They are like spoiled brats."

Richard Golub, who is representing the prince and his pals, said, "It was a horrifying incident . . . It was entirely unprovoked."
[From The New York Post]
I tend to believe both sides. I think Pierre and Stavroas were probably acting like entitled d-bags and they went over to Hock's table because they couldn't believe some hot girls were hanging out with the older American men. And I believe this guy, Hock, probably instigated the physical altercation because he decided this little Monaco punk deserved a good old-fashion American ass-kicking. Hock should have been charged with assault, and I'm glad he was. But I don't think Pierre was any kind of victim. He seems like a douche.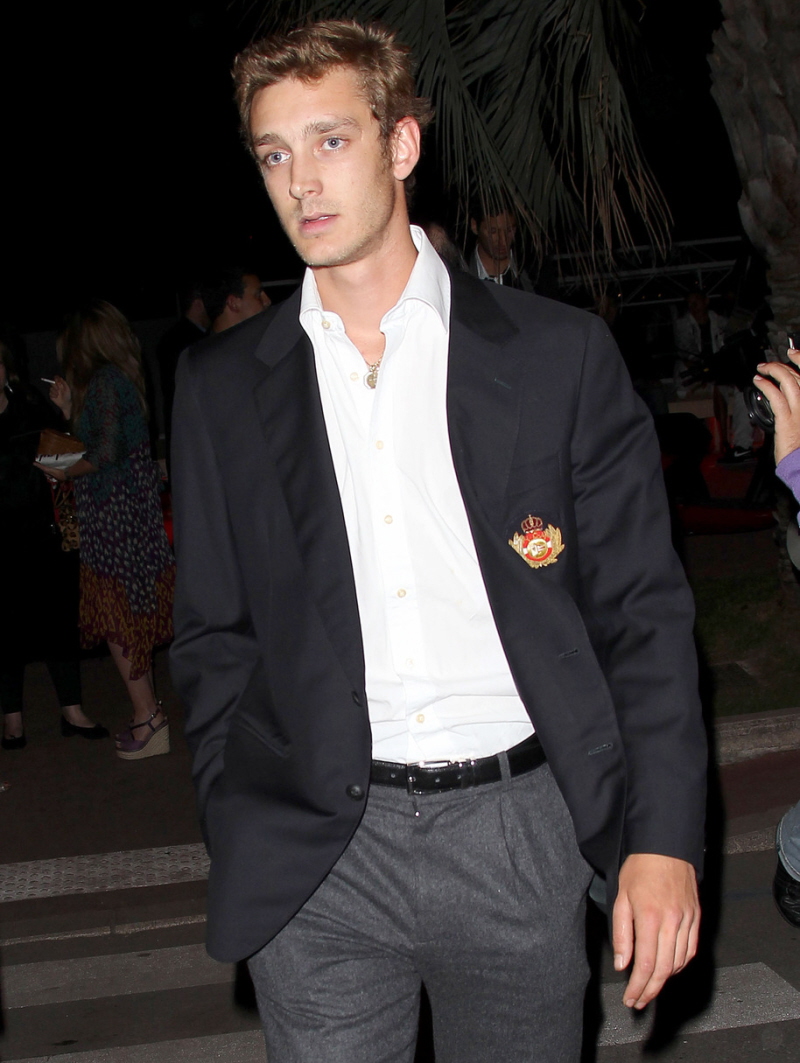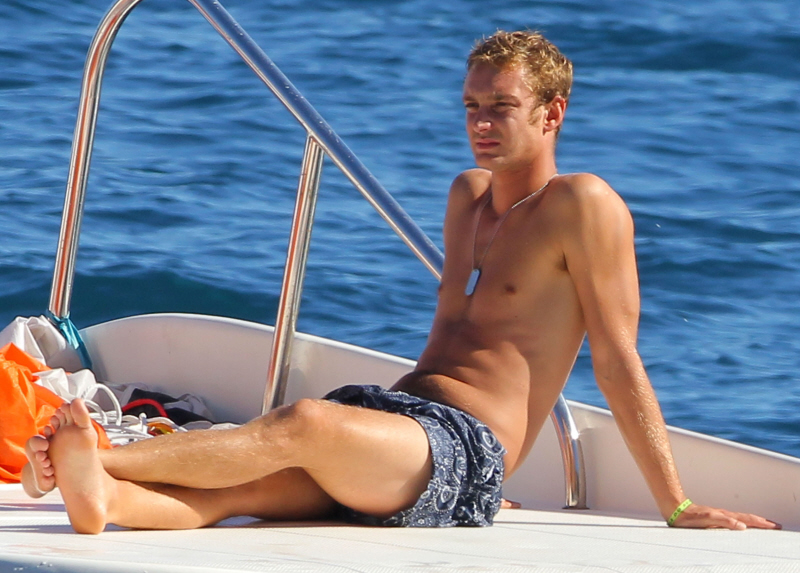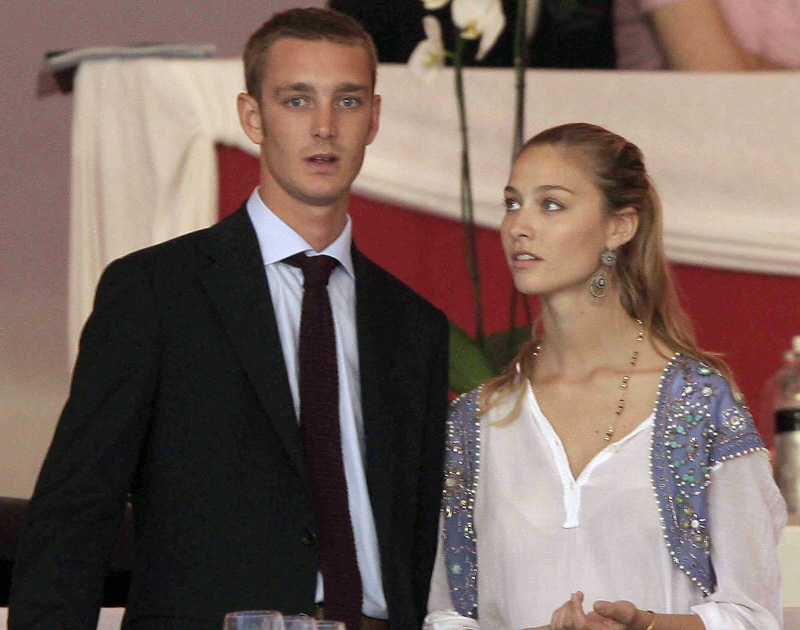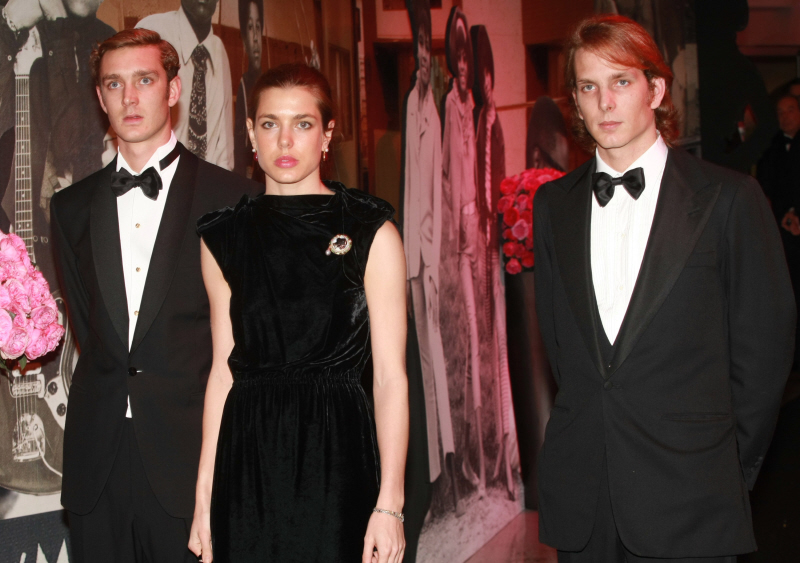 Photos courtesy of WENN.