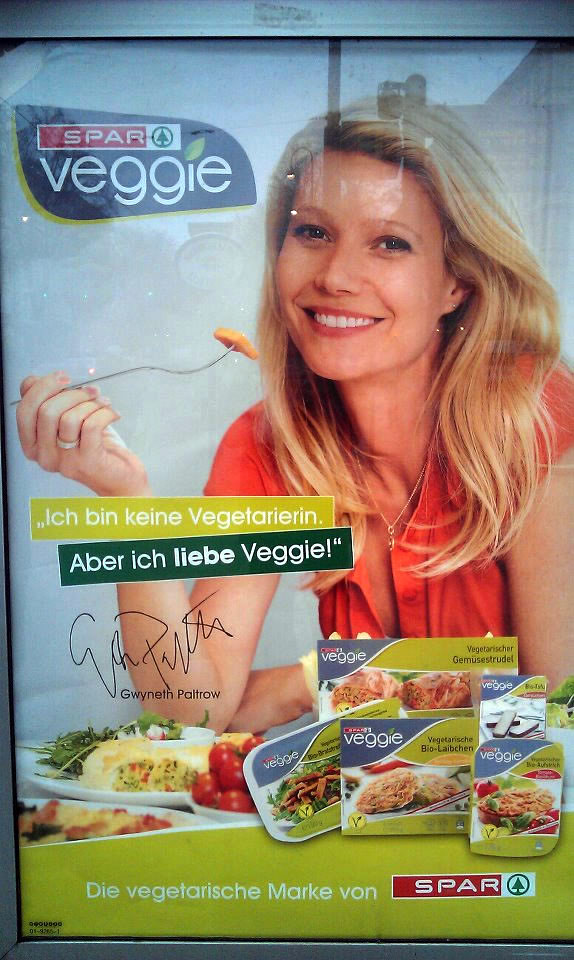 (Note on German Poster Translation: "I'm not a vegetarian, but I love Veggie" and "The vegetarian brand of Spar.")
I've been remiss in the past few weeks by failing extol the virtues of Gwyneth Paltrow and her Goop. She too has been quite busy with her usual New Year's colon cleanse (you can still buy the $425 Goop-branded version) and has only surfaced to ship out a $880 stroller to her BFF, Beyonce. Isn't it odd how Goop values Blue Ivy at a value worth approximately two pristine colons?
Anyway, we're all quite familiar with Gwyneth's disdain of processed, pedestrian food. She is, after all, a traditional 1950s housewife who cooks nearly every meal from scratch because she'd rather smoke crack than eat cheese from a can and would rather die than feed her kids "Cup-A-Soup." So it comes as quite a shock to see that Gwyneth is now shilling frozen food to the peasants in Austria when she thinks no one will notice:
Hollywood superstar Gwyneth Paltrow will soon appear as the face of Austrian Spar Supermarket's new range of food following in the footsteps of the likes of Cindy Crawford, Heidi Klum and Pierce Brosnan.

The self proclaimed "Part time vegetarian" Paltrow is heading the new vegetarian brand 'Spar Veggie.'

For two days Paltrow was filmed making the advertisements in Paris which are due to be launched on Austrian TV and billboards tomorrow (Weds).

Paltrow, a passionate cook herself, has recently published her own cook book and said: "I love cooking for my family, it is my favourite hobby!"

Spar's new range offers 43 vegetarian and vegan products from the fresh and frozen counters.

Paltrow added: "They are a really healthy alternative to grab and go!"

Dr. Gerhard Drexel, a director of Austrian SPAR said: "Gwyneth Paltrow is the ideal of the modern day, food-aware young woman, who knows having meatless meals is a good idea now and again."

"She loves the idea behind our new product line. We are overjoyed to have Gwyneth on board."
[From Austrian Times]
Basically, SPAR food is a slightly fancier version of "Cup-A-Soup," but in all fairness, Gwyneth might think this brand is much more exotic simply because it's not an American product. Because that would be too gauche. Lest you think that I'm being too tough on Gwyneth (who clearly needs to make a buck to finance the Goop lifestyle), here's an account from Videogum by the fellow who snapped the billboard advert at the top of this post:
My brother took the attached photo in Vienna. It's important to note that this appears to be an ad for a store-brand vegetarian product for the European supermarket chain Spar. It's also worth mentioning that in terms of quality, Spar is the equivalent of a convenience store attached to a gas station. You might buy gum there, but you wouldn't buy Spar-brand gum, or Spar-brand anything for that matter.
[From Videogum]
Of course, Gwyneth is perfectly happy to pocket the money flowing from her newfound SPAR endorsement while she'd never actually purchase this food in real life. Naturally, I don't have a problem with any of Goop's cosmetic or clothing endorsements, but she professes to be a beacon of healthy cooking and even sells her own overrated cookbook in that regard. She also thought that none of the American peasants would ever be clever enough to find out that she's shilling packets of frozen rice and peas. So yeah, this is a major Goop fail.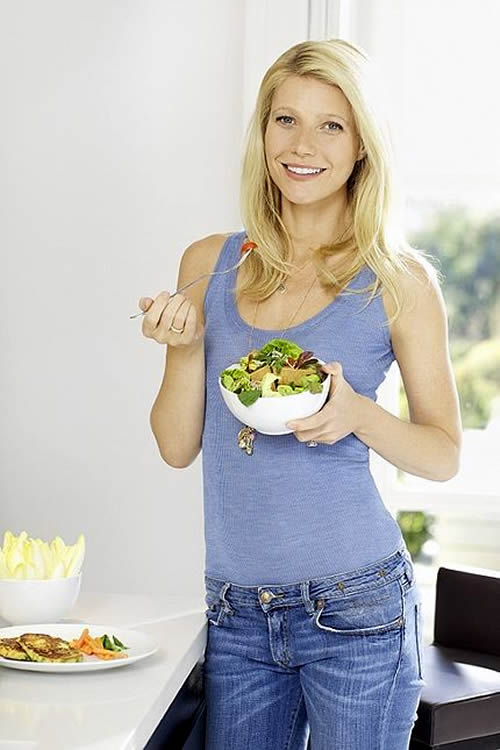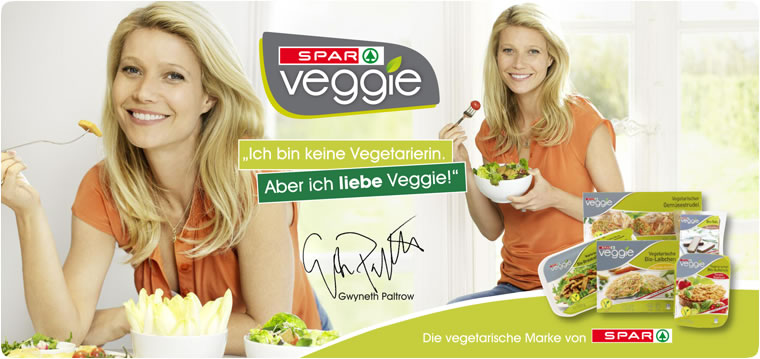 Promotional photos courtesy of SPAR Strategy, Spar.at, billboard snap courtesy of Videogum