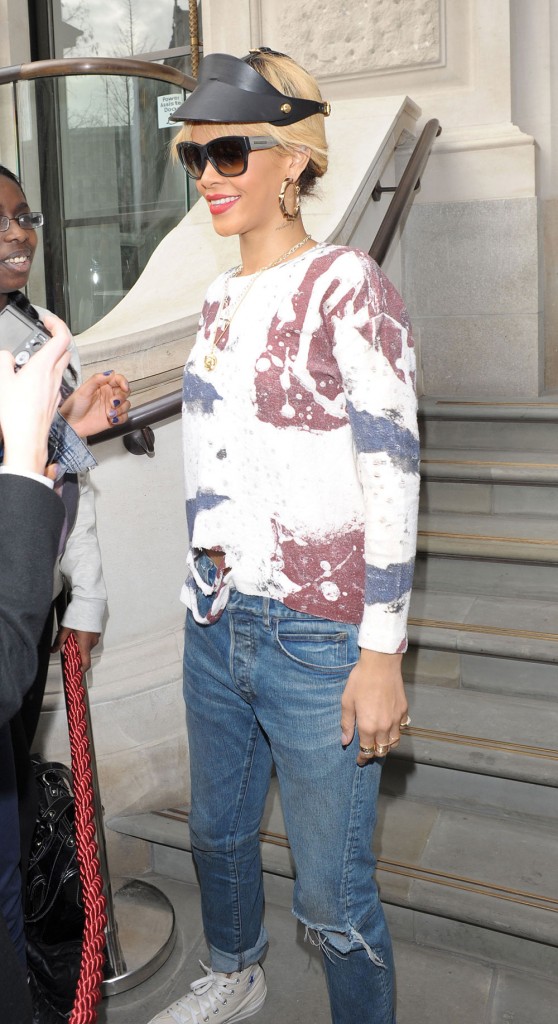 Now that our Oscars hangover has subsided we're able to get to some of the stories we may have missed while we were distracted by the shiny pretty things. Particularly this annoying one about how Rihanna is "supporting" her abusive "ex" (I put that in quotes because they're probably back together despite the fact that Chris has another girlfriend) in his latest potential probation violation. To recap an earlier story, Chris stole an iPhone from a bystander outside a club who dared to take photos of him. As Kaiser noted at the time, it did seem like Radar was running some suspiciously pro-Chris Brown stories, and this latest one is a real doozy. Radar claims that Rihanna buys Chris' story that he didn't steal that lady's phone and that a source told them that "this was extremely humbling to Chris given their tumultuous past." Are you kidding me? Nothing is humbling to Chris Brown. He's an entitled a**hole, that's all he's ever been, and that's why so many people are upset that he's being lauded by the industry again. Here's more:
Brown allegedly snatched the phone, and said, "b*tch, you're not gonna put that on the Internet," and then drove off.

"Chris told Rihanna that he absolutely 1000% didn't steal that phone, and Rihanna has told him she believes him. Rihanna has also told Chris that she will stand by him during the investigation, and whatever the future holds. This was extremely humbling to Chris given their tumultuous past, and he told her how much he appreciated her unwavering support to him, despite the criticism she has endured for recording songs with Chris and welcoming him back into her life," a source close to the situation tells us.

Despite Chris dating wanna-be model, Karrueche Tran, the Grammy Award winner has been having secret rendezvous with RiRi. Brown and RiRi have released two songs, which features both of them — her song Birthday Cake and his Turn Up the Music…

If Brown is arrested, it would be extremely likely that the Los Angeles District Attorney's Office will seek to revoke his probation from his no contest plea of battery on Rihanna.

"Chris wouldn't need to be convicted in the Miami case to cause problems with his probation, just charged," the source tells RadarOnline.com. "The conditions of his felony probation are very, very strict. Chris must obey all laws and not be arrested for any other crimes. This could be a huge nightmare for his probation if he is arrested and charged.

Rihanna "has made it very clear to everyone around her that she doesn't want to hear anything negative about Chris. She isn't interested in listening to the fears her friends have about the the two young singers spending time together," the source says.
[From Radar]
Well I hope Radar is right and that it's "extremely likely" that his probation gets revoked for his case in California, if he's even arrested for allegedly stealing the phone in Florida. I doubt he'll be. In terms of all the crap he could do, stealing a phone seems pretty low on the totem pole. But stealing a necklace is what eventually brought Lindsay Lohan down when she violated probation. Oh wait…
As for Rihanna not taking any advice about Chris from friends and people around her, I believe it. She had to ignore so much to get to this point, she's probably ignoring everyone trying to help her too.
Here's Rihanna out in London yesterday. She's wearing a fancy visor and sneakers with jeans, like she's a granny in Boca or something.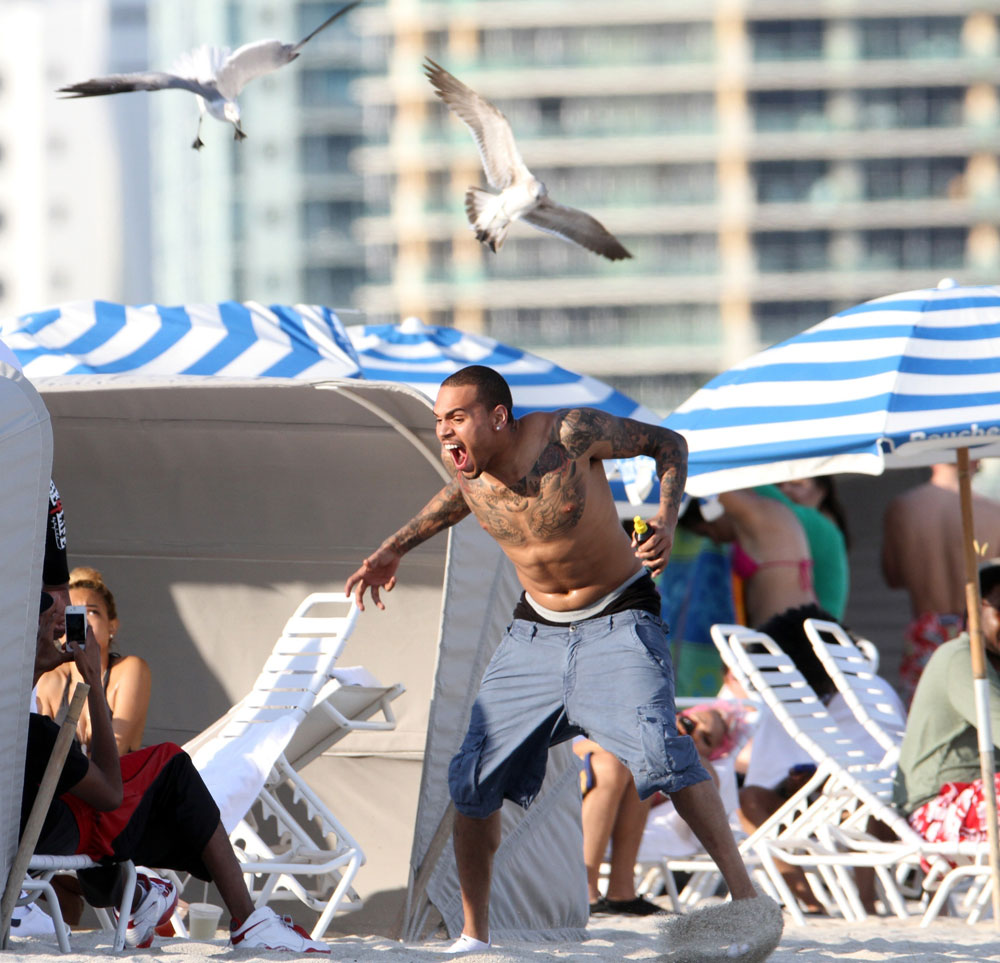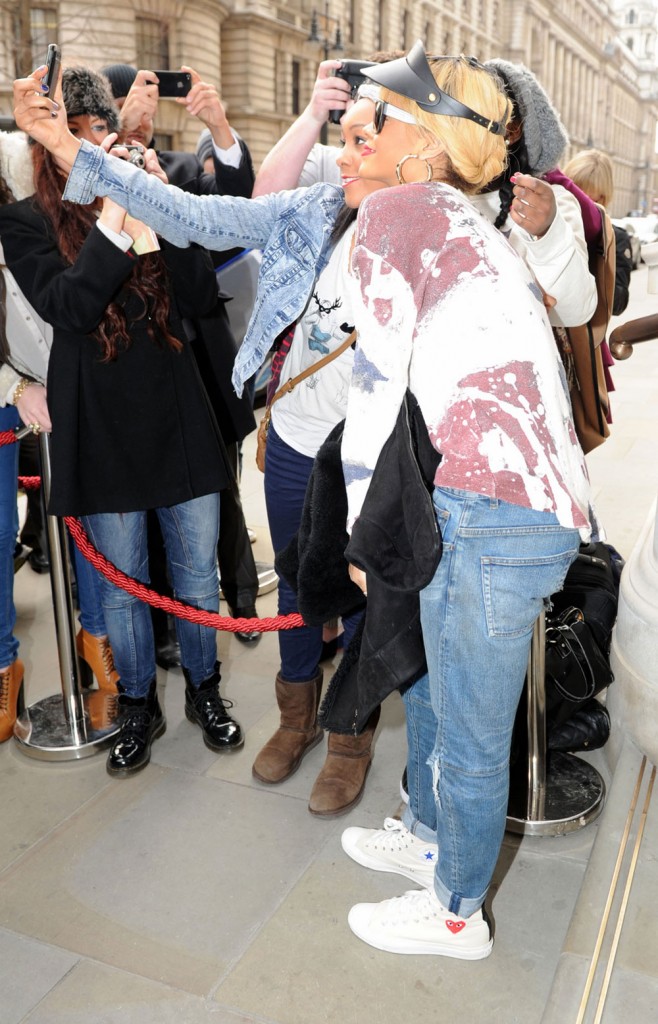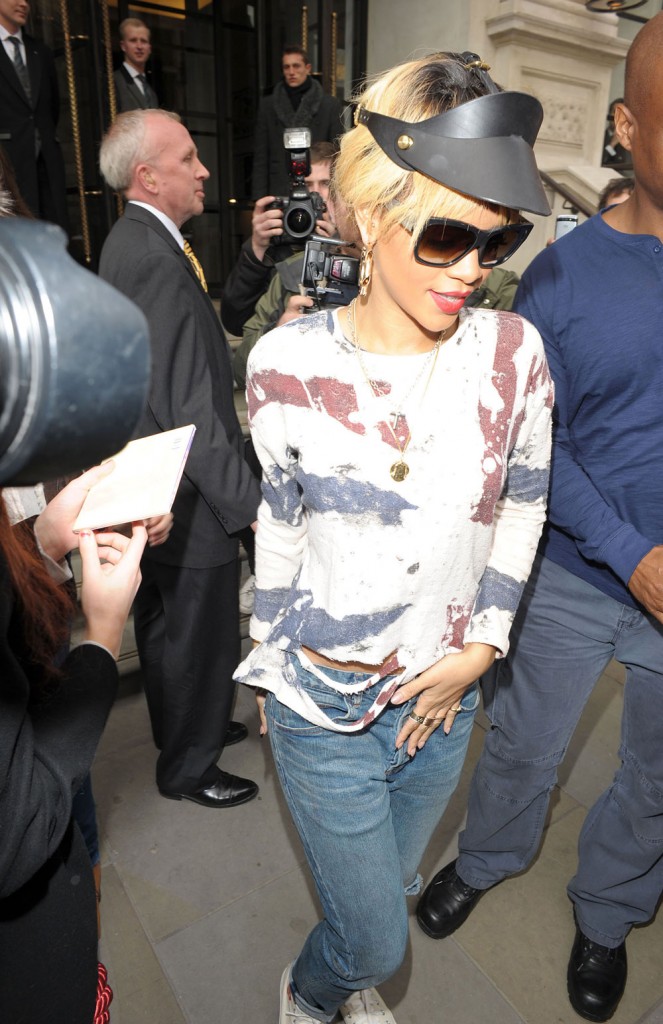 Photo credit: WENN.com