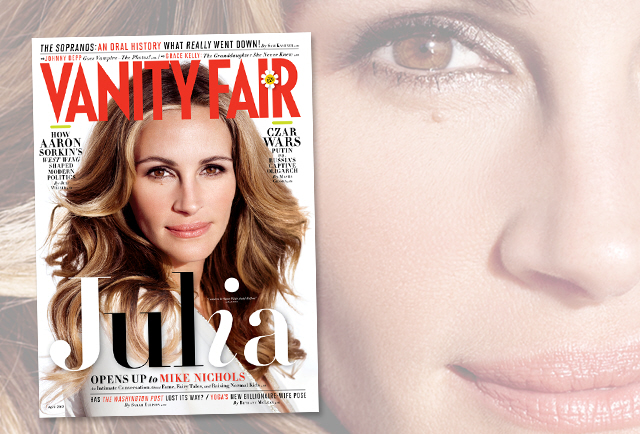 Vanity Fair just released their April cover – Julia Roberts! The headline VF gives is "Will There Ever Be Another Julia Roberts?" My question: "Should there ever be another Julia Roberts?" But I know what VF was going for – will there ever be another young actress who becomes a massive movie star at a really young age and defines her generation of female "movie stars"? Think about how young Julia was when she did Mystic Pizza, then Steel Magnolias (she got an Oscar nomination for that), then Pretty Woman (another Oscar nom), and then on and on. I think Julia was only 22 years old when she filmed Pretty Woman. Amazing. Anyway, here's the press release from VF, full of Julia simpering beautifully:
In Vanity Fair's April 2012 cover story, Oscar winner and Mirror, Mirror actress Julia Roberts tells contributing editor Sam Kashner how Meryl Streep's daughter gave her precious insight into raising kids as a famous mom. According to Roberts, her children have yet to understand what it means that their mother is a celebrity—but she talked to Grace Gummer about her own realization.

"Grace comes up and goes, 'Gosh, it's so sweet seeing all your kids on the set. It reminds me of when I was little, and I would go see my mom at work.' I asked, 'Were you happy?' Suddenly, I thought, here is a source of information," Roberts says. "I said, 'How old were you when you realized your mom was Meryl Streep?' She said, 'I think I was probably nine when I put that all together.' I said, 'Were you cool with it?' She said, 'Yeah, it was fine. There was no trauma.' So that was hopeful."

Roberts recalls a time "on a crowded street, and somebody noticed me, and then another person noticed. Somebody said as we were walking past, 'Oh, that's Julia Roberts.' We all just kind of kept going, and then Finn said, 'Yeah, my mom's Julia Robinson.' That's what gives you perspective. It could be Robinson, it could be Johnson, because it has nothing to do with me as a person."

Roberts tells Kashner that there had been "a time when I was encouraged—as all young actresses are—you know, 'You've got to keep going; you've got to get out there.'"

Unfortunately for them, Roberts says, young actors nowadays don't have the benefit of the same kind of experience that she had when just starting out: "The business is so different; you can never be that new girl that has that moment of 'Where'd she come from?'" she says. "There's the express elevator and there's rehab. It's so awful; nobody gets a fair trial-and-error period that everybody deserves and everybody needs."
[From Vanity Fair]
I'm glad that Julia understands that "the business is so different" - it's not like she's giving us her big cackle and claiming, "I am one of kind, no one could ever do it like me!" It's about the press machine surrounding Hollywood, it's about "the teams" of sycophants and enablers that young actresses surround themselves with, and it's also about the quality of the films being made these days. And yes, Julia is one of kind, for better or for worse. I always go back to the idea that she was smart enough – back when she was only, like, 24 or 25 – to take two years off from her career. She got so famous so fast and she had a string of hit films, and instead of feeding the machine, she backed away, took a break, got her head together, and then came back a few years later to do The Pelican Brief. What young actress is smart enough to do that these days?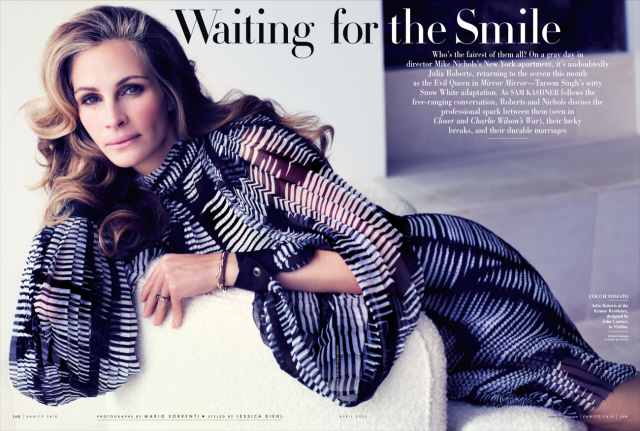 Photos courtesy of Vanity Fair.