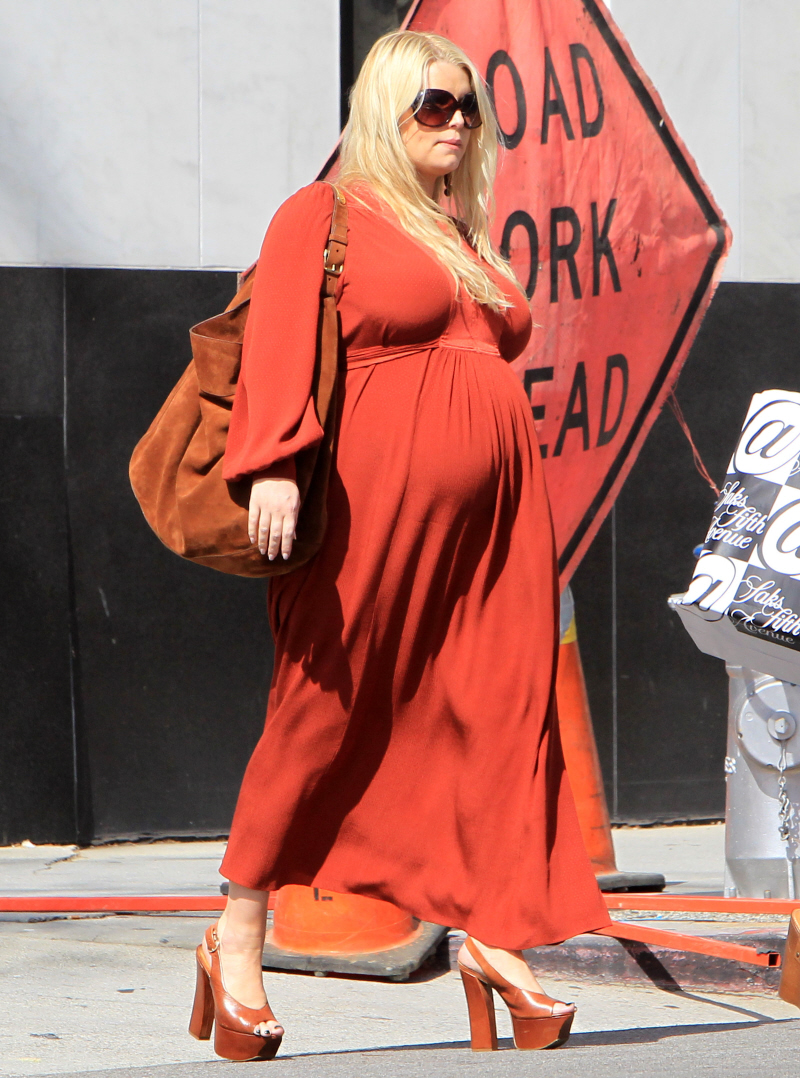 I cannot even begin to emphasize the wave of sympathy and nausea that I feel for Jessica Simpson in these photos. These are from the weekend – I just never got around to covering them with all of the Oscar stuff. I mean, obviously, we can talk about how HUGE she is, but she'd been carrying really big for months now. Jessica was never going to be a small pregnant girl – she was always going to be all boobs, all belly, all ass. I feel for her, and I admire that she still trying to wear cute clothes and cute shoes, because if I was this pregnant, I would just be hanging out in bed in a giant nightgown, crying.
Anyway, CB has been covering most of the Jessica news lately just because imagining what it would be like to be THIS pregnant kind of makes me sick to my stomach. I'm that girl – the one whose gag reflex is triggered at the mere mention of an epidural. CB has previously talked about the tabloid stories involving Jessica allegedly dropping out of her Lamaze class, and her alleged fights with Eric Johnson about scheduling a C-section. In a newish interview, Jessica doesn't talk about all of that, but she does talk about feeling like a "big blob." She's due in late March/early April, by most accounts.
When Jessica Simpson tunes in for the premiere of NBC's Fashion Star March 13, her body won't look anything like it does now.

"I wasn't pregnant when we shot it. It will be amazing to see myself with a waistline," the 31-year-old said during a conference call Thursday. "I'll be like a big blob sitting on the couch watching myself thin."

Simpson will mentor 14 contestants alongside fellow fashion designers Nicole Richie, 30, and John Varvatos; supermodel Elle Macpherson, 47, will host.

"Teaming up with this show was a perfect fit," Simpson said. "I couldn't turn it down because I felt like it was great for my collection, but it was also important for me to talk to these up-and-coming designers and mentor them and kind of show them the ropes and really try to lead them in the right direction."

Now that she's expecting her first child with fiance Eric Johnson, Simpson said she's thinking of creating a maternity line for the Jessica Simpson Collection.

"The point of launching a maternity line, for me, is to do something different," Simpson explained. "I'm not buying any maternity clothes. I'm wearing all clothes that come in bigger sizes. I really want to make a maternity line that's comfortable, but really stylish for people, because I believe that we all deserve to feel good and look good."
[From Us Weekly]
If Jessica and Beyonce put out competing maternity lines, which one will have cuter clothes? I'd say Jessica – for two reasons. One, Jessica knows what it's like to be pregnant (whereas I'm still doubtful about Bey'd pillowy bump). Two, while Jessica doesn't always clothe herself properly, I believe her general style is rather cute, and that it would translate well into a maternity line. Not so much for Bey.
PS… Doesn't everyone love how Jessica's purses are getting larger with every month of her pregnancy? By the time of her due date, she'll just be carrying a big Hefty bag as a purse.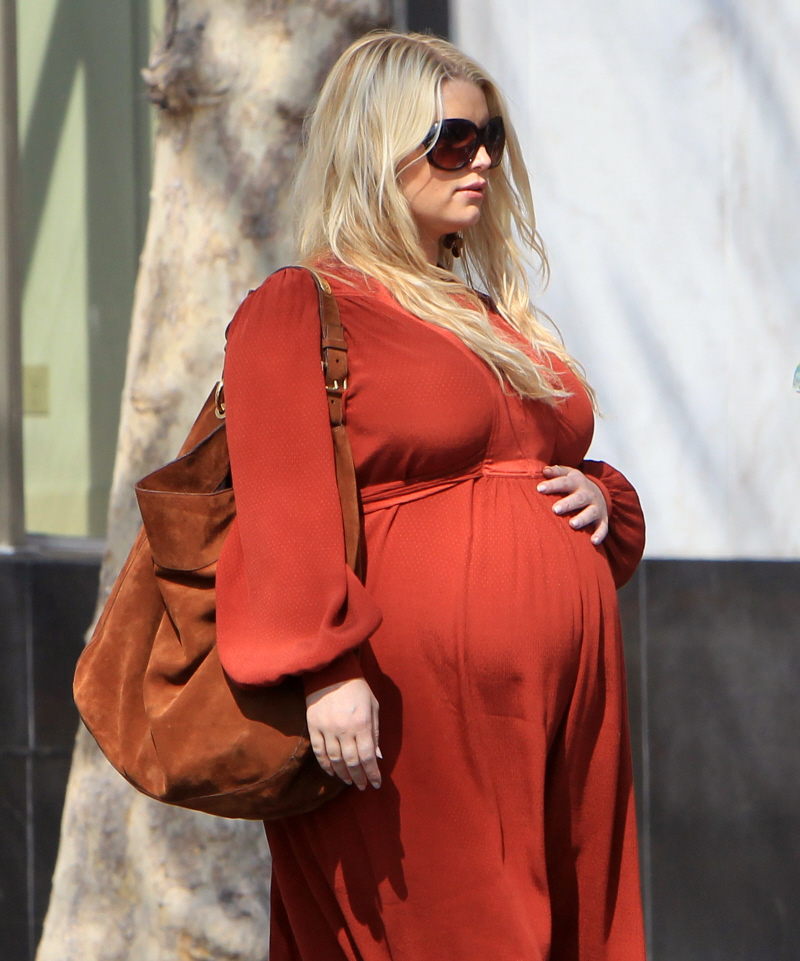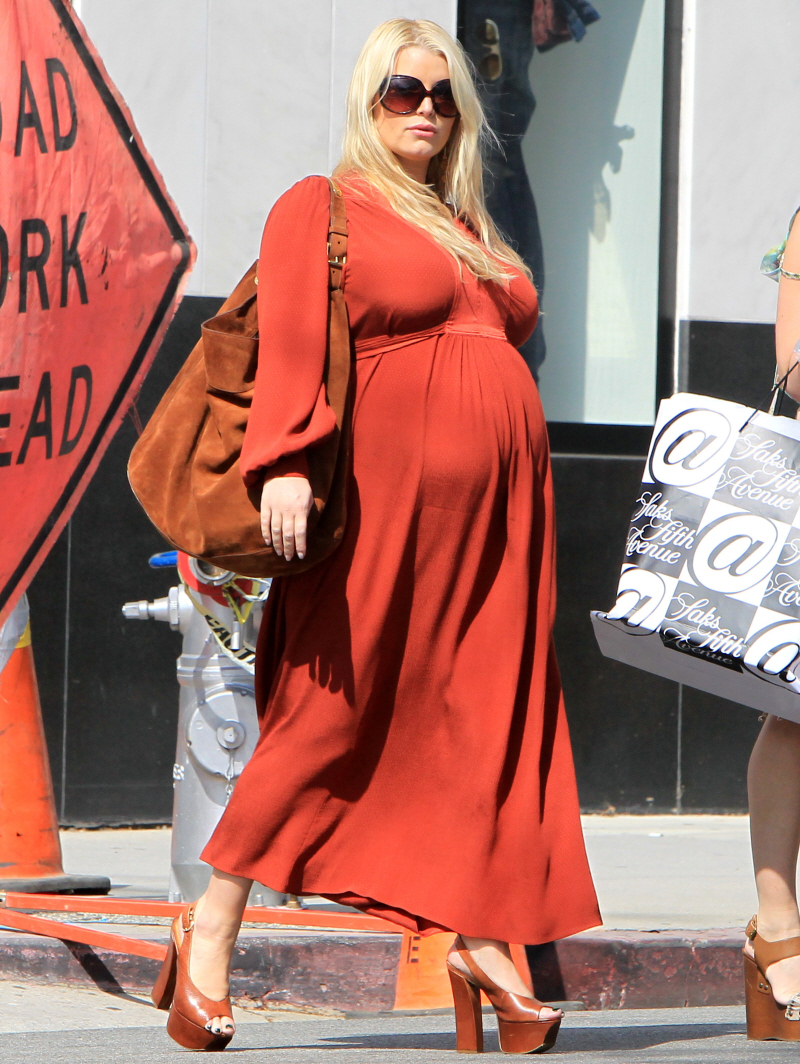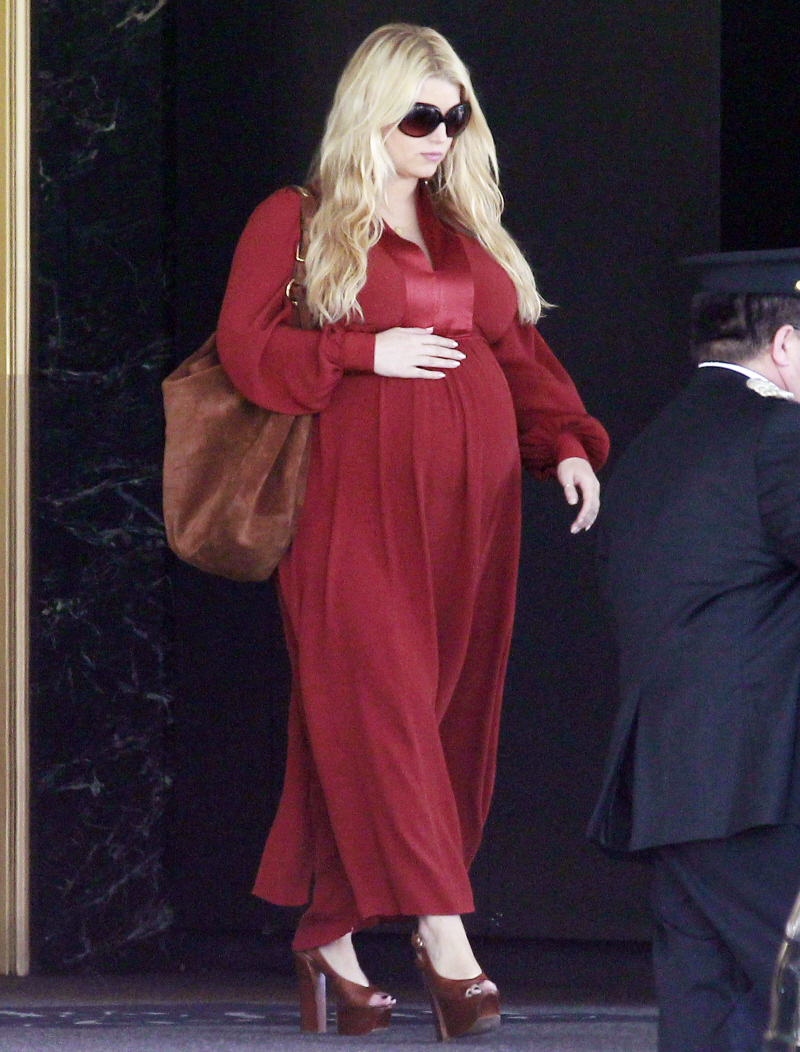 Photos courtesy of Fame/Flynet.