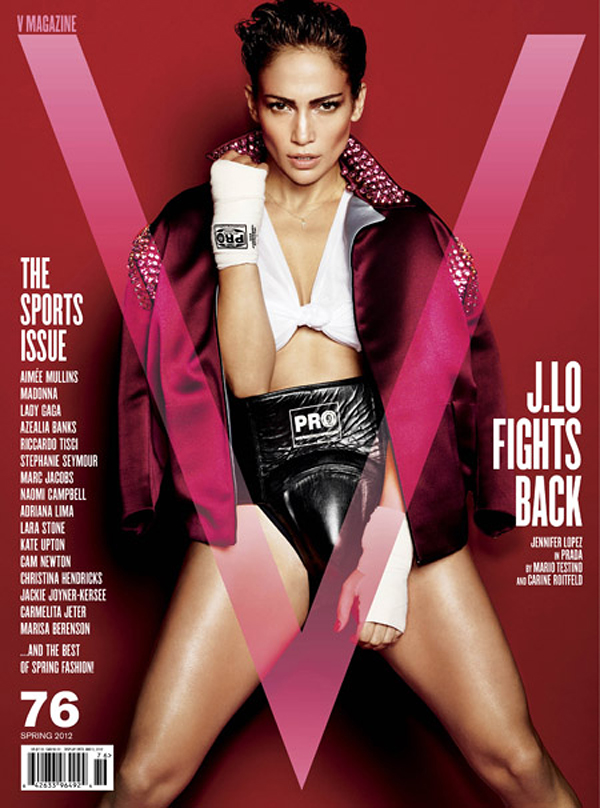 Jennifer Lopez covers the April issue of V magazine for their "sports" issue all dressed up as a boxer. She's photographed by Mario Testino, and the editorial spread honestly gives me the vibe of a 1990s Cindy Crawford shoot. I find it strange that the best that V could do for their sports issue is JLo, but the message seems to be that Lopez is a fighter and survivor. I guess it's somewhat inspiring that "Jenny from the Block" can suffer repeated career setbacks (Gigli, The Back-up Plan) and still come back with a $20 million dollar annual paycheck for her work on "American Idol." Presumably, we should also be impressed that JLo has also "survived" multiple marriages and came back with a 24-year-old facially-challenged boy-toy as well. To each their own.
At any rate, the interview covers a discussion of Jennifer's career to date and status as an "unrepentant sparkle addict." It also discusses her new Univision show with Marc Anthony called "Q'Viva: The Chosen," which situates the formerly married couple as international talent hunters. The photoshoot really bugs though for a few reasons: (1) It's ridiculous; (2) So much underboob. That's one of my major pet peeves and the only reason why I sort of shuddered at Kate Upton's Sports Illustrated cover. When my boobs start to escape like that, all I want to do is yank down my bra. Is underboob truly sexy or just gross?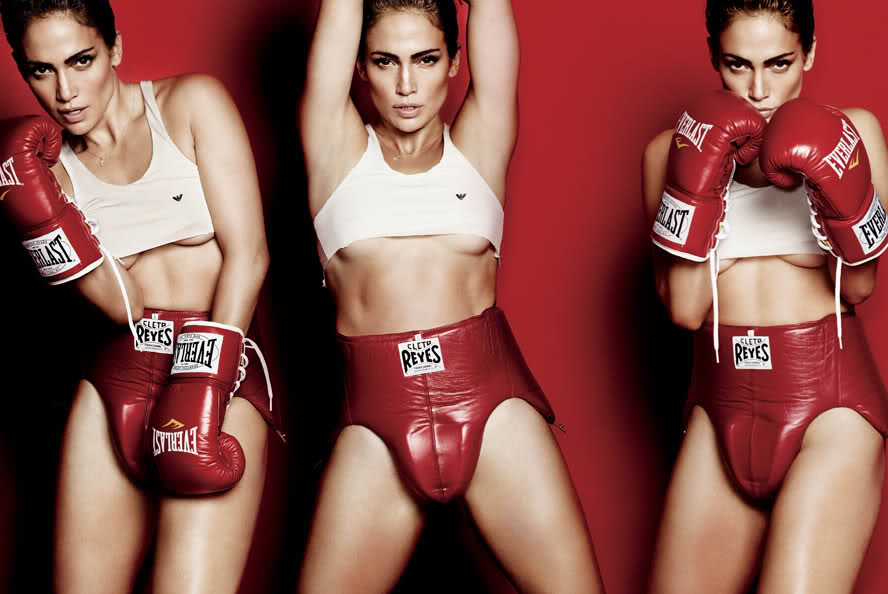 "Q'Viva" is educational & entertaining: "There are so many differences in the Latin community. Someone from Mexico and someone from Puerto Rico have different foods, different traditions. There's an education to be had. Even as I was going through the different countries, there were certain forms of music that I didn't know about."

On working with Marc Anthony: "I mean, we're parents and friends first," she says with a smidgen of exasperation. "That will be the thread that ties us together. I don't know if people expect it to be negative (Of course they do, Jennifer!) just because the [intimate] relation- ship didn't work out." The professional relationship, however, is chugging lucratively along.

On her film failures: "You're not going to hit the target or the bull's-eye every time. That's part of it. At the end of the day, I made those choices. I've been in the business now, I don't want to say how many years. You have amazing moments of recognition and success. But at this point in my life, I try to take it all with a grain of salt."

On her personality: "I've always felt like a tough girl from the Bronx. But I have a soft core. I can take a lot of punches and still keep going. I've been trained like a boxer to go 15 rounds."

On the importance of being Latina: "It really defines you and makes you who you are. I tried to keep that close to my heart– what I learned growing up. It's something that I love so much. When doing 'Q'Viva,' it was kind of reinforcing that, showing how important it is to me and staying connected to that and showing my kids what that's all about. People realize the strength of the community because of the dollars and the numbers. They've always been trying to find a way to crack that because they see opportunity. They don't know how to get in. But people were willing to listen and at the end of the day, as long as it transcends language to feeling, it doesn't matter the ethnicity."

On rebranding: "One of the greatest by-products of this particular time is this new introduction of Jennifer Lopez to a community that's always known her but had misconceptions about her," her manager, Benny Medina, told USA Today.
[From V Magazine]
I can appreciate that JLo's drive pushes her to continue earning millions instead of fleeing into obscurity, but she's wholly omnipresent these days. That was part of the reason that Gigli failed. Not only was it a very bad movie, but no one wanted to pay to watch Bennifer when they were already splashed on every tabloid cover. In fact, I think JLo's new megasuccess an omen of things to come for her — this new phase won't last forever either. Maybe she already knows that though.
Photos courtesy of V magazine