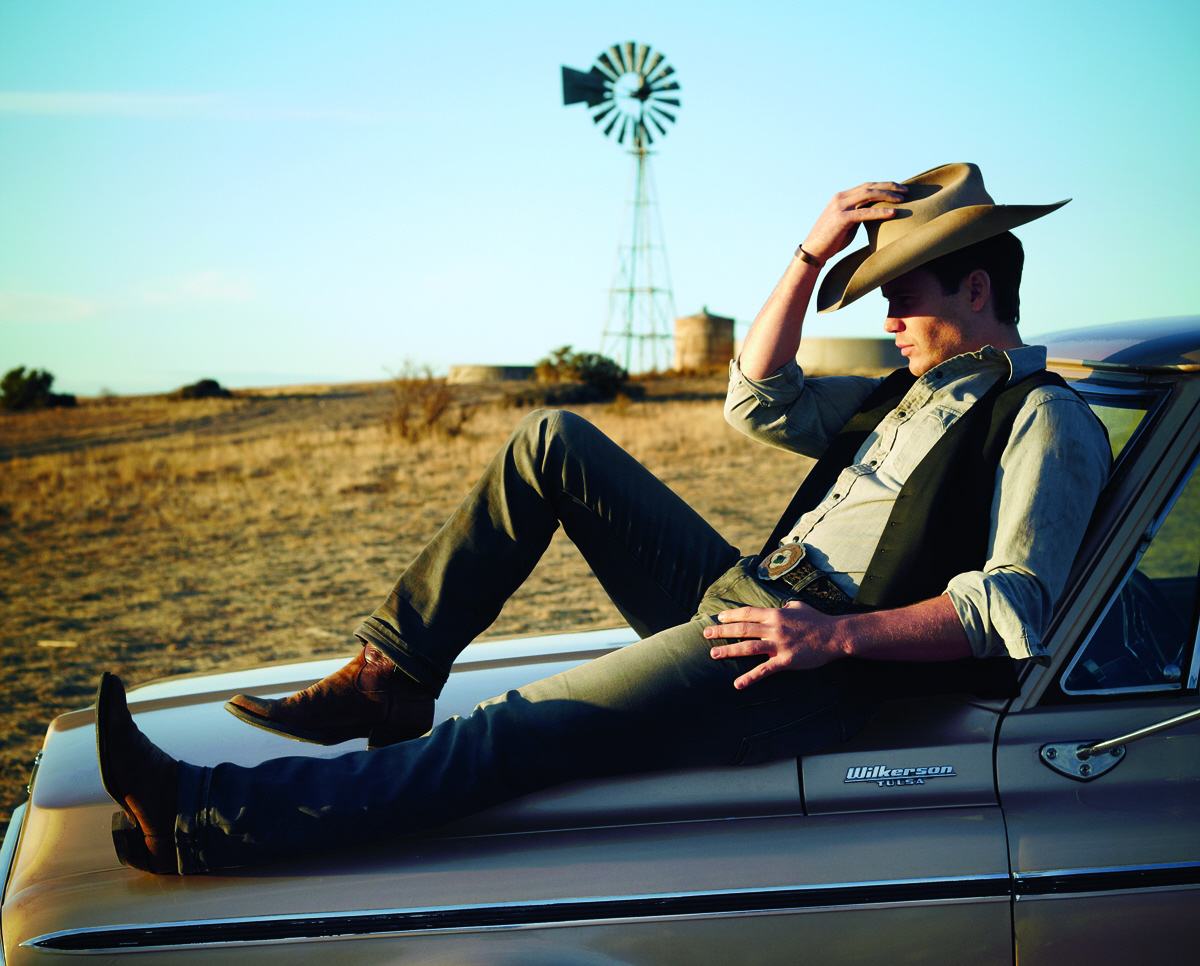 I wrote my first Taylor Kitsch story last week, and it seemed to go over pretty well, so let's try it again. As you already know, Kitsch is Canadian, he studied to be a nutritionist, he's 30 years old, and he currently lives in Austin, Texas. He's currently promoting his first lead role, in John Carter. As such, he has a surprisingly lengthy interview in the April issue of GQ – you can read the full piece here. The photo shoot, as you can see here, is James Dean-inspired, which… ugh. I mean, Kitsch looks fine styled as James Dean circa Giant/Rebel With a Cause. But I wish magazines, stylists and photographers would stop falling back on the James Dean stuff. When Zac Efron does a Dean-inspired shoot, you know that the movement has died. Anyway, here are some highlights from the GQ piece:
He almost went pro… for hockey: "I did. I played pretty darn competitive-level hockey. Then the good old knee injury. Obviously, it's a blessing in disguise, but growing up Canadian, that's our religion, that's our football. I'm a small-town Canadian cat, so I could relate to [Friday Night Lights character] Riggs quickly and easily."

His thoughts on James Dean: "Dean is just an icon. Timeless. That's the kind of work you want to do as an actor. If 15, 20, 30 years after I'm gone you could turn on a movie that I've been a part of? At the end of the day, that's all you're going to have. The guys I look up to, a Daniel Day, a Penn, they make you work as a viewer. I admire an actor that can do a lot with doing nothing really, for the most part. I like doing a lot by doing so little. And I really loved that about Riggs. You just want to shake him sometimes."

Texas and Africa: "I've always been a big country guy. There's a lot of Texas artists—Randy Rogers, of course, and Pat Green come to mind. There's some watering holes within Austin I love. A good old rodeo never hurt anyone. And those Texas sunsets… I work a lot in Africa: Texas and Africa have the best sunsets on the planet, that I've ever seen."

Why he lives in Austin and not LA: "Oh, God, I could give you a million reasons why not L.A. I know actors that love the celebrity. For me, it's tough because you're doing six months of press. That's why you put all the work in and almost f–king kill yourself, because if you've got to talk about it a million times, you'd better be proud. And I can't work. I lost a job that I wish I could have been a part of—three scenes in a character-driven movie that I'd murder to be a part of. But you sound like you're playing the violin when you say it. Relationships and friends go to the wayside. You get angry because it's press that's pulling you and not the work. And how do you f–king build a relationship with a gal that you care for and say, 'Hey, I'm going to be gone for eight weeks. I expect you to have the same feelings as right now in eight weeks. But I'll be in Japan, Russia, Spain…' You can't expect it. It's unfair. I think I chose to build in Austin because, in Austin, I can come and escape and be myself."

This is his year: "2012 is really make-or-break, isn't it? I mean you've got John Carter and then you got Battleship, and then we end with a true bang in Savages with Oliver Stone. What are you gonna say? I mean, if Oliver Stone calls you you're going to f–king go. Pete Berg calls you, you should go. Andrew Stanton asks me to be an extra in this Indie he's doing? You want me to get coffee on the way to the set?"
[From GQ]
He curses a lot. More than I was expecting. I'm not judging, I have a filthy mouth too, but I think I might try to clean it up a little if I was being interviewed by GQ. Of course, when I'm nervous, I cuss more. Maybe that's Taylor's problem too. As for 2012 being his year… well… most people think John Carter is going to bomb. And then Battleship will do well, maybe. And then The Savages will probably be an Oliver Stone mess. Who knows?
By the way, would you like to talk about Kitsch's Letterman interview? I'm not going to get into the whole story (you can read about at LaineyGossip), but basically this dude completely mixed up two Asian countries. He filmed a movie in Indonesia – and during the interview, he goes on and on about the Philippines. Just a dumb mistake? Or is it racist and ignorant?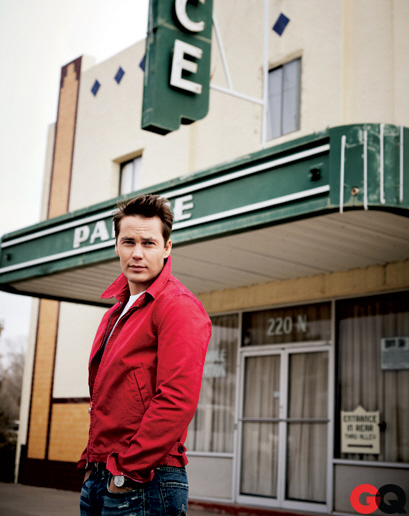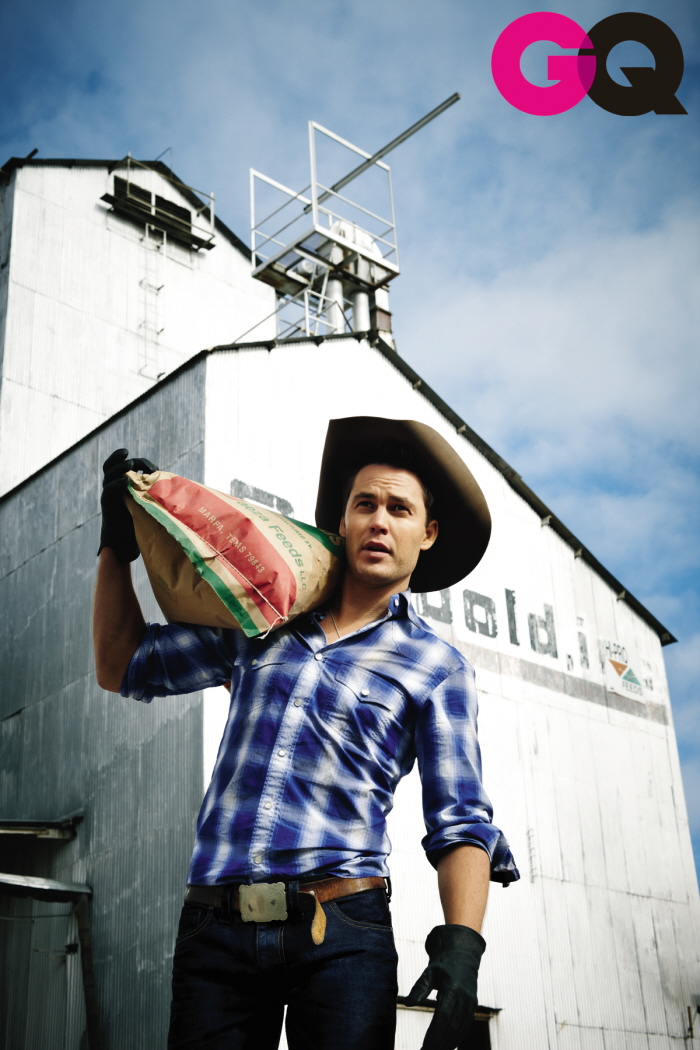 Photos courtesy of Nathaniel Goldberg/GQ, GQ's slideshow.