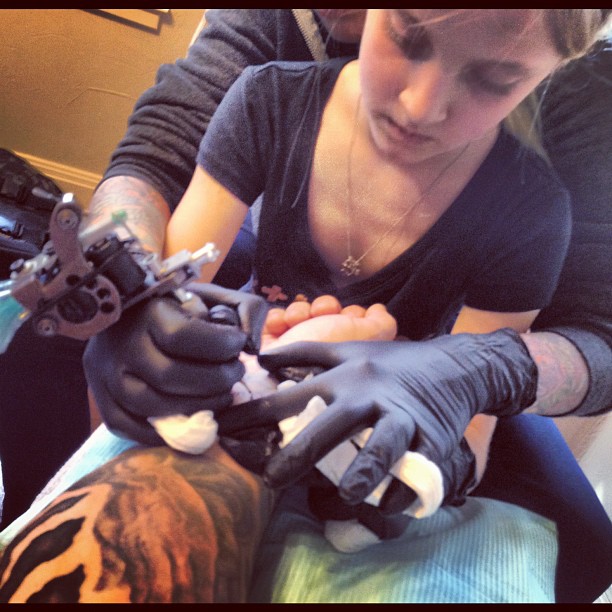 This is a rare maybe-positive story about Jesse James for once, depending on how you feel about tattooing and letting an eight year-old get close to someone wielding a tattoo needle. Jesse James added a new piece of ink to his body recently. Outlets are claiming that James let his eight year-old daughter, Sunny, tattoo her name on his wrist. The photo makes it look like all Sunny is doing is overseeing the work with a professional tattoo artist, not like she's personally laying down the ink on her daddy's wrist. We know about it as Jesse posted the photos to Twitter, including one of Sunny overseeing the ink as well as the final result. Sunny has great penmanship! Here's the story, from Radar: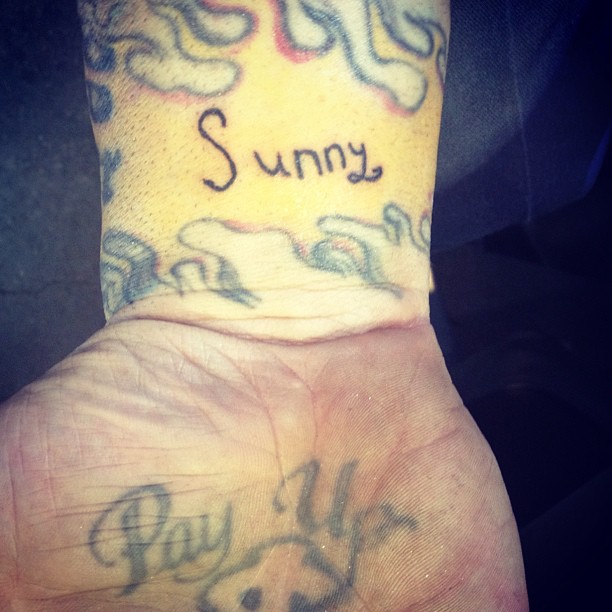 Jesse James is covered in tattoos but his eight-year-old daughter Sunny just added another, RadarOnline.com has exclusively learned.

Jesse, 42, won full custody of Sunny in 2009 from ex-wife Janine Lindemulder, who spent time in federal prison for tax evasion, and the two took to some unlikely bonding on Thursday.

"Spending Spring Break with Dad," Jesse wrote on Twitter, posting a photo of Sunny with an ink gun in her hand.

The finished product is "Sunny" scribbled on Jesse's wrist — right above the "Pay Up Sucker" tattoo on his palm.
[From Radar]
I have a kid around that age, and I actually found this story somewhat sweet. I'm not a tattoo person, although I have a couple from when I was very young, but I could see getting my kids' name permanently inked somewhere. I can't imagine letting him get that close to the process, though. Tattooing is painful and that's a lot of pressure to put on a little kid. Still, this was her dad's way of showing Sunny that he cared. Maybe he should have just taken her out to the zoo and for ice cream. She probably would have liked that better.
Oh and people are saying this is a too-revealing shot of an eight year-old. I don't agree, and I doubt that James even noticed. That's his little daughter, you know? He's a philandering a*hole, but he probably loves his kids to pieces and tries to do right by them, as clumsy as his attempts may be.
Jesse wrested custody of Sunny away from her mother, porn star Janine Lindemulder, who has a history of abusing drugs and was jailed for non-payment of taxes in 2008.